Have you checked out our newly launched Windows 8 Themes Gallery yet? All popular themes from Windows 7 are now available for Windows 8.
Check it out here.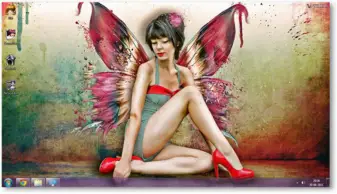 Download This Theme:
Graphic Divas is an Exclusive Theme created for TechNorms Email subscribers and Facebook Fans. You can subscribe to our Email Newsletter here or You can join us on Facebook here.
If you are already subscribed, you would see the Exclusive Themes link at top of the Email newsletter or you can also download it from our Facebook Page.
Description
'Art is in the Heart', they say. The way each artist expresses himself can be said to a portrayal of their personalities or may be the depiction of part of their vibrant imagination.
Graphic Divas theme is based on the work of an artist who has added vibrant colors to serene female forms to create artistic masterpieces.
Graphic Divas Theme is based on the works of CocaColaGirlie. Visit her page for more wonderful stuff!
(All the artwork in this theme is used with explicit permission of the artist. Do not copy or redistribute in any form. Please respect the artist's copyright.)
Graphic Divas Theme for Windows 7 consists of 35+ Hi-Res Wallpapers, custom icons and sounds. Also included is a set of nice cursors for a complete artistic feel on your system.
Need Help With Installing The Theme?
Read our installation guide – How to Download & Install Windows 7 Themes From TechNorms.