Have you checked out our newly launched Windows 8 Themes Gallery yet? All popular themes from Windows 7 are now available for Windows 8.
Check it out here.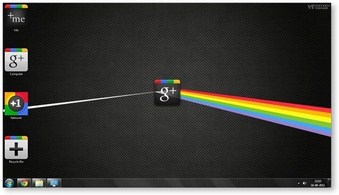 How to Download This Theme:
Google Plus Theme is an Exclusive Theme created for TechNorms Email subscribers and Facebook Fans. You can subscribe to our Email Newsletter here or You can join us on Facebook here.
If you are already subscribed, you would see the Exclusive Themes link at top of the Email newsletter or you can also download it from our Facebook Page.
Description
Google Plus the the new social network on the block and the latest attempt at social by Google. While earlier attempts have fared pretty badly, Google Plus looks solid and is quite awesome to use. Plus has seriously caught the attention of the internet users who love all about social media.
Google Plus Theme for Windows consists of 20+ Hi-Res Wallpapers, Custom Icons, sounds and a nice set of cursors for a complete theme package. Bring the minimalist yet elegant feel of Google Plus to your desktop with this theme.
Need Help With Installing The Theme?
Read our installation guide – How to Download & Install Windows 7 Themes From TechNorms.