Have you checked out our newly launched Windows 8 Themes Gallery yet? All popular themes from Windows 7 are now available for Windows 8.
Check it out here.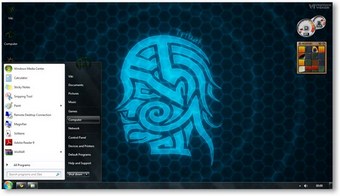 How to Download This Theme:
Tribal Arts is an Exclusive Theme created for TechNorms Email subscribers and Facebook Fans. You can subscribe to our Email Newsletter here or You can join us on Facebook here.
If you are already subscribed, you would see the Exclusive Themes link at top of the Email newsletter or you can also download it from our Facebook Page.
Description
Tribal arts is a term that canvases a wide variety of objects, artifacts, paintings, sculptures and even tribal music and dances. Tribal art generally reflects the creative energy that acts as an undercurrent to the craftsmanship of the tribal people.
Tribal designs and patterns have always been a topic of fascination for artists and they often come up with their own designs in tribal style. The digital representation of these designs creates the most beautiful designs and makes for enchanting backgrounds. This theme is an attempt to capture the style of Tribal arts for your desktop.
The Tribal Theme for Windows 7 consists of 20+ Hi-Res Wallpapers, tribal design icons and custom sounds to give a tribal feel to your desktop.
Need Help With Installing The Theme?
Read our installation guide – How to Download & Install Windows 7 Themes From TechNorms.