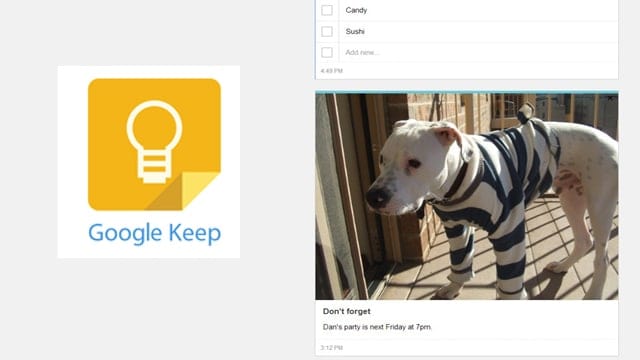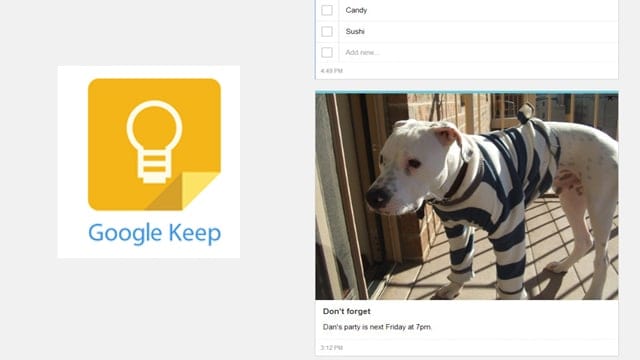 Sometimes you just need a really easy way to take notes on the fly, and Google's latest app for the PC, Google Keep, a digital version of sticky notes, is just that: A simple way to capture whatever you want, when you want and this add-on is already available in Chrome.
Google Keep debuted last month and it without question strives to fill the gap left when Google Reader was eliminated. And it's on it's way there. Whether you need to jot down a simple text message, create a grocery list or make a note with embedded photos, Google Keep can make it happen. And even cooler, it will sync all of your notes to all of your devices, such as your Android, which Google Keep has made an app for as well.
The unofficial add-on is currently  unavailable.
Use Google Keep Firefox Add on:
To use Google Keep, you first need to install the Google Keep add-on in Firefox. To get started, open Firefox and go to the Firefox add-on site here (currently unavailable), and click the green button that says, "Add to Firefox."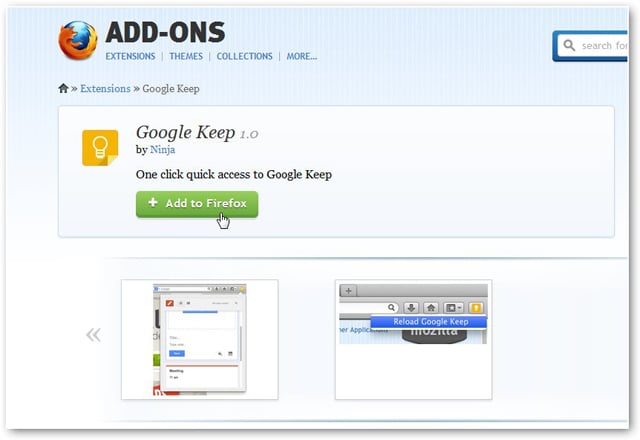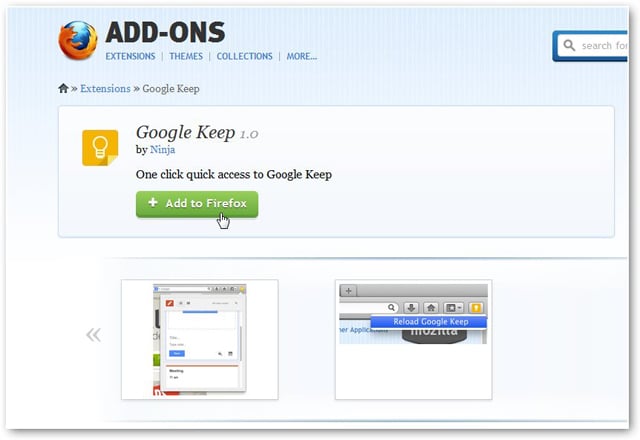 Once you click the button, a window will appear to verify you trust the add-on. Click "Install now."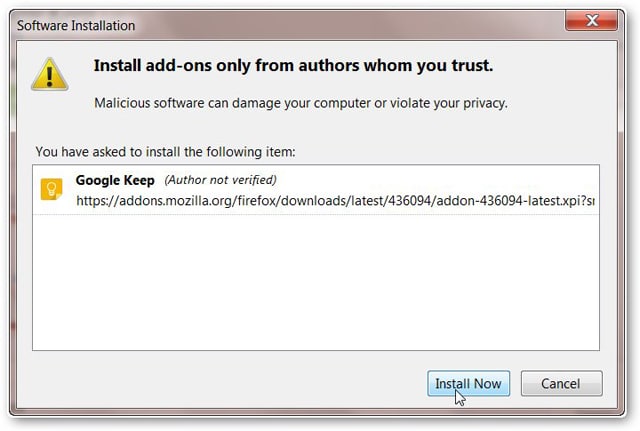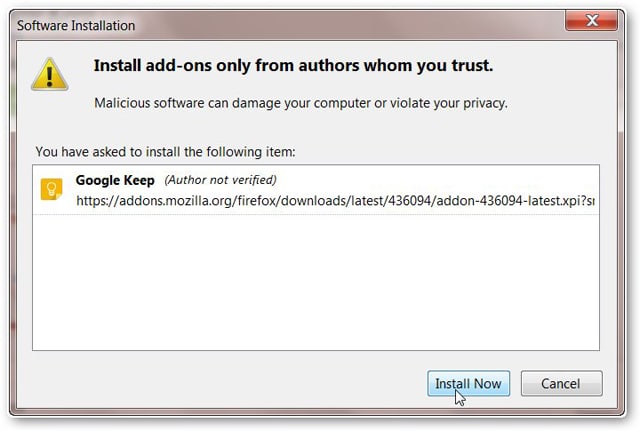 After you click, click the "Install Now" button, Google Keep will automatically be installed. You will need to restart your browser to begin using the add-on. After you restart your browser, a Google Keep icon should appear in the top right corner of your browser.
How to use Google Keep
To begin using Google Keep in Firefox, simply click the orange "Google Keep" icon.
Once you click the icon, Google Keep will pop-up in the upper-right area of your browser (make sure you're signed into your Google account if you have one before clicking the icon, so your notes will load.)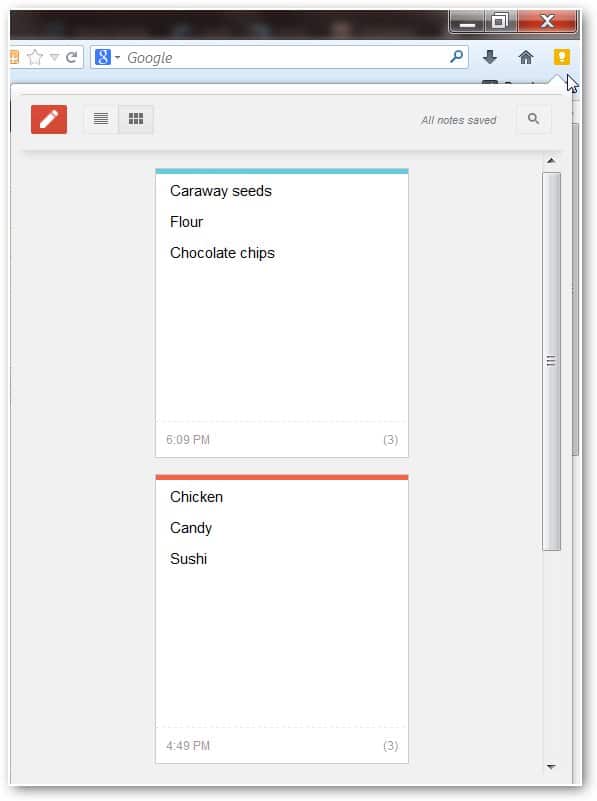 Once you're logged in, any notes you've previously made in Google Keep will appear.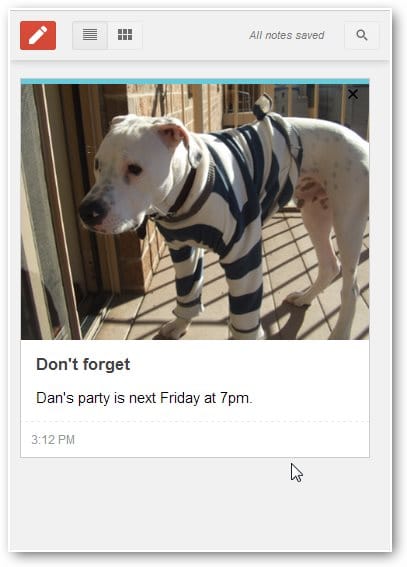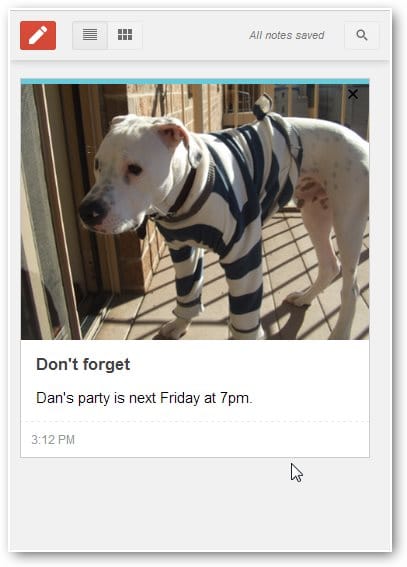 To create a new note, you can either create a basic text note, a note with photos or a list, and you can change the color of your notes too. To create a new note, click on the red button at the top left of the note that says, "New note."
When you click "New Note," a small field will appear above your previously made notes. This is where you'll create a new note.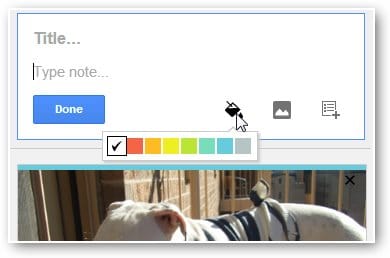 And if you want to add an image, click on the "Insert an image" button in the new note field. When uploading photos into Google Keep, uploading times are impressively fast.
You can also create lists with checkmark boxes, which is great for shopping lists. To create a list, click on the "New list" icon.
After you click, a list-creating field will appear.
And you can archive your notes and delete them as well. To do this, go to the right side of each note to find the icons for these functions.
You can also view your notes in two different ways – a Pinterest-like stream or in a grid. The two different viewing options can be accessed at the top of the note.
While Google Keep certainly is in its infancy and is lacking certain features, such as sharing capabilities, the bones are solid, and the hope is that Google may one day integrate Keep into both Gmail and Google Calendar. We love how you can still access the app when you're offline. If you're an avid note taker and a Google user, this app is definitely something to consider. For more ways to take notes in Chrome, check out this post on Papercuts.
Download Google Keep. (currently unavailable)