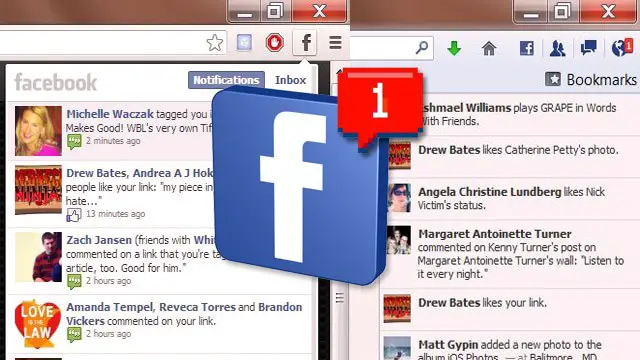 We've all done it. You mean to hop on Facebook for a minute, and the next thing you know it's been an hour. And what sucks in people the most are opinions and links in the news feed. By using browser-based Facebook notifications, you can stay on track and still see all the important goings-on in Facebook.
Our guide will outline how to view Facebook notifications in both Chrome and Firefox.
Chrome-users: Install "Facebook Notifications" extension
For Chrome users, the extension to install is Facebook Notifications. This extension alerts you to Facebook notifications in the top right of your Chrome browser. To begin using the Facebook Notifications extension in Chrome, visit the download page for the addon then click the blue "Add to Chrome" button.
After you click, click the "Add" button to confirm the install, and a text balloon will appear in the top right of your browser, along with a new "f" icon.
To see this addon in action, click the "f" icon and a drop-down menu will appear, displaying your most recent notifications.
And if you click "All notifications" at the bottom of the menu, a tab will open to your Facebook page, where you can view Facebook like your normally would.
Also, to adjust the settings, go to "Extensions" > "Settings" in Chrome, and click "Options."
After you click, a tab will open to your Facebook page showing your current notification settings.
As you change these, the Facebook Notification add-on will change accordingly.
Firefox-users: Turn on the built-in feature
Receiving Facebook notifications in Firefox meanwhile is blissfully easy, thanks to a built-in feature Mozilla created just for this purpose. Before, it was necessary to go into the configuration settings to turn this on. Now, all Firefox users need to do is to go to the official page for this feature, and turn it on.
To turn on Facebook notifications in Firefox, open your Firefox browser then go to the "Messenger for Firefox" page in Facebook. On this page, there will be a green button that says "Turn on." Click this button.
After you click, a text bubble in the top right of your browser will appear letting you know Facebook Messenger for Firefox is being turned on.
Click "Ok" and a right sidebar will appear, showing all of the notifications currently happening among your friends, as well as who's online and logged into chat.
You can also access your own notifications by clicking on the Facebook icons found in the top right of your browser. There are four icons: The first icon turns on FB Messenger, the second checks friend requests, the third checks messages and the last is for notifications.
No matter where you browse online, this right-side bar will remain in your browser until you decide to remove it. And turning off this feature is just as easy. Go to the blue Facebook icon at the top right of your browser and left-click. A drop-down menu will appear, where you can select to turn it off, remove it, etc.
These notifications are great, but for those who use Facebook often for work, built-in browser notifications can completely transform work productivity. No matter if you use Chrome or Firefox, both of these notification features are solid, and users will love how the alerts don't overwhelm their screen. For more ways to embed Facebook features into other environments, check out this cool way to embed Facebook Chat into Windows.
Download Facebook Notifications for Chrome.