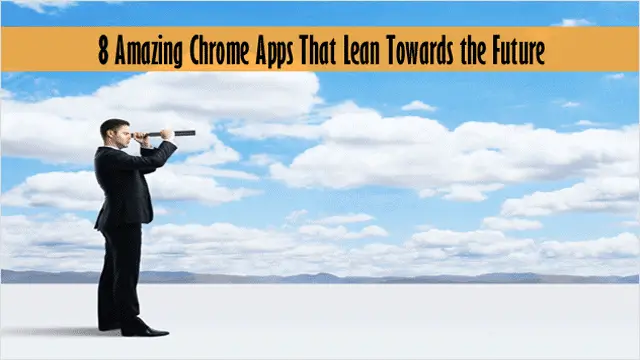 It's 2014, and that means Chrome is busier than ever adding new apps to its Chrome Web Store. Each month we're seeing new impressive apps added, but there are a handful right now that really shine and have a definite futuristic flair.
Whether you're interested in apps that make Chrome look and feel more modern or apps that streamline your web viewing process, the apps that are creating a buzz right now have got you covered. We've outlined the top 8 apps that show great future potential. Check them out and see which ones you find useful.
Awesome New Tab Page
An app that gives Chrome a very modern Windows 8-like feel, Awesome New Tab Page lets you rearrange your new tab page to include both your favorite links, quick links to Google and it displays live weather information. You can also re-size the shortcuts and widgets that are displayed, making it quite customizable.
Check it out: Awesome New Page
Pocket
Without question one of the easiest ways to save things you want to read later after finding them online, Pocket is the ultimate reading material collecting app for Chrome. It will also save an ongoing queue for videos and it automatically syncs with mobile devices. One of the coolest aspects of this app however is that you can access your queue and add to it even when you're offline.
Check it out: Pocket
mySMS
A tech-savvy way to merge your mobile texting with your PC, mySMS is the app that lets you text as if you were texting from your mobile device right on your PC. You can both send and receive texts with this app, as well as manage incoming calls, receive calls, and answer, reject and mute them. For anyone stuck at work or school and still wants to text, this would be the app to get.
Check it out: mySMS
Hover Zoom
The futuristic app for anyone who loves looking at images quickly, making it perfect for artists and photographers, Hover Zoom lets you view an image in full size without clicking it, greatly limiting the amount of time you spend waiting for images to open. All you need to do is as the title of the app suggests – hover your mouse over the link and wait a few moments for a full size version of the photo to load.
Check it out: Hover Zoom
Carbon Footprint for Google Maps
For those of you concerned about your impact on the environment, Carbon Footprint for Google Maps is the app to the rescue. This brilliant app will calculate the estimated amount of co2 emissions you will give off when selecting a certain route on Google Maps. It will also tell you how many trees you need to plant to offset your co2 emissions.
Check it out: Carbon Footprint
Chrome Remote Desktop
An app that isn't afraid to take on more responsibility, the Chrome Remote Desktop app lets users turn their Chrome browser into a remote terminal which can be used to access your computer remotely. While this isn't a great solution for heavy users, it's a great way to set up a remote terminal in a pinch. You can also set when the terminal is open, how long and to whom. This is great for receiving remote IT help or accessing your files when you're away from home.
Read our guide about using Chrome remote desktop.
Check it out: Chrome Remote Desktop
Gmail Offline
For the future of web based e-mail, the app Gmail Offline shows what we can expect; namely, impressive offline access to your saved folders and inbox contents. This app syncs with your Gmail account the moment you're online to make sure everything is synced accurately. You can even pre-write replies to emails and have them be automatically sent the moment your computer detects an internet connection.
Check it out: Gmail Offline
AutoPager
An app with the ability to completely change how a website is viewed, AutoPager will turn any website into one long scrollable web page, much as what you would see on Pinterest. No longer are you confined by the site design of the page you're viewing. AutoPager is one of the few apps currently available that lets you do this. This app will be especially useful when viewing Google search results.
Check it out: AutoPager
Conclusion
These are just a handful of the apps we feel are some of the most futuristic, but there are several others that are just as exciting. To make sure you are kept avail of the latest, most cutting-edge apps as they become available, check both our site and the Chrome Web Store weekly for news on the latest apps.
For more information on some of the best Chrome apps, check out our post – 100+ Best Chrome Extensions and Web Apps in the Chrome Web Store