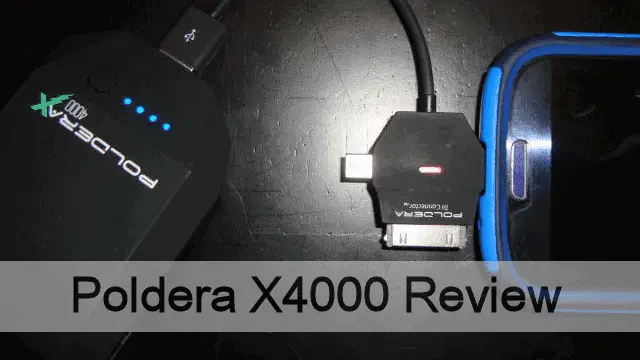 When reviewing Poldera's iKeep Charger OTG, they were kind enough to send me one of their X4000 units to try out as well. The X4000 is a dual power bank, wall, and multi-device charger all in one. Did I lose you, yet?
This gadget can charge multiple devices at once as a wall charger or you can take it on your next trip away from an electrical outlet to keep your phone or tablet going. Let's look at whether or not the X4000 lives up to the hype.
See Also: Tired of a Slow Android Phone? Boost the Performance of Your Android Device with SuperCharger Script
What All Can the X4000 Do
The X4000 is an all-in-one gadget that allows you to charge two devices at once either as a power bank or while plugged into the wall. It offers two forms of charging: 2.1A and 1A. Depending on the type of device you have, you'll use one or the other. For example, if you have a tablet, you'd want to use the 2.1A but if you have a phone, the 1A will work fine in most instances. If you're like me and using a Galaxy S5, using the 2.1A coupled with Samsung's cord for super charging, you'll be at 100 percent charged in no time.
One of the best features of the X4000 is its smart on/off system that helps conserve the power bank itself. When not plugged into the wall and charging devices, it can tell when it's in use and when it's not, so it'll turn itself off when not needed. This conserves the power bank battery, along with not over-charging your devices.
Poldera's Candi Cord Mini Tri comes with the X4000, allowing you to charge a variety of devices with one cable but you're welcome to use your own, too. Many power banks come with a built-in cable that gets tangled, mangled, and bent out of shape over time. With the way the X4000 is designed, you don't have to worry about that happening on your travels as much.
One of the benefits of the X4000 is that you can recharge the power bank if you use a micro USB cable as a car charger. You'd have to buy this separately, but it works well in a pinch when you're on the road.
Does the X4000 Live Up to Our Expectations?
I've used the X4000 over a four-month period, including trips to the East Coast from my home in Denver, a music festival, camping, Colorado Rockies games, and my commutes in between. I've charged my Samsung Galaxy S3, S5 and Tab 3, along with friend's devices when we're out and about, too and I've walked away incredibly impressed by what this little gadget can do.
I'm one of those people who are glued to their phones. Between work and play, it feels like I never get to put my phone done. Being able to charge it on the go, easily, is key for me and the shape and feel of the X4000 makes that easy. I can plug-in my phone, pop it into my backpack's side pocket and let it charge without it being in the way. Many power banks are big, clunky and don't make it easy to charge when you're not in the same place for a while.
The look and feel of the X4000 is unique as well. You won't find a better feeling from a power bank and charger than with the X4000. It's stylish which is something you won't see as often with power banks on the market.
The X4000 charges my phone quickly and effectively, even when sitting at 10 percent or less. My S5 takes about two and a half to three hours to charge on it, which is on par with what Samsung says it should charge in during best conditions. I've yet to run into a situation where I burned through the X4000's power bank and been completely stuck with no phone.
Conclusion
Poldera's X4000 has become my go to power bank. I've tried a handful over the last year or so and I keep coming back to the X4000. It gets the job done on the go unlike any other power bank out there. If you're looking for a power bank and portable charger that looks good, feels good and gets the job done right, look at Poldera's X4000.
They have a lot of interesting concepts, designs, and products beyond just your traditional chargers and cables so make sure to see what else might make your life easier when checking them out. You won't be disappointed. I know. I wasn't.
Disclaimer: The above company sent me the product reviewed in this blog. However, that has not swayed my opinion of their product one way or another.