Ready to optimize your Netflix experience? If you're noticing issues when streaming from Netflix playback, it may be your connection but it may be your setup, too. If you've already tested your connection and Netflix is up and running fine, it's time to look at your setup and find ways to improve streaming from it.
Let's look at some ways to improve streaming in Netflix so you can watch the best way possible no matter what type of device you're using.
Improving Streaming Speed in Netflix
Test Your Netflix Connection Speed
Did you know you can test your Netflix connection speed with the help of a handy short program called Example Short 23.976? Check out the Netflix ISP speed index chart below to see where your provider ranks when it comes to Netflix usage.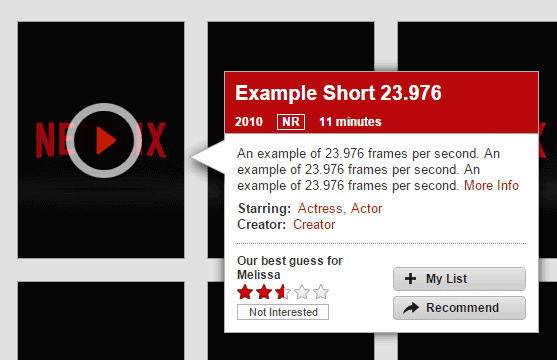 Now, login to Netflix and search for "Example Short 23.976". Choose anyone that pops up and click "Play."
In the left-hand corner of the video, you'll see different bit rates and resolutions.
This 11 minute clip is testing different combinations of playback to find out if your ISP can handle optimal streaming. Ideally, you're looking for this below:
If you see this, you're getting the 3 Mbps that Netflix wants to stream 1080p quality to your TV, console or device. If you're not getting 3 Mbps of playback when running the test video, chances are you're being throttled by your ISP or there's something wrong with your modem/router. Check with them to see if anything can be done about it, if not, you'll have to suffer with poor playback quality when using Netflix.
Checking Netflix Speed on TVs
If you're watching Netflix on a TV, a dongle device (like Chromecast or Amazon Fire TV Stick) or a gaming console, sometimes you're at the mercy of the software you're using. While most of these options utilize similar types of software, the only options you have are hard wiring your TV or console, optimizing your Netflix settings through the Netflix web app or bearing and grinning it.
Do you know what your Netflix streaming settings are at the moment? If not, log into your account, then click on your profile portrait in the right-hand corner of your screen. Click on "Your Account."
Scroll down until you see Playback settings and click on it.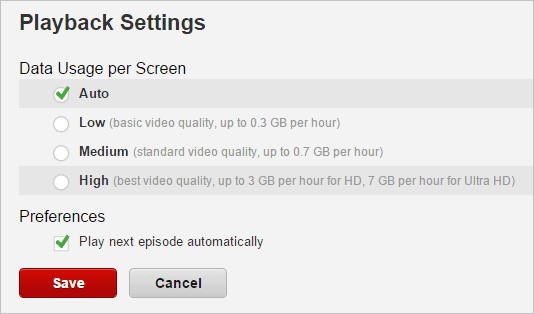 You can change your data usage per screen, allowing you to effectively throttle yourself in some way. The lower the video quality, the less bandwidth you'll use from your ISP which may actually improve your performance (although, if that's the case, you should contact your ISP and find out why your service is shoddy to begin with.)
Chances are if you've never been here before, you might be stuck at Low or Medium. Choose "Auto" for best playback based on your Internet service. This'll change the way you stream on not just your TV but your computers and mobile devices, too.
Make sure to click "Save" when you're done.
Checking Netflix Speed on PC
Computers can pose different issues for streaming in Netflix. If you're using a multi-monitor setup and doing many things at once, this can degrade your overall streaming experience depending on the machine setup and Internet speed. Close out all applications and services you're not using, then use Netflix to improve performance.
If you're using old drivers for your display, especially for a second monitor where Netflix is playing, you'll want to update your drivers for your graphics/video card and display.
The size of a browser window can interfere with Netflix playback, too. If your monitor is more than 20" large, you'll find this to be a common issue. You'll want to shrink your browser size until you find the optimal performance from Netflix, especially when using two monitors.
If you're not using Internet Explorer on a GNU/Linux system – we know, we know! – for Netflix, you could be shooting yourself in the foot. IE has Silverlight built-in, which Netflix still uses under those conditions.
While everyone else uses a supercharged version of HTML5 with Netflix, if you're not on a preferred OS, you could run into issues without the latest version of Silverlight installed.
Mobile Devices
Unless you have unlimited data or don't care about overage chargers with your phone provider, the biggest thing you can do to improve performance on a tablet or phone, even on Wi-Fi, is to turn off any background apps or services similar to how you would on a computer.
A decent tablet will perform much better than a cell phone, for the most part, when using Netflix, especially on the go.
Gaming Consoles
Game consoles can be tricky to improve performance on with Netflix, mostly because you don't have much control over how it plays Netflix. For Wii U, Xbox 360/One and PS3/PS4 users, if you're experiencing performance issues with Netflix, check the status of its online services first. Your console, like a smart TV, will perform better if hardwired every time versus Wi-Fi; use ethernet connection when possible.
If, despite your settings and with a decent connection speed, are still have performance issues with Netflix, you'll want to uninstall the app, power down your console for at least 30 minutes (so that it cools down), then turn it on and reinstall the app.
Conclusion
Netflix performance primarily depends on two major factors: The app you're using and your connection speed. Not all apps are made the same, nor do they perform the space, especially when utilizing a slow connection speed from a mobile network or ISP.
If you're not improving your streaming in Netflix, we recommend contacting your mobile network provider or ISP and find out if there's any restrictions on your account, any hardware issues or anything else that could be effecting your overall streaming experience with the service.