Kindle Unlimited is Amazon's book subscription service, a sort of Spotify or Netflix for books. The premise is easy enough to understand, it is a book subscription where the user has access to over one million titles in the Kindle Unlimited Store.
It is great news for the bookworm looking for a good deal on books. But is it as wonderful as Amazon claims? Read on to find out.
How Does Kindle Unlimited Work?
Like we mentioned above, it is a book subscription service offered by Amazon. What's more important is how does Kindle Unlimited work?
It is pretty simple: If you subscribe to this service, you are allowed free access to more than a million books, including magazines and audiobooks every month. A subscription to Kindle Unlimited will cost you just $9.99 a month, a small amount compared to how much most eBooks cost these days.
The subscription allows you to keep up to ten titles in your library at a time. These eBooks can be read on any device using the Kindle app. That means you don't need a Kindle to subscribe for this amazing offer; all you need is a device that runs the free Kindle app. It will work perfectly on your iPhone, iPad or Android device as well as your PC or Mac.
Amazon has made sure that you have the most hassle-free access to this service across all devices and platforms.
If you are a bookworm who devours more than two books a week, a Kindle Unlimited subscription is right up your alley. Considering the average cost of an eBook on Amazon ranges from between $2 to $6, this subscription could save you big bucks in the long run.
Amazon allows you to cancel the subscription at any time. You can also return the books you 'borrow' and download others in its place. There is a 30-day free trial period to try out the service before opting for it. Amazon also has the option of gifting a Kindle Unlimited subscription to a friend.
What kind of books can I read with Kindle Unlimited?
Kindle Unlimited has in its catalog, books by new and upcoming authors and several self-published books. It's a great way of discovering new authors and trying out new genres, something you'd probably hesitate to do otherwise. With new titles constantly added to the list, it is a great literary resource for the bibliophile.
The KU subscription will give you access to thousands of popular magazines and best sellers. Interestingly, Amazon also offers books with Audible narration with this subscription. This is especially beneficial to those who like to listen to the audiobook at times and read it other times. With eBooks that have an Audible narration, you don't need to buy the same book in two different formats. You can easily switch between formats in the same book.
You can read popular magazines like People, Popular Science, Men's Health, and Rolling Stone to name a few. It is an inexpensive way to read magazines offering different types of content. If you are interested in a hundred different topics and want to read them all, you can't find a better way than this to do it.
Perhaps the best selling point of the Kindle Unlimited is its long list of bestsellers that is constantly updated. Popular fiction like the Harry Potter series, the Hunger Games series and other such literary successes find a place in the catalog.
At the time of writing this article, there are about 1,533,506 titles available in the Kindle Unlimited Store, of which 24,000 are eBooks with Audible narration.
The Advantages and Disadvantages of Kindle Unlimited
If you are trying to decide whether Kindle Unlimited is right for you, there are many factors to consider. A comparison of the pros and cons of this subscription is detailed below.
The good stuff
1.    Free unlimited eBooks: If you are a voracious reader, and like to read multiple books at the same time, look no further. You can take out up to ten titles at a time, return them and read more when you are done with them.
2.    New authors: The Kindle Unlimited catalog contains a large number of titles by new and unknown authors, many of them Amazon Exclusives, published by Amazon. It is a great way of discovering new genres and authors.
3.    Tons of magazines and audiobooks: The Kindle Unlimited subscription gives you access to hundreds of popular magazines and Audible narration enabled eBooks.
4.    It's affordable: At just $9.99 a month, this subscription is a steal for bookworms who end up spending a lot more on books every month.
5.    Read on the move: With the Kindle app, this subscription is device agnostic. You can read on multiple devices or on your Kindle eBook reader. Reading books was never this easy before.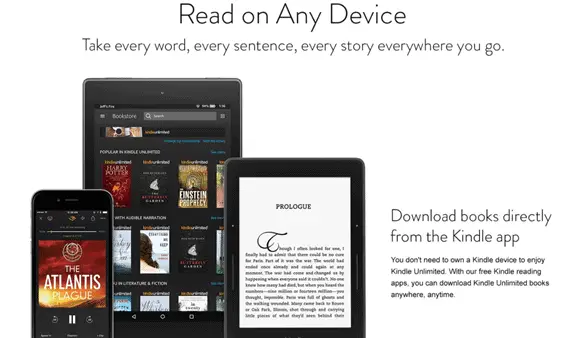 The not so good stuff
1.    It's not for everyone: If you are picky about the books you want to read, this subscription is not apt for you. Even though the catalog has over a million books from different genres, you may not be able to find the ones you are looking for.
2.    The catalog could be a little better: The biggest shortcoming of the Kindle Unlimited catalog is that bulk of the titles is published by Amazon. These books are seldom costlier than $2, thus not making much financial sense. To save money, you have to read at least:
a.       1 $9.99 a month
b.      Two $4.99 a month
c.       Three or more $ 2.99 a month
d.      Ten or more $ 0.99 a month
3.    Public libraries offer better titles: Public libraries in the US offer eBook subscriptions that are more attractive with many more titles in the catalog.
4.    Not too many bestsellers: Another big drawback is the absence of bestsellers on the list. Though you can find bestsellers like the Harry Potter series and The Hunger Games, these are few and far in between. There are very few books by top publishers like HarperCollins, Simon and Schuster, MacMillan, Hachette and Penguin in the list. What this means is that there is a serious dearth of best sellers and top-rated books in the list.
5.    Books disappear when you cancel: Not happy with the service? Amazon makes it easy to cancel, except that all the books that you've downloaded disappear with your subscription. So even if you take the 30-day trial, your books will not remain in your Kindle library unless you follow it up with a subscription.
How do I find Kindle Unlimited books?
Finding Kindle Unlimited books in the vast Kindle Store may be a little tricky at first. The best way to find Kindle Unlimited books is to start your search on the Kindle Unlimited homepage. The Kindle Unlimited homepage has featured sections followed by the entire catalog of eligible books.
You can browse subcategories like popular titles, popular romances, biographies, etc. Like in the Kindle Store, you can sort books according to price, publication date, customer review, etc. If you are looking at authors you've never read before, it is a good idea to sort by customer review so the good books come up first.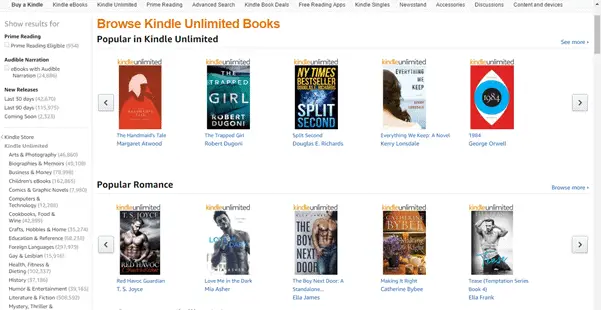 Another way is to search on the Kindle Store with the Kindle Unlimited filter checked in. In the Kindle Store, search for the book you are looking for and check the Kindle Unlimited checkbox on the left.
The search will throw up only results that are Kindle Unlimited eligible. If the book you are looking for isn't eligible, you will not have any results.
Kindle Unlimited Vs Prime Reading
Amazon Prime is another subscription service by Amazon that gives the subscriber access to several deals and freebies. A lot of people get confused about the two subscriptions especially since Amazon offers them both. Amazon Prime is a multi-benefit subscription that gives the subscriber site-wide benefits. Kindle Unlimited, on the other hand, is restricted to eBooks, magazines, and audiobooks.
At $119 annual or $12.99 a month, Amazon Prime gives you benefits like free 2-day shipping for physical items, access to free songs, TV shows, and movies and several early access deals. Amazon Prime members also enjoy the perk of Prime Reading, which allows subscribers free access to over a thousand books, magazines, comics, Kindle Singles and much more across different genres and categories.
Choosing from a few thousand books with an Amazon Prime subscription may not sound as appealing as choosing from a million books with the Kindle Unlimited service with a $9.99 a month subscription.
Obviously, Prime Reading is aimed at occasional readers in contrast to the bibliophiles that Kindle Unlimited is focused on. The point to note here, however, is that Amazon Prime subscription will also get you exclusive site-wide benefits for almost the same price.
How do I cancel my Kindle Unlimited subscription?
If you are not particularly satisfied with your Kindle Unlimited subscription, Amazon makes it easy to cancel.
·         Go to Manage your Kindle Membership.
·         Under Manage Membership select Cancel Kindle Unlimited Membership.
·         Select End Membership on a date you need.
When you cancel your subscription, all the books you've downloaded will be removed from your Kindle library. Amazon, however, promises that your bookmarks, highlights, and notes will still remain even after you have deactivated your Kindle Unlimited account. You will have to buy that particular book or renew your subscription to access your bookmarks.
The Verdict
Is the Kindle Unlimited worth the hype? It all depends on how much you read and the kind of books you enjoy. If you are an occasional reader who averages a book or two a month, this service is best avoided.
It is also not suitable for the discerning reader because of the lack of books from top publishing houses. The Kindle Unlimited is best suited for the adventurous reader who likes discovering new authors and is not very particular about the genre of the book.
The best way to figure out if this subscription is worth it is to take a look at the catalog and see if there are enough books that you would like to read. Else, you can always take the 30-day free trial to try out all the features before making your decision.
(Article updated on 27th July 2019)