In this Dash Cam Buyers Guide (2017 Edition) we try to explain all the factors you should consider before buying a dash cam which would be the perfect fit for you.
A dash cam is a very convenient device to have in your car; you can record your long distance drives and use the camera to protect yourself from accident claims. Earlier dash cams were limited to police use, but now the popularity of this handy device has surged to the extent that there are several models with various features available in the market today.
How is a dash cam different from a regular video camera?
A dash cam is a video recorder that performs two functions differently from your normal video recorder. It has an auto on and an auto-off feature where the camera starts and stops recording on its own without your intervention. It records in a continuous loop, deleting the oldest file when the memory card is full to continue recording. These are the two most essential features that every dash cam has.
With the popularity of these devices on the increase, you have dash cams with advanced features in the market.
Dash Cam Buyers Guide – Benefits and Features
Why do you need a dash cam and how can it benefit you?
1) Advantages of using a Dash Cam
1.1 Accident Evidence
A dash cam is very convenient fall back tool during an accident. If you are involved in an accident, dash cam footage can be used to pinpoint the error. Dash cam footage is proof of the accident, and with this footage, you can be sure the other party does not change their story. Sometimes accidents happen in a split second and it is easy for the perpetrator to blame the victim. Dash cam footage can be quite vital in such cases.
1.2 Fraudulent Accident Claims
Dash cam footage can be used to refute fraudulent accident claims made during an accident. There are con men who extort money from victims by claiming injury and damage to the vehicle in an accident. Dash cam footage can be used to see who was at fault, thus saving the victim from unnecessary harassment.
1.3 Protection
Many dash cams continue to work even when the car is turned off. These dash cams give the owner a video recording of the car and its environs when it is parked. This way, if someone damages your car while it is parked, or if the valet damages the car while parking, you have recordings to pursue the miscreant.
Watch this video to see how a Mercedes mechanic was caught misusing a customer's car.
1.4 Record Long Distance Drives
Going on a long distance drive on a scenic road? Use your dash cam to record your ride! You can use this footage to make road trip movies, or just as a record of your journey.
See this incredible footage of snow-mountains in Tibet recorded using a dash cam:
1.5 Insurance claims
You can use the footage from the dash cam to report and settle insurance claims.
2) Ten Features of a Good Quality Dash Cam
As we mentioned earlier, there are many different types of dash cams in the market ranging from basic features to highly advanced features. Depending on your budget and your need, you can choose which features you want.
Here are some useful features that dash cams have these days:
1. Video Quality
The quality of the video is the most important feature of a dash cam. A good dash cam has good resolution and clear video output. Grainy video and inaudible audio will do you no favors, and such footage will be useless in insurance and accident claims. You should aim to get a dash cam with an excellent camera and a good video resolution.
Look for cameras that shoot in high-definition, 720p or 1080p. A non HD dash cam is cheaper, but with a grainy video output, it defeats the purpose. When you set out to buy a dash cam, make sure you review recorded videos before buying.
Check Footage from Real Users
Watch videos shot in different scenarios like low light, daytime, and night-time. The best way to make a decision is to look at footage from real users, and not from the manufacturer; manufacturers tend to record in perfect conditions, making it look better than it normally would.
Check Videos for Recording Quality
The quality of the video is dependent on the image sensor, the processor, and the lens. Make sure you get a dash cam with a large field of view so that it captures a wide-angle. The lenses make a big difference; glass lenses are considered better than plastic lenses.
See this video for dash cam video quality in day-time and night-time:
2. Storage Capacity
Since the dash cam is constantly recording, it is important to buy a camera with ample storage. A dash cam records over the oldest recording to maintain the loop; if your dash cam has little storage capacity, you will find that it is recording over the same footage. As a result, you'll get very little footage from your dash cam, which isn't an ideal scenario.
HD = More space consumption!
If your dash cam is recording in HD, it will generate an enormous amount of data which will consume a lot of space. Memory cards used in dash cams are classified according to their write speeds into class 1,2,4,6 and 10.
Select correct class of Memory Card
Most dash cam manufacturers recommend class 6 or higher, but the best memory card would be a class 10 memory card. Using memory cards of a lower class is not recommended because they are not reliable and have a bad video output.
The size of the memory card is also an important consideration to make. On an average, an HD dash cam can record for 2-3 hours on an 8GB card before starting all over again. A 16GB card lasts for 4-6 hours, 32GB for 6-12 hours and 128GB for 20 to 40 hours. So, an ideal dash cam will have a class 10 memory card of 32GB or above.
3. Size and Reliability
The size of your dash cam is another important factor to consider; it can be the difference between having a lot of features or forgoing some. A small and discreet dash cam does not take up a lot of space on the dash and is suitable for small cars. It does not attract much attention to the camera.
Do Discreet Cams = Fewer Features?
Most consumers prefer a small and discreet dash camera. But a small dash cam has limited features and limited storage. It will not have on screen playback and other advanced features like GPS, Motion Sensors, etc.
New Models = Best of Both Worlds!
These days, however, people are investing in feature-packed cameras that are discreet, or 'hidden in plain sight.' These cameras are small sized, black and are virtually unnoticeable, with a pretty decent storage.
It is important to buy a dash cam known for its reliability. Since dash cams have an auto start and auto shut off feature, you are mostly unaware of what the dash camera is recording. You may not even look at the recordings until the day you need to check something.
If your dash cam is not reliable, there are chances of not having the footage you need on the record. Make sure you check reviews on the reliability of the dash cam before investing in one.
4. Mounting Options and Ease of Installation
Dash cams come in several sizes and mounting options. Some are mounted on the windshield and others behind the rear view mirror. In a small car with limited dash space, it is best to look for an option that does not obstruct the driver's view and take up a lot of real estate on the dash. Usually, dash cams are mounted using suction cups on the windshield or using a semi-permanent adhesive mount.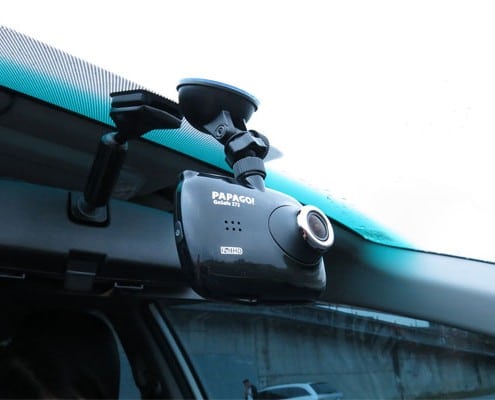 Before you buy a dash cam, see which method of mounting works best for you and buy one that is easy to install and looks good on your dash. A dash cam that is mounted using suction cups can be removed and repositioned whenever required.
It is bulkier than the adhesive mount but offers more flexibility to the user. An adhesive mount looks better and more discreet but cannot be removed or repositioned from the mount.
5. Single Channel or Dual channel
Deciding on whether you need a single channel or a dual channel dash cam is perhaps the most important decision you need to make while buying a dash cam.
Single or Dual Channel Cam?
A single channel dash cam has a single camera and can record only what is happening in front of your car. A dual channel dash cam lets you record in front of your car and the rear as well as inside your car.
What About Single Lens Cams?
A single lens dash cam is a basic dash cam and is an excellent option for recording the front of your car. You can use it to record your road trips and use the footage to protect your car against accidents and fraudulent claims.
This is what a single channel dash cam video looks like:
A dual channel dash cam has two video lenses or channels and records the rear and the front simultaneously. The second camera can be positioned anywhere inside the vehicle; you can position it to monitor and record any valuables inside your vehicle too.
This is what the footage from a dual channel dash cam looks like: 
There are a few dual lens dash cams where both the lenses are built in a single device. In such dash cams, one lens faces forward while the other faces the rear of the vehicle.
6. G-sensor
A gravity sensor is one of the more advanced features of a dash cam. It activates when the car is involved in a crash, and the video recording is immediately protected and will not be overwritten or deleted. This is a great feature to have to protect your parked car from vandals and theft.
7. GPS
Many dash cams these days come with advanced features such as GPS and speed alerts. The GPS feature adds speed and location details to the footage. It adds the time and date to the footage; your recordings can be used in any scenario as evidence.
Some dash cams come with turn-by-turn directions to your destination. They work like a navigational device with guided instructions on how to reach your destination. With such a dash cam in your car, you can eliminate the navigational device, saving space on your dash.
Dash cams also come with features like lane departure warning, driving habit monitoring and stop sign detection which is important driver assistance features.
8. Heat Tolerance
Your dash cam is mounted on the windshield in full glare of the sun at all times. Continuous exposure to harsh temperatures can cause the casing to deteriorate and the electronics to malfunction.
You will need a dash cam that can withstand high temperatures. Most cheap models are made of low-grade parts that are not heat resistant. Read reviews and ask questions about the dash cam's heat tolerance before buying.
9. Motion Detection
Many dash cams come with the additional motion detection feature which is very useful when the car is parked. In Parking Mode, the camera is activated if an impact is detected. If the dash cam has additional Wi-Fi capabilities, it will send you an alert, and you can view your car and the accident in real time.
See this video for how this Parking Mode works: 
10. Night Vision
Another feature to you'd need to look at is the how the dash cam performs in low light. Before buying the dash cam, check whether it has low light capabilities and whether the camera is equipped with low light sensors.
Do you need Night Vision?
Most accidents and traffic collision happen at night, and for your dash cam to be useful, it has to have excellent low light recording capabilities. If you are driving a lot after dark, this is a must-have feature for you.
HDR Cameras work best at night
Look for a dash cam that has a wide dynamic range (WDR), also called high dynamic range or HDR. A camera equipped with these features can record and process footage in low light and digitally enhance it to make it better.
Watch this night time recording from a dash cam: 
3) Types of Dash Cameras
There are several different types of dash cams available in the market and can be broadly classified according to their features in Basic dash cams and Advanced dash cams.
3.1 Basic Dash Cams
These are simple single channel dash cams that do not have too many additional features. They are small and discreet and record the front of the vehicle. They have both audio and video recording capabilities. They have the standard features such as loop recording and auto start and stop. These dash cams are best for people who are looking for a simple plug and play experience.
Some examples of basic dash cams are:
No products found.
3.2 Advanced Dash Cams
These dash cams are typically dual channel systems and come with additional features such as GPS, motion sensors, G-sensors, Wi-Fi, navigation, HD recording, etc. They are feature packed and are good for commercial fleet owners and vehicle owners who want complete protection for their vehicles.
Some examples of advanced dash cams are:
No products found.
Conclusion
Dash cams are important accessories to have to save you in unforeseen situations. A must have accessory for luxury vehicle owners and commercial fleet owners alike; dash cam footage has helped many victims out of unpleasant situations.
These are some features to look for in a good dash cam; do let us know if we've missed out any vital features and we hope you found our dash cams buyers guide useful. If you think we have missed something, please let us know.