Buying the best tech gift for your loved ones isn't easy, especially during a festive season. The holiday season is the busiest time for most of us. As the holidays approach, everybody is preoccupied with different plans, be it decorating your home or planning to gift people the most unforgettable tech gifts (especially if the person you're buying a gift for is tech savvy).
Have you decided on what which gift would make your loved ones most happy? Do not fear, we have drawn up an exhaustive list of the best tech gifts you can give this Christmas.
For the budget-conscious, we have categorized the gifts as the best tech gifts under $50 and best tech gifts under $100. Our list is a good combination of budget gifts as well as premium gifts. From a durable wireless headset to Google Daydream, the list covers all age groups.
Please Note: All product prices listed below are from the time of publishing this article. Click on the links to get the latest price of the products you like.
Best Tech Gifts Under $50
# 1 Carved Smartphone Case 
Wooden cases for phones by the company called Carved is a unique and classy tech gift to give as a Christmas present. Carved has wooded cases for almost all popular models including iPhone 8, iPhone 8 Plus, iPhone 7, iPhone 7 Plus, Galaxy Note 8, Galaxy S8, Nexus 6P and many more.
This is a good gift for a friend who cares equally about how their phone looks and want to protect their phone.
Starting Price: $19
# 2 Microsoft Xbox 360 Wireless Controller
Microsoft Xbox Controller can be one of the best tech gifts for Console and PC gamers. For both big and small kids who love their Microsoft gaming console, a wireless controller is always preferred gift.
You can use four controllers simultaneously on one console and it has an integrated headset port for Xbox LIVE play. More gamers, the merrier! Ho! Ho! Ho!
Price: $35.49
# 3 Joby GripTight ONE GorillaPod Stand
Gift this beautiful GorillaPod Stand to your photographer friends and family members. It has a good and firm hold for phones with a rubber foot and wrappable legs that lets you take fantastic photographs at the most difficult of angles.
You can set the angles the way you want and take your mobile photography and videography to the next level.
Price: $19.95
# 4 Anker Astro E1 Portable Charger
Most of the devices we use today run on batteries. Batteries, which run out more often than we would like. A power back is a perfect companion for a tech lover.
Anker is a world-renowned company when it comes to battery packs.
Anker Astro E1 is a portable charger that detects your device and delivers good charging speed up to 2 amps. The upgraded capacity will let you add two full charges to an iPhone 7 or 6S. The size is compact enough to fit easily in your pocket.
Price: $16.99
# 5 VicTsing Shower Speaker 
Looking for a cool tech gift for a friend who is fond of listening to songs? VicTsing Shower is perfect to take outdoors and in the shower.
It has a silicon case and the speaker is shockproof and dustproof. You can gift this to an avid music fan who wants music all the time, even during a bath. It has a built-in rechargeable battery that supports 6 hours of continuous playing time at 70% volume.
Price: $20.99
# 6 TrackR Pixel Bluetooth Tracking Device, Key Finder, Wallet Locator
We love this little nifty little gadget. It's not only affordable but incredibly useful.
TrackR pixel is a Bluetooth tracker device, key tracker, phone finder and wallet locator all rolled into one. In case your keys get lost, simply go to the TrackR app to find them.
You can even see where you last had your keys, wallet, and laptop on a map. When you can't find your phone, press TrackR pixel to make your phone ring loudly even when it is on silent. This is a great gift for those who misplace and forget things all the time.
Price: $25
# 7 Beautiful iPhone Cases
We took a look at some beautiful wooden phones cases above, but that's not for everyone. For the more creative ones, these beautiful cases would be a better choice.
Gift from this beautiful collection of iPhone cases from Zazzle – a company known for coming up with unique looking cases. Their online store sports a huge variety of designs and textures. You can purchase cases by material, design, brands or trending designs.
There are quality rubber cases, protective cases, monogrammed cases, and many other unique styles and material to gift to your dear ones.
Price: The trending ones start from $29
Get it at Zazzle
# 8 WowWee Interactive Baby Monkey – Bella
These WowWee Interactive Baby Monkeys are the cutest tech toy gifts for children. These beautiful Fingerlings easily grab onto things and respond to sound, motion, and touch by blinking its eyes, turning its head and silly monkey babble.
Price: $38.88
# 9 Bit (Extra Bot)
Bit (Extra Bot) is another entertaining tech item to gift this Christmas. It is a one-inch robot which can be programmed to dance, race and much more. You can play in-app games and download interesting activities from the Ozobot website.
Price: $50
# 10 Shibaful Lawn Textured iPhone 7 (and 7 Plus) Cases (Handmade)
In our list of best tech gifts for Christmas is this quirky lawn-textured iPhone case. The cases are handmade in Japan and is a tribute to favorite sports parks around the world. There is an incredible collection to choose from.
Price: $40
#11 LifeStraw Water Filter
LifeStraw is a must-have personal water filter for hiking, camping, and travel. It filters up to 1000 liters of contaminated water without iodine, chlorine, or any other chemicals. This is a great gift idea for people who love traveling, adventure and camping
Price: $19.95
# 12 Sabrent 4-Port Mini Portable USB 3.0 Hub
Talk about multi-tasking gadget.
With the Sabrent 4 Port Mini Portable USB 3.0 Hub, you can use four USB 3.0 ports at a time. It has transfer speeds of 5 Gbps (USB 3.0), 480Mbps (USB 2.0), 12Mbps (USB 1.1). It is quite compact in design and you can carry it anywhere. Also, it costs below $10, which makes it
Price: $9.99
# 13 Boogie Board eWriter
Aha! The always enjoyable eWriter.
The Boogie Board is the most wonderful tech gift you can give to anyone this Christmas. It is an affordable digital notepad that is perfect to carry anywhere and eliminates the need for carrying pen and paper.
You can erase the content on it with just a touch of a button. It is useful for school, office, car and anywhere in the house. It also comes in several colors.
Price: $18.85
# 14 Jackery Giant+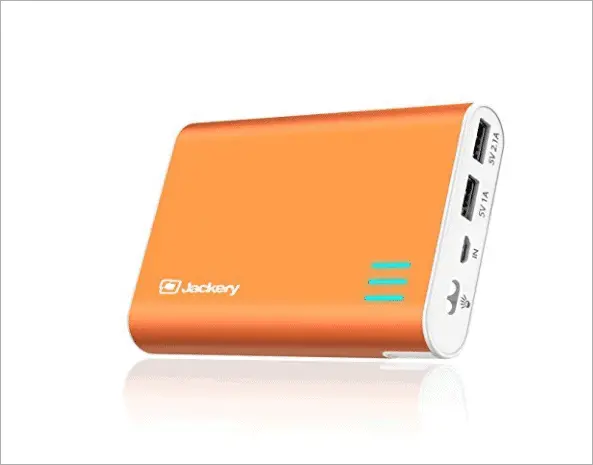 Jackery Giant+ is a lifesaver in an emergency when your smartphone or tablet needs power, and you are away from a plug point. It is a portable charger that packs a 12000 mAh battery and works with popular phones like iPhone 8, Galaxy S8, etc.
It also comes with a built-in flashlight that helps you where there is no light – so pretty handy for outdoor use.
Price: $29.99
# 15 AmazonBasics Laptop and Tablet Bag
Like almost all AmazonBasics products, the AmazonBasics Laptop and Tablet Bag offers good features for a low price. It is thin and compact with enough accessory storage pockets. Its padded shoulder strap makes it easy to carry it. It a good value for money you would be paying for this one.
Price: $14.99
# 16 Cateck Bus-Powered USB 3.0 Port with Card Reader
Cateck Bus-Powered USB 3.0 3-Port and the card reader is perfect for Mac users including Mac Pro, iMac, MacBook Air, MacBook Pro, MacBook, and Mac Mini.
With this handy gadget, you can instantly add 3 USB 3.0 ports and 2-card reader slots to your computer. Gift this Cateck Bus to your dear ones who love their Mac products and help them enhance the connectivity of their Mac devices.
Price: $19.99
# 17 Mpow Selfie Stick
Everybody has a friend or relative who loves to take selfies. The Mpow Selfie Stick allows you to take selfies from a smartphone from a distance.
The stick is compact and fits in your pocket easily. It has a built-in remote control and a good battery. Your friend can take the perfect selfie or group photos with this.
Price: $9.99
# 18 $20 iTunes Gift Card
If you are at a standstill and just cannot decide what to gift someone this Christmas, iTunes Gift Card never fails. Simply enter the amount you want to gift, and they will be able to buy apps, music, etc. from the App Store.
Price: $20 – $30 (choose your amount)
# 19 Portable Charger for Apple Watch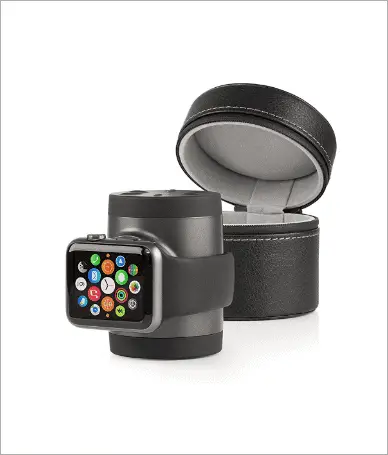 The Apple Watch is has proven itself to be indispensable, for the people who have bought it.
It gives you reminders, notifies you about texts, calls, calendar updates and tracks multiple facets of your health.
This portable charger for Apple Watch, charge the battery on the go and never miss an important notification or your health stats. This is a good tech gift for your loved ones this Christmas.
Price: $35.99
# 20 Guitar Sidekick
The guitar is one of the most popular musical instruments. This is a perfect gift for the guitar enthusiast who uses their smartphone to look up new music to learn.
Gift this beautiful Guitar Sidekick to load new music from internet, online guitar tutorials on your smartphone and use them handsfree.
Price: $20
# 21 iGotTech Texting Gloves
Have you ever tried using your smartphone with your gloves on? Doesn't work well, does it?
Gift this Plush Texting Glove to a friend or relative who loves using their phone. It comes with a perfect price and lets you use your phone without having to remove the gloves.
Price: $8.97
# 22 Belkin Qi Wireless Charging Pad
The slim and thin Belkin Qi Wireless Charging Pad is compatible with any Qi-enabled smartphone and mobile device. You can charge your phone including iPhone 8 / 8 Plus and iPhone X wirelessly via output 1-amp for fast charging. This also supports the Samsung Galaxy series of phones. This is a good tech gift to gift your friends and relatives for Christmas.
Price: $39.93
# 23 Clocky Alarm Clock on Wheels in Chrome
Clocky Alarm Clock On Wheels is a cool tech gift you can give someone who has trouble getting up in the morning. The alarm clock jumps runs and beeps until you catch it and turn it off. Sounds like a nightmare that will definitely wake you up. Look on the bright side – you won't be late for work!
It is strong enough to jump from a 3 feet nightstand. It is one of the best tech gifts for kids, helping them to get up in the morning on time. It's the best tech gift for the sleepyheads in the famliy.
Price: $45.99
# 24 ThermoWorks Classic Thermapen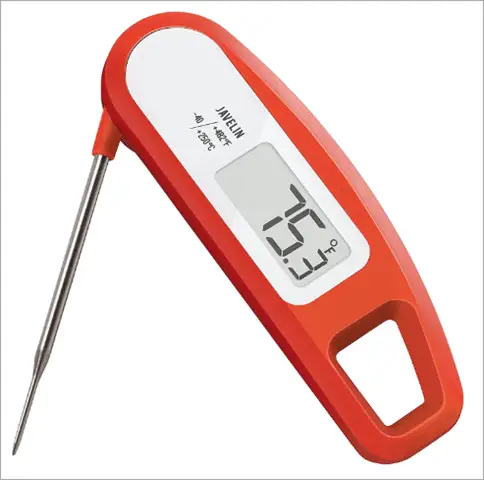 Your friends who love cooking will absolutely love the ThermoWorks Classic Thermapen, which helps you take accurate temperature readings in seconds. The display is 1.4″ which makes it easy to read. It is designed especially for meat but is suitable for fryers, bread, candy, coffee, and homebrews too. This is just another nifty tech tool that should be part of any kitchen.
Price: $25
# 25 TP-Link Wi-Fi Range Extender
Gift this TP-Link N300 Wi0Fi Range Extender and help your dear ones extend their Wi-Fi coverage area by boosting wireless signal. The design is compact and wall-mounted that makes it super easy to deploy.
Price: $20
# 26 REMAX USB Lightning Cable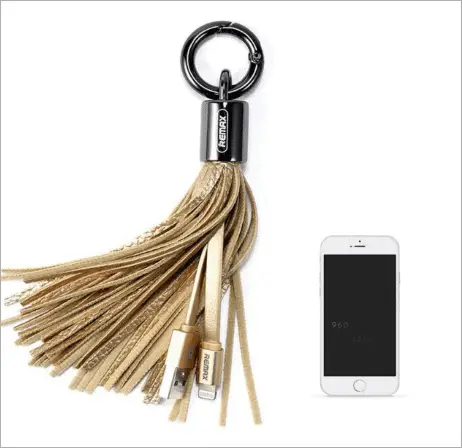 This beautiful accessory for your keys is actually a lightning cable.  This USB lightning cable is an affordable and thoughtful gift. It can be easily hooked to keys or handbags and used to charge your iPhone wherever you are and you do not need to worry about the twine of the cable in your handbag.
Price: $9
Best Tech Gifts Under $100
# 27 Microsoft Universal Foldable Keyboard
This beautiful Microsoft Universal foldable keyboard for iPad, iPhone, Android devices, and Windows tablets is a time saver especially for those who travel long distances to reach their workplace.
It has Bluetooth technology that eliminates the mess of wires and has proven to be very reliable. It has an inbuilt rechargeable battery that provides three months of usage on a single charge.
Price: $67.78
# 28 Amazon Echo (2nd Generation)
One of the most trendy tech gifts you can gift this Christmas is the Amazon Echo. It has an all-new design and enhanced specifications compared to its previous version.
You can play an unlimited number of audiobooks, radio stations, news, and much more on compatible Echo devices in different rooms. Alexa is the companion who can control your TV, request for an Uber, order a burger and much more.
Further Reading: Amazon Echo: How It's Changing the Face of Voice-Enabled Technology
Price: $99.99
# 29 Tile Anything Finder Combo Pack
Do you have a friend or loved one who always forgets where they left their phone? This is the perfect gift for such friends. It helps you find your phone; simply double tap button on your Tile and your phone will start ringing even it is on silent. The tile app always remembers where and when you left something.
Price: $60
# 30 SteelSeries Arctis Gaming Headset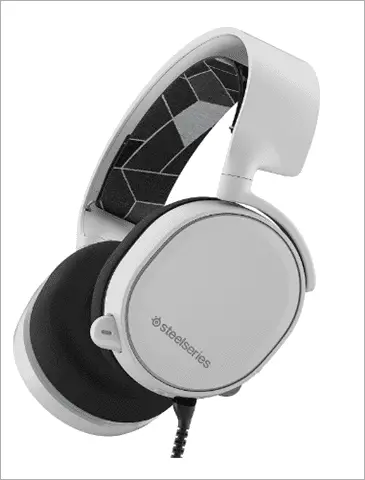 This is one of best tech gifts under $100 for anyone who is an avid gamer. The SteelSeries gaming headset is designed for every platform with all the comfort you need while gaming. It comes with the Clearcast mic that delivers studio quality clarity and effectively cancels background noise.
When it comes to gaming headsets, this one is pretty affordable with a top-notch rating.
Price: $80
# 31 Roku Streaming Stick+
Although Roku Streaming Stick+ is a very popular tech product, there are people who still don't own one. You can surprise them with the streaming device with more powerful and advanced features than its previous version. It comes with brilliant 4K, HDR, and HD online streaming, which would open up a world of unlimited entertainment for them.
Price: $69
# 32 Logitech MX Master 2S Wireless Mouse
Logitech MX Master 2S Wireless Mouse is one of the best tech gifts you can give a regular computer user. It has a cross-computer control feature that allows you to control multiple devices seamlessly. Once you charge it fully, it may work for up to 70 days. You can operate it wirelessly up to 10m. It is compatible with both PC and Mac.
Price: $99.99
# 33 All-New Fire HD 8 Tablet with Alexa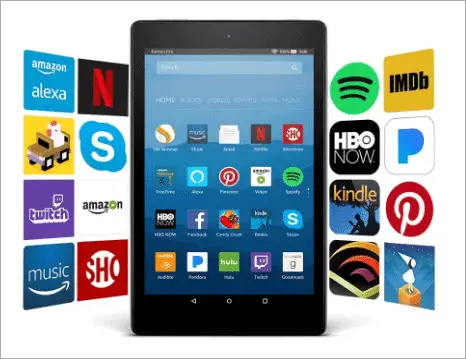 The new generation Fire HD 8 Tablet with Alexa is a cool tech gift for anyone who love to play with new tech. It comes with 12 hours of battery life, Amazon Alexa, and opens the user to a world of entertainment.
Price: $49.99 (price at occasional Amazon promotion)
# 34 The Grillbot Automatic Grill Cleaner
This is the awesome gift for people who love barbecue. The Grillbot Automatic Grill Cleaner can be used before or after using the grill. It is equipped with three high-power electric motors to clean every corner and inch of your grill. You don't have to monitor it; simply set it and forget. It is smart enough to notify you when it's done.
Price: $75
# 35 Apple Pencil For iPad Pro
Gift this Apple Pencil to a creative and artistic friend who is a proud owner of an iPad pro.
The pencil is sensitive to pressure and tilt; you can vary the line and weight of your drawing producing multiple shades and effects. It connects via Bluetooth and charges using your iPad's lightning connector.
Price: $94.88
# 36 Fitbit Aria Wireless Smart Scale
You can gift the Fitbit Aria WiFi Smart Scale to the people who are conscious about their health and weight. They can pair this smart scale with their Fitbit.
Aria syncs automatically and wirelessly via the home Wi-Fi network. It monitors the graph of your progress and health so that you can manage your health plans. Aria can recognize upto eight different people.
Price: $87.79
# 37 Polaroid 3D Draw Pen
If your artistic friend is bored with 2D drawing, give him this Polaroid Draw 3D printing pen. It brings charm to the drawing and makes it 3 dimensional. It comes with auto jamming, auto eject and auto feed, temperature control, etc.
Price: $68.62
# 38 Google Daydream
The best way to introduce someone to virtual reality is to gift this beautiful Google daydream. It is made of soft and comfortable fabric. It takes no time to set up and is compatible with a number of smartphones.
As the company describes it: "Dream with your eyes open. Watch panoramic videos, play multiplayer games or discover exciting new locations in fictional worlds. Swing a bat, shoot a three-pointer or pilot a helicopter using the included controller. With the Google Daydream View, you're thrown right into the center of the action."
Price: $99.99
39 Misfit Ray
This supercool band eliminates the need to wear multiple devices. It has vibration alerts that notifies you about calls, texts, movement reminders, and alarms. It features a smart button that controls connected household devices.
Price: $100
# 40 Ringly Smart
This is a classy tech gift to gift someone special. The Ringly Smart ring is an activity tracker and gives you mobile alerts. Simply wear it as you wear other rings, and it syncs with your phone to alert you of all texts, calls, reminders, alarms among other things.
It has vibration and colored light alerts that will let you know that you have got a new notification.
Price: $99
Best Tech Gifts That Any Tech-Savvy Person Would Love
# 41 Nintendo Super NES Classic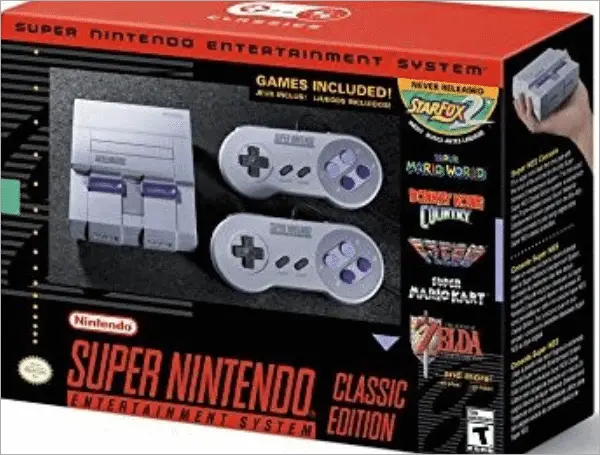 The Super NES Classic Edition reminds you of the 90s home console. It comes with 21 games including Super Mario Kart and Street Fighter II Turbo: Hyper Fighting. It is also compatible with Classic Controller and Classic Controller Pro accessories. This can be the perfect gift for gamer friends this Christmas.
Price: $113
# 42 Philips Hue Starter Kit
Immerse your home in colors (richer cyan, green, blue, etc.) based on your mood.
The Philips Hue Starter Kit works with voice commands of Amazon Alexa, Apple HomeKit, and Google Assistant. Simply install it as you would install an ordinary bulb and control it via the Philips Hue App. This is one of the coolest tech gifts for any occasion.
Price: $137.60
# 43 Beats Solo3 Wireless Headphones
The Beats Solo3 Wireless Headphones is the perfect tech gift for a music lover. Connect it via Class 1 Bluetooth to your device and wirelessly listen to your playlist. You can take calls, control music and activate Siri too.
Price: $200
# 44 Nest Cam Security Camera for 24/7 Home Monitoring
The Nest Cam Indoor security camera has a 130-degree angle-view where you can watch your home in 1080p 24/7. It alerts you when it detects an activity by sending you a phone message or an email with a photo of event. You can even talk and listen (via app) as the Nest Cam comes with a built-in speaker and microphone. It works with Alexa too.
Price: $154
# 45 Mr. Coffee Smart Wi-Fi Enabled Coffee Maker
Who doesn't love a freshly-brewed cup of coffee? You can gift this versatile Coffee Maker with which you can schedule and make your coffee according to your specifications. It works with the free WeMo app from your smartphone that lets you control it wirelessly. You can brew your coffee from your bed using your smartphone.
Price: $110
# 46 Furbo WiFi Dog Cam
The phenomenal Furbo Dog Camera is just what a pet lover wants. You can toss a treat to your dog via the Turbo iOS/Android app. You can fill it with 100 pieces of your dog's favorite food and it will serve your dog when you are away.
This Wi-Fi cam lets you talk to your pet with a two-way audio communication where your dog can listen to you. This is a cool tech gift for a pet lover.
See Also: Petzi Treat Cam Review: Monitor and Feed Your Pets Remotely.
Price: $249
# 47 BioLite CampStove 2
If you are looking for a cool tech gift for your friends who love the outdoors, the BioLite CampStove 2 is a good choice. It turns fire into electricity and generates 3 watts of usable electricity for USB charging of devices like phones, tablets, LED lights, etc. It also works as a camp stove and you can use it to boil water and cook while camping.
Price: $130
# 48 WD MyPassport Hard Drive 4TB
The WD My Passport Hard Drive is a good tech gift for someone who loves taking a ton of pictures and videos and needs to store all of them. It features auto backup with the WD backup software. It has password protection with hardware encryption to make it sure your data is not vulnerable to leaks.
Price: $110
# 49 HP Sprocket 2-in-1
In today's digital world, there are people who love the printed versions of their photos. HP Sprocket lets you print photos from your smartphone or tablet. Sprocket uses Bluetooth connectivity and you can set up in parties or events and allow people to print photos. The size is compact enough to fit in a small bag. You can even edit your pictures via the HP Sprocket App.
Price: $129
# 50 Vanguard Alta Pro 263AB Tripod
Vanguard Alta Pro 263AB Tripod is the ultimate tech gift for photographers. The tripod has all the features that anyone would need to take photography to the next level.
The 26mm 3 section aluminum alloy legs, smooth fluid-like ball head, premium magnesium die-cast canopy, etc. make photography easier than ever before.
Price: $160
# 51 Google Home Mini
And last but not the least, Google Home Mini is one of the best tech gift option that is both stylish and useful.
It comes with a personal AI assistant Google Assistant that answers your questions and does specific tasks for you. It plays music, gives you weather information, sets timers, controls smart devices in your home and many other things.
Price: $123
Wrapping up…
So you went through this big list of gifts we've suggested. Which one did you pick?
The BioLite CampStove 2 or the Ringly Smart ring? There are hundreds of cool tech gifts, and we have filtered the best ones that are both affordable and useful. If we missed your favorite gift, let us know in the comment box below.