PDFs are everywhere in the computing world, and they often carry important and confidential information. Hence we need to know how to password protect PDFs to keep our data safe.
PDFs are the digital equivalent of a paper document. In a standard format, they look the same on any device or computer. PDFs are usually non-editable and adding or removing passwords to PDF documents can require specialized tools.
Once the password is set with the aim to protect sensitive or confidential data and documents is achieved. These can now only be opened when the appropriate password is used. Another restriction that can be set is to limit permissions, such as copying and printing.
Here are the simplest and safest ways to password protect PDF documents in Windows, Mac, and online.
See Also: Top 8 of the Best PDF Editors For Windows
How to Password Protect PDF in Windows
1. Use The Adobe Acrobat Password Feature
You can use Adobe Acrobat to password protect a PDF. Download Adobe, which is a paid tool, unlike Adobe Reader. If you don't want to pay for this, you can also download the 7-day free trial.
a. Download and install Adobe Acrobat Reader first.
b. Open Adobe Acrobat and open the file that you want to protect with a password.
c. Click on File and then Properties
d. Click on the Security tab
e. Next to the Security Method, there is a drop-down, click on the drop-down menu, and choose Password Security
f. Under the Document Open section, check the box that says, Require a password to open the document, and enter a password in the box.
g. Save the PDF. Now the PDF is password protected and can be opened only if the password is typed in.
h. You can further protect your PDF by restricting other features, such as editing and printing.
i. In the Password Security window, go to the Permissions section and check the boxes that are relevant, restricting printing and editing access. You can select the type of editing that is allowed in the drop-down menu.
j. Click on OK and the password is set.
2. Use the Password Protect Option in Microsoft Word
a. Open the document you want to convert into PDF
b. Under File, select the Save As option. Choose PDF under the save as type drop-down menu.
c. Now click on Options
d. Under PDF options, check the box next to Encrypt the document with a password
e. Enter the password twice and click on Ok
f. Choose where you want to save the PDF and click on Save
g. You have now created a password-protected PDF from a Word document. To password protect an already existing PDF, export the document into Word and follow the same steps.
3. PDFMate Helps to Protect Your PDFs
Use PDFMate to password protect PDF free and easy. Adobe Acrobat Reader PDFMate on your system.
It is useful to convert PDFs to different formats such as jpeg, HTML, OCR, etc.
a. Download and install PDFMate
b. Click on the add PDF button and open the PDF that you want to add a password to. You can add a single PDF or open a batch of PDFs at the same time.
c. In Advanced settings, select PDF.
d. Here you can add an Open password and a Permissions password for your document.
e. Click on Okay
f. Proceed to convert your file by clicking on Convert.
How to Password Protect PDFs Online
1.Smallpdf – Quick Online PDF Password Protection
Smallpdf is a great online tool to add passwords to your PDF files. You can also use this tool to edit, convert, split and merge files, and e-sign PDF documents.
Since it is online, you can access it from any platform and any device. It doesn't require any installations or registrations. It's a functional tool with a straightforward interface that is easy for everyone to follow.
a. Drag and drop the file to be protected in the browser. Alternatively, you can browse and select the specific file too.
b. Type in your password twice
c. Click on encrypt PDF
d. The tool will encrypt your PDF, and you can download the password-protected pdf to your computer.
Adobe Acrobat Reader is one of the easiest ways to protect your PDF files online.
a. Upload the file you want to add the password to and type in the password. The online tool will apply the password to you.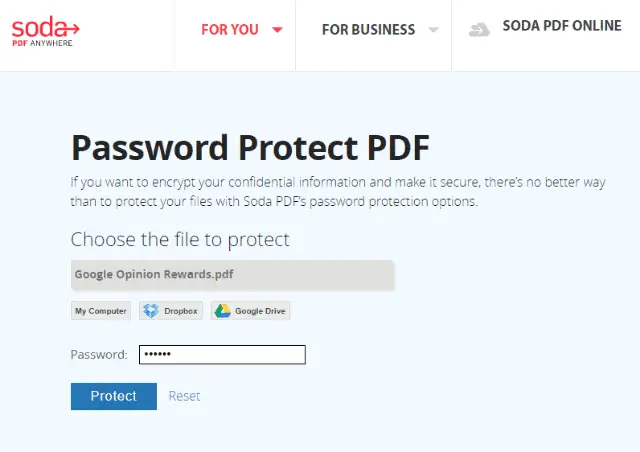 b. Download the protected document and save it on your computer for future use.
3. PDF2GO – Much More Than Just Password Protection
PDF2GO is a safe and simple tool to provide a password for your PDF online.
Also, you can use this tool to perform numerous functions. These include converting, compressing, editing, rotating, sorting, and resizing PDF documents.
a. Upload your file by browsing or by dragging and dropping it in the box provided.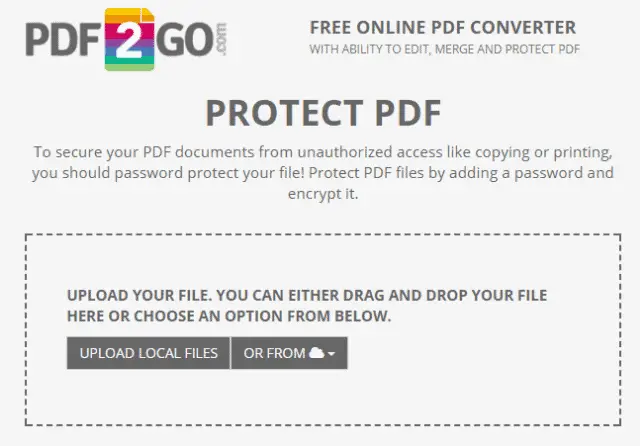 b. Type in a password twice in the text box under Settings
c. Set password restrictions for printing, copying, and modifications as per your requirements.
d. Click on Save Changes
e. Download your protected file or save it in Dropbox for further use. Your data will be deleted from the PDF2GO servers in 24 hours or after ten downloads, whichever comes first.
f. When you share this PDF, the user will have to enter the password to open or access it.
How to Password Protect PDF in Mac
You can easily password protect your PDF files without any third-party tools on your Mac computer using the Preview tool.
a. Open the PDF that you want to assign the password to use Preview
b. Click on File from the menu bar and select Export as PDF
c. Check the Encrypt box
d. Enter the password and verify it
e. Click on Save
You can also use PDFMate or Acrobat Reader to password protect PDF files in Mac by following the steps outlined above.
Conclusion
Assigning a password to essential files is always a good practice to follow; it keeps your documents safe and away from unauthorized views. Use these tools to password protect your PDF files easily. Do let us know what your go-to method to assign passwords for your PDF files is in the comments below.
Further Reading: 5 Useful PDF Reader Alternatives to Adobe Acrobat Reader