As it happens with most of the highly popular products that are market leaders, the Raspberry Pi, as a winner,  has been challenged by many me-too products. Here, we have listed the best of the Raspberry Pi alternatives that are good contenders as substitutes.
Get to Know Raspberry Pi
Way back in 2012, a UK based foundation launched the Raspberry Pi, a computer the size of a credit card. The sole purpose of this product was to make computing popular and easily accessible.
This was especially targeted at people who were found where technology and knowledge of computers were almost rudimentary/less/nil.
In the years that followed the foundation itself launched better versions of its original model. This ensured enhanced performance and the latest Raspberry Pi model 3B+ launched in February 2018.
While the population of students and computer illiterate people the foundation initially targeted grew and benefitted manifold, it was the tech geeks who benefitted the most.
They discovered alternate and innovative uses for this super-small fit computer for almost everything. These included projects like security cameras, high-tech flying drones, and even mini toys, making Raspberry Pi immensely popular.
See More: Unleash The Budding Inventor – With These Top 50 Raspberry Pi Project Ideas
18 Best Raspberry Pi Alternatives
Given the versatile usage and ease of using, it is no wonder that we now have loads of choices as alternates to the Raspberry Pi.  Check this out as each has something new or unique to offer. In addition, it can almost be customized to fit your choice of project.
1. ASUS SBC Tinker board
First of all, the Tinker board ensures you a smooth performance whether you are browsing the web, watching videos or writing scripts.
It is designed for SBC(Single Board Computer) hobbyists, makers, and IoT (Internet of Things) enthusiasts.
The board features a quad-core 1.8 GHz SoC with 2GB DDR3 RAM, non shared Gbit LAN, Wi-Fi with upgradeable IPEX antenna support.
It has an ARM-based RK3288 SoC and is equipped with 4 cores that enhance multithreaded application performance.
The Tinker's Board's GPU is based on the Mali-T764 GPU. It offers 16 cores and a 600 MHz clock speed.
Check the latest price on Amazon
2. Banana PI BPI-M64
Competing hard in almost all aspects is the Banana PI BPI-M64 and probably one of the most feasible Raspberry Pi alternatives to be watching out for.
Banana PI BPI-M64 is an open-source hardware platform. It is a quad-core 64-bit version of Banana PI and supports Wi-Fi and Bluetooth onboard.
The Banana Pi BPI-M64 series run Android, Debian Linux, Ubuntu Linux, Raspbian image and other OS.
The highlights of Banana PI BPI-M64 include a 1.2GHz quad-core ARM processor, a Mali 400 MP2 GPU, 2G of DDR3 RAM, a microSDXC slot, 8G eMMC flash, WIFI and BT onboard and support for 4K ultra-high-definition video.
It comes with a 3.5 mm Stereo Output mini-jack with microphone support.
Check the latest price on Amazon
3. Odroid-C2
Besides all, if you are a movie buff and want to have the theatre experience in the comfort of your living room, then check out this Raspberry Pi alternative too.
ODROID-C2 is a 64-bit quad-core single-board computer. It is a compact tool that is perfect for college project work and office presentation too.
You will find this mini piece the most cost-effective 64-bit development board available in the ARM world.
Besides being an alternative to the home theater set-up box, if you want to browse the web, play games or socialize on the net, then ODROID-C2 fits well with your needs.
It even works as a controller for home automation as well as a workstation for software development.
Check the latest price on Amazon
4. OrangePi Plus 2
Orange PI Plus 2E is for anyone who wants to get creative with technology. It is a simple and useful tool that lets you control things around you.
The best advantage of the Orange PI Plus 2E  is that it is open-source. This means that you can build your computer, or a wireless server, create games and let your creativity really flow anytime.
Although it is a single-board computer, it can be used by advanced users who want to experiment with the development process.
This Raspberry Pi alternative can run Android 4.4, Ubuntu, Debian, Raspbian Image, uses the AllWinner H3 SoC and has 2GB DDR3 SDRAM.
Check the latest price on Amazon
5. Parallela – A Good Raspberry Pi Alternative
Parallella computer is a credit card-sized computer based on the Epiphany multicore chips from Adapteva. It includes a low power dual-core ARM A9 processor and runs multiple popular Linux distribution.
The Epiphany co-processor chips consist of a scalable array of RISC processors programmable in bare metal C/C++ or parallel programming frameworks like OpenCL, MPI, and OpenMP.
And as the name suggests this Raspberry Pi alternative is best suited when your project demands multiple sources or parallel computing.
Check the latest price on Amazon
6. BBC micro: bit
BBC micro: bit is most popular with school students, especially if you have no prior knowledge of computing. In addition, this Raspberry Pi alternative has great value for money.
It allows the students to use this tool while learning new things as its unique integrated LED matrix helps 25 programmable red LEDs as output.
The fact that it is pocket-sized and has an integrated motion sensor, magnetometer, LED display and Bluetooth add to its benefits' list.
It can be coded with something simple in no time like lightning up its LED or displaying a pattern.
Check the latest price on Amazon
7. ODROID-XU4
ODROID-XU4 Single Board Computer features 2Gbyte LPDDR3 RAM PoP stacked, 2 x USB 3.0 Host, 1 x USB 2.0 Host.
It is a new generation computing device with powerful and energy-efficient hardware.
The board offers open source and can run various forms of Linux. It supports Android from 4.4 KitKat to 8 Oreo.
Check the latest price on Amazon
8. LattePanda
If you are an embedded systems engineer or an educator then you will probably feel that this Raspberry Pi alternative is a development board and is made especially for you.
LattePanda is a complete Windows 10 single-board computer that comes preinstalled with a full edition of Windows 10 Home edition.
You can run power tools like Visual Studio, Node JS, Java, and Processing with ease. It also includes an integrated Arduino compatible coprocessor that can be used to control and sense the physical world.
This product targets the Windows developer, IoT developer, robotics whizz or simply a DIY fanatic. LattePanda is a development board made considering makers, educators, and embedded systems engineers.
Check the latest price on Amazon
9. Try BeagleBoard X15 As A Raspberry Pi Alternative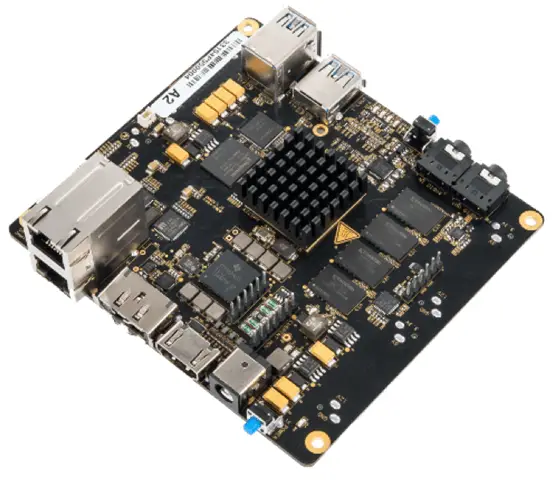 BeagleBoard-X15 is a top-rated, Linux enabled, power users' dream board that helps you do every computing task.
It comes with an efficient and high-speed interface for every connectivity need. The board is compatible with Debian, Ubuntu, Android, Cloud9 IDE on Node.js, etc.
The processor used is: TI AM5728 2×1.5-GHz ARM® Cortex-A15. It as 4GB 8-bit eMMC onboard flash storage and 2×ARM Cortex-M4 microcontrollers (MCUs).
Buy BeagleBoard-X15 here
10. MinnowBoard Turbot Dual Ethernet Quad-Core
The MinnowBoard Turbot Dual Ethernet is a partner derivative design that is similar to the MinnowBoard Turbot. It is a compact and affordable open-source hardware platform.
It puts the power of a 64-bit Intel® Atom™ E38xx Series System on a Chip (SoC) in a small form factor with dual-and quad-core versions.
The board includes two Ethernet ports. Moreover, this tiny but powerful board has a wide range of capabilities that can appeal to intermediate, professional developers and OEMs interested in prototyping and competing with high-performance IoT.
Buy MinnowBoard here
11. C.H.I.P
A computer that is so small that it can actually be aligned in the shape and size of a banana. C.H.I.P performs all the computer tasks for you and is built for work and pleasure and everything in between.
C.H.I.P is a classic example of how computing has become so affordable and manageable.
You can use C.H.I.P with Gnumeric to create spreadsheets or AbiWord to word process.
When you want to surf the internet, send emails, watch videos, you can use the IceWeasel browser.
Connect Bluetooth controllers to the mini-board and play the games you want either retro or new.
Check the latest price on Amazon
12. UDOO X86 II ULTRA
UDOO X86 is the all-new powerful x86 maker board and an Arduino™ 101-compatible. It can run all the software available for the PC world from gaming to streaming.
The board even suits graphical editors and professional development platforms. It is truly based on Quad-Core 64-bit new generation x86 processors made by Intel®, designed for the PC domain.
The Screw/Spacers for M.2 SSD and Wifi/BT are included.
Buy UDOO X86 II Ultra here
13. ODROID-HC2
ODROID-HC2 is a mini-computer that is affordable, and a perfect solution for a network-attached storage server. Furthermore, its best advantage is that you can customize it the way you need it.
This mini Raspberry Pi alternative is based on the ODROID-XU4 platform and can run  Samba, FTP, NFS, SSH, NGINX, Apache, etc.
It features Samsung Exynos5422 Cortex-A15 2Ghz and Cortex-A7 Octa core CPUs, USB 2.0 Host, Gigabit Ethernet port.
Working as a home-cloud server, ODROID-HC2 centralizes data and enables users to share and stream multimedia files to phones, tablets, and other similar devices.
Buy ODROID-HC2 here
14. HummingBoard – Great Raspberry Pi Alternatives
One of the perfect Raspberry Pi alternatives for 2020 is the HummingBoard Family. HummingBoard Family lets you explore small, powerful, low-cost ARM computers.
It includes HummingBoard Gate, HummingBoard Edge, HummingBoard Base, and HummingBoard Pro. You can choose your favorite model according to priorities.
The HummingBoard family has the highest level of Wireless/RF integration and supports technologies like 802.11n, Bluetooth, cellular, Zigbee and many others.
Furthermore, the HummingBoard Gate is the first SBC to include an integrated mikroBUS™ socket that offers an easy hardware configuration.
In addition, when we look at HummingBoard Edge, it is the ideal M2M platform that meets the B2B market demand for a high-performance, reliable and innovative device.
Finally, the HummingBoard Base carrier offers a useful and commercial starting point for low-compute needs in an embedded device.
There is also the HummingBoard Pro that offers a valuable development platform with some advanced features.
Buy Humming Bird Family here
15. pcDuino3B
Likewise, the pcDuino is in high demand from the community that largely depends on open-source computers and therefore one of the popular Raspberry Pi alternatives.
pcDuino is a cost-effective single-board computer that runs Operating Systems like Ubuntu Linux and Android.
It has an HDMI interface to output its graphic desktop screen. pcDuino3 provides easy-to-use toolchains.
The highlighted features of this tiny, powerful board computer are 100% compatible with original Arduino Shields, 100% compatibility with Linux and Android.
Buy pcDuino here
16. ARDUINO UNO REV3
If you want to get started with electronics and coding, then UNO can beat the rest as the best Raspberry Pi alternative.
Although, if you are looking for something like better than Raspberry Pi, then this may go well. The UNO is the ultimate robust board you can start with. It is a microcontroller board based on the ATmega328P.
The board comes with 14 digital input/output pins, 6 analog inputs, a 16 MHz quartz crystal, a USB connection, power jack, ICSP header, and a reset button.
Uno means ONE in the Italian language. You can connect it to a computer with a USB cable or power it with an AC-to-DC adapter to get started.
Buy UNO here
17. NanoPC
NanoPC is an open-source, affordable and tiny computer that comes with Samsung Cortex-A9 Quad-core Exynos4412. It features an HDMI output resolution of 1080P.
It is packed with one audio out in jack, one Micro USB interface, two USB Host 2.0 interface, 100 Mhz Ethernet, and DC of 5V/2A input.
NanoPC is a credit card-sized that plugs into your TV and a keyboard3. It can be used in electronics projects and other things that your PC does like spreadsheets, word processing, and games.
You can even play HD videos and learn to program as well.
Yes, you can include it in the Raspberry Pi competitor list as it leaves no chance to disappoint you any possible way.
Buy NanoPC here
18. CubieBoard4/CC-A80
Finally, but not the least when considering Raspberry Pi alternatives 2020, CubieBoard4/CC-A80 is an open-source mini PC. This has a great performance that works well for office work, games and entertainment.
The main chipset AllWinner is a 28nm Octa-Core A15/A7 big. The LITTLE architecture application process with a CPU dominant frequency of 2GHz.
It has GPU 64-core GPU graphics core PowerVR G6230 which supports OpenGL ES, OpenGL, even openCL.
CubieBoard4/CC-A80 features 4 USB2.0 host ports,1 USB3.0 OTG port, Audio output, Microphone input, dual-band wifi and Bluetooth 4.0, micro SD card.
Buy CubieBoard here
Conclusion
Almost all the products listed here are competitive in terms of size and price as super Raspberry Pi alternatives. They are all portable and can connect to real-world objects to make life profoundly and tech-aided.
As per your need-based project and usage, you can pick either one of them as the best alternative to Raspberry Pi and benefit.
Further Reading: 20 Creative Raspberry Pi Zero Projects That You Must Try Out Today
(Article updated on 3rd January 2020)