When it comes to building a smart home which focuses on the safety of your home or office, a home security camera can play a major role. Interestingly, Xiaomi has spread its wings in almost every corner of smart home products and is fast becoming a popular choice for affordable security cameras.
Now Xiaomi's Home Security Camera 360° is all set to take the home security market by storm. So when it is a matter of home security, this is a good option and here is why you can consider the Mi Home Security Camera 360 as your camera of choice.
Mi Home Security Camera 360° Review
Xiaomi has always been partial to a crowd who is budget conscious, especially in countries like India. The latest products, the Mi Home Security Camera 360° keeps in line with this philosophy.
It is affordable, looks vibrant and ticks all the right boxes when it comes to its set of features. Usually, when you think of assembling a reliable security system in your home, one always feels it will be a daunting task.
This is because most of the home security systems are complicated to set up and operate. Furthermore, they also involve a lot of setting up costs like wiring, cabling, maintaining and buying the expensive product itself.
With the Mi Home Security Camera 360° being inexpensive and extremely easy to install, it changes this very concern. In addition, you can record or watch the live stream from the camera directly on your smartphone.
See More: 8 Genius Uses For Your Smartphone Camera, Apart from Clicking Pictures
Mi Home Security Camera – An Ecosystem With Great Promise That Fits In Your Budget
If you look through the latest news maybe you will find this name at the top of the home security camera reviews. Mi gives it's home security camera's the same detailed attention that it gives to its other products.
Great Dynamic Design Features
The Mi Home Security Camera 360° has a look of a tiny robot with a sleek build and is smooth to touch. Here are its best features:
(A) Angles and Flexibility Coverage
The name itself is self-explanatory. The Mi Home Security Camera 360 can rotate 360 degrees. It can also tilt up and down at a 45-degree angle.
It is so flexible in design that you can place it wherever. Either place it on a table or mount it on a wall or ceiling.
I addition, it makes sure that all the angles and surrounding area are covered. Thankfully, no corner is missed out on by the camera's view.
(B) Silent Watch
The rotation is smooth and silent. Furthermore, its quiet motor does not allow it to make any whirring noise.
(C) Two-way Communication
The other thing that is sure to amaze its buyer is its built-in microphone and speaker feature. This is what renders a two-way communication channel.
This allows you to talk to the person who is near to your camera and in response, he can also talk to you.
This feature is a great way to get in touch with someone even when you are not present at your home/office at that moment.
(D) The AI Motion Detection
Considering the fact that the camera is loaded with all the desired features, the one that will win you over is its AI motion detection.
And we must say it is super sensitive when it comes to detecting motion near the camera. It detects motion and sends a notification right on your smartphone.
It can even detect a flying bird near your balcony or a bug waddling around your camera. Well, some people may find this a bit annoying but, it's actually a life-saving feature.
This is not all. It has sensors that detect the movement, and then, the camera rotates to that particular direction to accurately capture and save the footage.
(E) Camera Resolution
Mi Home Security Camera 360° has the 2-megapixel camera with 1080p resolution, and even the distant background is clear and detailed.
(F) Night Vision
Moreover, you get a fantastic night vision with the 8-bulb infrared illuminator of Mi Home Security Camera 360°, and that makes monitoring things at night easier.
(G) Data Storage
Talking about the storage then it supports Network Attached Storage (NAS), and the local MicroSD is limited to 64GB.
Mi Home Security Camera 360° streams real-time monitoring content right on your smartphone screen.
Easy To Install, Easy to Access With the Mi Home APp
The installation of the Mi Home Security Camera 360° is quite straightforward.
We didn't experience any hurdle while setting up the device and configuring it with our smartphones: Android and iOS both.
How To Use Mi Home Security Camera 360° On iOS
The first step is to download the Mi Home app from the Apple Store.
Once you have installed the app, sign in if you already an account or register for new.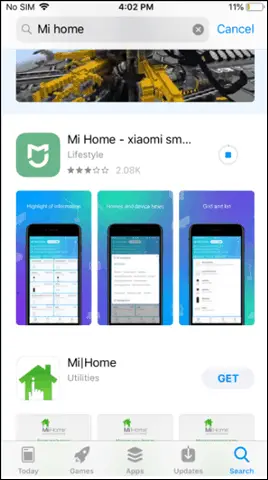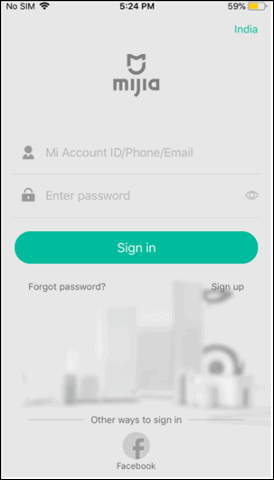 After you are signed in, click on Add Device.
Now once you see the Mi Home Security camera in the Camera category of the list, tap on it.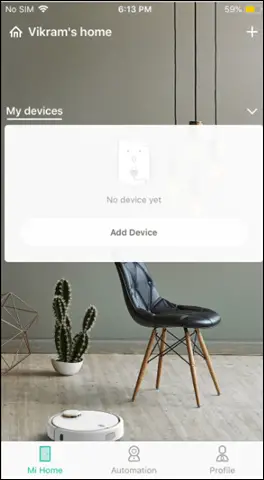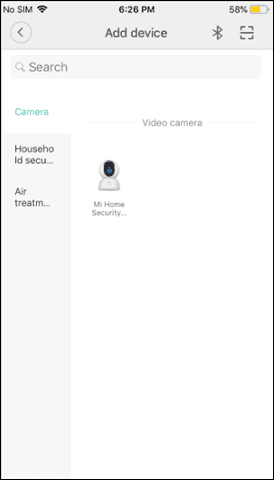 Plug in the device.
Press the reset button for three seconds. Come back to your phone.
Now enter the Wi-Fi credentials. Make sure your phone and camera are on the same Wi-Fi network.
Once you see the QR code, bring it towards the camera while maintaining a distance of 15 cm.
Once the QR code is scanned successfully, you will hear a notification from the camera.
Now tap on Heard Successfully.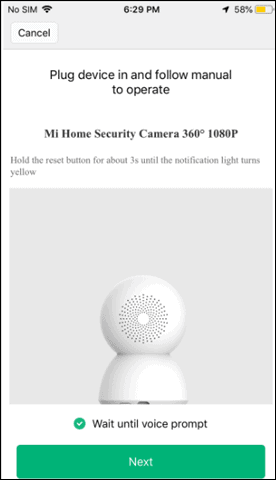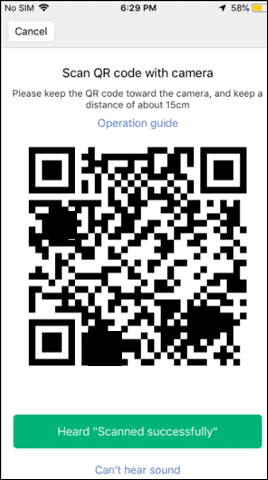 In the next step, you have the option to rename the camera and select the location of the device.
The initialization process will take a few seconds.
Wait until it completes the action.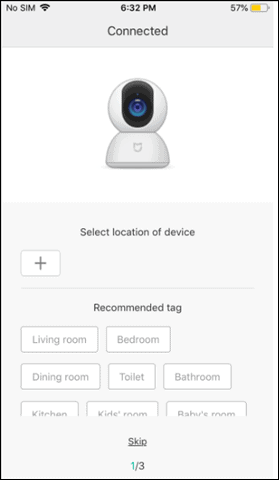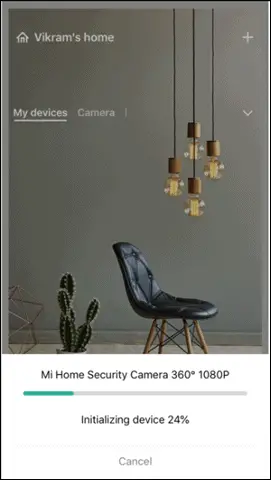 Now you have the real-footage of the surroundings of your camera on your smartphone's screen.
Moreover, there are various options available at the bottom of the screen as Monitoring, Playback, Voice call, Photo Album.
Once you start exploring the features of the app, you get used to it and accordingly you can configure what you want.
One useful feature is the HD icon on the home screen that allows you to change the video quality by switching to low quality or auto mode.
How To Use Mi Home Security Camera 360° On Android
Just like you did in iOS, download the Mi Home app on your Android phone, log in with the credentials.
Tap on Add Device.
Once you click on Add Device, you will see the list of Mi products.
Click on the Mi Home Security Camera.
Now hold the reset button for 3 seconds until you see a yellow notification light. It will start detecting the nearby devices.
Please Note: Make sure your camera and phone are on the same Wi-Fi connection.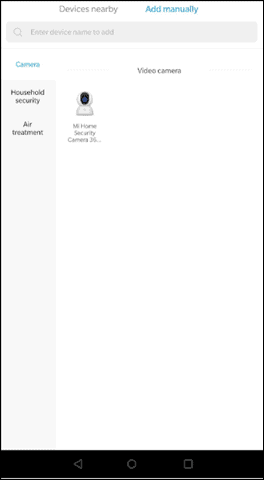 You can either let the app scan nearby devices, or you can manually add a device. Make sure you have plugged in your camera.
Scan the QR code holding it to the camera at a distance of 15 cm.
Once the code is scanned, you will hear a notification sound from the camera.
Now click on Heard scanned Successfully.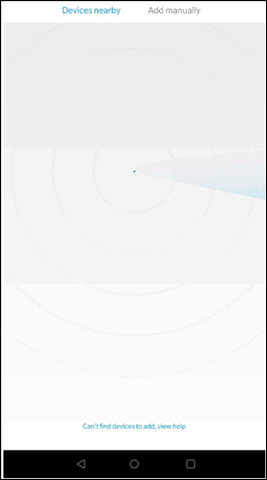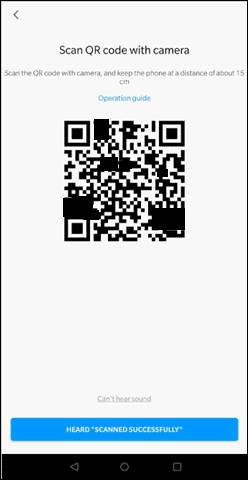 In the next step, you can rename your Mi Home Security Camera 360° and select the device location and add the shortcut to your home screen.
After you agree on the agreement and privacy policy, your installation process is successfully done.
In addition, you have options to manage your devices by going into management settings.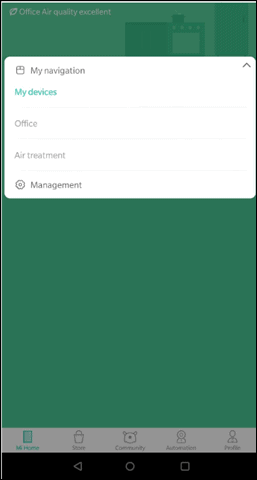 The video quality you want can be adjusted by clicking on the HD icon on the home screen of the app.
Other features that need a mention are Video Recording mode, Photo album, Home monitoring, Saving a video.
Once you start exploring the app, you get familiar with the buttons and feature that you can configure according to your need at the moment.
Conclusion For Home Security Camera Reviews
Mi Home Security Camera 360° is a winner when it comes to configuring an all-new economical home monitoring setup while uncompromising with the performance and reliability.
The live streaming, motion detection, high-detailed picture quality, two-way communication, flawless night-vision, hassle-free installation, 360-degree view, affordability altogether mold this device as worth spending money.
Further Reading: How to Use Your Old Smartphone as Security Camera