If solving puzzles and brain-teasers excites you, then surely you will love what these best crossword apps for Android have to offer.
Solving crosswords is one of the most popular past time and a great way to add productive fun to your free time. They not only delight your brain but also test your vocabulary and analytical skills.
You no longer have to wait for the Sunday newspaper to solve the crossword puzzles. Thanks to the advancement in mobile technology, the best crossword apps that are available for Android users at just a click now.
Whether you're looking forward to exercising your brain while on the move or if you want to indulge in some creative word challenges with your friends, we've got you covered.
More From the Android Games Series
Top 21 Best Crossword Apps For Android
1. Wordscapes
Will you be able to crack all the crossword puzzles? Even with an infinite number of tries, it can be very challenging.
This word game twists text, is brain taxing and fun to do. Stimulate your mind, and you'll never encounter a dull moment once you start getting used to this game.
Finally, this crossword puzzle app is easy initially but becomes more difficult as you get going ahead.
2) World's Biggest Crossword
You can challenge yourself a new crossword daily with the massive collection of unique puzzles found here.
Furthermore, the words which are required to solve the puzzle are applicable and used in our daily lives. This game is an excellent means of boosting your vocabulary.
There are thousands of unique clues to solve, various quests to complete and multiple trophies to collect!
Get World's Biggest Crossword here
3) Wordbase – One of The Best Crossword Apps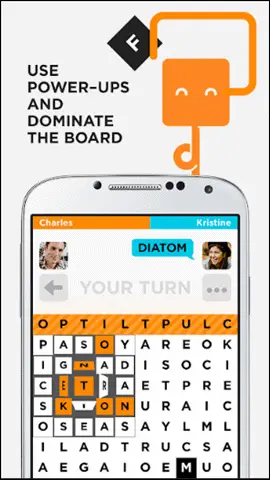 Wordbase is word search meets spelling games that involve an intense battle with friends too. It is the most pleasing game you can play with words.
Moreover, you can boast about your excellent brain skills and challenge your friends in this simple yet captivating word search game.
Besides, this is a multiplayer game so you can connect with the thousands of players and get started with spelling words to beat your opponents.
4) Crossword Light
Crossword Light for Android lets you solve crosswords from around the world, right on your handheld device. Besides giving access to over 30 puzzles available, plus hints, clue listings, and tons more.
The graphical interface is intuitive and easy to use. The puzzles pose a medium level of difficulty, thus making the ride challenging and fun.
5) Word Cross
If you're tired of the old fashioned word search interfaces, you should try this crossword puzzle app. It's one of the best crossword apps for Android.
In particular, it has all the contents of word scramble games to make you feel engrossed. Easy to play, simple to use, it is suited for people of age groups to brush up their word search skills.
Also, this game is rated as Editor's Choice on Google Play, which is an indication of its popularity and a seal of approval by the makers of Android.
 6) English Crossword Puzzle
Train your brain daily with the best crossword app for android.
Firstly this promises offline crossword levels, unlimited clues, fun, and educational stimulation. Secondly, this crossword puzzle game will help improve your English vocabulary and learn new words quickly.
This is one of the best ways to pass the time productively. Finally, this app is free, has minimal ads, and can be played offline too.
Its additional feature includes the fact that the size of the grid will automatically adjust to your device.
Get English Crossword Puzzle here
7) Word Charm – A Good Option as The Best Crossword Apps
Word Charm is one of the most addictive gameplay of word search games. It comes with superb graphics and good interaction design.
Moreover, this is easy to play, helps you to train your brain, and even learn new words.
One of the best crossword apps for Android, Word Charm is stimulating, fun, and makes the brain think hard.
8) CodyCross: Crossword Puzzles
Join CodyCross, an alien who has crash-landed on Earth and is now relying on you to guide him through our planet.
Furthermore, travel across space and unravel the mysteries through themed puzzles in this challenging word puzzle with this alien.
Finally, solve crosswords, explore stunning landscapes, and use your knowledge in this beautiful word game.
Get CodyCross: Crossword Puzzles here
9) One Clue Crossword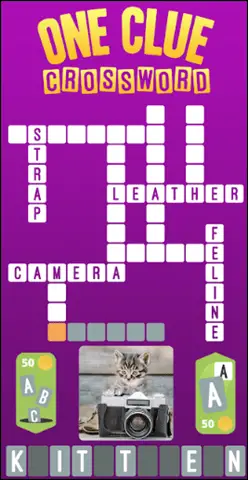 Exercise your brain every day with picture crosswords.
One Clue Crossword is a different kind of crossword puzzle app.  Every puzzle contains a picture instead of written hints. Each word in the puzzle can be figured out from the image.
In a few puzzles, you will only need to voice what you see. But in the more challenging cases, you will need to think a little more laterally.
Moreover, it is easy to play, but with hundreds of different puzzles available, you will find it hard not to be glued to it.
10) Crossword Puzzle Free (by ITSG)
Crossword Puzzle Free is a crossword puzzle app for the entire family.
In particular, this instructive game will put your vocabulary to test. Accept this challenge and discover an easy and fun way to learn new words and general knowledge.
Besides, Crossword Puzzle Free is a newly designed game for people who are on always looking out to enhance their vocabulary.
Get Crossword Puzzle Free here
11) NYTimes – Crossword – Traditional Choice for One of The Best Crossword Apps
Decode and cherish the same puzzles that are printed in the daily newspaper, in this app constructed by The New York Times.
Moreover, you can start playing with unlimited access to the daily puzzles for a week.
After which you can subscribe to avail complete access to the crossword puzzle on your Android device and at the newspaper's official website – NYTimes.com.
12) 5-Minute Crossword Puzzles
This crossword puzzle app contains a broad set of bite-sized puzzles that can be solved on the go.
Unique Features:
No need to spend too much time on each puzzle.
You can skip crosswords you cannot solve.
Available in three different languages.
Whether you are new to the game or a champion, you will find a crossword to explore your horizons with.
Get 5-Minute Crossword Puzzles here
13) Clean Crosswords
Created specifically for Android, Clean Crossword has distinctive features and is the best crossword puzzle ever made for Android devices.
Furthermore, the clues are posted in the puzzle grid, making puzzles easy to locate.
Clear interface, good exercise for the brain, and an excellent means to increase vocabulary make Clean Crosswords stimulating and easy to use.
14) Crossword Puzzle Free (by Redstone Games)
Join thousands of players who indulge in brainstorming sessions all day with the best crossword app for Android.
Crossword Puzzle Redstone is an entertaining and delightful game app. In this instance, it can be downloaded for free, and the gamers can avail access to it without any subscription.
Furthermore, to use Crossword Puzzle Redstone in any of the devices that you own, you only need to connect, and the game is ready to be played anywhere.
Its unique features include ease of use, non-intrusive ads, and a tasty variety of puzzles at different levels and by various authors.
Get Crossword Puzzle Redstone here
15) WordBrain – A Popular Choice for The Best Crossword Apps
Brain exercising at it's best; this word puzzle is for vocabulary geniuses. The initial levels are easy to crack, but the difficulty level rises as you move ahead in the game.
Moreover, one can exercise one's brain and find hidden words, slide a finger over them, and see the letters collapse. Besides, do it all in the correct order, and you will be able to clear the grid.
In addition, WordBrain is available in several different languages with thousands of levels per language. Even for the sharpest word game enthusiasts, it will not be a smooth ride trying to solve this puzzle.
16) Crossword Quiz
A contemporary twist to a well-loved classic, the Crossword Quiz is an exclusive puzzle based on three types of hints: word explanation, emoji combinations, and images.
Likewise, put your visual skills, vocabulary, and critical thinking capacity to test in this new variant of a crossword puzzle. One may have never seen this kind of a crossword app before.
Crossword Quiz will test your verbal and critical thinking.
Features
Great game, keeps your mind sharp.
Not very easy, not very difficult.
Can be quite challenging with all the different genres.
17) Wordalot – One of The Best Crossword Apps For Android
Puzzle your way through thousands of levels.there are hints in the images. One of the best crossword apps for Android, this word game is both elegant and straightforward.
Furthermore, Wordalot assures to challenge even the smartest word enthusiast.
Features
Simple and easy to play.
Learn new words as you put your vocabulary to test.
Challenging and obsessive.
So, charge up your detective skills for playing this brain-stimulating game and gear up for a fun, exciting ride.
18) Cryptic Crosswords
Cryptic crossword is a popular crossword app for Android, and it allows you to improve your word power by solving puzzles quickly.
Moreover, it has listed more than 250 cryptic password puzzles with 24 different features.
It has a smooth and clean interface, that is delightfully challenging too. Finally, this crossword puzzle app will make you skillful at your word game.
19) Penny Dell Crosswords
This fun and easy to use crossword puzzle app features Easy, Medium, and Hard puzzles levels. Also, it makes free daily crosswords readily available on your Android device.
Features
Easy to solve and use.
Customise it! Various options available.
Engaging puzzles, addictive, and a great way to unwind. Moreover, Penny Dell Crosswords is an educational, gratifying, and exciting crossword app for android.
Get Penny Dell Crosswords here
20) Crossword Puzzle Free (by Xpress Mobyte)
Crossword puzzle free has tons of free puzzles to play and offers you three different puzzles every day, even with no subscription.
Furthermore, join millions of players who apply their brains daily to crack the best crossword game for android.
Crossword puzzle free is simple, addictive, and will improve your English vocabulary. Besides, it's fun, educational, and is meant for the entire family.
Get Crossword Puzzle Free here
21) Daily Themed Crossword – An Easy Entrant as One of The Best Crossword Apps
Daily Themed Crossword is a fun crossword puzzle app, with each day connected to a different theme. Furthermore, you can select from a plethora of topics available like Movies, Sports, Technology, History, and more.
Besides thousands of crossword puzzles will be available to you on your Android device, so you can play your games whenever you wish to.
One of the best crossword apps for android, Daily Themed Crossword publishes brilliant crosswords every day and is sure to enhance your vocabulary and general knowledge.
Get Daily Themed Crossword here
Conclusion
Here we have introduced you to the 21 best crossword apps for Android, and you can now choose the ones most suited for you.
If you have a vast vocabulary, try Wordscapes and World's Biggest Crossword.
Looking for a crossword puzzle that would give you many clues as you play along? Try Crossword Light.
Theme based? Play CodyCross. Are you running short of time? Quickly glance through 5-minute Crossword Puzzles.
Are you chilling with your group of buddies? Get your hands on the multiplayer crossword app – Wordbase.
If you're looking for an excellent exercise for the mind, you can download any of these crossword puzzle apps to recharge your energy and train your brain. So have fun with these best crossword apps for Android.