Crime, action, or drama? Which is your favorite genre? When all these elements combine, it becomes a thriller. Netflix has a massive array of thrillers, most of which are perfect for you to kick back and enjoy after a long day at work. What could be more exciting than plopping on your couch and binge-watching the best thrillers on Netflix?
40 Best Thrillers on Netflix That'll Make You Fall Off The Edge Of Your Seat
A criminal who is unstoppable or a mystery that cannot be solved, a man trying to fight for his survival, or a world where miseries do not seem to end; these best Netflix thrillers will keep you glued to the screen.
Here's our list of the 40 best thrillers on Netflix right now that will get your blood pumping and give you an adrenaline rush.
1. The Da Vinci Code
Year: 2006
Run time: 2 hrs 28 mins
Cast: Tom Hanks, Audrey Tautou, Ian McKellen
Plot: If you are a Dan Brown fan and loved the book The Da Vinci Code, you must watch this masterpiece as well. A murder takes place at the Louvre Museum. The lead protagonist, played by Tom Hanks, is a professor at Harvard who needs to find out the culprit. Some of the clues that might lead to the murderer are hidden in Da Vinci's paintings.
One of the best thrillers on Netflix, The Da Vinci Code, is an excellent adaptation you must get your hands on. Watch the film unfold mysteries one by one as some of them are heavy enough to shake the foundations of Christianity. The intriguing sequences, superlative cast, and entertaining plot throughout make the fast-rate thriller unmissable.
2. The Invitation
Year: 2015
Run time: 1 hr 40 mins
Cast: Logan Marshall-Green, Tammy Blanchard, Emayatzy Corinealdi
Plot: Will and Eden, a loving couple, lost their son to a tragedy. The wife disappeared post that, only to return after two years as a married woman; with another husband and a completely changed person.
Will accepts Eden's dinner party invitation. It reopens old wounds, creates new tensions, and Will is sure about the fact that Eden and her gang have a mysteriously terrifying agenda up their sleeves.
3. Training Day
Year: 2001
Run time: 2 hrs 2 mins
Cast: Denzel Washington, Ethan Hawke, Scott Glenn
Plot: A rookie cop signs up for a new job at the narcotics office in Los Angeles. His first day in the fresh role is supremely challenging, full of drama, and he's got 24 hours to prove himself. He spends time with a rogue detective who is actually not what he seems to appear. Will the cop succumb to his master's unjust ways? Or, will he step ahead and let justice prevail? 
Watch Training Day, one of the best thrillers on Netflix currently streaming to get the answers. The movie is full of great performances, but the climax might lead you slightly disappointed. The cracking cop drama is character-driven and directed intelligently. The tight script and memorable scenes are sure to leave you in awe.
4. Shutter Island
Year: 2010
Run time: 1 hr 29 mins
Cast: Ryan Gosling, Kristin Scott Thomas, Vithaya Pansringarm
Plot: A U.S marshal, played by everyone's favorite Leonardo DiCaprio, is investigating an unusual case. His troubled visions land him in a scoop and the lady patient he's looking after escapes from the asylum. There are multiple hints showing that several terrible deeds have taken place inside the mental hospital. Will DiCaprio along with his new partner solve the case?
As the plot thickens, DiCaprio realizes he will first have to face his own dark fears before being able to help others. One of the best thrillers on Netflix, Shutter Island, keeps the audiences engrossed throughout. The chilling mystery is both suspenseful and fun.
5. Bird Box
Year: 2018
Run time: 2 hrs 4 mins
Cast: Sandra Bullock, Trevante Rhodes, John Malkovich
Plot: Five years post a global terror drove most of the people in the society to commit suicide, a mother and her two children must fight to survive. They need to cross a treacherous river blindfolded in search of safety.
One of the best thrillers on Netflix, Bird Box, is directed by Emmy winner Susanne Bier. The trio is desperate to make it to the end. Will they, or won't they? Watch the film and find out!
6. The Girl with the Dragon Tattoo
Year: 2011
Run time: 2 hrs 38 mins
Cast: Daniel Craig, Rooney Mara, Christopher Plummer
Plot: Mikeal, the tattooed girl, is a sexual assault survivor with a disturbing past. She is an adept journalist and has been assigned a new task. Mikeal has to find the whereabouts of an adept computer hacker who's been missing for almost 40 years now. Their missions meet, clash, and stories from their past entangle their present lives. 

When they finally face each other the plot reveals some decades-old conspiracies. One of the best thrillers on Netflix, The Girl with the Dragon Tattoo, boasts a couple of compelling breakout performances. We are sure you will not be able to take your eyes off the well-shot sequences even for once.
Watch The Girl with the Dragon Tattoo
7. Cam
Year: 2018
Run Time: 1 hr 34 mins
Cast: Madeline Brewer, Patch Darragh, Melora Walters
Plot: Alice, a webcam performer, runs an adult show with a huge fan following. Her life takes a mysterious turn when her doppelganger takes over her online account.
One of the best spy thriller movies on Netflix, Cam, is about Alice trying to track down the culprit and reclaim her identity. Why did the look-alike hijack her channel? Why does she want to destroy Alice's life? Watch the film to find out!
8. Hold The Dark
Year: 2018
Run time: 2 hrs 5 mins
Cast: Jeffery Wright, Alexander Skarsgard, James Badge Dale
Plot: Three local boys are killed in Northern Alaska by a pack of wolves. The mother of one of the boys, Medora, hires naturalist Russell Core to track down the wild creatures.
A strange relationship develops between Medora and Core, as the latter finds himself swept into a chilling mystery. One of the best Netflix thriller movies, Hold The Dark is a must-watch.
9. Nocturnal Animals
Year: 2016
Run time: 1 hr 56 mins
Cast: Amy Adams, Jake Gyllenhaal, Michael Shannon
Plot: Susan is a rich art gallery owner, separated from her husband for 2 decades now. She stumbles upon a manuscript called Nocturnal Animals written by her ex-husband and starts reading it. It gives her some interesting leads to follow up a gut-wrenching story. The written text will eventually reveal some long-hidden truths.
The film is a meta-thriller that brings the audience stunning visuals and a unique plot. Director Tom Ford proves the fact that he is exceptional at his job and must be taken seriously.
10. Nightcrawler
Year: 2014
Run time: 1 hr 57 mins
Cast: Jake Gyllenhaal, Rene Russo
Plot: Jake Gyllenhaal plays the character of Louis Bloom, who is an ambitious freelance photographer and a con man. He is in dire need of new work and goes to Los Angeles to meet ends. Stepping into crime journalism gets him more than what he bargained for. From being a dormant observer initially, Louis goes on to become an active participant of the criminal escapades. 
One of the best thrillers on Netflix, Nightcrawler, packed with powerful performances, is haunting, dark, intriguing, and unmissable.
11.
Snowpiercer
Year: 2013
Run time: 2 hrs 6 mins
Cast: Chris Evans, Song Kang-Ho, Ed Harris
Plot: Snowpiercer is an exceptionally made Korean film that mixes multiple genres together. Apart from being a thriller, the movie offers funny, dark, and dramatic elements. The plot takes you to the future where a climate-change experiment goes wrong. Some lucky humans from the existing lot get a chance to board a train called the Snowpiercer. As the train travels from one part of the globe to another, the film shows the impact of the class system.
One of the best thrillers on Netflix, Snowpeircer is an ambitious flick and gives the audiences a rare viewing experience. The unique plot will get you speaking of the film even after the end credits. The movie is dark yet beautiful and you must be prepared for some unexpected laughs as well. The environmental thriller overflows with ideas and you'll find a few sequences to be profoundly mesmerizing.
12. The Invisible Guest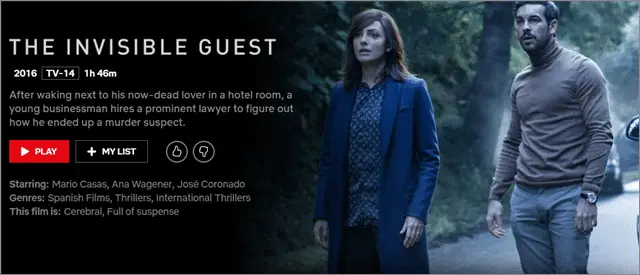 Year: 2016
Run time: 1 hr 46 mins
Cast: Mario Casas, Ana Wagener, Jose Coronado
Plot: Adrian, a wealthy businessman, wakes up next to his dead lover's body in a hotel room. He hires Virginia Goodman, a veteran lawyer, to solve the mystery.
Adrian tells Virginia, an expert in witness preparation, about the significant gory events that took place in the couple's lives as a series of stories unfold. One of the top mystery thriller movies, The Invisible Guest, portrays how the truth and lies are conveniently interchangeable.
13. Uncut Gems
Year: 2019
Run time: 2 hrs 14 mins
Cast: Adam Sandler, LaKeith Stanfield, Kevin Garnett
Plot: The protagonist played by Adam Sandler is a charismatic jeweler in New York City. His gambling addiction lands me in a scoop when the amount of debts and losses starts becoming more than the profit he's earning. Well, his profession is unstable and the angry collectors are waiting for Adam to pay their money back. He puts everything he has to risk with the hope of starting afresh again. Will he be able to succeed?
One of the best thrillers on Netflix, Uncut Gems, offers the most exhilarating film-viewing experience. The movie is full of adrenaline-fueled sequences and you'll adore Adam Sandler for the sheer brilliance that he brings along. The anxiety-inducing flick has its share of nail-biting moments, thereby making it a must-watch.
14. Freaks
Year: 2015
Run time: 1 hr 44 mins
Cast: Emile Hirsch, Bruce Dern, Lexy Kolker
Plot: A 7-year old bold girl escapes from the clutches of her father's paranoid control. Once she's out alone in the outside world breaking her protective shelters, she comes across frightening societal truths. She finds the new world to be mysterious, bizarre, and life-threatening. Chloe now understands what her father meant when he warned her about the outside world.
One of the best thrillers on Netflix, Freaks, is different from all the other films you will see belonging to the niche. It combines sci-fi and horror elements as well and delivers some solid performances. 
15. The
 Guest
Year: 2014
Run time: 1 hr 39 mins
Cast: Dan Stevens, Maika Monroe, Brendan Meyer
Plot: Peterson's family lost their son. Soon after his death a stranger knocks on their door and claims to be the deceased's friend. Why did the soldier introduce himself as a close acquaintance? Will he bring more sorrow to the already grieving family?
Well, the family is full of doubts, which makes the plot wickedly entertaining. One of the best thrillers on Netflix, The Guest is entertaining and dark. You must watch it for Dan Stevens' superlative anti-hero performance.
16.
The Killing of a Sacred Deer
Year: 2017
Run time: 2 hrs 1 min
Cast: Colin Farrell, Nicole Kidman, Barry Keoghan
Plot: If you are hunting for the best psychological thrillers on Netflix, watch The Killing of a Sacred Deer for the superlative thrills and unique plot. A cardiac surgeon called Steven has nothing going right in his life. He is asked to make a strange sacrifice with the belief that things will get better. Soon enough, a young mysterious boy joins his work wing and has sinister plans up his sleeve.
The new onlooker tells the surgeon that all his family members will slowly die. Should Colin take Barry's warning seriously? What is Barry's ulterior motive? Watch The Killing of a Sacred Deer to get your answers. The film is dark, creepy, yet brilliant.
Watch The Killing of a Sacred Deer
17. Gerald's Game
Year: 2017
Run time: 1 hr 43 mins
Cast: Carla Gugino, Bruce Greenwood, Henry Thomas
Plot: Jessica and Gerald want to give their unsuccessful relationship another chance. They head out to an isolated lake house in Alabama to reignite the lost spark and spend quality time with each other.
Their retreat turns into a fight for survival as Gerald dies of a heart attack and Jessie lies trapped in bed, fighting psychological demons within her mind. One of the best thrillers on Netflix right now, Gerald's Game is a must-watch.
18. Mute
Year: 2018
Run time: 2 hrs 6 mins
Cast: Alexander Skarsgard, Paul Rudd, Justin Theroux
Plot: A mute bartender's girlfriend goes missing. He pledges to hunt for her and bring her back. This drags him deeper and deeper into Berlin's crime world and he becomes an active aggregator. The plot is set against Berlin of the future and vividly displays how the underworld functions. 
One of the best thrillers on Netflix, Mute, goes a long way in holding the viewer's attention as to what will happen next. As the film progresses, you will see the protagonist is hell-bent on finding his ways as his actions start to speak more than words. The production design is beautifully done and we particularly loved the solid performances.

Watch Mute
19. Double Jeopardy
Year: 1999
Run time: 1 hr 45 mins
Cast: Tommy Lee Jones, Ashley Judd, Bruce Greenwood
Plot: Libby Parsons is held responsible for her husband's murder. However, she suspects that he is still alive. Since she is already framed for the deed she has not done and is serving her time for the same, she decides to make the allegations put on her true. She plots her husband's murder and decides to find him as soon as possible. One cannot be prosecuted for committing the same crime twice is her only argument.

Double Jeopardy is one of the most engrossing thrillers on Netflix you will ever come across. It is entertaining on most occasions and slightly silly in a few scenes. The fast-moving suspense is sure to keep you on the edge of your seats.
20. Pandora
Year: 2016
Run time: 2 hrs 16 mins
Cast: Kim Nam-gil, Kim Joo-hyun, Jung Jin-Young
Plot: An earthquake hits a Korean village, which leads to a massive explosion in a nuclear power plant causing destruction. The entire nation is panic-stricken, and a man risks his life to prevent another nuclear disaster.
One of the best thrillers on Netflix, Pandora, highlights the causes that facilitate malfunction and how humans unknowingly allow it to happen. The film also portrays how the Government shoves away from its responsibilities and locks up the citizens to prevent them from creating mass panic instead of helping.
21. Boy Missing
Year: 2016
Run time: 1 hr 45 mins
Cast: Blanca Portillo, Antonio Dechent, Vicente Romero
Plot: A well-known lawyer, Patrica's son, Victor, gets kidnapped. He returns traumatized, unable to recall the place at which he was kept, and the prime suspect is Charlie.
When the kidnapper is released due to lack of proof, Patrica takes things in her hands and seeks justice. Events spiral out of control as inevitable unintended and disastrous consequences follow. What could have happened? Watch Boy Missing, one of the best crime thrillers on Netflix, to find out.
22. Hush
Year: 2016
Run time: 1 hr 21 mins
Cast: John Gallagher Jr., Kate Seigel, Michael Trucco
Plot: Maddie is a deaf and mute writer who settles into the woods to lead a solitary life. She is the sole witness of her neighbor Sarah's murder.
When the killer finds out that Maddie cannot hear or speak, he's fascinated. He enters her house through the window, wearing a mask, and decides to have fun. Even without loud music and jump scares, Hush manages to hold the audience and is one of the top mystery thriller movies.
23. I Care A Lot
Year: 2021
Run time: 1 hr 58 mins
Cast: Rosamund Pike, Peter Dinklage, Eiza Gonzalez
Plot: Marla Grayson is appointed as the local guardian to an elderly couple by the court. She plans to rob them off their riches and is known to have a previous record of having fraudulent tendencies. Her dubious means only supported her until she met a party that was a step ahead of Marla's imaginations. The plot quickly puts the protagonist at a fix when she stumbles upon people who are not easy to deal with and definitely not easy to cheat.
One of the best thrillers on Netflix, I Care A Lot, is a brilliant piece of cinema. Although Marla and her ways are problematic, she's fabulous to watch on-screen. The movie is cynical, dark, and is meant for anyone game for a dark pitch comedy.
24. AVA
Year: 2020
Run time: 1 hr 36 mins
Cast: Jessica Chastain, Colin Farrell, John Malkovich
Plot: Ava is an elite assassin working for the black ops organization. She travels across the world to complete the tasks assigned to her and is mostly involved with high-profile clients. One of the cases goes wrong and lands Ava and her family in major trouble. She is unsure about her profession and wants to ensure her family's well-being. Will she ever be able to come out of the deadly chain and start afresh?
One of the best thrillers on Netflix, AVA, is the action-adventure drama you were waiting for. The film gives the audiences its share of funny and dramatic moments with every scene being executed impeccably well. Although not too high on the adrenaline rush, the new Netflix release still manages to be an entertaining spy thriller.
25.
Quantum of Solace
Year: 2008
Run time: 1 hr 46 mins
Cast: Daniel Craig, Olga Kurylenko, Mathieu Amalric
Plot: James Bond is back with a new mission. He now wants to unearth the hidden truths of a mysterious organization. The plot takes you back to the days of the 2006 Casino Royale. The story begins with what happens after the first hour of the event. It is a pleasure to watch Daniel Craig play James Bond in the Netflix thriller as he embarks upon tracking a traitor who tried to get access into Britain's MI6. 
One of the best thrillers on Netflix, Quantum of Solace, is the most-awaited sequel Bond fans were waiting for. The cerebral piece of work manages to attract the right audiences and is full of emotions, action, and brutality. 
26. Burning
Year: 2018
Run time: 2 hrs 28 mins
Cast: Yoo Ah-in, Steven Yeun, Jun Jong-seo
Plot: If you are looking for the best Korean thrillers, get your hands on Burning, a unique masterpiece. Jong-su is an aspiring writer who secretly likes a friend. While she's off to Africa for a trip, the lady asks him to take care of her pet cat and the much-in-love guy happily agrees. Hae-mi is back and Jong-su goes to receive her at the airport. However, he's furious when the girl introduces him to a mysterious friend called Ben.
Burning is a beautifully directed thriller that covers the concepts of love and longing very well. The love triangle crafts visual poetry you will not want to come out from. The film is chilling yet brilliant and definitely unmissable.
27. Berlin Syndrome
Year: 2017
Run time: 1 hr 55 mins
Cast: Matthias Habich, Max Riemelt, Teresa Palmer
Plot: Clare, an Australian photographer, meets Andi, a charming local while holidaying in Berlin, and they hit off instantly. But, their budding romance takes a sinister turn when she's locked inside his apartment.
She's stuck there with no way out while he's left for work. What is his ulterior motive? Will she be able to come out? Watch one of the best thrillers on Netflix, Berlin Syndrome, to find all the answers.
28. Bad Genius
Year: 2017
Run time: 2 hrs 9 mins
Cast: Cast: Chutimon Chuengcharoensukying, Chanon Santinatornkul, Teeradon Supapunpinyo
Plot: Lynn is a genius high school student studying in one of the top institutions of her city. She makes money by cheating in exams and lends her services to anyone in need of extra marks in exchange of cash. The greed only increased as she took up a new project in Australia. She is involved in a cheating racket where the stakes are high. Lynn is sure of the high rewards, but what about the simultaneous high risks involved?
One of the best thrillers on Netflix, Bad Genius, is laugh-out-loud funny in multiple sequences and brilliantly written. The Thai drama is rightly named and doesn't fail to be both clever and fun.
29. See You Yesterday
Year: 2019
Run time: 1 hr 27 mins
Cast: Eden Duncan-Smith, Dante Crichlow, Astro
Plot: Walker and Thomas are teenagers from Brooklyn who invent the makeshift time machine. They are fascinated by everything connected to time travel and hell-bent on having one such experience. Soon, a tragic police firing takes place and the teenage prodigies are at the receiving end of a lot of unfortunate events. They are furious at the miscarriage of justice when one of their brothers is killed. 

Watch See You Yesterday, one of our most favorite Netflix thrillers to get the answer. The film's timely release takes inspiration from the black lives matter campaign online. It reinforces the fact that every life is precious irrespective of caste or color. The premise is novel and will particularly appeal to sci-fi genre fans.
30. The Hateful Eight
Year: 2015
Run time: 2 hrs 47 mins
Cast: Samuel L. Jackson, Kurt Russell, Jennifer Jason Leigh
Plot: A few years after the Civil War in the wintry Wyoming landscape, a bounty hunter and his prisoner find shelter in a way station where they have a chance encounter with six strangers. Can they be trusted? What good are the evil characters up to?
Writer-Director Quentin Tarantino pulls an Agatha Christie-style mystery in The Hateful Eight, one of the best thriller movies on Netflix. High caliber acting, iconic performances, and solid direction make the film grandiose, mannered, and self-indulgent.
31. 93 Days
Year: 2016
Run time: 2 hrs 1 min
Cast: Bimbo Akintola, Somkele Iyamah, Danny Glover
Plot: 93 Days is a mind-numbing story based on true events. A deadly infection called Ebola rapidly spreads in the city. The virus is extremely contagious with no fixed cure. There are more than 21 million people residing in the megacity of Nigeria and the spreading needs to stop. After extensive research, it is unearthed that a woman traveling from Lagos carried the first symptoms. 
The plot sounds familiar, right? Well, since the world has stopped functioning properly because of the ongoing pandemic, 93 Days is a must-watch as it is based on a similar issue. The movie particularly highlights the undying efforts of the health care workers and applauds them for their deeds.
32. Fractured
Year: 2019
Run time: 1 hr 40 mins
Cast: Sam Worthington, Lily Rabe, Stephen Tobolowsky
Plot: A couple stops at a gas refilling station because their car has an almost empty tank. They are on a road trip for Thanksgiving. Their six-year-old daughter is injured and they shift her to an emergency room immediately. When the little one and the mother disappear from the hospital, the protagonist Ray senses something eerie. 

Why are the authorities doing so? Will he be able to resolve the issue and get his loved ones back? What is the hospital hiding? Watch Fractured, one of the best thrillers on Netflix, to get the answers. The movie is a casual thriller and a much-needed refreshing entry to the streaming platform's library.
33. Velvet Buzzsaw
Year: 2019
Run time: 1 hr 52 mins
Cast: Jake Gyllenhaal, Rene Russo, Zawe Ashton
Plot: One of the most cerebral Netflix thriller movies, Velvet Buzzsaw is a satire that shows how three people try to make profits out of the paintings of a deceased person. They face dire consequences as a supernatural force sets out to seek revenge.
Set in Los Angeles' art gallery, the film takes on capitalism and embraces its absurdity from the very beginning. You might not feel at one with the characters or their plights, but your eyes will be glued to the screen throughout.
34. Small Crimes
Year: 2017
Run time: 1 hr 35 mins
Cast: Nikolaj Coster-Waldau, Gary Cole, Molly Parker
Plot: A disgraced former cop turned ex-con, Joe Denton is released from six years of imprisonment. He goes back to his hometown to rebuild the mess he left behind and in search of redemption.
One of the best thrillers on Netflix right now, Small Crimes is delightfully suspenseful, gritty, and dark although it might be disappointing for some of you to see your favorite Game of Thrones characters not swinging swords and fighting dragons.
35. Secret Obsession
Year: 2019
Run time: 1 hr 37 mins
Cast: Brenda Song, Mike Vogel, Dennis Haysbert
Plot: Jennifer, the newly-wed protagonist, is brutally attacked. The traumatic accident makes her an amnesia patient. She is unable to recall anything significant from her past life. Jennifer's husband plays the role of being a doting husband and helps her recover. Little does she know that it is not all hunky dory. Her partner Russell has a wicked plan up his sleeve. Do you think she will survive or recall stuff from her past?

One of the best thrillers on Netflix, Secret Obsession, is a must-watch. The film is quick-paced and offers superlative thrills. Some of the scenes are laugh-out-loud funny and you will be hooked to your seat to see how the climax unfolds.
36. Calibre
Year: 2018
Run time: 1 hr 41 mins
Cast: Jack Lowden, Martin McCann, Tony Curran
Plot: Best friends Vaughn Carter and Marcus Trenton set on a weekend trip to Scotland. After a shocking turn of events, the two find their morals and bravery brutally tested.
Will they be able to let it go and hide their paranoia? Will they be able to act normal? One of the best crime thrillers on Netflix, Calibre is an exceptionally crafted film that is intensely shot and executed.
37. The Call
Year: 2020
Run time: 1 hr 52 mins
Cast: Park Shin-hye, Jun Jong-seo, Kim Sung-ryoung
Plot: Seo-Yeon and Young-Sook live in the same house, but 20 years apart. While the former lives in the present, the latter lives in the past. While the two young girls live in different times, they are connected by the phone. Their fate is intertwined when a serial killer with dangerous instincts approaches one of them. How do you think they will come out of it?

One random phone call changes their lives irrevocably and they now have to fight for survival. The Call is a new release and one of the best thrillers on Netflix. The movie's storyline is interesting and unique. A good script with tight writing and solid performances makes The Call a must-watch.
38. I Don't Feel At Home In This World Anymore
Year: 2017
Run time: 1 hr 36 mins
Cast: Melanie Lynskey, Elijah Wood, David Yow
Plot: Ruth is a timid nursing assistant who is fed up with the human indecency around her. She's a depressed soul, but when her home is burglarized, she gets a new lease of life.
Ruth, along with her obnoxious neighbor who's trained in martial arts, decides to track down the thieves. However, the two soon find themselves in a scoop as they reluctantly become a part of the world they know nothing about.
Watch I Don't Feel At Home In This World Anymore
39. Deadly Illusions
Year: 2021
Run time: 1 hr 54 mins
Cast: Kristin Davis, Dermot Mulroney, Greer Grammer
Plot: A bestselling author has her life sorted. Soon after things begin to go out of control as she suffers from writer's block. Unable to concentrate on work, she hires a nanny to take care of her two little children. However, this did not end her troubles too. She starts to witness an eerie resemblance between her written word and reality. The lines are blurred and her life events start to merge with what she writes.
One of the best thrillers on Netflix, Deadly Illusions, is a must-watch. It is the streaming platform's latest addition to the niche and unmissable. The movie's camera work, execution, and superlative performances by the lead protagonists are worth a mention.
40. Synchronic
Year: 2020
Run time: 1 hr 41 mins
Cast: Anthony Mackie, Jamie Dornan, Katie Aselton
Plot: The storyline revolves around two paramedics from New Orleans. They start to question their worth after a drug invented by them shows bizzare deadly side effects. The new narcotic leads to several deaths and has mind-numbing effects on whoever consumes it. Where did they go wrong? Is someone else responsible for this criminal act?
One of the best thrillers on Netflix, Synchronic, takes the audiences on an intriguing sci-fi journey. The movie shows how the two best friends Dennis and Steve strive to come out of it, clear the mess, and unearth terrifying truths. We absolutely loved the smart indie sci-fi thriller full of mystery. 
Conclusion
When stepping out of our homes is not a feasible option due to the ongoing pandemic situation, Netflix comes to our rescue. Bringing excellent content that can be viewed from any device, the streaming service is everyone's current favorite. They have an ever-expanding library of movies and series from all possible genres. Be it the good-old flicks, horror movies, or Sci-Fi Shows On Netflix, you will always find something engrossing to binge-watch.
We've listed the best thrillers on Netflix, most of which will keep you on the edge of your seat. The collection includes cult classics, crime thrillers, and some superlative suspense-driven cinema. A few of them will make you laugh, while several of them are inspired by the sci-fi genre as well. Dark psychological thrillers or interactive mysteries? What would be your pick?
(Article Updated on 30th April 2021)