If you are planning to build your own computer or are just interested in how computers function, it is a good idea to buy used computer parts for your projects or experiments.
It's easy to save money on these online sites that have the best deals on pre-owned or refurbished computer parts, where anyone can buy and sell used PC parts.
We have compiled and listed 10 useful sites for good and almost new used computer parts/ refurbished PC parts.
Best Sites to Buy Used Computer Parts
1. TigerDirect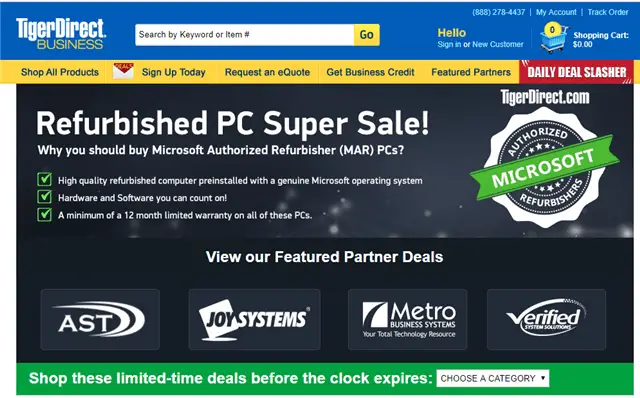 TigerDirect has a huge collection of refurbished items where you can buy used computer parts. You can find Grade A quality refurbished products on this website.
All products here undergo an intense refurbishment process and are tested in all aspects.
It has a "Deal of the week" offer where you can get the best deal on popular products.
They have featured partners like Apple, Dell, D-Link, HP, Intel, Lenovo, and Microsoft that give you options to choose from.
The qualified PC products have free shipping with your choice of delivery method.
2. HardwareSwap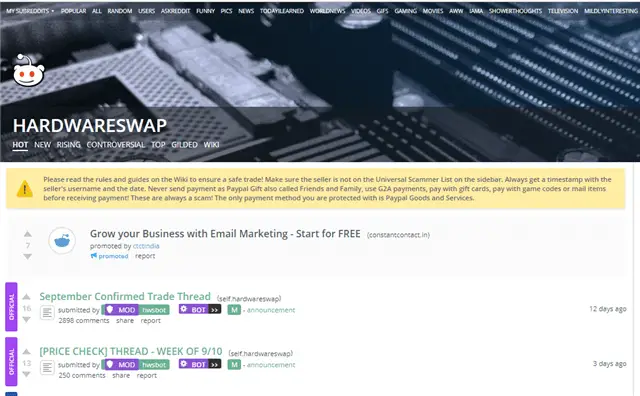 HardwareSwap is a Reddit forum where you can sell or buy used computer parts.
You can ask questions through comments about offers and the price before buying it. You get an actual idea of the item by communicating with the seller, a feature that other online sellers lack.
As the name suggests, this is not an informal forum but only to ask queries related to used computer parts.
Please make sure to make a legal and safe purchase by ensuring that the information is true and trusted.
Get more information about Hardforum here
3. MacSales – A Good Option For Used Computer Parts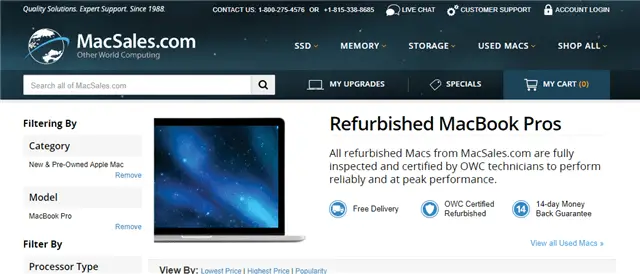 As the name suggests, MacSales caters to Apple users. MacSales was founded in 1988 by Larry O'Connor. It has a drop-down menu where you can see the used computer parts that you can buy.
The website claims that all refurbished Mac products from MacSales are certified by OWC technicians to give you a reliable performance.
MacSales is innovative and has good quality products that are guaranteed to deliver a good return on customers' investments. With MacSales, you can be assured of a good price and good quality refurbished Apple products.
4. NewEgg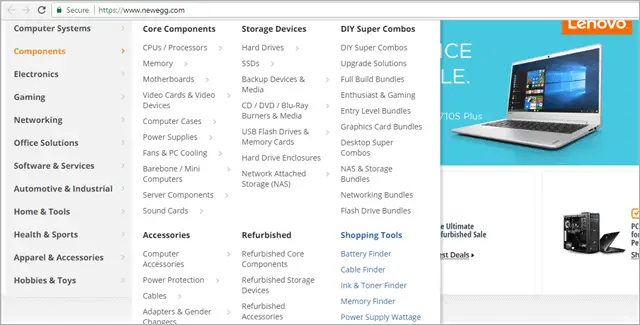 Although Newegg is a popular online shopping portal, it also has an option for refurbished items.
You can easily find the refurbished computer parts by going into "Computer Hardware" or "Components" and selecting the "Refurbished" category. This is where you will see all the refurbished items.
There is a comparison feature for selected products where you can compare five products at a time. It has information on specifications and manufacturer warranty.
You can read the overview, specifications, warranty and returns, reviews, Q&A of each product.
5. Amazon
Amazon has good deals on used computer parts and other products; just click on Computer and Accessories, and you can see a list of items from top brands with their ratings.
Right next to the price of the product, you can see the "used offer" in brackets. Amazon has a large number of used computer products that you can buy at great prices.
6. HardForum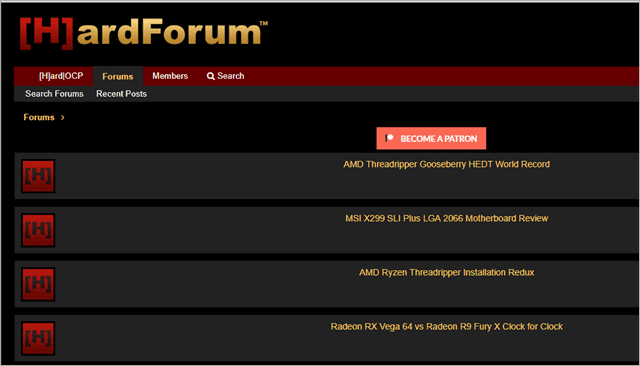 HardForum is a forum that connects buyers and sellers on a single platform. If you are buying on HardForum, you must be highly knowledgeable about the product.
You can see the listed items in the Forums column. On the top, you can see the recent posts of the products posted by sellers.
On the right side, it shows you the recent items added to the list. Hardforum is a great platform for some excellent deals on refurbished and used PC parts.
Buy/ Sell/ Trade with Hardforum here
7. Overclock Marketplace – Do Check For Used Computer Parts
Overclock is yet another platform that connects buyers and sellers where you can get great deals on used PC parts.
There is a helpful feature on Overclock that allows you post an ad for the item you are looking for, so even if your product is not listed, a seller may directly contact you after seeing the ad.
8. Facebook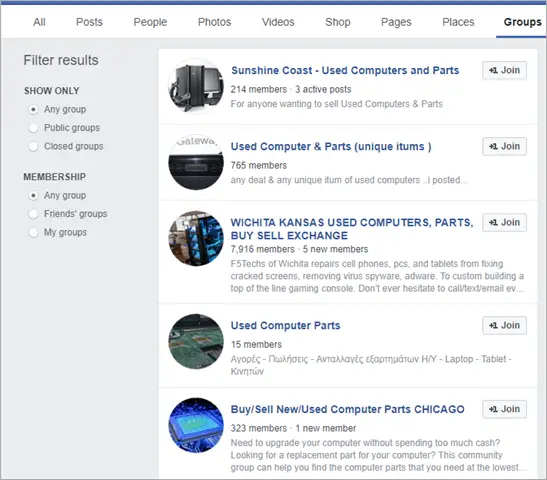 It may sound unusual, but Facebook is a great place to find deals on used computer parts. Facebook has various groups and marketplaces that allow you to look for used computer parts in your local area.
There are times when people sell used or refurbished computer parts at a low price and in excellent condition.
You can either look for the product you want on various Facebook groups or post an ad if you have something to sell.
9. eBay
Another great place to find the best deals on used PC parts is eBay. eBay is good if you need to find something specific. Buying from eBay is a wise decision as you get deals a lot cheaper.
This is better than buying a brand new one from computer stores and other online retailers like Amazon or NewEgg.
Look for "Used Computer Parts" under Computer Parts on eBay for a list of all used computer parts available.
eBay has a large inventory of used parts. It is easier to search for specific parts, rather than browsing through all the items on sale.
This way, you can avoid buying stuff that you don't need.
10. Craigslist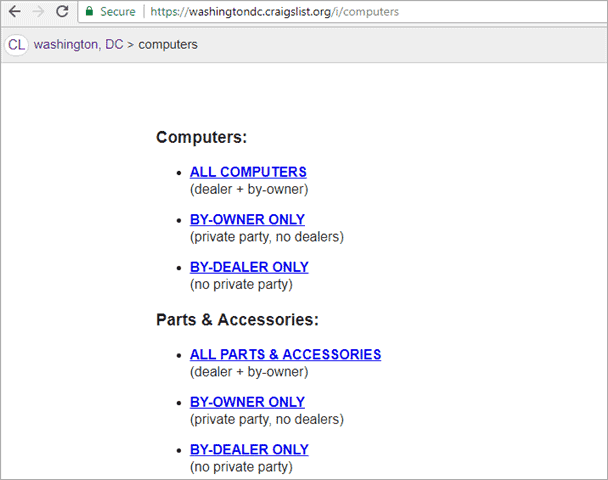 Craigslist is last in our list because of multiple concerns; a lot of users don't like using Craigslist, but you get great deals, even on used computer parts here. This is where you can bargain or trade for things.
It is a hit or miss as it depends on your location. There are more chances of getting a good deal if you live in a big city where there are many people selling computer parts. When you go on Craigslist, you have to select your location first, and accordingly, you get the list of deals available in that particular area.
For example, select "Computers" under the "For Sale" option to see a list of deals in your location.
It is best to be safe while using Craigslist because the website has a reputation for attracting swindlers and fraudulent people. Make sure you can differentiate a good deal from a dishonest deal. Remember that if it sounds too good to be true, it probably isn't true.
Sometimes people pawn off parts that are defective or broken to make a quick buck. Make sure the seller is trustworthy and you are completely satisfied with the product before buying.
Conclusion
In this article are some of the best websites to get good deals on used computer parts and refurbished PC products. These websites are great for cheap and used computer parts. Some websites here let you communicate with the sellers before buying and others let you bargain and get a great price.
Before buying used parts, it is always a best practice check if the product is genuine or not. Beware of online tricksters looking to make a quick buck at your expense.
Also Read: 3 Things You Should Know Before Building a Gaming PC