Transferring data one by one using a file-sharing app is a tiresome process when you switch from an old phone to a new one. The switch between two different types of OS, for example, between Android and iOS, is a far more lengthy process.
People tend to keep using old phones with the fear of losing relevant data during transfer. If you worry about the same, then you can use MobiKin Transfer for Mobile. MobiKin allows you to transfer the data between any two mobile devices. MobiKin permits four types of transfer:
Android to Android data transfer
Android to iOS data transfer
iOS to Android data transfer
iOS to iOS data transfer
We tried MobiKin Transfer for Mobile free and paid version to transfer the data from an Android Device to an iOS device. The significant features and certain limitations we experienced are mentioned below that can help you choose the product accordingly.
This article has been made possible by support from MobiKin. Sponsoring a product review does not guarantee a positive review. The opinions mentioned in the article are that of the reviewer.
Using MobiKin 'Transfer for Mobile' for Transferring Between Smartphones
You can download MobiKin Transfer for Mobile from its official site. It is available in Mac and Windows versions. If your destination phone is Android, then the software is a good option for you. We have used the Windows version of the software for the transfer.
Installation and Prerequisite
The download and install of MobiKin Transfer for Mobile are simple and straightforward. The installation wizard on the screen is self-explanatory. The software will open once the installation is done, and then you just need to connect your source and destination mobile phones.
If you wish to connect your iPhone as the source or destination device, then you need iTunes on your computer to detect your iPhone.
When you connect your Android phone via USB, you need to enable USB debugging on your Android phone. The software does mention this when you plug-in your Android device.
User Interface (UI)
The user interface is clean, and it does not show any ads even in the free version of the software. The UI mentions the buttons according to its use. The icons don't display their functions when dragged over it; hence, you need to guess the icons by their symbol.
The symbols of the icons are clear enough for the people who use such software frequently. However, it becomes difficult for someone to recognize the function of the icons when using the software for the first time.
Free and Paid Versions
MobiKin Transfer for Mobile offers a free version, but this free version allows you to transfer only ten contacts. If you wish to check if the software works for your devices, then you can try connecting your devices using a free version before purchasing the paid version.
The paid version costs USD 29.95 and allows you to transfer all types of data without any limit. They also offer 90 days money-back guarantee and secure process for ordering your paid version.
Android to iOS Transfer
When the target device is iOS, you cannot transfer all types of files. You can only transfer documents and contacts. Well, the transfer is faster than any other file sharing applications, but the limitations of not being able to share media files is a major drawback here.
iOS to Android Transfer
As stated before, if the target device is Android, then MobiKin is a good option for transfer. You don't need to worry about your media files as well. It allows transferring all the media files from your source iOS device to the Android device, except notes, calendars, and bookmarks.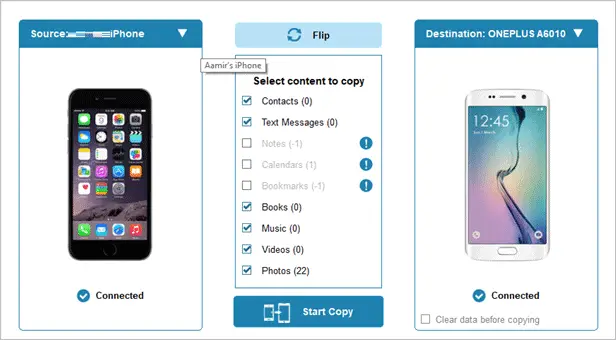 Android to Android Transfer
MobiKin Transfer for Mobile allows you to transfer all types of files between two Android devices, without any exception. You need to connect both the Android devices with your computer and enable USB debugging in both.
iOS to iOS Transfer
iOS to iOS transfer is quite easy because of iCloud. However, if you wish to use MobiKin Transfer for Mobile for this work, then you need to adjust with its limitations – it only allows you to copy contacts, calendars, notes, bookmarks, and books between two iOS devices. Transfer via iCloud is very efficient, and we'd recommend that as the best option to transfer between two iOS devices.
Features
Option to Copy Selected Files
MobiKin Transfer for Mobile allows you to select the type of files you wish to copy on the destination device. If you want only to copy media files, you can check on the checkbox next to the media files and uncheck the rest.
Connect Android Device via WiFi
MobiKin Transfer for Mobile allows you to connect via WiFi. If you want to ditch the traditional way of connecting via USB, then you can connect your phone via WiFi to your computer. You need to follow the instructions mentioned in the software.
You need to click on Can't recognize the device and then connect via Wi-Fi. Next, download the apk file, as mentioned in the next window.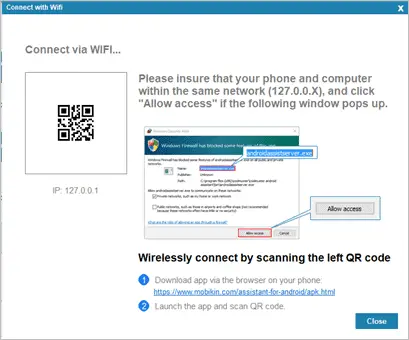 Scan the QR code from your mobile to connect your device to your computer.
Well, it is a great feature, especially when you don't have the cable to connect your mobile to the PC or have all other USB slots busy. 
Clear Data Before Copying
MobiKin Transfer for Mobile allows you to clear the data from old phones, before copying the new data on it. This feature is available only if the destination is the Android phone. A simple click can clear all the data on your phone, making it new as before.
Pros of MobiKin Transfer for Mobile
Clean and Simple User Interface
It allows you to connect your Android device via WiFi, even though the process is a bit difficult and required the MobiKin app.
One-click file copying to the destination device
You can flip the destination and source devices with one click
Allows to select contents to copy
Supports thousands of phones in the Android ecosystem
Cons for MobiKin Transfer for Mobile
Needs iTunes to connect to Apple Device
Cannot connect Apple Device via WiFi
Cannot copy media files to target iOS device
You can download and purchase MobiKin Transfer for Mobile here
Conclusion
Copying files between two devices becomes comfortable with MobiKin Transfer for Mobile, especially for transfer between Android devices. However, if the destination device is iOS, then the limitations can be a problem. We would recommend a purchase for the person who regularly needs to transfer data between Android devices.
MobiKin Transfer for Mobile plans to introduce data backup and restore feature soon, which will then make it a complete package for managing data on your mobile.