Ever wanted to sync your Windows 10 and Android devices? Looking for information on how to connect Android to PC? Connecting an Android phone to a PC can have different agendas based on the user requirement. Some connect Android to PC to mirror the phone's screen while some connect so that they can transfer data to new android phone.
Moreover, having control of your Android device right from your PC has its advantages.
How To Connect Android To PC: 7 Apps That You Should Know About
Numerous examples define how useful it is to connect Android to PC. Apps like AirDroid will give you the flexibility to control Android from a PC without having access to your phone. Owning control to two devices at the same time reduces the effort in many ways. It keeps you away from the phone so that you concentrate on the current task as well as keep an eye on important notifications.
There are various apps to connect your Android device to a Windows 10 PC. Our team of experts has listed down apps that will help you work seamlessly and fast.
1. Your Phone Companion by Microsoft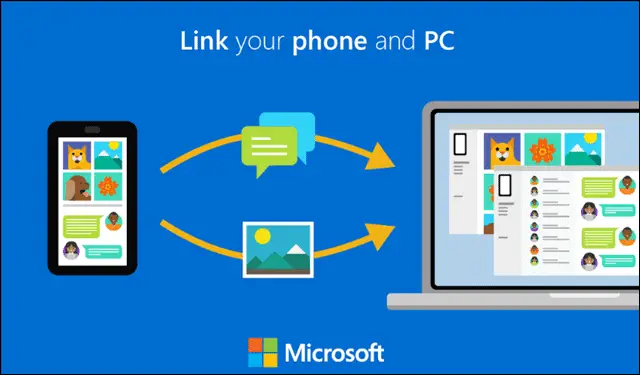 Your Phone Companion is an app for a smooth and convenient sharing of files between an Android device and PC. When you sync both the devices, you get instant access to everything that is on your phone. This app definitely makes it easier for the users who don't know about how to connect Android to PC.
Within the app, you also get apps recommendations about the Phone and PC continuity. That means by using these apps; you can continue doing a task on Android apps by Microsoft and then pick up where and wherever you left off. Pictures taken on an Android phone are instantly accessible to your PC.
Your Phone Companion is a must-have app if you often connect your Android and Windows devices. From removing the hassle of checking text messages on your phone every time to emailing your photos for editing on PC, everything is now made more easy and comfortable.
2. AirDroid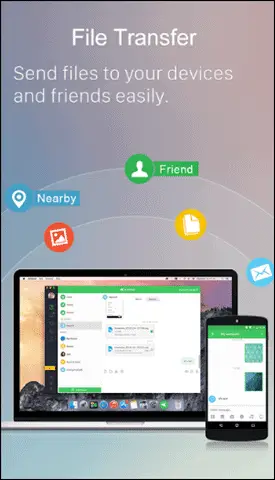 Another app that tops our list on how to connect android to pc is AirDroid. It elevates your Android experience on a PC. To use AirDroid, you need to make a little effort (that's worth doing) of unlocking the developer options and Turning ON USB debugging on your phone.
By using AirDroid, you can do anything from mirroring your Android device to controlling your entire phone from PC. You can even opt to sync a few important apps.
Moreover, you can read and reply to text messages, whether it is from your SMS app, WhatsApp, or any other messaging services. It also helps you transfer files between your Android phone and PC. You can receive, dial, reject calls using your PC's mouse.
Overall, AirDroid is a very accessible, widely used, and trustworthy app to connect Android to PC and have a full-fledged control of the phone on your computer.
Download AirDroid here
3. SendLeap (Previously Textto)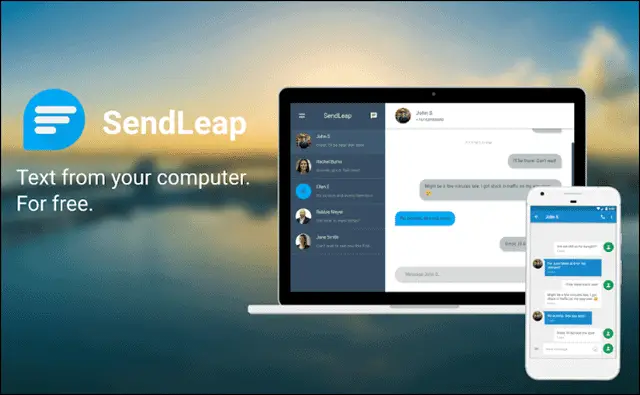 Previously known as Textto, SendLeap is a new player and commits to quality when it comes to connecting Android to PC. You can directly send and receive texts from your computer. Whether you are sharing a pic or sending group messages to people, SendLeap App allows you to do all this right from your computer.
Even if you are using a third-party texting app, SendLeap nicely syncs with your Android device and gives PC access to all your messages. You can also mirror your phone's notifications so that you stay informed about all the essential stuff without looking at your phone.
Download SendLeap here
4. Vysor
Another great option that resolves your confusion of how to connect android to pc is Vysor. It allows you to control your phone using the mouse and keyboard. You can ditch the emulator and start having full access to Android from PC. Whether to play games on a big screen, use some apps, or to drag and drop files, Vysor is a perfect pick that helps in connecting phone to computer. The free version lets you mirror and control Android from PC, and the paid one unlocks access to high quality mirroring, full-screen mode, drag and drop feature.
Download Vysor here
Additional option:  If you want to mirror your phone to PC, ApowerMirror by Apowersoft is a great option to look for.
Download ApowerMirror here
5. Cortana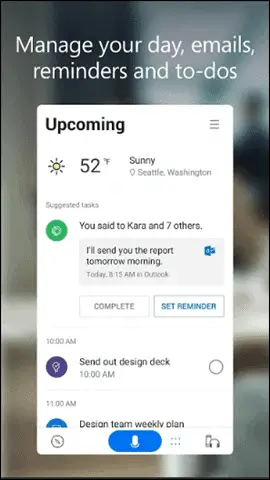 Let's go a step further from connecting Android to PC and get a virtual assistant!
Digitals Assistants are becoming your tech companions with whom you can interact and enquire as you do with a human. Windows users have Cortana on PC that works well and help you use your voice to work with your computer instead of typing. Cortana is also available for Android that is worth trying when connecting Android to PC.
It's fun to have a digital assistant like Cortana that gives you reminders based on your location, keep an eye on your calendar, can search flight info for you, provide you with weather updates,  and so on. Coming to the point, it can sync lists, reminders, notes on your PC and Android phone.
You can also sync the phone's notifications to the PC. Its integration with Microsoft Launcher has made everything much more comfortable where you can get faster access to relevant information like calendars, to-do lists, etc. Microsoft Launcher and Cortana together make an excellent pair and companion to boost productivity, whether on PC or Android.
Download Cortana here
6. Microsoft Edge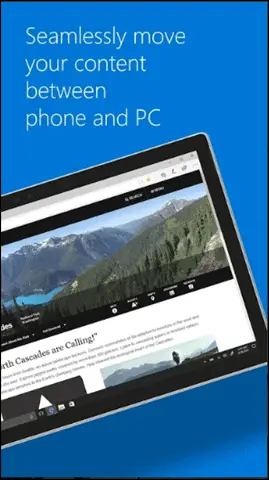 Working well on PC, Microsoft Edge also has its Android app that renders you a good browsing experience on the phone. It comes in use when you want continuity while browsing on your phone and PC.
Yes, you can continue browsing from your phone to the PC, where you can also opt to continue viewing a webpage on your computer immediately or select to view it later.
Microsoft Edge also syncs well with Edge on your PC like your Favorites, reading list, and passwords that give you personalized and seamless browsing experience.
Bonus: Control your desktop using your Smartphone
Download Microsoft Edge here
7. Chrome Remote Desktop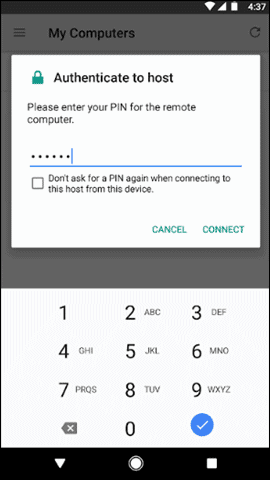 Chrome Remote Desktop is an additional option if you want to have control of your PCs using your Android phone. Chrome Remote Desktop app allows you to access multiple computers from your signal Android device.
First, you have to install the Remote Desktop app on each of your PCs from Chrome Web Store.
Then, install this app on your Android device, open it, and tap on any of your online computers to connect and control.
Download Chrome Remote Desktop here
Final Thoughts
We hope that you now have multiple options to connect android to PC. You can get rid of complicated emulators when you have these apps to connect Android to PC. Although these apps will not give you access to the full OS of the phone, you can use them for playing games, receiving reminders and texts, making calls, etc. That, by itself, is super convenient.
(Article Updated on 29th December 2020)