There is no denying the fact that HBO is the leader when it comes to producing high-quality content and the most prolific shows of all time. Apart from being the best TV network in the world, the best shows on HBO will go down in history for being remarkable and premium.
HBO, today, is the breeding ground for premium content shows and ready to take a risk when it comes to the genres. From drama to comedy to thrillers to kids, it caters to every zone in the audience. It is also the first major cable network to start its streaming services.
Top 51 Best Shows on HBO Now to Binge-Watch On
We've listed the best shows on HBO ranked with IMDb score in no particular order, in case you're spoilt for choice.
Please note- All the trailers used in this article are not necessarily from official sources. Some of them are made by fans.
1. Chernobyl – One of The Best Mini-Series on HBO
Year: 2019
No. of Episodes: 5
IMDb score: 9.5/10
Cast: Jessie Beckley, Jared Harris, Stellan Skarsgard
Created and written by Craig Mazin, Chernobyl is among the best shows on HBO and depicts every detail of one of the world's worst human-made catastrophes in the Soviet Union. A tribute to the unsung heroes who gave their lives, the miniseries is a brilliant creative achievement.
Set in 1986 in the Soviet Union, this show is a five-part miniseries about the Chernobyl Nuclear Power Plant suffering a massive explosion. The story dramatizes one of the world's worst man-made disasters. It depicts the sacrifices made by the brave men and women to save Europe from the impending doom.
The show follows the tragedy throughout. From the explosion to the current scenario, it shows how people are struggling through a culture of disinformation. The flawed reactor, an unsuccessful experiment along with a clumsy cover-up, this haunting masterpiece is a must-watch when it comes to the shows on HBO. The cinematic quality is unbelievable, and the series rivets with a creeping dread that never goes.
2. Game of Thrones: One of the Best Drama Shows on HBO
Year: 2011
No. of Seasons: 8
Episodes – 73
IMDb score: 9.3/10
Cast: Emilia Clarke, Kit Harington, Sophie Turner, Maisie Williams, Peter Dinklage, Lena Headley, Nikolaj Coster-Waldau, Isaac Hempstead Wright, John Bradley
Game of Thrones on HBO Now doesn't require any introduction. Even if you have not seen it, you surely have heard about it because it is everywhere. With exceptionally written characters, a dark plot, engaging story, and heart-wrenching twists set against the backdrop of a fantasy world, it makes one of the most fantasy epics that you could watch.
The show was created by D. B. Weiss and David Benioff for HBO and is an adaptation of the series of fantasy novels by George R. R. Martin called A Song of Ice and Fire.
Undoubtedly, Game of Thrones tops the list of best shows on HBO. Nine noble families and houses fight to gain control over the seven kingdoms in the mythical land of Westeros. As the conflict erupts, an ancient enemy that was dormant for years called the Whitewalkers comes back to threaten everyone. Meanwhile, the heirs of a dethroned dynasty plan to take back their homeland from across the Narrow Sea.
So, who will succeed? And who will rule? Spanning eight seasons and 73 episodes, the intriguing political drama and the struggle for the Iron Throne is worth every minute.
3. The Sopranos
Year: 1999
No. of Seasons: 6
Episodes – 86
IMDb score: 9.2/10
Cast: James Gandolfini, Lorraine Bracco, Edie Falco
One of the most dramatic and sought after shows on television, The Sopranos created by David Chase redefined television in 1999. Tony Soprano, a husband and a mob boss, is going through problems in both personal and professional lives. He wants to improve his mental frame of mind and takes the help of a psychiatrist.
The Italian mobster has problems managing his long-suffering wife and his criminal mastermind together. You will spot him less at home and work, and more in therapy, trying to bridge the gap through his sessions. One of the greatest HBO shows ever made, spanning six seasons and 86 episodes; The Sopranos is the best when it comes to acting, direction, and writing.
4. Band of Brothers
Year: 2001
No. of Episodes: 10
IMDb score: 9.5/10
Cast: Scott Grimes, Damian Lewis, Ron Livingston
Band of Brothers is about ordinary men being involved in the most extraordinary conflict in history. This miniseries recounts the remarkable achievements of the unparalleled team of the U.S regiment during World War II.
Based on historian Stephen E. Ambrose's 1992 non-fiction book called Band of Brothers, it is one of the most realistic and best war series ever made.
The trials and tribulations of Easy Company are based on historical events and accounts. It is on top of the list for the best shows on HBO and provides an accurate and convincing structure and drama.
5. The Wire
Year: 2002
No. of Seasons: 5
Episodes: 60
IMDb score: 9.3/10
Cast: Dominic West, Lance Reddick, Sonja Sohn
One of the best HBO series, The Wire, is a highly realistic take on the narcotics scene in Baltimore. The series follows a team of cops who aim for law enforcement and the criminals they are after.
The show emphasizes the fact that sometimes you need more than just a badge to differentiate between the good guys and the bad guys. It brings to light every facet of life in a crumbling society and is one of the greatest crime dramas ever made on television. Much ahead of its time, The Wire is straightforward yet beautiful and a cinematic treat to watch.
6. True Detective
Year: 2014
No. of Seasons: 3
Episodes: 24
IMDb score: 9.0/10
Cast: Vince Vaughn, Colin Farrell, Rachel McAdams
Two Police Detectives Rust Cohle and Martin Hart solved a bizarre murder case together in the year 1995. They come together in 2012 to further investigate the homicide.
As the inquiry unfolds, it exposes the personal and professional secrets of people who are involved, both from within and outside the law. Their timelines braid and converge as the two realize they are being pulled back into what they thought they'd left behind. One of the best shows on HBO Now, True Detective will keep you wanting for more with brilliant direction, excellent cast, and well-written dialogues.
7. Curb Your Enthusiasm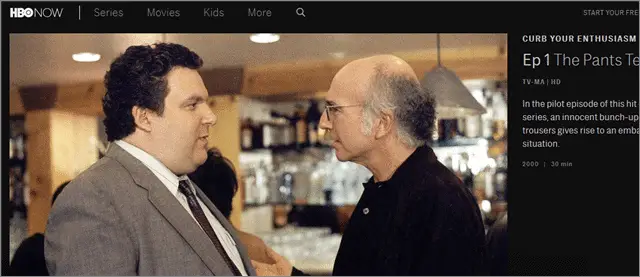 Year: 2000
No. of Seasons: 9
Episodes: 90
IMDb score: 8.7/10
Cast: Larry David, Cheryl Hines, Jeff Garlin
This HBO series follows the life of a retired television writer who has all the elements that would make life perfect- has a loving wife, a bunch of great friends, a successful career, a big house. However, he frequently gets himself into predicaments with both real-life and fictional personalities.
Larry David stars as himself in this cynical and absurd comedy. Awkwardly hilarious and laugh-out-loud funny, Curb Your Enthusiasm is not meant for binge-watching (for all) but fits the bill if you watch it in small doses.
8. Oz
Year: 1997
No. of Seasons: 6
Episodes – 56
IMDb score: 8.7/10
Cast: Ernie Hudson, J.K. Simmons, Lee Tergesen
Created by Tom Fontana, who also co-wrote the series, Oz is an original gritty drama series by HBO. It chronicles the daily lives of the inmates and correctional officers at an unusual prison facility at Emerald City. They battle for power and survival amidst conflicting groups and volatile acts of punishment.
McManus, the manager, attempts to control the inhabitants and also keep a check on drug trade and violence. The prisoners are considered lucky if they get into this particular 'Emerald' unit of the prison and luckier if they get out of it alive. With brilliant acting and a grippy storyline, Oz is definitely one of the most underrated shows on TV and best shows on HBO.
9. Sex and the City
Year: 1998
No. of Seasons: 6
Episodes: 94
IMDb score: 7.1/10
Cast: Sarah Jessica Parker, Kim Cattrall, Kristin Davis
How do young city women meet the challenges of finding their life partner? One of the best series on HBO, Sex and the City, is a romantic-comedy-drama about four women in New York City who find out new means to deal with their life, share their secrets, details about their sex lives and discuss even the lack of it.
Sarah Jessica Parker is in her thirties and single. The writer's personal life crisis and the stories of her gang of girls is fodder for her column. Revolutionary for its time for female-driven content, the series is one of the best-written comedies and would appeal slightly more to the female audience.
10. Six Feet Under
Year: 2001
No. of Seasons: 5
Episodes – 63
IMDb score: 8.7/10
Cast: Peter Krause, Michael C.Hall, Frances Conroy
Six feet under is a breakout HBO series by Alan Ball, the Oscar-winning screenwriter. It is about a dysfunctional family in Los Angeles who runs an independent funeral business.
Nate Fisher returns home during the holidays only to receive the news of his father's death.
How will a family who is always there with people who lose their close ones deal with grief themselves? With mesmerizing personal conflicts depicted so well, the show does the impossible by displaying the confusion of life and how it affects us. Spanning five seasons and 63 episodes, Six Feet Under is a profoundly moving masterpiece and makes it to the list of best shows on HBO. It is indeed beautiful, meticulous, powerful, and daunting.
11. Westworld
Year: 2016
No. of Seasons: 2
Episodes: 20
IMDb score: 8.7/10
Cast: Evan Rachel Wood, Jeffery Wright, Ed Harris
Westworld is a well-crafted crossover of drama, science-fiction, mystery, and suspense-thriller created by Lisa Joy and Jonathan Nolan. It is set in a futuristic Wild West fantasy park for the rich, where life-like robots play out scenarios for the guests to participate in.
The visitors indulge in their fantasies and desires without any consequence. The human-like androids are equipped with next-level artificial intelligence and are almost on the verge of gaining consciousness. A rare experience for the viewers, you enter into an extraordinary world with this HBO series right from the very first minute. With an intriguing story, beautiful visuals and incredible acting, the show is now renewed for the third season. Well, that's something for the fans to celebrate.
12. Rome
Year: 2005
No. of Seasons: 2
Episodes: 22
IMDb score: 8.7/10
Cast: Kevin McKidd, Ray Stevenson, Polly Walker,
One of the best HBO Now shows, Rome is a British-American-Italian drama television series created by William J. MacDonald, John Milius, and Bruno Heller. The historical drama highlights the events that led to the birth and fall of the Roman Republic. It is an account of the lives of ordinary Romans and the illustrious aristocrats who lived during that period.
Many people think that Rome is a precursor to Game of Thrones, but one should note that it is not related. However, both shows have an ensemble cast, create political intrigue, and are set against a fantasy backdrop in the distant past.
13. Big Little Lies
Year: 2017
No. of Seasons: 2
No. of Episodes: 14
IMDb score: 8.5/10
Cast: Reese Witherspoon, Nicole Kidman, Meryl Streep, Shailene Woodley, Zoë Kravitz, Laura Dern, Alexander Skarsgard, Adam Scott
Based on the bestseller, "Big Little Lies" by Liane Moriarty, the HBO series is a dark comic tale about friendship, mischief, and murder. Madeline and Celeste are mothers of first-graders who lead seemingly perfect lives. Single mom Jane, who's new in town, joins the gang along with her son. But, little did they know that they'll be dragged into a murder investigation and their lives will change forever?
In season 2, Meryl Steep joins the stellar cast as Celeste's mother-in-law. The gorgeous and gripping plot doubles down on dark humor and gives you more juicy drama to chew on.
Big Little Lies is new on HBO Now and explores society's myths regarding perfection. It also exposes the fractured relationships that exist as a part of today's reality. The show depicts how small lies can backfire and explores the aspects of marriage, friendship, and parenting.
14. Entourage
Year: 2004
No. of Seasons: 8
Episodes: 96
IMDb score: 8.4/10
Cast: Kevin Connolly, Adrian Grenier, Kevin Dillon
Stephen Levinson and Mark Wahlberg are the executive producers, and it is said that the plot of Entourage is based on Wahlberg's experiences as a struggling artist and his journey towards becoming a star. This HBO series deals with various themes correlated to the modern-day Hollywood. Vince Chase of humble origins is a rising Hollywood star who suddenly became famous. He brought along his entourage from New York, no professionals or people associated with the glamor world, but three of his childhood friends.
Vince's friends help him navigate through the vapid terrain of tinsel town in Los Angeles. One of the best HBO shows, Entourage, is a sitcom that is fun, addictive, and a must-watch with your gang of friends.
15. Deadwood
Year: 2004
No. of Seasons: 3
Episodes: 36
IMDb score: 8.6/10
Cast: Timothy Olyphant, Ian McShane, Molly Parker
One of HBO's most recognizable exports, this series is set in the late 1800s in the town of Deadwood, South Dakota. The lawless mining town during the post-Civil War America is a sinkhole of crime and corruption.
Wild Bill Hickok, an ex-lawman and Seth Bullock, trying to start life afresh end up landing on the other side of the moral and legal fence as their lives intertwine with those who populate Deadwood. The bar owner's role played by Ian McShane remains one of HBO's most vividly drawn characters. One of the best series on HBO, Deadwood, is grim, dark, severe, but hilarious at times.
16. Eastbound & Down
Year: 2009
No. of Seasons: 4
Episodes: 29
IMDb score: 8.2/10
Cast: Danny McBride, Steve Little, Katy Mixon
Kenny Powers is a baseball champion who has everything that it takes to call a sportsman's life ideal – money, fame, and crazy fans. But, due to self-destructive tendencies, he ruined the upward momentum his life had caught.
Alcoholism, drugs, spending money on useless things and treating people close to him with contempt leads to his downfall. He then returns to a school he once attended as a Physical Education teacher. One of the best shows on HBO Now, Eastbound & Down, is a must-watch comedy.
The obnoxious anti-hero will grow on you as he did on us. Are you game to view the most spectacular career flame-out?
17. Silicon Valley
Year: 2014
No. of Seasons: 5
Episodes: 53
IMDb score: 8.5/10
Cast: Thomas Middleditch, T.J. Miller, Josh Brener
Created by Dave Krinsky, John Altschuler, and Mike Judge, Silicon Valley is all Richard Hendricks, a computer programmer, and his nerdy friends.  When the introvert Richard makes a breakthrough invention in file compression, he decides to start his own company, Pied Piper, with his pals.
But, is everyone capable of handling success? One of the best shows on HBO Now, Silicon Valley, is an absurd yet realistic satire on the tech-world douchebaggery. With thoughtful writing and perfect comedy timings, it is original, smart as well as witty.
18. In Treatment
Year: 2008
No. of Seasons: 3
Episodes: 106
IMDb score: 8.3/10
Cast: Gabriel Byrne, Dianne Wiest, Michelle Forbes, John Mahoney, Melissa George
Based on the Israeli series, BeTipul by Hagai Levi, the HBO series In Treatment is created by Rodrigo Garcia. It tops the chart when it comes to the best shows on HBO Now.
Dr. Paul Weston, a psychotherapist, has patients visiting him from Monday to Thursday, whereas he seeks help from his therapist on Fridays. He reunites with his old therapist after ten years when he started to question his abilities as a healer.
In front of his patients, the doctor maintains an insightful and reserved demeanor but displays a confused personality and crippling insecurity to his therapist. In Treatment offers some of the tightest dramatic writing while unspooling engrossing suspense.
19. Veep
Year: 2012
No. of Seasons: 7
Episodes: 65
IMDb score: 8.3/10
Cast: Julia Louis-Dreyfus, Tony Hale, Anna Chlumsky, Timothy Simons, Matt Walsh
Veep is developed by Armando Iannucci as an adaptation of his sitcom The Thick of It, and highlights the lighter side of politics.
Selina Meyer, portrayed by Julia Louis-Dreyfus, is the newly elected Vice President of the United States, and politics does not turn out to be how she'd imagined. Veep, one of the most popular HBO series, is a hilarious political satire and an excellent example of how comedies should be written.
Every episode follows her daily existence as she juggles between her public schedule and private life. Meyer does all that she can to mend the uniquely dysfunctional relationship she shares with the chief executive.
20. The Night Of
Year: 2016
No. of Episodes: 8
IMDb score: 8.5/10
Cast: Riz Ahmed, John Turturro, Bill Camp, Sofia Black-D'Elia
Created by Steven Zaillian and Richard Price, The Night Of is based on the BBC series "Criminal Justice." Naz is a Pakistani-American student who gets involved with a girl post a party on a Friday night and wakes up to see she's murdered. Due to the consumption of excess alcohol and drugs, Naz is unable to recollect what exactly happened the previous night. He gets arrested by the police because the murder weapon was found in his pocket.
One of the best HBO series, The Night Of, is a crime drama that follows the intricate details of the murder mystery, its investigation, and the subsequent trial. The plot might sound run-of-the-mill for once, but the miniseries will keep you enthralled and leave you devastated.
21. Sesame Street
Year: 1978
No. of Seasons: 23
No. of Episodes: 302
IMDb score: 8.1/10
Cast: Jim Henson, Frank Oz, Jerry Nelson
Running for almost five decades now and one of the best shows on HBO, Sesame Street has evolved the young ones into kinder, stronger, and smarter versions of themselves. Preschoolers get gold-standard quality when it comes to educational programming in this iconic series.
Every episode lasts for 30 minutes and includes themes that are relevant to the toddlers and new opening and closing songs. The show capitalizes on children's natural love for learning and cherishes diversity by exploring different cultures. Are you all set to witness human characters belonging to all ages, races, colors, and physical abilities?
22. Treme
Year: 2010
No. of Seasons: 4
Episodes: 36
IMDb score: 8.2/10
Cast: Khandi Alexander, Rob Brown, Kim Dickens
Treme is an American television drama series that follows the daily lives of residents of New Orleans. Developed by David Simon and George Pelecanos, the show is all about how  Hurricane Katrina hits the people of New Orleans. The plot revolves around musicians and ordinary residents who try to rebuild in the aftermath of the storm.
The inhabitants of Treme, which is the city's oldest neighborhood, try to put their lives together while attempting to revive their homes and culture. Are you ready to experience their personal stories? One of the most original shows on HBO, Treme, is a mix of exciting characters, exceptional music, dense plot, and a unique backdrop.
23. Boardwalk Empire
Year: 2010
No. of Seasons: 5
Episodes: 56
IMDb score: 8.5/10
Cast: Steve Buscemi, Kelly McDonald, Michael Shannon
One of the most popular HBO series, Boardwalk Empire is a period piece set during the 1920s in Atlantic City, New Jersey. Created by Terence Winter, it is a good crime drama with a captivating storyline and phenomenal acting. The story follows the life of a politician and gangster, Enoch 'Nucky' Thompson, at the dawn of the Prohibition era.
Due to his well-established relationships with the mobsters and resourceful political contacts, the Federal government starts to take a keen interest in him. The slow-burning plot of the show highlights upon the birth and rise of corruption in the city. While Boardwalk Empire is full of engaging sequences, its greatest strength lies in the visual aesthetics that are beyond beautiful.
24. The Pacific
Year: 2010
No. of Episodes: 10
IMDb score: 8.3/10
Cast: James Badge Dale, Joseph Mazzello, Jon Seda
After the success of Band of Brothers, the creators made a 10-part miniseries that follows the intertwined lives of three young marines in the Pacific theater during World War II. Built on the same lines as its predecessor, The Pacific depicts the stories war warriors and characters based on real-life veterans fighting in the brutal Pacific theater. The series also boasts of a marvelous soundtrack composed by Hans Zimmer.
The Pacific conveys a sense of realistic combat experience, and you shouldn't miss this one if you enjoy watching war stories. Brutal, gripping, horrifying, epic, and honest, The Pacific is one of the best shows on HBO Now.
25. Flight of the Conchords
Year: 2007
No. of Seasons: 2
Episodes: 22
IMDb score: 8.5/10
Cast: Jemaine Clement, Bret McKenzie, and Rhys Darby
Jemaine and Bret are Flight of the Conchords, a New Zealand based comedy pair and a folk-rock band. They move to New York City in search of stardom and romance.
The series follows the duo as they experience love, life, and friendship while trying to kick-start their careers in music. Will they be able to conquer America's music industry? Will they find love and success in the city they've moved into? One of the best series on HBO, watch Flight of the Conchords to find the answers.
26. The Newsroom
Year: 2012
No. of Seasons: 3
Episodes: 25
IMDb score: 8.6/10
Cast: Jeff Daniels, Emily Mortimer, John Galligher Jr.
A newsroom changes as the new team wants to report the news as it happens, ethically and objectively. They take real and newsworthy events and report them in an unbiased and reasonable way, like how it should be done if the news station follows moral and rational guidelines.
However, it is possible to be 'good' when it comes to your reporting principles and be a popular news source at the same time? This is the question haunting volatile news presenter Will McAvoy. The Newsroom has a witty plot that is fast-paced, and the HBO series showcases the problems that exist in American news coverage.
27. The Leftovers
Year: 2014
No. of Seasons: 3
Episodes:28
IMDb score: 8.3/10
Cast: Justin Theroux, Amy Brenneman, Christopher Eccleston
More than 140 million people, that is 2% of the total world population, mysteriously vanish. Three years after their disappearance, a group of people from New York who are shaken by the tragedy of the event, try to continue their lives.
The Leftovers is a new HBO series adapted from Tom Perotta's novel and co-created by Damon Lindelof, which is about how the people of a small town cope up when the majority of its residents vanish. It is a polarizing show with a slow-burning plot and a thought-proving drama that is artfully crafted.
28. Carnivale
Year: 2003
No. of Seasons: 2
Episodes: 24
IMDb score: 8.4/10
Cast: Michael J. Anderson, Adrienne Barbeau, Clancy Brown
Set during the Great Depression of the 1930s, the United States was in the middle of the Dust Bowl, a period when severe dust storms, drought, and diseases were rampant. Created by Daniel Knauf, Carnivale is about fugitive Ben Hawkins, a man with mysterious talents, is picked up by a traveling carnival, run by an unseen force.
Ben comes in touch with his long-dormant supernatural powers once again. At the same time, a preacher plagued with apocalyptic visions predicts doom. These two men are unaware of the fact that they will play crucial roles in the battle between good and evil.
29. Vice Principals
Year: 2016
No. of Seasons: 2
Episodes: 18
IMDb score: 8/10
Cast: Danny McBride, Walton Goggins, Sheaun McKinney
McBride and Walton Goggins are vice-principals of North Jackson High School. When the principal of the school retires, the two administrators enter into a power struggle, both vying to fill the empty spot.
English teacher Dr. Belinda Brown enters the picture and is in the running to be the principal too. McBride and Walton then decide to keep their differences aside and first eliminate the newbie from the competition. One of the hilarious HBO series, Vice Principals, is a must-watch.
30. The Deuce
Year: 2017
No. of Seasons: 3
Episodes: 25
IMDb score: 8.1/10
Cast: James Franco, Maggie Gyllenhaal, Gbenga Akinnagbe
Developed by George Pelecanos and David Simon, The Deuce title is inspired by the nickname given to the 42nd Street between Eighth Avenue and Seventh Avenue. Based on New York's Times Square during the 1970s, The Deuce is a gritty portrayal of the sex industry and its workers. It is the same time when the prostitution business was climbing the ladder to become a million-dollar industry.
Since the business of pleasure was publicly executed during those days, a police crack-down helps the characters venture towards a safer and culturally accepted enterprise, a more concrete and legitimate form of the same work. One of the best new HBO series, The Deuce, is fascinating, riveting, and attention-grabbing.
31. Ballers
Year: 2015
No. of Seasons: 5
No. of Episodes: 47
IMDb score: 7.6/10
Cast: Dwayne Johnson, John David Washington, Rob Corddry
Set in the beautifully sun-soaked city of Miami, Spencer Strasmore, aka The Rock, is a retired footballer who was a superstar during his playing days. He decides to continue being associated with his favorite sport by being the financial manager of the current players.
However, his role in the lives of the players turns out to be more than just money management. The protagonist navigates through their daily lives while mentoring them and ends up looking after their personal well-being while trying to take them out of the various issues in life.
In the last season, the pseudo-comedy's stakes were kept pretty low. Spencer peacefully enjoys retirement and reflects upon his past. He engages with his former allies and receives a tempting offer. What is it? Will he accept it? This drama and comedy television series created by Stephen Levinson is one of the must-watch best shows on HBO.
32. Togetherness
Year: 2015
No. of Seasons: 2
Episodes: 16
IMDb score: 7.5/10
Cast: Mark Duplass, Melanie Lynskey, Amanda Peet
Brett and Michelle are a married couple in their forties who want to rekindle the lost spark in their relationship. Brett's friend and Michelle's sister decide to move in with the couple by putting up in the same house.
One of the best shows on HBO, Togetherness, is about the struggle these four individuals face in coping up with their personal and professional lives. What unexpected turns will their lives take? Will they be successful in pursuing their dreams?
33. Luck
Year: 2011
No. of Seasons: 1
Episodes: 9
IMDb score: 7.5/10
Cast: Dustin Hoffman, Dennis Farina, John Ortiz
Created by David Milch, this dramatic television series is about racing-related mysteries. Three-Year imprisonment was enough time for Chester 'Ace' Bernstein to come up with a new plan. His motive is revenge against the colleagues who back-stabbed him.
The intuitive tough guy, along with his trusted chauffeur, wants to reverse the sinking fortunes of a California racetrack. One of the best shows on HBO Now, Luck is a provocative series highlighting the dark side of the world of horse racing and rampant gambling.
34. Big Love
Year: 2006
No. of Seasons: 5
Episodes: 53
IMDb score: 7.5/10
Cast: Bill Paxton, Jeanne Tripplehorn, Chloe Sevigny
One of the most popular shows on HBO, Big Love, follows the story of a polygamist Bill Henrickson and his relationship with the three wives. The protagonist faces a myriad of challenges in fulfilling the needs of his life partners and seven children. The show portrays how the family balances the tightrope walk between polygamy and normalcy.
How will he able to live up to the emotional, romantic, and financial requirements of three ladies? Not to forget, they, along with the kids, stay together in a suburban in Salt Lake City. Big Love, as they say, is a tricky premise handled with charm. With an intricate plot and well-developed characters, it is entertaining as well as thought-provoking.
35. Getting On
Year: 2013
No. of Seasons: 3
Episodes: 18
IMDb score: 7.7/10
Cast: Laurie Metcalf, Alex Borstein, Niecy Nash
Based on the BBC show of the same name, Getting On is a comedy series about staffers who work in a California hospital, looking after the needs of elderly female patients. With anxious doctors, overworked nurses, and administrators, Getting On brings out their struggle through complications and conflicting agendas, both personally and professionally.
The narrative is sensitive yet humorous as the laugh-out-loud slapstick pokes fun at a typically severe theme. One of the best HBO shows, Getting On portrays the brutally honest and compassionate realities of attending to and taking care of the elderly.
36. The Comeback
Year: 2005
No. of Seasons: 2
Episodes: 21
IMDb score: 8/10
Cast: Lisa Kudrow, Lance Barber, Robert Michael Morris
Created by Lisa Kudrow and Michael Patrick King, The Comeback is a comedy-drama series featuring an ex-celebrity and her comeback attempts. Valerie Cherish, a popular A-list sitcom actress of her younger days, is now married, unemployed and no longer famous. She is too desperate to be back in the spotlight and is willing to go to any extent to be the media's center of attention.
She decides to be a part of the reality show called 'The Comeback' with the cameras keeping an eye on all her moves 24×7, documenting the trials and triumphs of her journey. Is the price she's paying to revive her career too high? Watch the comedy HBO series, The Comeback, to find out.
37. Looking
Year: 2014
No. of Seasons: 2
Episodes: 18
IMDb score: 8.2/10
Cast: Jonathan Groff, Frankie J. Alvarez, Murray Bartlett
Patrick, Agustin, and Dom are best friends in their 30's living together in San Fransisco. The popular HBO series is set against a progressive backdrop and explores the complexities of contemporary same-sex relationships.
Watch the comedy series as the three friends share the nuances and unfiltered experiences of their personal and professional lives. Although unified by their close bond, the paths that the men choose in search of happiness and love takes them away from each other.
38. Insecure
Year: 2016
No. of Seasons: 3
Episodes: 24
IMDb score: 7.8/10
Cast: Issa Rae, Yvonne Orji, Jay Ellis
Not new on HBO now, Insecure is a comedy series that deals with friendship and its flaws and insecurities to be precise. It follows the lives of two modern-day black women in Los Angeles. The best friends struggle in their everyday lives while going through uncomfortable experiences and trying to cope with their real-life flaws.
The series is a unique and authentic take on Issa and Molly's friendship and highlights upon the prevalent racy tribulations that make situations awkward for the ladies. Be a part of their hilarious journey as the two twenty-something women navigate the tricky personal and professional terrain while defying all stereotypes.
39. The Young Pope
Year: 2016
No. of Seasons: 1
Episodes: 10
IMDb score: 8.4/10
Cast: Jude Law, Diane Keaton, Silvio Orlando, Ludivine Sagnier
One of the best shows on HBO, young and charming Lenny Belardo, is the newly elected Pius XIII, the first-ever American Pope. However, the leaders of the church believe that they've chosen a mysterious figure who contradicts his own words; and they are not wrong.
Instead of listening to the Vatican stewards, the Pope follows the commands of Sister Mary, his chief advisor, who also looked after the orphans since he was seven years old. She wants Pius XIII to lead and guide a billion followers, but he is least interested in making himself known, neither to the masses nor to the people who elected him. Will he be successful in taking the church to a stunning new direction?
40. Olive Kitteridge
Year: 2014
No. of Episodes: 4
IMDb score: 8.4/10
Cast: Frances McDormand, Richard Jenkins, Ken Cheeseman, Bill Murray
Olive is a middle-school math teacher at a seemingly placid New England town that is full of crime, tragedy, and illicit affairs. Based on the 2008 novel Olive Kitteridge by Elizabeth Strout, the 4 episode mini-series revolves around her. The series explores the relationship with her husband Henry, who is a good-hearted pharmacist, their child, and other residents of the community.
Their son Christopher detests his mother and thinks she's critical of everything, apart from being harsh and hurtful. He dislikes her parenting habits and feels his selfless father is a victim in the relationship. The brilliant HBO series is a psychological drama depicting the effects of mental illness.
41. Sharp Objects (Miniseries)
Year: 2018
Episodes: 8
IMDb score: 8.2/10
Cast: Amy Adams, Patrica Clarkson, Chris Messina
Based on the novel by Gillian Flynn of the same name, Sharp Objects is a psychological thriller created by Marti Noxon and lists among the best shows on HBO. Camille Preaker is a journalist who's been assigned a new task. She has to report the murder of a young girl and the disappearance of another in her rural hometown.
The protagonist has a history of psychiatric issues and has to work through her trauma while looking for clues about the unsolved crime mystery. Camille risks falling into the self-destructing habits of her past as she reunites with her estranged and dysfunctional family. Which truth will she unravel? Watch Sharp Objects, one of the most brilliant HBO series to find out.
42. Random Acts of Flyness
Year: 2018
No. of Seasons: 1
Episodes: 6
IMDb score: 6.3/10
Cast: Terence Nance, Anthony Chisholm, Dominique Fishback
Written, directed, and produced by Terence Nance, Random Acts of Flyness is a late-night sketch comedy. Nance, along with his team, was successful in creating a never-seen-before kind of show by mixing themes such as ancestral drama, romance, history, and death. The show's moving political poetry plays in harmony with its insane humor to create an unmissable experience.
Random Acts of Flyness is a new HBO series that shows the beautiful and ugly sides of contemporary American life. The show explores cultural idioms such as patriarchy and white supremacy and provokes the viewers to ponder upon a multitude of topics like cast, race, creed, and culture.
43. Succession
Year: 2018
No. of Seasons: 2
Episodes: 20
IMDb score: 8.4/10
Cast: Hiam Abbass, Nicholas Braun, Brian Cox
Created by Jesse Armstrong, Succession is a  satirical comedy-drama that follows a global media honcho and his family. Logan Roy is the head of the world's largest media conglomerate. Lingering in the spotlight for much longer than expected, he decides to retire. Now that he's taken a step back from the company, the responsibility of running the media house will be shouldered by his four children.
One of the best shows on HBO, Succession, shows the personal agendas of all the sons clashing as none of their objectives are in sync with their siblings'. The show portrays how rich people with bad intentions behave and highlights the fact that running a family business isn't a cakewalk.
44. The Larry Sanders Show
Year: 1992
No. of Seasons: 6
Episodes: 90
IMDb score: 8.3/10
Cast: Garry Shandling, Jeffery Tambor, Wallace Langham
The Larry Sanders Show is undoubtedly one of the best HBO classics. The hilarious premise of the show revolves around the on-camera and behind the scenes activities of a late-night chat show and its neurotic host. Created by Garry Shandling and Dennis Klein, this American television sitcom was aired from August 1992 to May 1998.
Set in the studio office of the fictional chat show, it boasts of hosting celebrities who are not afraid of poking fun at themselves. The genre-bending comic satire will give you a bizarre glance at the inner workings of late-night television.
45. My Brilliant Friend
Year: 2018
No. of Seasons: 1
Episodes: 8
IMDb score: 8.6/10
Cast: Valentina Acca, Antonio Buonanno, Gennaro Canonico
Based on the bestselling series by Elena Ferrante, My Brilliant Friend is an Italian-American drama that portrays a fascinating tale of friendship.
Elena Greco, who is now a grown-up woman, discovers that her childhood best friend is missing without a trace. She starts to write a book describing the beautiful relationship that the two shared way back in the 1950s. The plot spans over 60 years of their lives.
Set in the dangerous yet enchanting Naples, My Brilliant Friend unveils the mystery of Lila, Elena's closest friend, and probably her worst enemy as well. One of the heartwarming shows on HBO, we are sure that the remarkable performances and the perfection of this masterpiece will linger on with you even after the show is over.
46. Barry
Year: 2018
No. of Seasons: 2
Episodes: 16
IMDb score: 8.3/10
Cast: Bill Hader, Stephen Root, Sarah Goldberg
Plot: Barry Berkman is a depressed, low-level hitman from the Midwest who goes to Los Angeles on his next assignment. He follows his target, an actor, to his acting classes and falls in love with this profession. Also, a dedicated student Sally catches his attention.
Will he be able to get rid of his past and pursue his new-found interest? The lead actor has executed every scene with perfection in this exquisitely crafted and hilarious HBO series that is dark and funny in equal proportions.
47. Bored to Death
Year: 2009
No. of Seasons: 3
Episodes: 24
IMDb score: 7.9/10
Cast: Jason Schwartzman, Zach Galifianakis, Ted Danson
Jonathan Ames is a young, struggling writer who decides to fulfill his fantasies by leading the life of a private detective in Brooklyn, New York. He lists his gumshoe services on Craigslist and uses methods he read about in old suspense novels.
As the unlicensed protagonist starts to investigate cases, he is unable to meet the expectations of the clients because of his crumbling personal life. Also, his needy boss tries to interfere with his new-found profession. One of the best HBO shows, Bored to Death, is unique, character-driven, and an absurd comedy that is anything but boring.
48. Enlightened
Year: 2011
No. of Seasons: 2
Episodes: 18
IMDb score: 7.5/10
Cast: Laura Dern, Diane Ladd, Sarah Burns
Developed and written by Mike White, Enlightened is an impressive representation of the human condition with a strong message for the audience. One of the best HBO shows, Enlightened is a story about Amy Jellicoe, who is a successful corporate executive despite possessing self-destructive habits. After a humiliating nervous breakdown at work, she goes to a mental health retreat for three months.
She returns with a new outlook on life, determined to live an enlightened existence. Creating havoc at home and work, will Amy be able to move forward as an agent of change? Or, will she succumb to the corporate abuse and corruption?
49. High Maintenance
Year: 2016
No. of Seasons: 3
Episodes: 25
IMDb score: 8/10
Cast: Ben Sinclair, Kate Lyn Sheil, Britt Lower
Based on the web series from Ben Sinclair and Katja Blichfeld, Sinclair stars as The Guy in High Maintenance, who is a nameless weed delivery man in New York City. While delivering the goods to his stressed-out clients on a bicycle, he gets a glimpse of their daily routines by entering not just into their homes, but into their lives as well.
Each of the eccentric characters has a compelling reason for indulging in trade with him. Sharp writing and an excellent cast make High Maintenance a must watch and one of the best series on HBO.
50. True Blood
Year: 2008
No. of Seasons: 7
Episodes: 80
IMDb score: 7.9/10
Cast: Anna Paquin, Stephen Moyer, Sam Trammell
Based on the best-selling "Sookie Stackhouse" novels by Charlaine Harris, True Blood is created by Alan Ball. This HBO series is set in modern times, where vampires roam around the Earth and co-exist with humans. A substitute for human blood, true blood, has been found, which serves the same purpose.
Young waitress Sookie Stackhouse experiences the supernatural world when she meets the mysterious Bill, a bloodsucker. Can humans find their match in vampires? Will the two ever be able to stay together in harmony and form a relationship? Watch True Blood, one of the best shows on HBO to find out.
51. Girls
Year: 2012
No. of Seasons: 6
Episodes: 62
IMDb score: 7.2/10
Cast: Lena Dunham, Allison Williams, Jemima Kirke
Created by Lena Dunham, Girls is an outrageous HBO comedy series that is realistic and connects with the audience.  Four young girls who have graduated from college try to figure out what they want from life in New York City. They struggle to decide upon the ambitions they want to pursue and the kind of men they want as part of their lives.
One of the best HBO shows, Girls, is a contemporary coming-of-age comedy, which depicts women dealing with the real world. The show is provocative, incredibly funny, and extremely refreshing.
HBO Now Shows and Subscription
If you subscribe to the HBO channel on your TV, you can watch HBO GO online. However, with the advent of HBO Now, you no longer need your regular cable TV package. You can see the best shows on HBO and avail the premium content made by HBO on HBO Now. It offers a free trial for seven days, post which you can buy the subscription at $14.99 per month.
If you think the price is steep, let us tell you it is not, and every penny is worth it. It is a good bargain, especially if you do not subscribe to cable TV packages.
So, are you ready to ditch cable TV for good?
Final Thoughts on Best Shows on HBO
So, what do you think now that you have checked the list comprising the best shows on HBO?
We are spoilt for choice when it comes to choosing our most favorite among myriad high-quality shows. Chernobyl and Game of Thrones on HBO Now would make it to the top of the best HBO shows. The best crime thrillers, in our opinion, are Sopranos, Oz, The Wire, Barry, True Detective, and Big Little Lies.
Sharp Objects, True Blood, WestWorld, Bored to Death, The Leftovers, and Carnivale are the best mysteries series on HBO. When it comes to comedy, the options are vast, but we'll pick Sex and the City, Silicon Valley, Flight of the Conchords, The Larry Sanders Show, Girls, Veep, Curb your Enthusiasm, and Entourage.
Band of Brothers and The Pacific are superlative films made on war, and Olive Kitteridge deserves a special mention since it is the best psychological drama that we came across.
The best part about HBO Now shows is that you can start streaming it while it is airing live on TV (that means you no longer have to worry about stumbling upon spoilers the next day). Moreover, you can also avail of HBO Now services if and when there is a specific show that you want to watch. Once the series is over, you can cancel the subscription.
However, if you are still having confusion between HBO Go and HBO Now, check the HBO Go vs HBO Now comparison to decide which one is the right choice for you.
And, for a change, if you wish to relive your childhood days, you can check the Top 8 Sites To Watch Popular Old Cartoon Shows Of All Time