If you love music, mixing music, and blending them with effects, you have been hit by the DJing syndrome. The incredible ability to create groovy music is not as simple as it sounds. The best way to kickstart your DJing career or hobby is to explore the best free DJ software.
Whether you want to make remixes, add bass to the song, or use your skills to create some rocking tracks, the software listed here is just perfect for you.
Create your Playlist with The Best Free DJ Software
For a beginner, the best way to explore is by trying out the Free DJ software. It gives you the platform to learn the basics of music mixing software and allows you to explore your musical side. But, if you are serious about DJing and are planning to head a party, we suggest that you do not rely on the free version and carry a paid DJ software with you.
So, let's mix and blend some music with the best free DJ software as well as the paid versions (for the ones who are no longer 'the beginners').
Note: This article may contain some affiliate links. If you purchase software through these links, TechNorms may earn a commission at no additional cost to you.
1. Mixxx DJ Software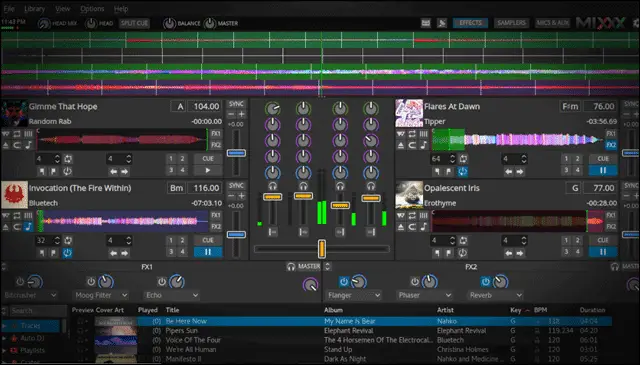 You should consider Mixxx DJ because it's open-source free DJ software for macOS, Windows, and Linux. With tons of features that are usually a part of premium software packages, it integrates everything that a DJ needs to play around with digital music files.
It does not matter whether you are just experimenting with music or are a professional DJ artist, Mixxx has excellent support for all styles and techniques of mixing. You can use your turntables as Mixxx DJ supports Vinyl Record Control. You can now scratch your music file as if it was pressed on vinyl.
The four decks support you to add songs to them and play them right away while keeping an eye on the beats and cue points. Pitch and Key Control, Beat Looping, Master Sync, HotCues, Beat Rolls, and Censors are some of the features that allow you to shape your song the way you want smoothly.
The four microphone inputs and four auxiliary inputs allow you to add different sound sources,  and this eliminates the need for an external hardware mixer. As this best free DJ software is an open-source platform and developed by a dedicated DJ community, you can also contribute to Mixxx DJ to make it better.
Price: Free
Platform: Windows, Mac, Linux
Download Mixx here
2. Cross DJ by Mixvibes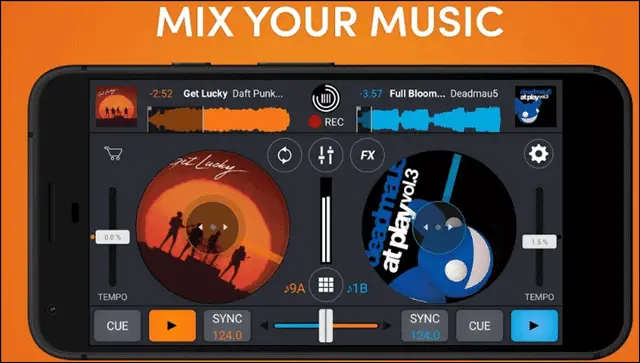 You must go for a premium version to access all the crazy features of Cross DJ software. The free version for the music mixing software is well structured to suit your basic needs, but you will not get MIDI for external hardware until you move to the paid version. It has multiple paid versions, and you can choose the one that suits your needs.
Cross DJ free software comes with the basics like two decks and mix pad, video mixing, iOS remote support, and iTunes support. Developed by MixVibes, Cross DJ is the best free DJ software is an initial step to being a Pro DJ artist.
It is best to start with the free version and practice with limited features. If you want to use the pro features like MIDI controllers, HID integration, and Vinyl Control, you will have to get the premium plan.
Price: Free, Paid
Platforms: Windows, Mac, Android, iOS
Download Cross DJ here
3. Virtual DJ Software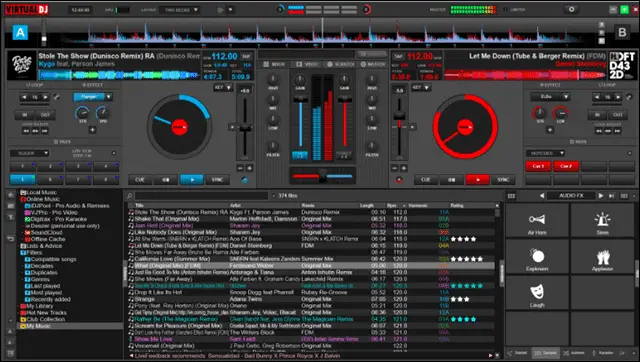 Formerly known as AtomixMP3, VirtualDJ Home is one of the older names in the DJ market and the best free DJ software. It has some cutting edge features that leave behind many  DJ software. Being the oldest one in our list, VirtualDJ is easy to use, powerful and has intuitive features.
It is excellent music-mixing software. You simply need your laptop to start mixing as a DJ. The well-sorted library management makes it easy to search for any file and folders or playlists.
Hosting karaoke events with VirtualDJ is easy where you can entertain your audience with stunning visuals and video mixing.
If you are a home user, it is best to go for the free version. The free version has a lot of limitations in the set of features, and you might experience frequent ads in between while using the software. However, if you are a professional, you need to get a Pro License. For the folks whose business depends on this software, there is the option to go with a business license.
Price: Free, Paid
Platform: Windows, Mac
Download Virtual DJ here
4. Serato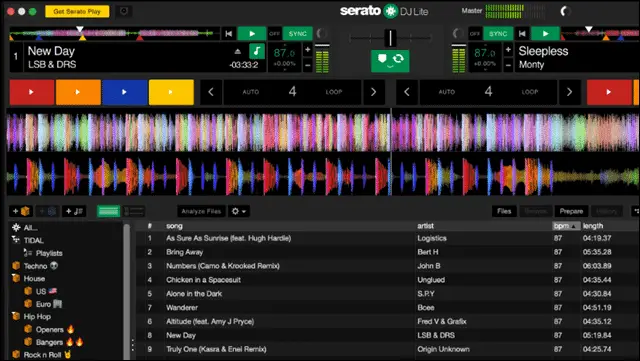 People who are looking out for the best free DJ software to use and learn should go for the Serato DJ Lite. It has a practice mode to introduce you to the concepts of what DJing is precisely all about.
The customer and technical support team members are DJs. They ensure that you are in good hands when it comes to dealing with any difficulties while using Serato DJ Lite. It has all the elements needed to mix and scratch where you can drop tunes in front of your friends in no time.
For professionals looking for the best DJ software, Serato is primarily used when you need the digital vinyl systems (DVS) support. Currently, the DVS support is an add-on available in the Serato.
It has two versions – the Serato DJ Lite that is free to download and Serato DJ Pro that starts at $9.99/month.
Price: Free, Paid
Platform: Windows, Mac
Download Serato DJ here
5. UltraMixer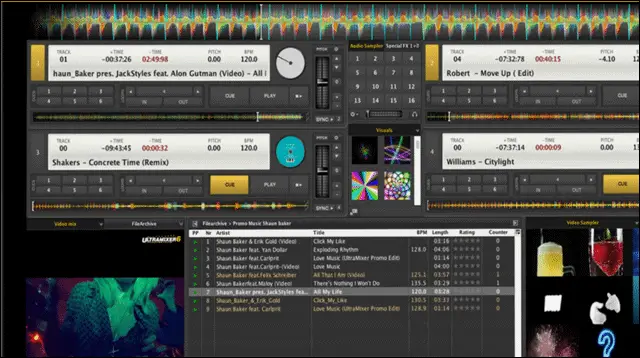 UltraMixer is a good pick for people looking for some best free DJ software with all the essential features for a wannabe DJ. It comes with a real database, and 70 natives supported MIDI controllers for music, karaoke, and video mixing. Even if your system is under high load, it ensures a crystal clear sound and stability.
There are four decks to mix or prepare up to 4 tracks at a time. The integrated auto-sync feature allows you to combine your tracks with a single click. Other notable features of this free DJ software includes eight built-in real-time effects, singular 32 band equalizer, six hot cues button, smart synchronous looping, and 16 channel sample player.
Price: Free, Paid (Starts at $49.95)
Platform: Windows, Mac
Download UltraMixer here
6. MixPad
Mixpad is another good music mixing software, as well as a DJ app for PC, where you can mix audio, music files, and vocal tracks as you want. From recording your track to creating your beats, it provides you with access to all the elements of professional recording and mixing at a single platform.
Crafting audio productions takes a few minutes, and you can record single or multiple tracks simultaneously. Audio effects like EQ, compression, reverb allows you to create a smooth transition of music. Mixpad even supports cloud storage where you can upload your tracks to SoundCloud, Dropbox, or Google Drive.
Whether you want to craft your beats or start with a simple pattern using a beat designer, Mixpad has all elements ready. No matter if you are an amateur or a professional DJ artist, Mixpad gives you a platform with an efficient process and makes mixing as easy as pie.
Price: Free, Paid
Platform: Windows, Mac
Download MixPad here
7. Audacity: One of The Best Free DJ Software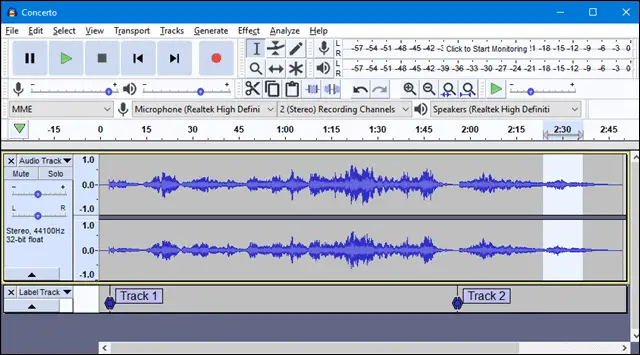 Audacity is not a professional DJ software but a popular audio editing tool that allows you to have fun with your favorite tracks. It is an audio player, editor, mixer, recorder, and can be your favorite free DJ software from this list. It supports almost all the popular file formats like MP3, WAV, FLAC, AIFF, and more.
Whether you have Windows, Mac, or Linux, Audacity is all set to rule your DJ system with its extensive set of features. It can record live audio through a microphone or mixer. You can import, edit, and combine audio files and export them in many formats at once.
Effects include a real-time preview of LADSPA, LV2, VST, and Audio Unit (macOS) effects. The Spectrogram view mode allows you to visualize and select frequencies. Audacity is one of the best free DJ software that is open source and perfect for those who need a multi-track audio editor.
Price: Free
Platform: Windows, Mac, Linux
Download Audacity here
8. Anvil Studio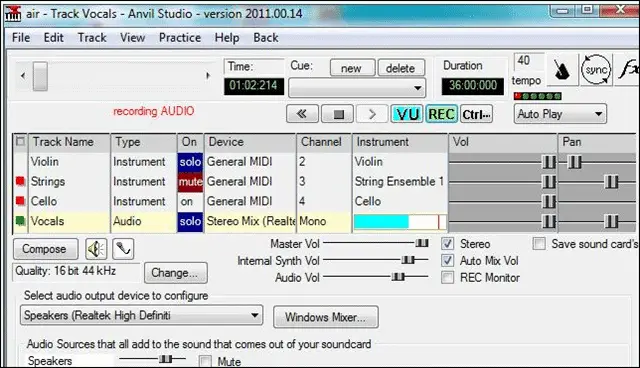 Anvil Studio is a free DJ software combined with music mixing tools as it allows you to record music with MIDI and Audio equipment.
You can even print sheet music from the standard MIDI files. The free version provided by Anvil Studio has a well-defined set of features to help you get started.
The editing section includes Staff, Lyrics, Piano Roll, Loops, and more. You can also use dynamic editing while the song is playing and experiment with the rhythms on the go.
Thus, whether you want to align notes with beats and measures, stretch/compress notes, or define the keyboard shortcuts, Anvil Studio is the perfect match for you. To know more about its free version, you can read here the full list of features.
Price: Free, Paid
Platform: Windows
Download Anvil Studio here
9. TRAKTOR PRO 3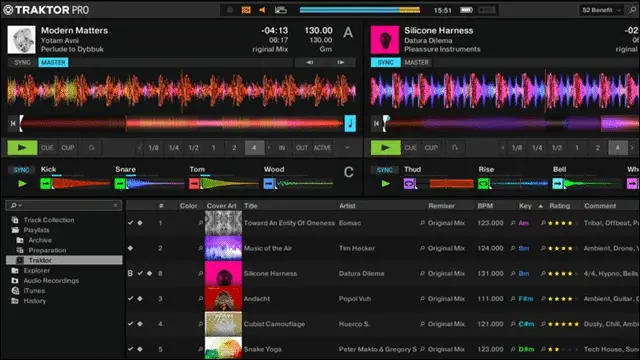 Being associated with Traktor and using its software is itself a matter of standard. Traktor Pro is the best DJ software, with a well established and renowned name in the DJ market. With great features, Traktor introduces you to some of the incredible audio packages present today.
The two-decades-old DJ package surely made to conquer the club, house parties, beaches, and dancefloors. Whether you want to use your beatmatching skills or do a variety of experiments with your mix, Traktor is that one great software that lets you put your stamp on the sets where you perform.
40 intuitive and high-grade effects allow you to modulate your tracks like no one, whereas the Traktor's Deck FX will let you twist and screw your tracks with endless variation.
Price: $99.00
Platform: Windows, Mac
Download TRAKTOR PRO here
10. Dex 3 DJ Software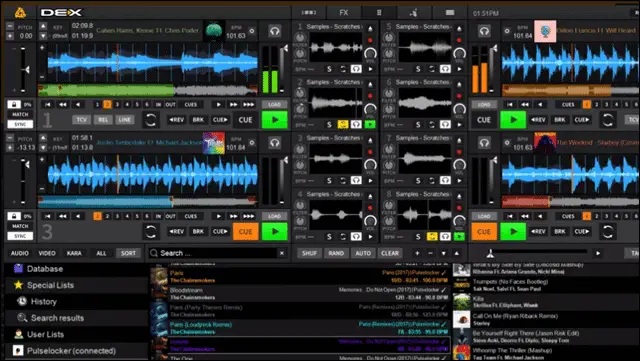 DEX 3 DJ software is another popular name, although not like Traktor and Serato. It supports time-coded vinyl and CD control along with four decks. It also includes video mixing, a karaoke mode as well as other features.
A highly customizable interface with a stunning skin system is the reason why the DEX 3 DJ is one of the best DJ software. Blending beautiful tracks is no longer a big deal with its beat-grid based automatic beat mixing and key detection.
DEX 3 has no-latency playback and supports today's best DJ controllers. It is also the reason why the loops, cues, and other playback features are ultra-responsive. You can use your music, video library, and iTunes using just a keyboard or a mouse. Recently, it also added SoundCloud Go+ support.
Price: $149
Platform: Windows, Mac
Download DEX 3 here
11. Ableton Live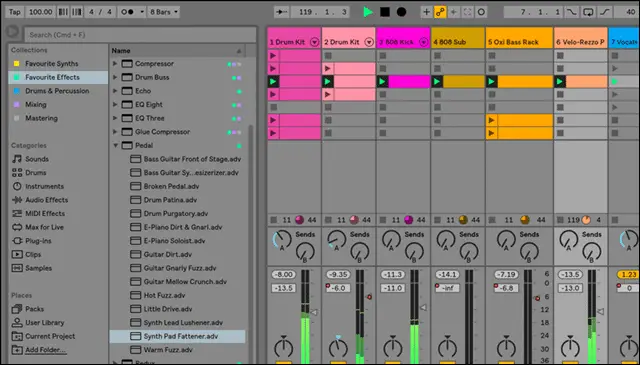 Ableton is a totally different software from the others on our list. It is not a full-fledged DJ software but a sequencer as well as a digital audio workstation. It neither has a deck set up like other free DJ software on our list nor does it has similarities with the traditional DJ software.
If you are someone who is not pleased with traditional DJ software, Ableton Live is a great option. It is perfect to experiment with tracks and create some exceptional music pieces.
This tool is all about creating sounds using a rare combination of effects and devices. It has excellent support for external MIDI devices. Overall, Ableton Live is a quite complicated and sophisticated software to get a hold on until you are well-aware of some unique technical jargon.
Price: Starts at $99
Platform: Windows, Mac
Download Ableton Live here
Conclusion
We hope that this list can help you find the best free DJ software for you. Be it for practice and learn the tactics of mixing up tracks, the list above fits all the requirements. From Mixxx DJ to DJ mixing player, most of the music mixing tools also offer a premium version. The paid versions unlock advanced features and can help you level up your performance.
Related: