Thanks to technology, the ease of having everything at our fingertips is almost addictive. It is often tempting to download music, movies, images, games, to apps and store all the information on our hard disk. As such, it is really easy to run out of space on the hard disk. At such times, if you know how to free up disk space on your PC, you can keep the system functioning smoothly and make space for more downloads!
How to Free Up Disk Space on Your Computer
The easiest, obvious, and long-term solution to hard disk space problems is to purchase a hard drive and add it to your system to increase the available space. But before you do that, here are 10 things you can do to optimize space on your current hard disk.
1. Use Storage Sense To Delete Junk Files
Storage Sense is a feature on Windows 10 that frees up disk space by automatically deleting junk files whenever your disk is nearing full.
Click on the Windows Key and select Settings
Now, click on System and then on Storage
Turn the Storage Sense On and click on "Change How We Free up Space." You will be able to select all the options or whichever option suits you, under Temporary Files.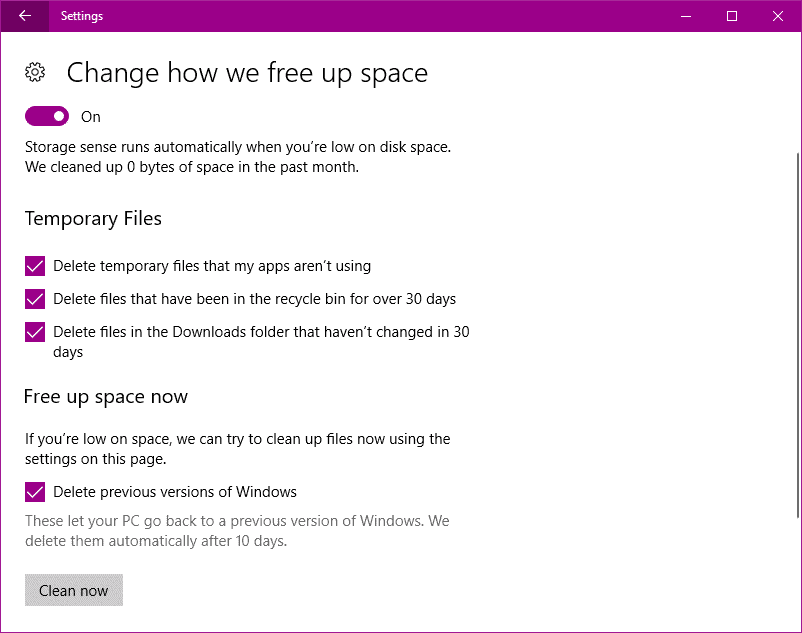 You can also free up more space by deleting old Windows versions. For that, you need to check the box Delete previous versions of Windows.
After selecting all or any of the checkboxes, click on Clean Now to free up space. You don't need to keep Storage Sense to perform these tasks. If you keep it on, the system will automatically perform these tasks for you.
2. Uninstall Apps That Are Not In Use
Your computer will invariably be full of apps and files that you don't use anymore or haven't used in a long time.
Sometimes your computer comes with pre-installed applications that just eat up space. To free up disk space, just identify these apps and programs and uninstall them.
Press the Windows Key and select Settings. Now, click on Apps.
Under Apps and Feature, you have a list of all the apps that have been installed on your computer.
Now, go through the list and choose the ones that you haven't used or don't need.
To uninstall them individually, select the app and click on uninstall. Click on Uninstall again to confirm.
If you sort the list by size, you can delete the large apps first.
3. Empty The Recycle Bin to Free up Disk Space Occupied by Deleted Files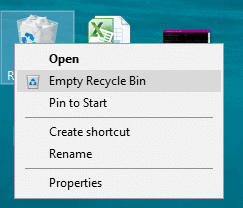 When you are looking to free up disk space, emptying the recycle bin is a great option. You can clear out all deleted items, like files and photos. We must get into the habit of doing this as it only takes up precious hard disk space.
To empty the Recycle Bin, right-click on the Recycle Bin icon on the desktop.
Select on Empty Recycle Bin.
A pop up will appear asking if you want to permanently delete the recycle bin items.
Click on 'yes' to proceed.
4. Disk Cleanup
Windows has another in-built tool to help you to identify the disk space taken by system and other program files. It can also help you clean up Windows update files that you don't need anymore.
Type in Disk Cleanup in the search bar and open the app.
Now, select the drive you want to be cleaned and click Ok.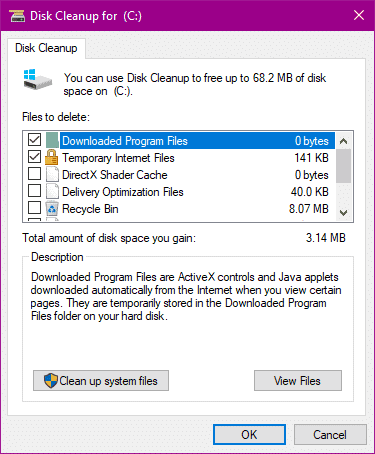 Disk Cleanup will calculate the amount of space it can free up.
You can then select which folders you want to delete. Click on Clean up System files if you want to delete old system files that you do not need any more.
5. Use OneDrive's Files On-Demand Feature
The Fall Creators Update to Windows 10 introduced a new feature called OneDrive Files On-Demand. This is a handy tool that allows you to access your files stored in the cloud without having to sync them or use local storage.
You can keep your files in the cloud and access them whenever you need them.
Right Click on the OneDrive icon in the hidden tray on the bottom right of your screen and click on Settings.
Under Files On-Demand, check the box for Save space and download files as you need them. Click OK. This will enable the Files On-Demand feature.
After enabling this feature, you can now move some of your files to the OneDrive folder and make them available only online. This way these files will not take up any space on your disk, but will still be available to you when you need them.
Open your OneDrive folder and select all the files and folders that you want to move to the cloud. Right-click on the selection and click on Free up space. These files will now move to One Drive. You can access them from File explorer but you will need an internet connection to view and access these files.
Notably, the free version of OneDrive comes with 5GB of storage. You will need to buy a premium subscription if you need more storage.
6.  Disable Hibernate
Hibernate is a feature that allows your computer to enter a quasi-shutdown state. This means that you can put your computer into hibernation when you don't want it to shut down completely.
Disabling the 'hibernate' feature works wonders when you want to free up disk space. It is because when your computer goes into hibernation, it takes a snapshot of your files before shutting off. This occupies a lot of space.
The hiberfil.sys file can take up as much as 75% of your PC's RAM. Follow the steps below to disable hibernate:
Click on the Windows button and search for Command Prompt in the search bar. Right-click on the result and select Run as Administrator.
The command prompt window will open.
Type the following command and press enter to turn off hibernation:
powercfg /hibernate off
However, if you want to enable the feature later, you need to type the following command and press enter:
powercfg /hibernate on
By disabling this feature, you can free up a lot of disk space on your computer.
Please remember that this feature should be disabled only if you are severely short of space.
Related: Hibernate vs Sleep Mode in Windows 10: Which one should you use?
Also, keep in mind that there is a disadvantage attached. Your computer will not be able to start up quickly after you disable hibernate and you will also not be able to use Windows 10 fast startup feature.
7. Delete The Old Windows Versions To Free Up Disk Space
When you upgrade your Windows system, your computer automatically saves some data from the older versions to let you roll back if you need to. This backup takes up space on your hard drive. One way to learn how to free up disk space is to delete old Windows data.
Open the Settings app from the menu and select System and navigate to Storage.
Now, click on your primary drive to check what is filling it up.
Click on the Temporary Files. A window will pop up with details of your temporary files.
Check the box "Previous version of Windows" and click on Remove files.
You can also use Disk Cleanup in Windows 10 and Storage Sense to clear these files.
8.  Clear The Update Cache
The update cache is a folder that contains copies of update installation files. It takes up precious space on your hard drive. So, a super simple way to free up disk space is by clearing out the Update Cache Folder. 
If you have a good internet connection and can easily download updates whenever needed, it is quite safe to delete the update cache.
First, you need to stop the Windows update service before clearing the update cache. To do this, search for Services in the search bar. Right-click on the services app and select Run as administrator.
The Services window will open. Scroll down to Windows update. Now, right-click on Windows, update and select Stop.
To delete the cache, press Windows key + R to open the Run box.
Type in C:\Windows\SoftwareDistribution and press ok.
Open the Download folder and delete all the files there
After you have deleted the update cache, navigate back to the Services window and enable Windows update.
9.  Use A Duplicate File Finder To Delete Duplicates
Quite often we have duplicate files and folders on our computer that takes up a lot of space. And when we have lots and lots of files, it is a daunting task to find and delete all the duplicates.
In such cases, third-party duplicate finder tools are very useful. They are light and easy to run. They search your computer for duplicates and let you delete them, freeing up a lot of disk space.
SearchMyFiles is a tool that lets you search for duplicates on your computer. Simply set the search to Duplicates search and select the drive and press ok to start the search. You can even specify the size of the file to search for.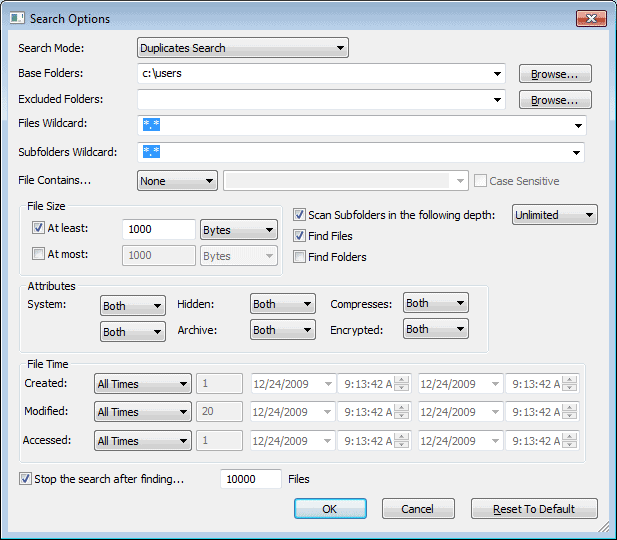 DoubleKiller is another application for finding and killing duplicate files. You can use this app to clean up your images and your music collection by removing all the duplicates.
Anti-Twin is a light tool that not only finds duplicates, it also finds similar versions of the same file, allowing you to clean up your computer and free up a lot of disk space. You can clear up duplicate images and music files or use them to remove unnecessary work file copies.
10. Move Files To An External Drive
If your computer is completely full and none of the above methods seem to make any difference, your best option is to move your files to an external drive or network-attached storage.
Connect your external hard drive to the computer. Open-File Explorer and select the files and folder that you want to move.
Click the Move to button under the Home tab. Select the external drive as the location. Click on move to move the files to the external drive.
Conclusion
So, the next time your device is running out of space, you should be able to remove the unnecessary clutter. Also, if your system is running on low space, it will be slow and will have breakdowns in between.
So, you should definitely know how to free up disk space on your Windows 10 system. There is no harm in removing the temporary and unnecessary files, as well as games and apps that unnecessarily take up space on the hard disk. It will help your system perform better and give you more available storage space to use.
Related: How to Recover Disk Space in Windows with Free Tools