Windows 10 undoubtedly is the most efficient, feature-packed, and a robust operating system. At times, to render its vast range of features, the system's resources are used heavily and this can affect the PC's performance. The obvious solution at this point to speed up windows 10 is to find the cause and the right solution for it.
There could be several reasons that could affect your PC's speed and performance. It includes corrupt files, unused apps, and maybe even useless consumption of resources.
16 Easy Ways To Speed Up Windows 10
Before opting for the expensive services to rectify this, we recommend that you try out some simple methods. So, if you want to speed up Windows 10, here are the steps that could improve your computer's performance.
1. Restart PC
If your PC is slow, the first and foremost solution is to reboot the system. One of the simplest and most straightforward solutions that you can try, and most of the time, it really works.
2. Disable Unwanted Startup Programs
Many apps automatically start as you boot your PC and affect the performance and the speed of Windows 10. So, to speed up Windows 10, you have to disable the startup programs.
To do that, you first need to go to the Task Manager.
To get to the task manager, you need to click in the free space of your taskbar. Then, choose the task manager from there.
Once you have opened the task manager, move to the Startup tab.
Now, you can see the list of all the programs that start up automatically when your system begins.
The Status shows whether the app is Enabled or Disabled to start automatically while booting up.
Whenever you install a program, it may happen that Windows automatically adds that program to the startup programs list.
When you install a lot of programs, your system is likely to slow down while starting up. It happens because of apps and programs that automatically start while booting the system.
Filter the essential ones and the ones you use rarely, and accordingly enable/disable those. Once done, this will speed up the booting process.
To disable a program, simply click on it and select Disable option on the right bottom corner.
Make sure you don't disable the Microsoft programs and antivirus programs.
3. Change Power Options to Speed Up Windows 10
By default, the Windows 10 settings automatically balance with energy consumption on capable hardware.
You can increase the performance by changing the settings to High Performance that will boost the system's performance.
First, go to Start Menu and type Power Option there, click on it.
If you don't find Power Options like this, try the second option.
Go to Control Panel > Hardware and Sound > Power Options.
Now you can see the default power option is set as Balanced.
Change it to High Performance.
Now close the power option.
Sometimes due to updates, you cannot find the High-performance option.
To add this option, you first have to create the plan.
To create a power plan, Go to Control Panel > Hardware and Sound > Power Options.
Now move to the left side of the Window and click on Create a power plan.
Here, instead of the recommended settings, choose High Performance that favors performance but uses more energy.
You can keep your customized plan name instead of My Plan 1.
We will name it as High Performance for easy reference for the future.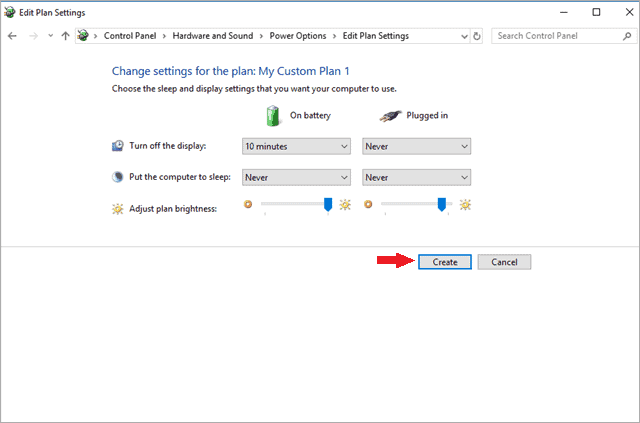 Now, customize the settings according to your requirements and click on Create.
As you can see, we have created the High-Performance Plan that will boost your system's performance.
4. Delete Unnecessary Temp Files To Speed Up Windows 10
Deleting temporary files on the system can speed up Windows 10. To do that, go to the Start Menu and Right-click on the Windows icon. Select Run.
Now type "%temp%" and either Enter or Click OK.
The folder you see contains all the temporary files that you need to delete.
Select all and delete it.
Close the folder.
Now, Run the box again.
Type "temp" and click OK.
It may ask you admin access. Proceed if you have it.
You can see a folder of files.
Select all.
Right-click and delete.
Again go to the Run box by right-clicking on Windows icon and selecting Run.
Type prefetch in the run box.
Click on OK.
It will ask you admin access. Enter the credentials and proceed.
You will see a list of files. Like we did it earlier, you need to select and delete all these files.
Once the temporary files get deleted, restart your computer. It is one of the easy ways to speed up Windows 10.
5. Disk Cleanup – This Will Delete Unnecessary Files And Speed Up Windows 10
Disk cleanup is included in Microsoft Windows and is one of the ways to speed up Windows 10. It first scans the computer's hard drives and then removes the unnecessary files that are no longer in use.
To perform Disk Cleanup, follow the steps:
Go to your PC drives and Right-click on C drive and select Properties.
In the General tab, click on Disk Cleanup.
Wait for the process to get completed.
Now, a new tab will be opened.
Click on Clean up system files.
It will ask you for admin credentials if you are not using the admin account.
Wait until the process is completed.
Again, you will see a new window, click on OK to finally delete all the unwanted files to free up space in the drive.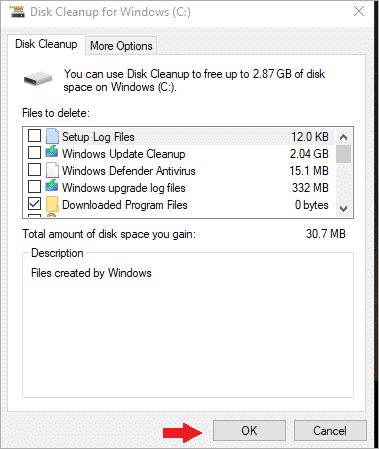 Once the unnecessary system files are deleted, your Pc's performance is bound to become better than what it was.
6. Disable Visual Effects
One of the solutions to speed up Windows 10 is to disable the visual effects.
Please note that it will not affect your gaming graphical interface, but you may feel that the system appears a bit dull as compared to the previous interface.
If you want to enhance your system's performance, we recommend that you try it once. You will always have the option to get back to the standard and normal settings.
Go to Control Panel > System and Security > System.
Now move to Advanced system settings that are on the left side of the Windows pane.
Now under Performance, click on Settings.
You will see that the option – Let Windows choose what's best for my computer, is set by default.
Change it to Adjust for best performance.
Click OK to apply the changes.
You can see all the boxes are unchecked.
Now, your PC should work quite faster than before.
7. Remove Unused Software
Many times your PC has already installed some third-party software that you don't use at all. Or you may install software for one-time use and then forget about it. Thus, it is better to remove unused software, which will further help to speed up Windows 10.
To check which useful or not useful apps are installed on your computer, follow the steps:
Go to Control Panel > Programs > Programs and Features and see the apps that you no longer need.
Now, right-click on the app and select Uninstall.
It may ask you for admin access. If you have the right, go ahead and uninstall.
It will free up a lot of space that unnecessary apps were consuming.
8. Check For Updates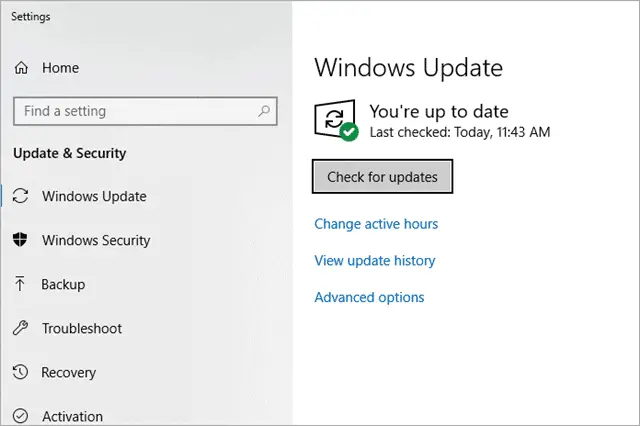 Microsoft frequently comes up with updates to enhance the performance of your system. The updates, in turn, also help to resolve the current issues and fix various bugs.
Hence, updating Windows 10 may add and speed up Windows 10 (in case the performance is affected).
To update Windows 10, go to Windows search bar and type Update.
Then, click on Check for Updates.
If the update is significant, it's good to have a backup of your relevant data. Once the system is updated, restart the system and again check for updates.
However, if you haven't refreshed updates for long, you might have to repeat the process.
9. Turn Off The Transparency Effects
Windows 10 has a sleek, elegant, and most important, transparent look. However, this transparency takes up some resources that may be responsible for slowing down the PC.
To disable transparency, go to the Start Menu > Settings > Personalization > Colors and turn off the button for Transparency effects.
Going opaque will help to increase the overall performance and speed up Windows 10.
10. Reduce Boot Menu Time-out
When you start your computer, you see the boot menu for a specific amount until the operating system loads. You can save a few precious seconds here by changing the boot time, which is 30 seconds by default.
To change the boot timing, type Control Panel in the Start menu.
Go to System > System and Security > Advanced system settings.
Under Startup and Recovery, click on Settings.
As you can see the Time to display list of operating systems is set to 30 seconds.
Change it to around 10 seconds.
Click OK.
It is one of the best ways to speed up Windows 10.
11. Defragment and Optimize the Drives to Speed Up Windows 10
Another solution if your PC is slow, is to defragment and optimize drives. It will further help your PC run smoothly and boot up fast.
To do that, Go to Start Menu and type defragment, and click on the Defragment and Optimize Drives.
Select C drive and click on Optimize. You will need admin access to perform this action.
Once you are done, you can also schedule drive optimization by choosing from the frequency drop-down list. Daily, weekly, monthly – select the option that suits you the best and speed up Windows 10. We highly recommend this every time your system is slow and requires maintenance.
12. Get Tips, Tricks, and Suggestions as you use Windows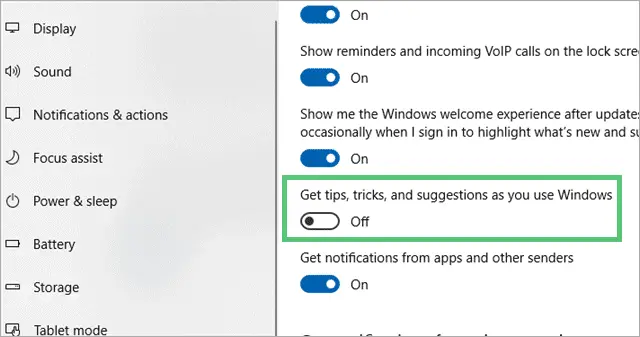 Windows provides help by suggesting tips and tricks to the user quite frequently. The process may be affecting your system and its performance. In such cases, you can turn this feature off and speed up Windows 10.
To do this, Go to Settings > System notifications & actions.
Turn off Get tips, tricks, and suggestions as you use Windows.
13. Upgrade Your RAM To Speed Up Windows 10
If none of the ways to speed up windows 10 have worked for you, then maybe you need to upgrade your RAM.
Yes, you need to increase the amount of RAM to improve the system's performance. Usually, Windows 10 requires 4 GB to run smoothly, but if you have installed some powerful video games and apps, 4GB RAM may not be enough.
To upgrade your RAM, first, check what the capacity is and if your PC has some RAM slots where you can insert chips.
You can also check to see which memory type your system has by going into the Task Manager (CTRL + ALT + DEL). Now, click on Performance.
You can also go to Task Manager by typing Task in the search bar and select Task Manager or simply right-click on the empty space on the Taskbar and select Task Manager.
That will show you the memory slots that are in use and also the type it has. You can install new RAM by yourself if you are confident enough, or you can get your work done by professionals.
If you are doing it yourself, it would be better to take all the precautions so that you don't damage your PC in any way.
You can wear an anti-static wrist strap to avoid any rough contact. Upgrading your RAM will speed up Windows 10 and boost your PC's performance.
14. Use An SSD
Well, this should be one of the last options if you don't find your PC performance getting better with any of the above solutions.
Using SSD may cost you more than regular drives, but it can significantly enhance PC performance. Whether it's boot time, access times, or any task, your PC gets a boost in terms of speed and performance.
SSD (Solid State Drive or Solid State Disk) has no moving mechanical components, unlike conventional drives like hard disk drives (HDDs) or floppy disk. HDDs have spinning disk and movable read/write heads, and that makes them slower than SSDs.
SDDs are more resistant, have quicker access time, and lower latency as compared with electromechanical drives. If you are going to buy SSD for your PC, make sure you get the right size for your device. For portable devices, the size is 2.5″, and for desktop devices, size goes up to 3.5″.
15. Clean Out Your Registry Using Third-Party Software To Speed Up Windows 10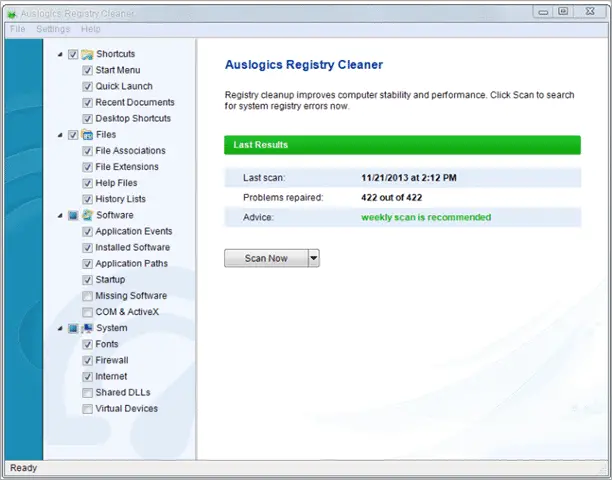 You may find that your PC slows down, gives errors, or takes too much time to access a single file. It may happen because it needs the right Registry Cleaner tool that will review the registry entries.
It will identify corrupt files and repair your Windows Registry while eliminating the stability issues. The Registry records everything about your Windows like the programs installed, the data, or other apps.
It also maintains and keeps the record of all the low-level settings for the operating system and applications that use the registry. A crucial part of the system, the kernel, device drivers, services, user interface, all can use the registry.
Since the Registry has all the micro-settings, it may be using up space uselessly. So it's a smart decision to get your registry cleaned by a good registry cleaner. We would suggest you use the Auslogics Registry Cleaner that effectively clears all the invalid entries from the Windows registry and boosts your PC's performance.
Before using this tool, you must have a backup of your Registry in case you need to retrieve it later. To do the Registry backup, type Registry in the Windows Search bar, and Enter, and it will open the Registry Editor.
Now go to the File > Export, make sure to select All from the bottom of the screen. Choose a file location and file name and click on Save.
Now, when you need to restore the Registry, open the Registry Editor, go to File > Import, and open the file that you saved.
Once you have the backup, you can now scan the Registry using the Auslogics Registry Cleaner manual on its official website.
16. Stop Search Indexing
Windows keeps your files indexed in the hard disk so that you have easy access to it for reference. However, this indexing strains and brings down your system's performance. Indexing hits PC's performance, and turning off this feature may give a boost to the overall performance of your system and speed up Windows 10.
Even if you have SSDs, you must switch off this feature since the frequent writing to disk in the indexing process can slow down the system.
To completely turn off indexing, you need to go to the Start menu and type Services and select Services that come in the result.
The Services window appears, and you see a massive list of services.
Now, scroll down to Windows Search in the list and double-click on it.
Now, click on Stop and reboot the PC.
You may not see a significant difference immediately, but over time this will improve your system's performance.
There is another option of turning off indexing if you want customized indexing for a particular folder.
Type Indexing in the Windows search bar. Then, select Indexing Options from the results.
Click on the Modify that you see on the new Window.
You can see that the window is divided into two parts. The first part is Change Selected Location, and the other is the Summary of selected locations.  
Come to the Summary of selected locations and click on any folder.
Now, you will see the change in the content of the above section Change selected locations.
This change is dependent on which folder you click on in the Summary of selected locations section. Check-uncheck the folders according to your preference, whether you want them indexed or not.
Conclusion
Now that you know how to speed up Windows 10 on your PC, your system will now be faster and updated. You can implement one of them or even more to boost your PC's performance. Thus, now, if you have a sluggish system, there are many options you can try to speed up Windows 10 before looking for some professional help.
Other troubleshooting articles: