The new breed of smartphones has multiple functions and storage capacity. From running various apps to software programs, the highly advanced features require space. Since the device has limited storage, many users experience problems like insufficient storage available, or memory full. So, if you are frequently noticing Android storage space running out, then you must know how to handle it.
Best Solutions For The Android Storage Space Running Out Problem
Within a few months of usage, some Android phones begin to display warnings such as Android insufficient space, insufficient space on the device, low memory space, Android storage space running out, or inadequate storage available.
Since every problem has a probable solution,  here are the different solutions for Android storage space running out.
1. Clear Cache
Android apps use three types of storage space:
The first is for the apps themselves,
Second is for the apps data files, and
The third is for the app's cache.
The cache can take up ample storage space. Although considered as free space by Android, this space is not available for app installation. While downloading a new app, if you see the "Insufficient Storage Available" error, learn how to clear internal storage.
Next, clear your app cache. You do this to check if enough space is created.
How Do You Clear Your App Cache?
The process to clear cache differs from phone to phone. The screenshots below are for Android storage space running out. It is taken from a phone running OS 6.0.1 Marshmallow Android version.
Follow these Steps to Clear App Cache and Solve Android Insufficient Storage
Open Settings.
Click App, Application, or Applications Manager option (Application Manager can be the option for Apps or Applications in some cases)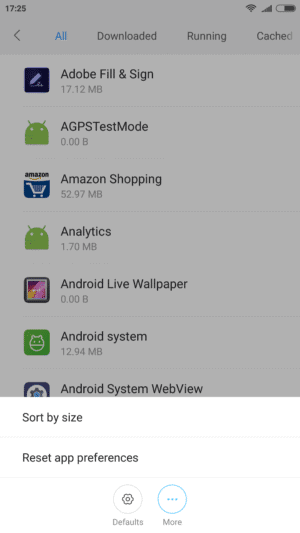 Scroll sideways to go to the Downloaded section. You can see the list of all the apps on your phone and how much storage space it is taking.
Click the Menu or More button and select Sort By Size to arrange the apps by the storage space they are taking.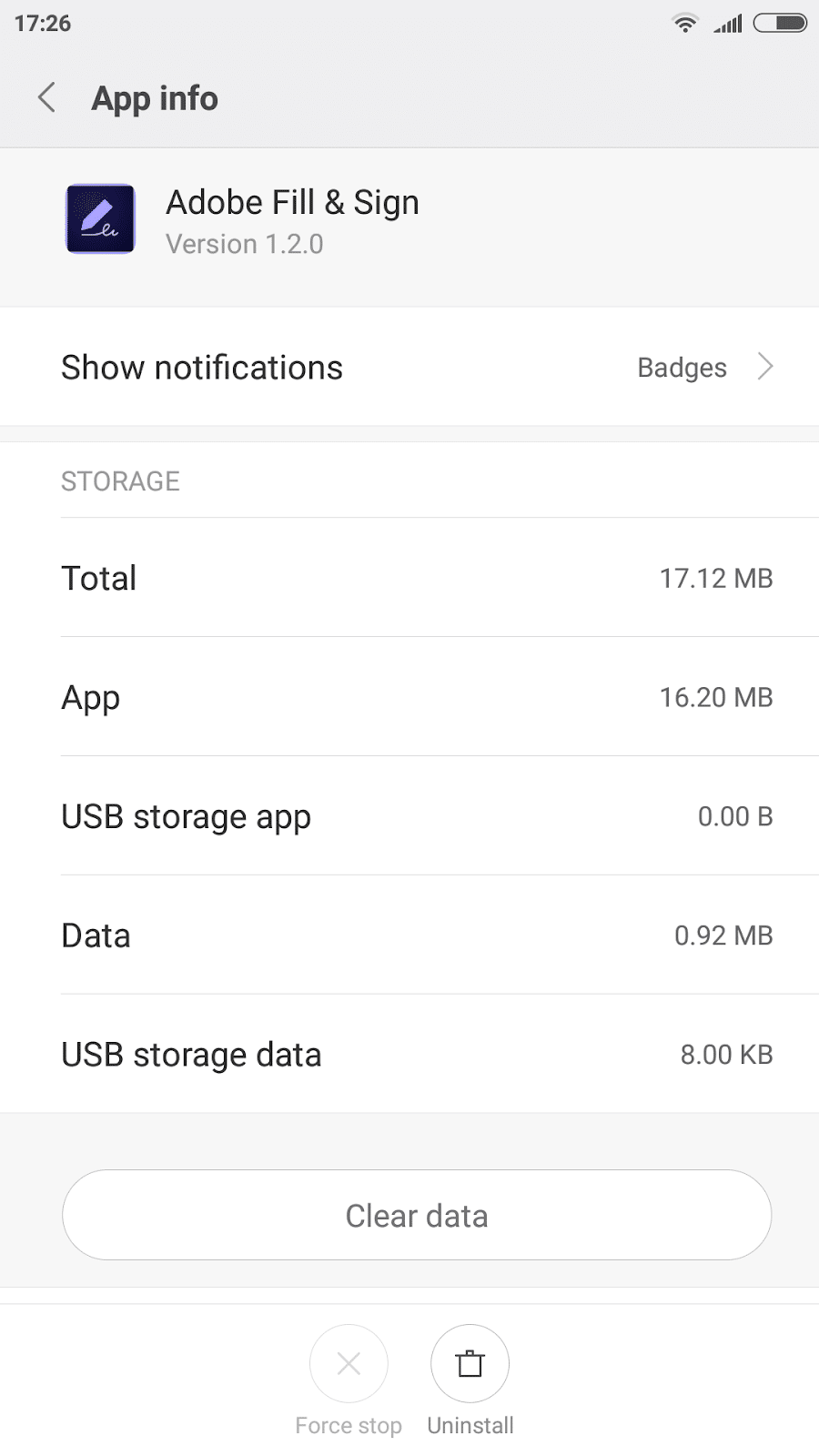 Tap an app of your choice and see how much storage it is taking. You should do this for both the app, as well as its data (Storage section) and cache (Cache section).
Click Clear Cache to remove its cache and free the space. You can also click Clear data that will delete all your files, but that's not an ideal since you would not want to lose your data. Repeat the above for all apps.
However, on some devices, you can clear the cache in very few steps:
Open Settings.
Next, click on Storage (in System tab or section). This shows how much storage is being used and if you need to address the insufficient storage space.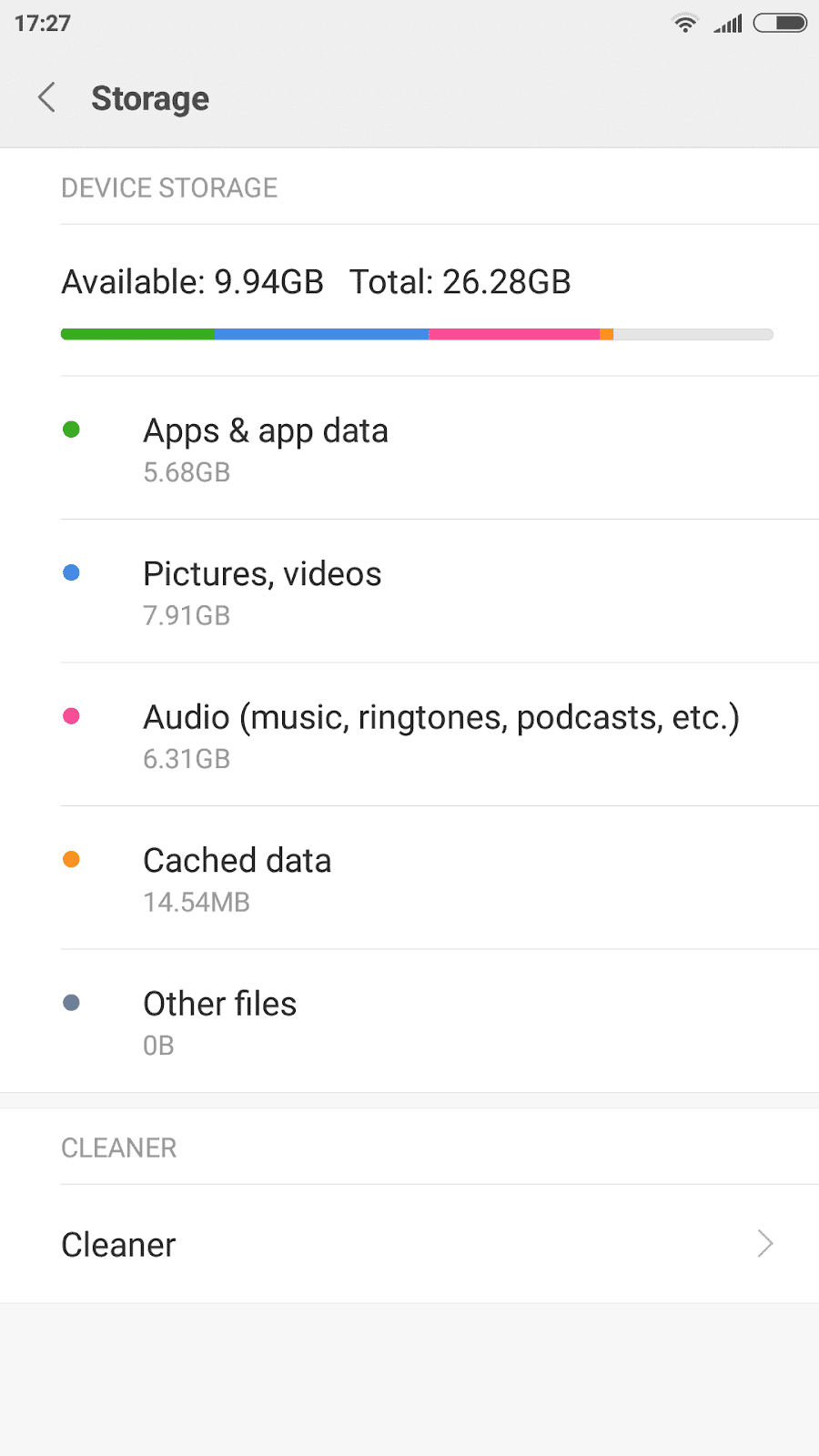 Click on Cached Data. It will ask for confirmation.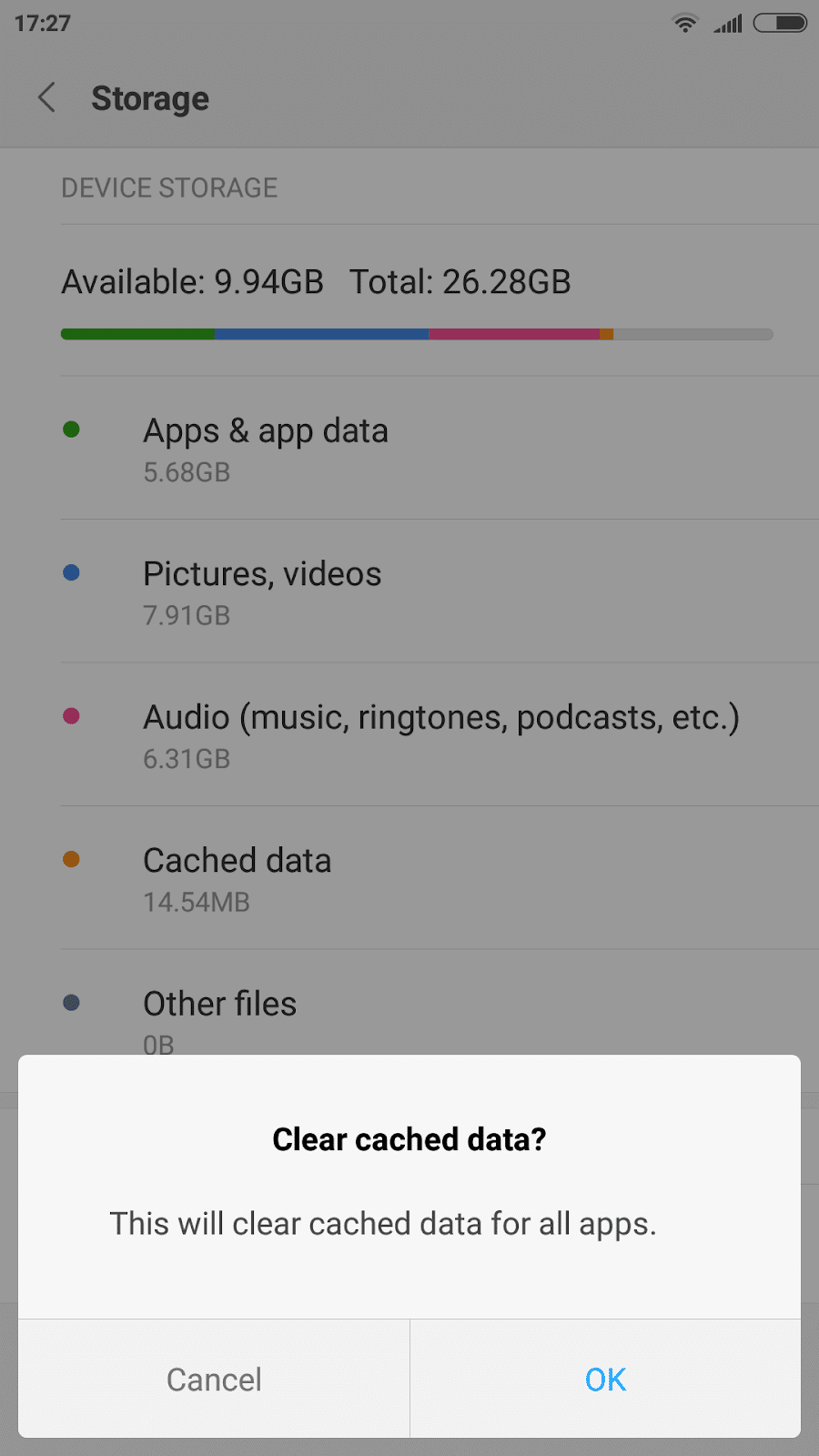 Click on Delete to free up the cache for the working space.
PLEASE NOTE: Clearing cache will also increase your RAM and makes your device work faster
However, a word of caution here is that clearing cache may not always work.
Android devices that use external storage (SD cards) have less usable storage than what is declared. Thus, many system resources and apps should be installed only on the device's built-in storage. Avoid storing the data on a removable storage card because of security reasons. We recommend that you follow these Android security practices and use one of these security apps to keep your device secure.
App makers can decide the storage and details attached to it. So, Android devices with removable storage can remove apps and data. It will further create space for updates and new apps along with its cache.
If you can move an app from internal memory to external storage, you will be able to handle the Android storage space running out issues.
You will see the Move to SD card option in the Application Manager for that particular app (if it can be moved to external storage). It will free up your internal storage.
Android devices that support external storage have little internal storage. Since the available space is very less, even after clearing your cache, the alternate solution is to invest in a phone with the internal storage of at least 32GB.
2. Backup Your Phone to Handle Android Insufficient Storage
If you have an older phone, then you will find that even after clearing some space, the Android storage space is running out.  Even after deleting photos and apps, there is not much difference in the phone's performance. Your phone might still hang and not respond.
Sometimes these problems are seen in premium phones too. In this case, you have to get a backup for your phone and restore its factory settings, and your phone will give you a renewed performance and speed.
To back up your phone, you need to do two things:
Download and install Super Backup & Restore App. One of the perfect Android backup apps, it lets you have a backup for everything like apps, SMS, Contacts, and Call logs. You can send this backup to your Google Drive.
If you have Android 5.0 (and higher), ensure that automatic backup is enabled. If you do this, all your settings and apps will be backed up on your Google account. It is now easy for you to restore your phone and to handle Android storage space running out.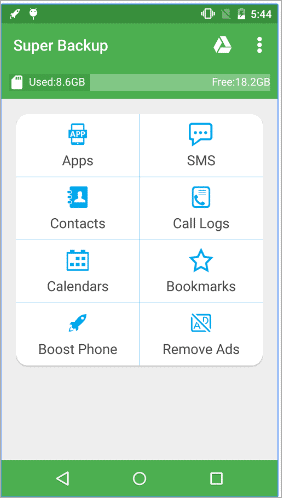 If something is missing, you can use the backup done via the My Super Backup & Restore app.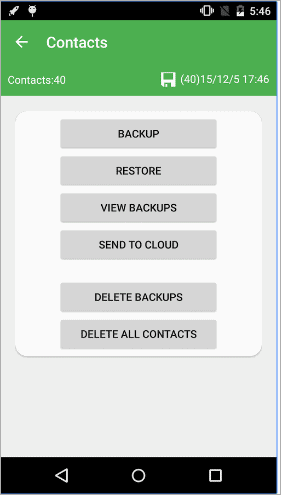 Your problem of internal storage Android full will be resolved.
Also read: Android Apps to Connect to a PC Easily
3. Use Cloud Storage When Local Android Storage is Running Out
Even a premium phone like the Samsung Galaxy S7 which has an internal memory of 32GB can have an insufficient memory issue after a few months of use. Setting up cloud storage can be the real fix for Android storage space running out.
Your photos will be automatically updated to Google Photos. To backup your photos, follow the steps below:
Open Google photos. Now, Go to Settings.
Turn Backup & Sync ON.
When you are in Google photos:
Swipe right to open the left panel.
Click on Free up device storage.
Once you turn ON Backup & sync in Photos, pictures from your mobile will get sync to Google Cloud storage. Make sure you have enough space on Google cloud since, by default, you only get 15GB of free storage. There are paid plans to go for that will expand your cloud space where you can save the number and number of pictures and memories.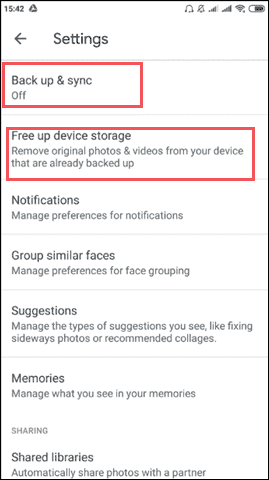 Next, you need to know how to clear storage space on Android. The Free up device storage will help you remove duplicate photos from your mobile device.
When you do this, all the pictures that were previously backed up will be removed, freeing up a significant amount of memory. Google Drive is one of the best cloud storage services when compared to others like Dropbox, Mega, pCloud, etc.
4. Use External Memory/SD Card
Smartphones usually come with two slots. One is for SIM, and the other is for SIM/external SD card. For users with Android storage space running out, if your second slot is free, you can insert an external SD card. It will expand your device's memory. External SD cards are a cool choice when the available space on your device does not fit into your requirement and usage, and you need more room for your data.
Pictures and videos that we capture using our mobile camera consume the maximum amount of storage space. Why not save all the captures into the SD card? Open your camera app and go to settings. Make sure the storage location is set to the SD card. Doing this can save when Android storage space is running out.
However, you should know when to use internal storage instead of external?
When being absolutely safe is your priority, then we recommend that you use the option of internal storage. This is because the internal memory on phones is encrypted, so it is safer to keep your private data on the encrypted storage.
You cannot encrypt your external memory like the SD card because then you will not be able to use it on other devices, except on the device on which it has been encrypted. It is recommended to keep your sensitive things in the internal memory and other things like music apps, books, movies on the SD card.
5. Transfer Apps to SD Card When Phone Storage is Full
Mosty of the time, we store photos, apps, and games in the internal memory. As a result, it slows down the performance of your phone and shows that your phone storage is full.
The best solution when an Android storage space is running out is to transfer the apps to the SD card. You can download and install Appmgr III, an app that allows you to manage your data storage easily.
It will immediately analyze your device's storage. You will now know which apps can be moved to the SD card.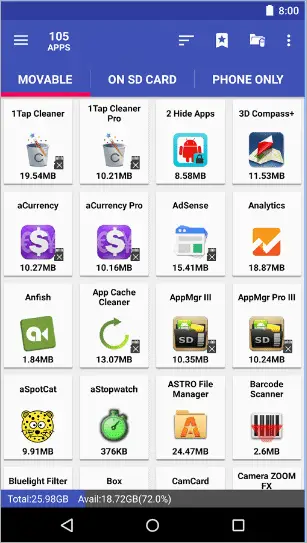 You can download the app from the Google play store.
Download Appmgr III here
6. Install Apps That Can Help You Clear Internal Storage On Android
You can also directly free up your memory by installing the CCleaner app from the Play Store. This app will guide you on methods of making space in your memory.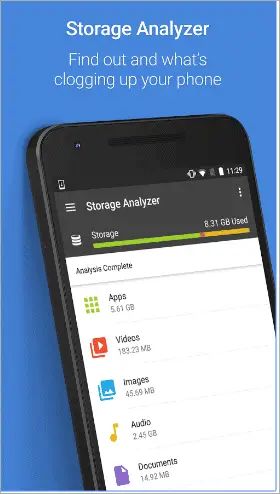 The app is one of the most used cleaning apps when Android storage space is running out.
Download CCleaner here
7. Reset Google Play Store
Another alternative to resort to when Android storage space is running out is to reset the Google Play Store app. It will uninstall all the updates to the Playstore app. Once done, you can always update the app anytime. Doing this just resets your Google Playstore app.
The process may differ a tad bit depending on which smartphone you are currently using. However, the basics are always the same for all.
Go to the Settings app.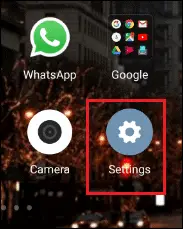 Now, scroll down to find Installed apps or just Apps.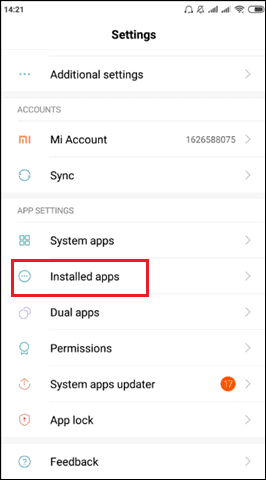 Search for Google Play Store app in the list.
Once you find it, click on it.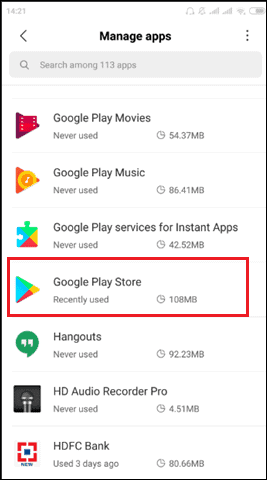 Next, click on Uninstall updates.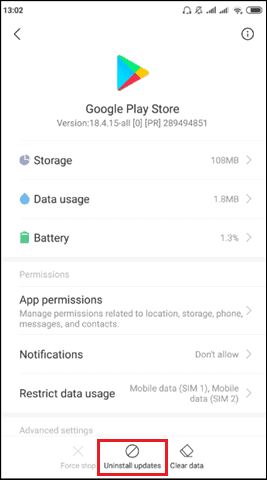 You will have to confirm whether you want to uninstall updates or not, click OK to confirm.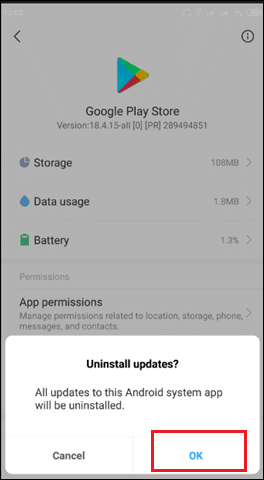 Wait for all the updates to get uninstalled. You will then get a prompt to install the latest version of the Google Play Store app. Now, follow the instructions, and you are good to go.
8. Factory Reset your Device
The last option to handle Android storage space running out is to Factory Reset your device. It is a big decision to make but will surely resolve the issue of insufficient Android storage.
Warning note: This will erase all your mobile's data stored in the internal memory. Files include photos, videos, docs everything. Hence, take a backup of your data before doing a factory reset.
Of course, the process differs from device to device, but the basic steps are almost similar.
Go to the Settings app. Look for Backup & Reset. If you don't find it, go to additional settings (if it is available on your phone).
Still, if you can't find the option while being in the settings app, search for something similar to "Factory Data Reset" or "Backup & Reset."
Once you get it, click on it.
If you have a Backup & Reset option, clicking on it will lead you to the Factory data reset.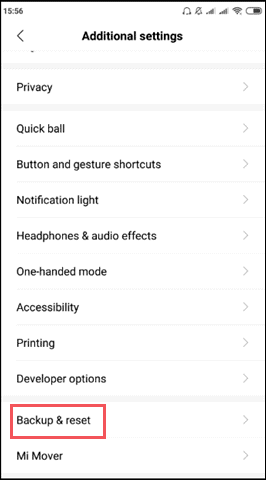 Click on Factory data reset.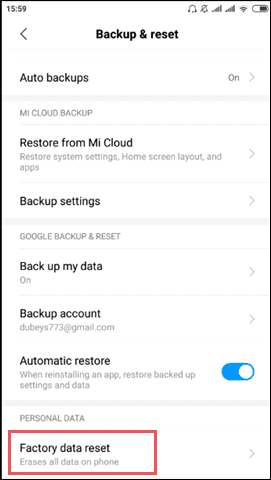 Your phone informs you how the Factory Data Reset affects your phone. Your data, including photos, contacts, accounts, and apps, will be deleted.
If you are ready and have backed up your data, go ahead and click on the Reset phone.
Wait for the reset settings to take place. Now, all the settings will be back to the default settings.  It includes ringtone, wallpaper, theme, and so on. You will need to login to your Google account that you want to use on your device for using Google services.
Go to Google Play Store and install your favorite apps. However, this effort will not go in vain when you see your phone is working smoothly. You will no longer have to handle Android storage space running out.
Conclusion
When your phone memory is full and Android storage space is running out, you do not have enough space to keep all your data. You have to create more space. The various options listed above make your work easy.
You can clean up your device by removing cache or expand your phone memory by using an external SD card. You can also switch to cloud storage like Google Drive or DropBox.
Although cloud storages also come with limited space, you always have the option to move to a paid plan with more storage. The other hacks also assist when you are struggling with storage space running out, and phone storage is full. You can try any of the solutions listed above to manage the Android storage space running out. Let us know the one you selected.
Related: