All your work on the internet probably begins with Google Chrome. So, it would be best if you knew how to use it efficiently, especially when it comes to the settings. The innumerable Chrome settings allow you to be productive and proficient as well as make the best out of this online platform.
In addition to it, there are some Chrome extensions and web apps with some unbeatable features. But please do check the version of Chrome that you are using currently.
Hidden Chrome Settings that You must be Aware of And Change
While the browser helps you well, there are some chrome settings that many of you may not be aware of. Here we have listed some of the best-hidden settings in chrome that will offer you a better functionality.
Let us explore and check them out.
1. Keyboard Shortcuts for Extension
One generally adds extensions to Chrome to make the browser more efficient and productive. Now it is easy to manage extensions in the Chrome browser, especially if you can dedicate keyboard shortcuts.
To assign a keyboard shortcut to your favorite extensions, go to chrome settings by pasting chrome://extensions/shortcuts on a new page.
Now, enter the keyboard shortcuts for your extensions.
For instance, to assign a keyboard shortcut to the AdBlock extension, we typed in a shortcut – CTRL+SPACE.
2. Disable Flash in Chrome
Adobe Flash is the most obsolete tool you would see on the internet today. Unfortunately, some websites support and still use Flash.
Although Chrome asks your permission before running Flash, it is still dangerous to use. It is especially when you are concerned about your online privacy.
The best thing to do in this case is to disable it from the Chrome settings.
To disable Adobe Flash in Chrome Browser, go to chrome://settings/content/flash.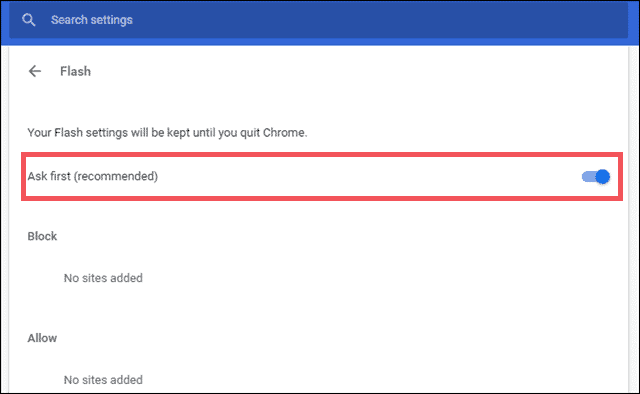 Now, turn it off using the toggle button. In this way, you will be able to disable Flash in Chrome.
3. To Use Extension in Incognito Mode – Change Chrome Settings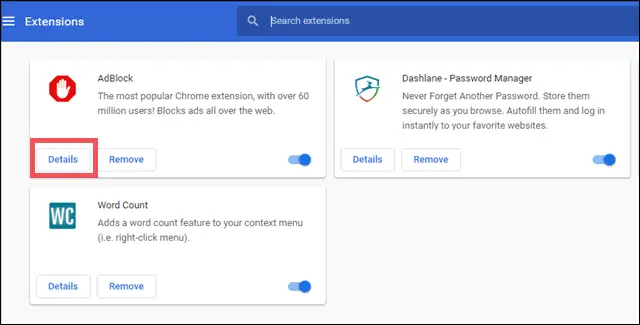 Most Chrome extensions seem to disappear if you browse in the Incognito mode all the time. With the default Chrome settings, one cannot use extensions in the Incognito mode as it prevents any third-party app from intercepting its security code.
Here is what you should opt for if you need an extension in the Incognito mode.
Simply go to chrome://extensions/ and click on the Details button of that particular extension that you want in Incognito mode.
Enable Allow in Incognito.
You will now be able to use extensions even in incognito mode.
4. Stop Running The Background Apps When Not in Use or Shut Off
Most Chrome users are not aware of the fact that Chrome runs most of the apps in the background even when the browser is closed. It is definitely a drain of the resources and should be taken care of.
To solve this and get the best in terms of efficiency and usability, simply go to Settings > Advanced.
Now scroll down to the System section.
Under System, you should disable Continue running background apps when Google Chrome is closed.
In this way, the apps will not run in the background and improve the browser's effectiveness.
5. Add or Remove Payment Methods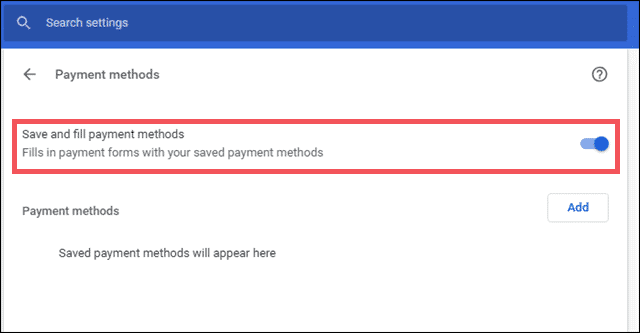 If you often make purchases online, then it is probable that you have filled up your credit/debit card details in some form. To make things easier, Chrome will often ask if you want to save these details for future reference.
If you agree to save the information, it may be a cause for concern in case you allow others also to use your device. And even if you don't, it is always safe to not save any kind of payment details.
Whatever your preference is, here is how to add or delete a payment method.
Go to chrome://settings/payments and scan all the saved information.
You can either switch off the option of Save and fill payment methods or add a new payment method.
6. Autofill Address
Just like the payment methods, Chrome settings can also Autofill your Address fields.
It remembers and saves information like address, phone number, and other details. It helps to fill the form quickly and efficiently. However, sometimes Chrome makes mistakes by providing the wrong or incomplete information in the address fields.
To avoid this, you can go to chrome://settings/autofill and replace the incorrect address with the right information.
So, the next time when you fill out a form, Chrome will autofill the information with the correct one.
7. Use Guest Profile if You Work on Someone Else's Computer
There are times when we use someone else's system or a public PC for personal use. It is always a good idea to maintain your online privacy in such cases. You can use a friend's computer without losing your privacy by creating a guest profile while browsing.
The guest profile does not save your browsing history and cookies. Once you close the Guest profile, no trace of your browsing history will be saved on the PC.
To browse with a Guest profile on a PC, you have to click on the profile icon that you see in the top-right corner.
Click on Open Guest Window.
Now you can browse in a Guest mode, where no browsing history and cookies will be saved.
When you are done, simply close all the Windows in Guest mode and nothing will be saved in the chrome settings.
8. Change Chrome Settings to Disable Notifications to Block Pop-ups
Nowadays, almost every website asks you through pop-up windows if it can send you notifications or not. If you knowingly or unknowingly allow this, it can be an issue later on.
Chrome Settings have an option where you can disable notification, that will block all the pop-ups so that you can continue browsing without any interruptions.
To do that, go to chrome://settings/content/notifications.
Now, disable Ask before sending (recommended) option.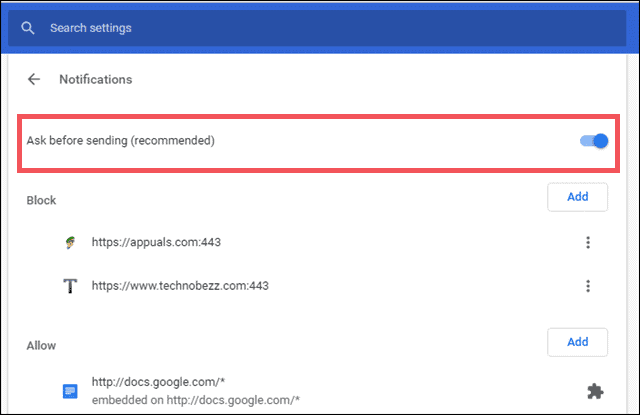 You will now not receive any notifications or pop-ups.
9. Create Shortcuts for a Website
For the ones who generally work the whole day on the computer and need to open a website now and then, there is a simple solution. You can easily create a shortcut for your frequently accessed websites.
After we created a shortcut for our website, whenever we type tn in the URL search bar, it directly opens techorms.com.
To create such shortcuts, go to chrome://settings/searchEngines
Next, click on the Add button.
Now under Edit Search engine, type the Search engine name, Keyboard, and URL, as shown in the image.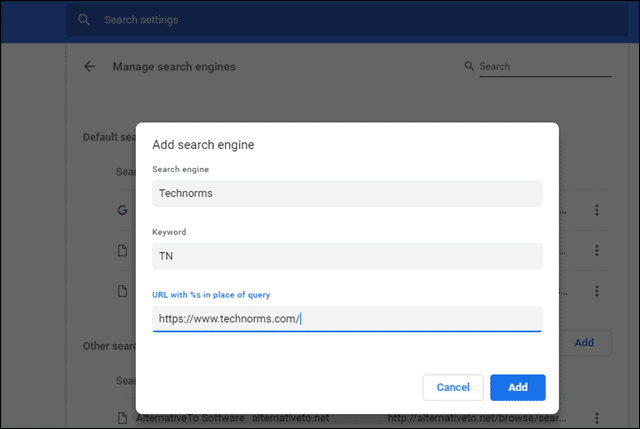 Now, you can access your favorite website in no time.
And, for those who do not want unnecessary content, you can also block websites on Chrome.
Hidden Chrome Settings For Android
As there are chrome settings for your system, there are many hidden google chrome settings for your android smartphone too.
10.  Organize Site Permissions
Android Chrome Browser has a variety of options to set a level of privacy and permission that many of us usually don't notice.
Our mobile contains a lot of personal and crucial information that one would never want to share randomly.
To manage permission while preventing websites from accessing your Cookies, Camera, Microphone, Location, etc., go to Settings > Site settings.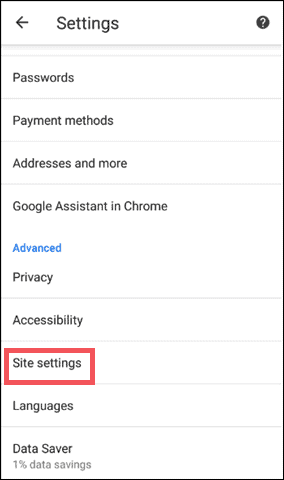 Now, click on the individual option to permit or deny access to certain things.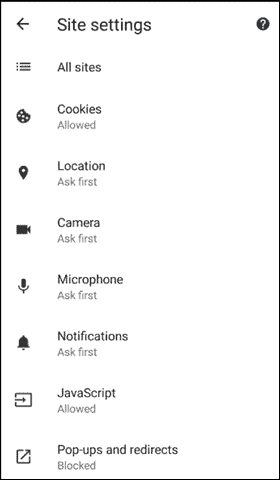 It is recommended that the information accessed by the websites you visit should be limited.
11. Have a Safe Browsing Experience
Google Chrome browser has an in-built option that blocks every website that it detects as suspicious or insecure. To have a safe browsing experience, follow the steps –
Go to Settings > Privacy.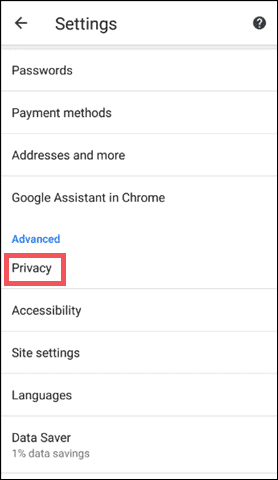 Check in the box that says Safe Browsing.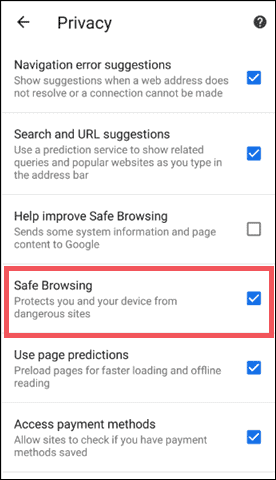 Once you enable safe browsing, google Chrome secures your device from any kind of harmful websites.
12. Turn Off Usage Report Sharing – By Simply Changing Chrome Settings
Not all of you might know that by default, Chrome sends your usage and crash reports to Google to make your browsing experience better.
While there is no harm in sending this data to Google as everything is sent anonymously to ensure your best privacy. In spite of this, some people would still want to disable this option to be safe and secure while browsing.
To stop Chrome sending your reports to Google go to Settings > Privacy.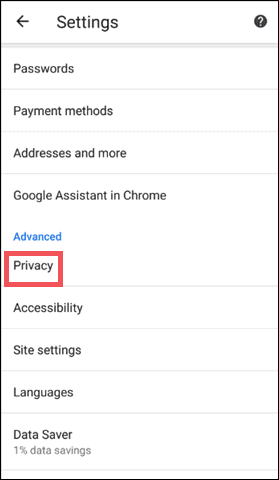 Now, click on Usage and crash reports.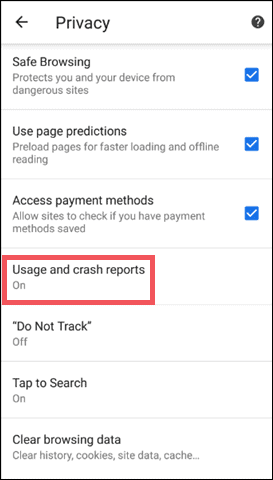 Next, disable it by sliding the toggle button.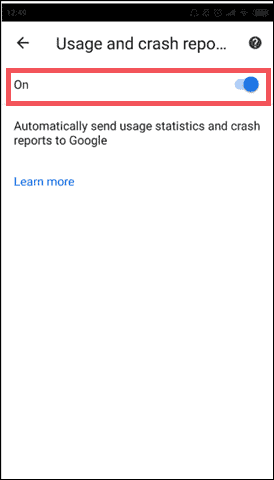 Once you disable Usage and crash reports, your personal information will not be included in the report.
13. Add Your Favorite Website to Home Screen
Chrome has a setting that allows creating a direct shortcut for your favorite websites. Open the site that you want to create a shortcut for. Now, click on the three dots that you see in the top-right corner.
Next, click on Add to Home screen to create a shortcut.
You can follow the same steps for every website that you would like to add to your home screen.
You will now access your favorite websites in a click.
14. Change Your Default Search Engine – With Chrome Settings
Although Google is the most preferred and best search engine of all time, some users would want to explore other options as well.
If you are one of them who wants to go for another search engine for some reason, go to Settings > Search engine.
Now, select the preferred option.
You can select the option that you want to go for and enjoy browsing.
15. Turn On/Off the Autofill feature
Similar to the one we saw in Chrome Browser for desktop, in Android also, you have autofill options. Chrome settings help with filling fields like passwords, payment information and address, and more.
Again, it's your personal preference whether you want Chrome to access this information or not.
You can see three options under Basic Settings like:
Passwords
Payment methods
Addresses and more.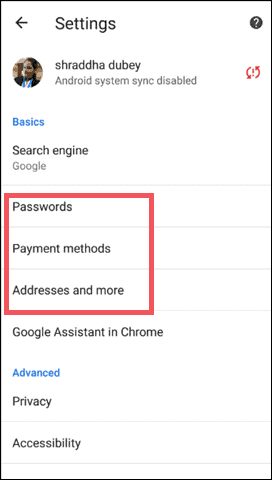 Go to each option and set your preferences based on your convenience.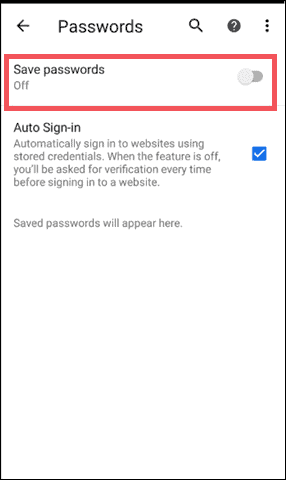 You can enable or disable save passwords as per your choice.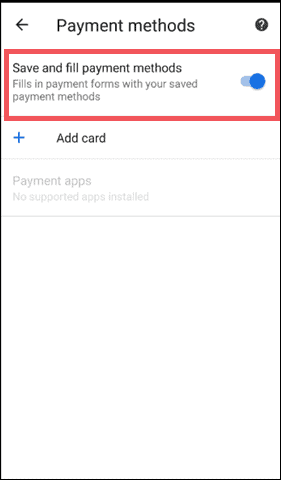 In Payment methods and addresses, you can add card and address-details, respectively.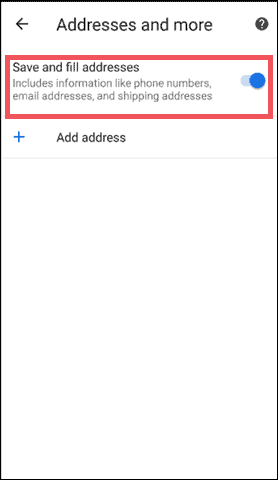 In case of saving and fill addresses, you can add your address, phone numbers, and details that could be used while auto-filling.
However, if you do not want auto-filling and are comfortable with adding the details every time you access a website or shop, or fill a form, you can disable the same.
16. Switch On Data Saving Settings
It is always a good idea to save data wherever necessary. Those who have limited data plans should definitely switch this feature ON on their device in chrome settings.
To enable this option, head to Settings > Data Saver.

Now, slide the toggle button.

Once the data saver is enabled, you use less mobile data. You also get faster web browsing along with data compression.

If Data Saver is ON, your mobile consumes 60% less data than usual.
Some Cool and Advanced Chrome Flags Features
For Google, it is all about experimenting and increasing its efficiency and functionality, especially through its browser Chrome and the various chrome settings.
Chrome browser allows its users to have fun with some experimental browser features that are still in the nascent stage.
You can get access to them by heading to the page chrome://flags/
The lists contain all pending features that will be approved and then added to the browser's final version of the browser. Also, it may disappear anytime.
Try out the following Chrome flags if you find the current version of the browser a bit dull.
Extensions on Chrome:// URLs
This Chrome flag enables running extensions on Chrome:// URLs. Otherwise, the extensions explicitly request this permission.
To enable or search for this flag, simply type #extensions-on-chrome-URLs.
Experimental JavaScript
Those who are into java developing and want to do some experiments with the browser can use the Experimental JavaScript flag.
It enables web-pages to use experimental Javascript features.
You can search for this flag by using #Experimental-JavaScript.
Touch Adjustment
People struggling with their touch devices may find this Chrome Flag a lifesaver feature. This feature refines and enhances the position of your touch gesture and compensates for the touches that may have a poor resolution.
Move to this flag by searching for #touch-adjustment.
We also have a full-fledged list of some advanced Chrome flags that may suit your interest and will add to your browsing experience.
Conclusion
Chrome is already a very popular browser and can be even made into a more powerful, prominent, and efficient tool if used properly. There are Chrome extensions that can control memory usage, some extensions that can boost your productivity and some hidden chrome settings that allow customization, privacy, and safety. We do hope you make the best of our recommendations to have a fruitful interaction with Google Chrome.