The Virtual Private Network (VPN) provides you with a safe and secure pathway when you are using a not-so-secure Internet connection. VPN is available for all Operating System (OS) platforms and Android is the most used mobile OS. Using the internet on your Android phones is not as secure as you think, and it will be great to know about the best VPN for Android users.
Having the best VPN for Andriod users, thus, ensures complete safety and privacy while you browse the internet. But, one should be aware of the Android terminology and also that VPN and WPN are not the same, it's different! The common VPN benefits include:
Keeps your identity anonymous while you are surfing through the internet
Blocks the phishing attacks
Masks your IP address
Turns your public Wi-Fi network into a private one
Keeps your data encrypted all the time
See More: Best Android Security Apps to Keep Your Smartphone Secure
Best VPN for Android to
Make Browsing Secure
The primary objective of the VPN is to provide you with a safe and secure pathway when you are accessing the internet. The way to set up a VPN connection on Android is easy and straightforward.
We have listed the best VPN for Android that will accommodate your privacy, and provide you with maximum protection from online vulnerability and unknown attacks. The list includes the paid and free ones; you can opt for the one which fits your needs.
1. ProtonVPN – Secure and Free Best VPN for Android Users
ProtonVPN is the best VPN app for Android, developed by the same people responsible for creating ProtonMail, which is one of the popular encrypted email services.
It hides your IP and protects your privacy while allowing you to browse freely even through a public Wi-Fi. ProtonVPN, also, keeps your browsing history private and does not log user activity or share data with third parties even in the free version.
As it sends all your internet traffic through an encrypted VPN tunnel, your confidential data is safe. With Proton VPN, it's easy to stream any geo-restricted content. For high-speed support along with better servers, you can go for the paid version of the app.
Download ProtonVPN here
2. ExpressVPN
ExpressVPN is the best VPN for Android in the paid category. It comes with a 7 day free trial period. Surpassing all the advanced VPN features, ExpressVPN has come a long way while delivering the best as compared to other VPN services. You can access 160 locations in 94 countries.
If cost is of no matter when your security is concerned, then ExpressVPN should be your first choice of VPN service. Without setting any limit, you can switch locations as many times as you want. Third parties can never monitor your internet activities as ExpressVPN encrypts the data with OpenVPN UDP and TCP protocols making it extremely secure than other proxies.
The one month pack is priced at $12.95/month, and if you want an annual package, then it comes at $8.32/month.
Download ExpressVPN here
3. NordVPN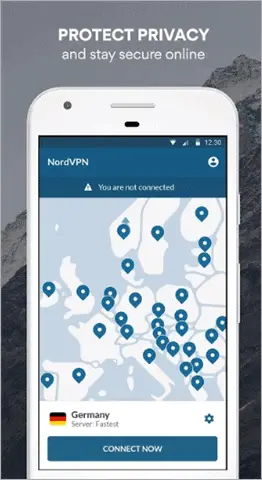 NordVPN is a paid app that sets you free from all boundaries and is the best VPN for Android. It promises you Internet freedom, advanced security, and complete privacy while surfing the net. The 5700+ servers from 60 countries can give you access to all the locations.
You can connect 6 devices at the same time. It is completely worth the value that you get with the one month plan that is priced at $11.95/month. You can take a 7 days free trial and then decide whether you wish to opt for NordVPN or not. It also offers you the convenience of a two-year package at $3.49/month, and you can pay the bill every 3 years.
Download NordVPN here
4. Betternet Hotspot VPN
Also, known as The Onion Router, Betternet VPN makes it to the list of best VPN for Android. It helps you unblock any apps or websites while bypassing the government censorship and geo-restrictions so that you can access the blocked website
Betternet VPN also helps you browse in Incognito mode without having to install any Incognito browser. Thanks to them, you can use any public Wi-Fi hotspot without having a fear of being hacked, as it will encrypt all your online traffic.
The Location Spoofer hides your IP address to bypass any geo-restriction. Betternet VPN is quick to detect your location and connect you to the nearest server. The free version comes with ads, while the premium version is ad-free.
Download Betternet Hotspot VPN here
5. VPN by tigerVPN – For Android
VPN by tigerVPN ranks among top 10 best VPN for Android and offers more than what various free VPNs give. You can set up 5 simultaneous connections, each having unlimited speed and data. With tigerVPN, you can have access to 63 locations from 43 countries.
tigerVPN also provides NAT firewall and DNS protection along with the zero-log policy. The one-tap connection makes it easy for a new user to get started with a VPN.
Download VPN by tigerVPN here
6. TunnelBear VPN
Tunnelbear is an excellent VPN for Android phone users that makes anonymous browsing simpler than ever. It gives you free 500MB to browse per month without any credit card details. The VPN also offers a no-log policy, which means it cannot track and sell your data to anyone.
With a strong AES-256 bit encryption, Tunnelbear keeps you safe while browsing online and the best VPN for Android. You need to just tap to connect and it will keep the advertisers away from you. TunnelBear VPN is a great choice when it comes to a secure browsing experience. You can also set Tunnelbear VPN on iPhone or iPad.
Download TunnelBear here
7. VPN Robot – Free Unlimited VPN
VPN Robot is one of the best mobile VPN which covers all continents except Antarctica with 2410 servers. It is easy to use a VPN, which gives you all the VPN features like anonymous browsing, access to blocked sites, and unlimited bandwidth at high speed.
As it is free, it requires no login, username, or account and not even any in-app purchases or subscriptions. It acts as a strong hammer to bypass filters, censorship, and surveillance.
Download VPN Robot here
8. VPN Proxy Master-Free security
VPN Proxy Master is one of the best mobile VPN and the most downloaded apps with great ratings on the Google Play Store. It does not ask for a login, or registration, or account to be created for you to use its service.
VPN Proxy Master makes it easy to use any public W-Fi with full encryption while protecting all your personal data and privacy. You can work with Wi-Fi, LTE, 4G, 3G, and other mobile data carriers with VPN Proxy Master. The only hitch is that you cannot use this service in China.
Download VPN Proxy Master here
9. Yoga VPN – Free Unlimited & Secure Proxy & Unblock
Yoga VPN does not require any login or registration to use its feature. It is permanently free and also offers unlimited time for each established connection. If you are a new user of a VPN app, this best VPN for Android makes it easier to use with one tap connection and user-friendly interface.
Yoga VPN ranks first in the world for its high-speed servers. To protect you from DNS leaks, it offers DNS proxy. Along with the special features, it also offers the basic VPN features like access to blocked sites, anonymous browsing, and privacy protection.
Download Yoga VPN here
10 PureVPN – Best Free VPN for Android
PureVPN is one of the best VPN for Android, which is powered by 2,000+ servers and spread over 180+ locations. You can use the 7 days trial period before you pay anything. However, to enjoy the free trial, you need to add your payment information. It provides you anonymity on the web along with protecting you against any online threats and malware. With military-grade encryption, PureVPN has no bandwidth caps.
The other features include Content Filter, Web Filter, Smart Antivirus Protection, IDS and IPS, App Blocker, and Secure WiFi. The only disadvantage of PureVPN is that the trial period is only for seven days and you need to fill in the payment credentials when you log in.
Download PureVPN here
11. Windscribe VPN
Windscribe VPN is one of the best VPN for Android and comes in the free and paid versions. The free version offers enough features needed for a single user. It gets you 10GB of bandwidth every month. To use the free version, you need to enter and confirm your email ID.
With the free version, you get all the basic VPN features like split tunneling, data encryption, and no-logging policy. However, the free version allows the server access in only 10 countries. If you wish to have access to more than 60 countries along with unlimited bandwidth, then you need to opt for the Pro version.
Download Windscribe VPN here
12. Hotspot Shield Free VPN Proxy
Hotspot Shield Free VPN is the best VPN for Android and the fastest in the world as per the speed test. It is famous for its trusted security, privacy, and stability and allows you to easily disappear from any online activity and prevent yourself from being tracked by any third-party advertiser and even hacker.
The VPN covers 80+ countries, including the US, UK, Japan, India, and Australia. Just like any other VPN services, it also has a no-log policy. Hence, Hotspot Shield can be classified as one of the best mobile VPN.
Download Hotspot Shield Free VPN here
13. Hola Free VPN Proxy
Hola Free VPN Proxy is an unlimited, free, and peer-to-peer VPN Android service that allows you to browse the web without any restrictions coming between you and the blocked website. It has a split-tunneling proxy and unlocks websites in a smooth manner.
It solves the issue of geo-restrictions and allows you to switch between countries with the help of a few simple taps. The only issue with Hola is that it collects your data, which includes your IP address, sites you visit, the browser you use, the time you spend on the web, your name, and much more. So, if you are comfortable with the VPN that gets your data, you can opt for it.
Download Hola Free VPN Proxy here
14. SuperVPN Free VPN Client
Super VPN is an incredibly powerful and reliable VPN for Android that takes your anonymity to another level. It encrypts all the online traffic while maintaining your privacy.
You can use all its features completely free for the first 20 days that includes the unlimited time of connection and bandwidth. However, after 20 days, the session expires after 60 min, and you need to reconnect it again.
Download Super VPN here
15. Touch VPN -Free Unlimited VPN Proxy & WiFi Privacy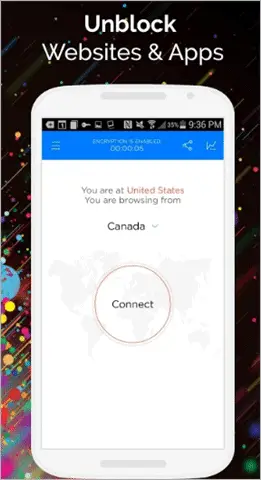 Touch VPN is an absolutely free VPN for Android that gives you the liberty to use unsafe public WiFi without worrying about the privacy issue. Your mobile is entirely safe from hackers and other malicious activities if you choose to use Touch VPN, the best VPN for Android.
There are no restrictions, and you also have access to geo-restricted websites. A one-click VPN Proxy Service, it is secured with strong SSL encryption and protects your data.
Download Touch VPN here
16. FlashVPN Free VPN Proxy
FlashVPN is free, powerful and the best VPN for Android that resolves all your online security concerns while browsing the internet. The user interface is simple enough to get started with a single tap connection.
The VPN servers of FlashVPN are deployed on multi-locations, including the US, England, and Japan. It offers basic VPN features like access to geographically blocked sites and VPN encryption.
Download FlashVPN here
17. Hideman Free VPN
Hideman is the perfect solution for privacy and protection with one tap connection. You can hide your IP so that no one can know where you are located. You can hide your IP and encrypt the internet data with 256-bit encryption.
It removes banners and tracking systems, which allows you to do anything on the website without restrictions making it the best VPN for Android. The user interface is crisp and easy with basic features.
For advanced features like no-logging policy, you can move to the paid version.
Download Hideman here
18. SpeedVPN Free VPN Proxy
SpeedVPN is one of the most reliable VPN for Android phones that gives premium bandwidth for free. You can connect to multiple locations like France, Canada, and the United States, along with accessing geographically restricted websites.
You get 4 hours of free time for each connection, and you can connect as many times as you need. It protects your privacy with premium bandwidth and prevents tracking.
Download SpeedVPN here
19. SurfEasy Secure Android VPN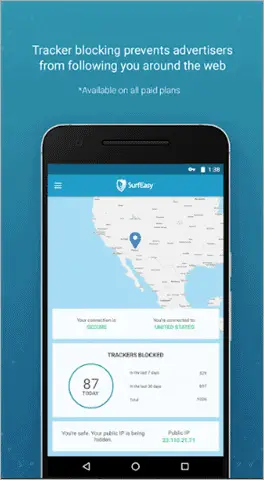 SurfEasy Secure Android VPN has a strict no-log policy plus live customer support. It delivers a secure browsing experience without compromising your personal data and makes it to our list of best VPN for Android.
It offers the usual features of a good VPN service like Masking IP address, browsing anonymously, bypassing firewalls, and accessing blocked websites. The premium version gives you an Ad-Tracker blocker feature.
Download SurfEasy Secure Android VPN here
20. IPVanish
Another good option for the best VPN for Android is the IPVanish VPN. It masks your IP address keeping your data out of the hands of any third parties.
It assures you zero log policy with a network in 60 countries. You can connect up to 10 devices simultaneously and encrypt all of them together. The other features include split tunneling, IPv6 leak protection, and advanced encryption standard. It is a paid app, and if you don't like the features, they also offer 7 days money-back guarantee
Download IPVanish VPN here
21. HMA VPN
HMA, also known as Hide My Ass VPN, is the best solution for getting access to blocked sites while keeping your identity a secret. It lets you use public Wi-Fi without any fear of losing your personal data. One paid connection lets you run up to 5 connections at the same time.
Accessible in 190+ country locations, this VPN is an excellent solution for people looking for some best VPN for Android. One year's pricing of HMA is $6.99/month with a 7 days trial. You should be careful while purchasing HMA, as it doesn't offer a money-back.
Download HMA here
Conclusion
The list of best VPN for Android discussed above gives you an option of paid and free VPN services depending on your needs. Once the VPN is set up you can access websites that are blocked with geo-restrictions as well as maintain your security. The added advantage is that you are free of online advertisers and your internet traffic is encrypted. Other than the ones mentioned above, you could also use Spotflux and Cyberghost.
The VPN service for Android users is an excellent way to keep you safe and your privacy intact. It also keeps you away from online advertising spams, identity thefts, and hackers. If we missed out on your favorite, do let us know.
Further Reading: