For years together, as an audience, we have watched the BBC striving to deliver news that would be an unbiased view. With the internet opening up fantastic avenues, it is no surprise that BBC diligently produced factual dramas, scripted comedies, and great BBC detective series. And to top it all, you now have BBC shows on Netflix. What more could one ask for!
Over the years, their channels BBC One and BBC Two have produced high-quality BBC TV shows and BBC series. And they always have some healthy competition with HBO series and shows.
But, when it comes to binge-watching, Netflix knows no bounds. Be it the best family movies for the perfect Sunday, horror flicks to give you nightmares, best thrillers that will keep you glued to your seats and best animes for the adventurous soul, Netflix has something for everyone.
Best BBC Shows On Netflix – Streaming Now on Netflix
With the increasing popularity of BBC on Netflix, the streaming service has some of the best BBC shows to offer. The spectrum ranges from classic to contemporary and from light-hearted to shattering ones along with IMDb scores. Let's check the best BBC shows on Netflix.
Sherlock
Year: 2017
No. of Series: 4
IMDb score: 9.1/10
Cast: Benedict Cumberbatch, Martin Freeman, Una Stubbs
Creators: Mark Gatiss, Steven Moffat
One of the best BBC American TV shows, Sherlock is a modern approach to Sir Arthur Conan Doyle's famous detective series. Benedict Cumberbatch, as the protagonist, Sherlock Holmes, and his sidekick Martin Freeman, as Dr. Watson are people from the pages of history who currently exist in the 21st century.
Watch this extraordinary investigator scavenge the streets of London in search of clues in this witty and full of suspense BBC mini-series on Netflix.
The Crown
Year: 2017
No. of Seasons: 2
IMDb score: 8.7/10
Cast: Claire Foy, John Lithgow, Matt Smith, Olivia Colman, Helena Bonham Carter, Tobias Menzies
Creators: Peter Morgan
Set in the second half of the 20th century, this BBC series on Netflix is a period piece highlighting the political conflicts, romance, and drama during Queen Elizabeth II's reign.
The British empire is declining. There seems to be a disorder and chaos in the political world. In the midst of this, a young woman takes the throne which marks the beginning of a new era.
The Crown highlights the Queen's personal journey behind the public pretense with undaunted frankness and chronicles her journey from the 1940s.
Troy: Fall of a City
Year: 2018
No. of Seasons: 1
IMDb score: 3.8/10
Cast: Louis Hunter, Bella Dayne, Frances O'Connor
Creators: David Farr
The backdrop of the show is set in the 12th century BC and takes inspiration from the Greek epic poem called Iliad. Aphrodite promised Paris that he would find him the love of his life. While waiting for the promise to get fulfilled the herdsman comes to terms with who he is and falls for a woman named Helen. The affair leads to the Trojan War and further triggers a chain of intriguing events.
Troy: Fall of a City is one of the best BBC shows on Netflix that you must watch. The epic plot brings love and war together and keeps the audiences engaged throughout. Watch the first season to know what happens to the city Troy, their families, and witness betrayal like never before. 
Peaky Blinders
Year: 2017
No. of Seasons: 4
IMDb score: 8.8/10
Cast: Cillian Murphy, Sam Neill, Helen McCrory
Creators: Steven Knight
This BBC series on Netflix is a crime gangster drama set in 1919 Birmingham, England. World War 1 has just gotten over, and England is led by Tommy Shelby. He is a cruel gang leader who aims to move up in the world ladder at any cost.
Tommy Shelby attempts to avoid all investigations done by a cold-blooded detective in this violent yet engaging BBC TV series. This gritty and grounded period drama is one of the best BBC shows you'll ever watch.
Merlin
Year: 2012
No. of Seasons: 5
IMDb score: 7.9/10
Cast: Colin Morgan, Bradley James, Katie McGrath
Creators: Johnny Capps, Julian Jones, Jake Michie
The young boy Merlin is blessed with a magical skill. While he practices it digitally, King Arthur helps the little teenager hone his craft better in this family-oriented retelling of the Arthurian legend. The land of Camelot is averse to magic and when Merlin arrives, it leads to a series of new adventures for the townsmen.
Camelot is ruled by a tyrant who is not too happy with the use of magic in his homeland. What do you think is in store for Merlin? Merlin and King Arthur have their fates intertwined and linked to one another. The drama unfolds incessant mysteries in a wizardly world full of enchanting charm making the series unmissable.
Black Mirror
Year: 2017
No. of Seasons: 5
IMDb score: 8.8/10
Cast: Jesse Plemons, Christin Milioti, Jimmi Simpson
Creators: Charlie Brooker
Black Mirror is an anthology series that explores a twisted, modern world where humanity's most significant innovations and darkest instincts collide. The show reflects our society in an unflattering light and represents a kind of protest that is necessary.
One of the best BBC shows on Netflix, it taps into our collective unease concerning the high-tech future. It highlights the fact that the technological world has more of a dystopian effect on us than utopian.
Lovesick
Year: 2018
No. of Seasons: 3
IMDb score: 8.1/10
Cast: Johnny Flynn, Antonia Thomas, Daniel Ings
Creators: Tom Edge
In his search for true love, Dylan finds Chlamydia. Along with friends Evie and Luke, he gets in touch with all the girls he's had physical relationships with, in order to disclose the bad news to them.
With a funny plotline, brilliantly written characters, and exciting twists, this youth-oriented show "Lovesick" will leave you laughing hysterically and is one of the best BBC shows on Netflix.
Call the Midwife
Year: 2018
No. of Seasons: 9
IMDb score: 8.4/10
Cast: Venessa Redgrave, Bryony Hannah, Helen George
Creators: Heidi Thomas
Set in poverty-stricken East London of the 1950s, Call the Midwife revolves around a midwife and her peers at a nursing convent.
Touching upon hard-hitting issues like miscarriages, stillbirth, abortions, prostitution, prejudice and more, this BBC series on Netflix is sentimental. Yet, it is optimistically hopeful and definitely not depressing.
The Serpent
Year: 2021
No. of Seasons: Limited Series
IMDb score: 7.7/10
Cast: Tahar Rahim, Jenna Coleman, Billy Howle
Creators: Dominik Scherrer
If you are a fan of thrillers, The Serpent is a must-watch. The protagonist Charles Shobraj keeps a vigilant eye on all the travelers visiting South Asia. He is a murderer, thief, and changes his appearances to disguise as a new person each time before committing a crime. The plot takes you back in the 1970s and most of the events depicted in the BBC show are inspired from true events.
The merciless killer's life has its own share of ups and downs and the audiences witness multiple twists in the story throughout. The gem dealer Charles, along with his girlfriend, target Asia's hippie trail and especially young western travelers. Will the most wanted man get arrested well in time? Watch the intriguing The Serpent to find out the lead actors plans and how he executes them one by one.
The Last Kingdom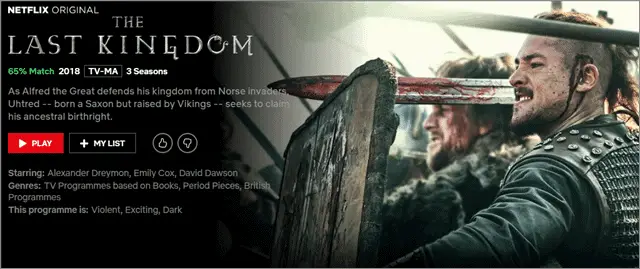 Year: 2018
No. of Seasons: 3
IMDb score: 8.3/10
Cast: Alexander Dreymon, Emily Cox, David Dawson
This BBC miniseries on Netflix is a historical fiction series based on The Saxon Stories by Bernard Cornwell. King Alfred attempts to protect his kingdom from Norse invaders. The hero Uhtred, is a born Saxon but raised by Dames and is in the quest for claiming his ancestral birthright.
With a political backdrop in a medieval setting, this violent historical fantasy is dark, exciting and one of the best BBC shows.
Broadchurch
Year: 2017
No. of Seasons: 3
IMDb score: 8.4/10
Cast: David Tennant, Olivia Colman, Andrew Buchan
Creators: Chris Chibnall
An eleven-year-old boy is murdered in an otherwise peaceful seaside town of Broadchurch. Local detectives Alec Hardy and his partner Ellie Miller investigate the mysterious case in a town where everyone has a secret.
One of the best BBC TV shows, the crime drama series Broadchurch is the best example of what happens when you have an excellent creative production team.
Nadiya Bakes
Year: 2021
No. of Seasons: 1
IMDb score: 6.8/10
Cast: Nadiya Hussain
Creators: Katy Fryer
Nadiya Bakes is a cookery show on Netflix produced by BBC. Nadiya teaches you the art of baking beautiful cakes in the happy vibes documentary. The show is full of high spirits and the first season has left us waiting for the second one to release already. She is an expert with making the best breads as well and gives you a handful of baking tips while showcasing her talent. The protagonist goes back to baking after a short break and releases her kitchen is her happy space.
Nadiya finds immense joy in baking and doesn't shy away from trying out new recipes. Cooking is a form of expressing joy for her and the show is a must watch for all passionate bakers. From indulgent apple pies to everyday desserts, watch her make them all in front of you in the feel-good show.
Derry Girls
Year: 2019
No. of Seasons: 2
IMDb score: 8.4/10
Cast: Saoirse-Monica Jackson, Nicola Coughlan, Louisa Harland
Creators: Lisa McGee
The fun sitcom takes you back to the 1990s and makes you a part of the adventures of a 5-member girl gang. The high school girls face the challenges of a growing teenager while being stuck in Northern Ireland during political upheaval. Their issues are universal, which makes Derry Girls a very relatable teen show. The cast is very well-curated and each one delivers superlative performances. The writing is raw, real, and off-beat.
The candid comedy show focuses on the troubles any other 16-year old girl would face and involves their families as well. It is the ideal flick to watch when you chill with your best buddies and Derry Girls will make you laugh and cry in equal portions. The irreverent charms, dark humor, witty dialogues, and the sheer unpredictability of what will happen next is sure to keep you hooked.
Doctor Foster
Year: 2017
No. of Seasons: 2
IMDb score: 7.7/10
Cast: Suranne Jones, Bertie Carvel, Claire-Hope Ashitey
Creators: Mike Bartlett
Dr. Gemma Foster is a talented doctor and a loving wife. Her life takes a turn when she starts suspecting that her husband's cheating on her.
Determined to discover the truth, she starts an investigation. Unearthing dark secrets, Gemma Foster starts behaving in ways she'd never imagined before.
One of the best BBC shows on Netflix, this TV thriller is romantic, dark and a must-watch.
The House of Cards
Year: 2018
No. of Seasons: 6
IMDb score: 8.8/10
Cast: Robin Wright, Michael Kelly, Diane Lane, Kevin Spacey
Creators: Beau Willimon
Dashing and cunning politician Frank Underwood (played by Kevin Spacey) along with his manipulative and enigmatic wife Claire, attempt to leave no stone unturned to conquer Washington DC.
They aim to take revenge from people who they feel wronged them. These include their own cabinet ministers. Watch the power couple climb up the hierarchical ladder in one of the best BBC shows on Netflix.
Also, for the update, Kevin Spacey was officially removed from the sixth season after the #Metoo allegations. Robin Wright, who plays Claire, takes the lead as the show must go on.
Last Tango in Halifax
Year: 2016
No. of Seasons: 3
IMDb score: 8.3/10
Cast: Derek Jacobi, Anne Reid, Sarah Lancashire
Creators: Sally Wainwright
Childhood lovers Alan and Celia lose their respective partners and come across each other after a gap of almost 60 years, through the internet. Discovering love all over again, they decide to reunite.
This emotional and heartfelt BBC series on Netflix won BAFTA awards in more than one category.
Watch the Last Tango in Halifax
Ripper Street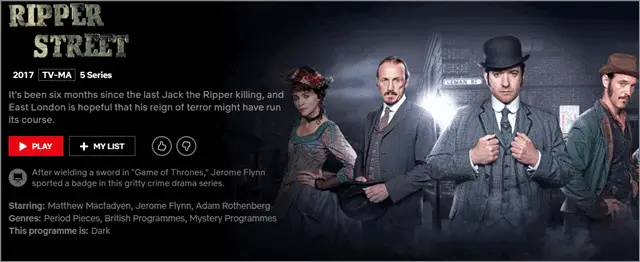 Year: 2017
No. of Seasons: 5
IMDb score: 8.1/10
Cast: Matthew Macfadyen, Jerome Flynn, Adam Rothenberg
Creators: Richard Warlow
This BBC series is a period piece set in London of 1889, post-Jack the Ripper. The killings and murders have torn the city apart. It's been six months, and people are hopeful that the reign of terror might end.
Edmund Reid and his team of inspectors aim to reinforce law and order in this dark BBC detective series. You cannot afford to miss this one if you're a crime investigation fan.
Cuckoo
Year: 2018
No. of Seasons: 4
IMDb score: 7.3/10
Cast: Greg Davies, Taylor Lautner, Andie MacDowell
Creators: Robin French, Kieron Quirke
One of the most entertaining BBC TV shows, this sitcom is about Ken and Lorna Thompson's daughter Rachael. Rachael shocks her parents of British origin when she chooses to marry a hippie from America.
Her husband Cuckoo, a self-appointed spiritual ninja, is every parent's worst nightmare. Quirky, hilarious, and excruciating; this BBC TV series will take you on a fun ride worth binge-watching.
Vexed
Year: 2012
No. of Seasons: 2
IMDb score: 7.4/10
Cast: Toby Stephens, Miranda Raison, Lucy Punch
Creators: Howard Overman
Two detective inspectors, charming Jack Armstrong, and skilled professional Kate Bishop solve crimes together. Their unbalanced relationship and chemistry make the journey of unearthing murder mysteries a smooth ride.
Watch them manage their personal lives, work and each other; in one of the most cynical BBC shows on Netflix.
Collateral

Year: 2018
No. of episodes: 4 (limited series)
IMDb score: 6.7/10
Cast: Carey Mulligan, John Simm, Nicola Walker
Creators: David Hare
A pizza delivery man Abdullah is murdered. A detective inspector from London takes up the case of unearthing the mystery.
While doing so, he comes across tangled conspiracies of drug dealers and smugglers amid a cross-section of British society.
Strong performances, great dialogues, and a thought-provoking theme make Collateral one of the best BBC series on Netflix.
Bodyguard
Year: 2018
No. of Seasons: 1
IMDb score: 8.2/10
Cast: Richard Madden, Keeley Hawes, Gina McKee
Creators: Jed Mercurio
David Budd, a heroic war veteran helps prevent a terrorist attack and is appointed with a task to protect a politician. Ambitious Julia Montague's politics and principles are everything that David despises.
Split between his duty and beliefs, will he actually protect her or turn out to be a threat? Watch Bodyguard, one of the best BBC detective series and an exciting, nail-biting thriller.
Requiem
Year: 2018
No. of Seasons: 1
IMDb score: 6.5/10
Cast: Lydia Wilson, Joel Fry, Brendan Coyle
Creators: Kris Mrksa
In the year 1994, a toddler disappeared, never to be back again. Twenty-three years later, a London cellist's mother commits suicide under mysterious circumstances.
As her daughter Matilda unearths the secrets, she discovers evidence which links the two incidents. Genuine substance and full of mystery, find out the truth with her in this ominous BBC series.
Still Game
Year: 2016
No. of Seasons: 7
IMDb score: 9/10
Cast: Ford Kiernan, Greg Hemphill, Paul Riley
Creators: Greg Hemphill, Ford Kiernan
Two Scottish old age pensioners, Jack and Victor, decide to make the most of their post-retirement lives. Aiming to live their golden years fully, they put themselves into all kinds of scoops and predicaments.
One of the best BBC shows on Netflix; Still Game is wacky and hilarious as the protagonists deliver excellent lines in the best possible way.
Flowers
Year: 2018
No. of Seasons: 2
IMDb score: 8.2/10
Cast: Olivia Colman, Julian Barratt, Daniel Rigby
Creators: Will Sharpe
Flowers is a heart-warming story of a troubled household. The storyline depicts the issues faced by a couple who is on the verge of separation, two siblings who are always in rivalry, and an aging grandmother. The crumbling family is falling apart and they are unable to stay together despite several attempts. The dark comedy manages to please the audiences because of the unique writing and eccentric characters. Will they be able to hold themselves together and be happy?
One of the best BBC shows on Netflix, Flowers, covers every aspect a show with a dysfunctional family should. The drama does not get old and some sequences will make you laugh out loud. Indulge yourself in the twisted treats that the series has to offer and be a part of the melancholic madness Flowers is all about. Will the family be able to overcome each others' dark secrets and fight the demons residing inside them? Watch to find out!
Dracula
Year: 2020
No. of Seasons: 1
IMDb score: 6.8/10
Cast: Claes Bang, Dolly Wells, John Hefferman
Plot: Jonathan Harker goes to Transylvania to sell off his majestic mansion in London. He sets up a meeting with a new client. However, he finds himself trapped in an eerie castle that is full of supernatural beings and undead brides. Not just them, there is also a vampire named Count who aims to conquer the world.
When it comes to the best new additions to BBC shows on Netflix, Dracula definitely makes the cut. The show mixes horror and humor in the right portions to bring this suspenseful drama to the audiences. How often do you come across content that is both frightening and fun?
What more? Wait till the story grows on you.
Wanderlust
Year: 2018
No. of Seasons: 1
IMDb score: 7/10
Cast: Toni Collette, Steven Mackintosh, Zawe Ashton
Creators: Nick Payne
Therapist Joy and her husband feel that they do not have any spark left in their marriage. Failing to revive their fading relationship, the two decide to try their chances with other people. So, both of them date new individuals and a series of phenomenal stuff follows.
One of the most different BBC shows on Netflix, Wanderlust is a comedy full of funny moments. The show explores open marriages and throws its share of twists and turns to the audience every now and then. This grown-up sex-drama is beautiful and never goes short on amazing scenes.
Retribution (One of Us)
Year: 2016
No. of Seasons: 1
IMDb score: 7/10
Cast: Georgina Campbell, Joe Dempsie, Adrian Edmondson
Set in the remote areas of Scotland, this show is about two families who have been good neighbors and share sincere friendship. Everything is going just fine until a newly married couple is murdered.
Detectives are hell-bent in figuring out who the culprit is. Lies and dark secrets are unearthed as the suspects are questioned.
One of the most intriguing BBC shows on Netflix, Retribution is a crime-drama worth watching. Although the plot is quite complex, the characters come out as real.
The Innocents

Year: 2018
No. of Seasons: 1
IMDb score: 6.3/10
Cast: Sorcha Groundsell, Percelle Ascott, Guy Pearce
Creators: Hania Elkington, Simon Duric
One of the most understated and cerebral BBC shows on Netflix, The Innocents is about teenage lovers June and Harry. The couple runs away from their families with minimal planning.
They are perturbed by an extraordinary discovery when they realize June exhibits mysterious abilities.
Because of the secrets, their parents did not share with them, June and Harry are thrown into this dangerous new world which tests their love to the extreme.
The Great British Baking Show
Year: 2018
No. of Seasons: 7
IMDb score: 8.6/10
Cast: Mel Giedroyc, Sue Perkins, Mary Berry
Are you a foodie? Do you love watching reality shows which involve cooking? Get your hands on The Great British Baking Show, one of the most entertaining and feel-good BBC series.
Food writer Mary Berry and chef Paul Hollywood judge amateur bakers who compete against each other to be declared U.K.'s best. Three competitions in one week and a 10-week long journey, as the participants attempt to whip their best dishes, cakes, pastries, and cookies on one of the best BBC shows on Netflix.
Watch The Great British Baking Show
Kiss Me First

Year: 2018
No. of Seasons: 1
IMDb score: 6.3/10
Cast: Tallulah Haddon, Simona Brown, Mathew Beard
Creators: Bryan Elsley
Kiss Me First is a cyber-thriller drama that moves between the real and animated worlds. A 17-year-old lonely girl Leila meets Tess on a virtual reality game and befriends her. Leila's life is forever changed as she enters into a world of new thrills and dark secrets.
This innovative BBC TV series combines live-action with amazing computer-generated graphics and is a solid young adult effort from Channel 4 and Netflix.
Watership Down

Year: 2018
No. of Seasons: 1 (limited series)
IMDb score: 7.2/10
Cast: James McAvoy, Nicholas Hoult, John Boyega
This limited series is a remake of a classic novel written by Richard Adams by the same name. The story is set across England's rural countryside. It is about a group of rabbits who embark upon a journey to find themselves a new home.
They face and overcome various threats along their way. Will they be able to find a better place to live after their homes have been destroyed? Will there be no human-intrusion? Well, watch Watership Down, one of the most beautiful BBC shows on Netflix, to see if the rabbits find a perfect society.
Man Like Mobeen

Year: 2017
No. of Seasons: 2
IMDb score: 7.8/10
Cast: Guz Khan, Tez Ilyas, Duaa Karim
Mobeen is a Pakistani Muslim who is 28 years of age. He is bestowed with the task of raising his teenage sister and wants to follow his faith, tries to make friends with the sister, and aims to give her all that she truly deserves.
However, Mobeen's criminal past does not seem to leave him. The complicated chapters of his everyday life interfere with his current goals. Will he be able to sail through them? Watch Man Like Mobeen, one of the most hilarious BBC shows on Netflix to find out.
The A list
Year: 2018
No. of Seasons: 1
IMDb score: 5.2/10
Cast: Lisa Ambalavanar, Ellie Duckles, Savannah Baker
Creators: Dan Berlinka, Nina Metivier
Mia is super-excited about her summer camp. Little did she know that instead of having the time of a lifetime, the experience will turn into the worst nightmare. A confident girl Amber walks into the sleepaway camp and owns the place. Mia detests the fact that the attention she thought she'd be getting is diverted towards Amber.
However, there is more than what meets the eye. Amber exhibits supernatural traits. She has powers that are not normal. One of the most intriguing mysteries, The A List will stay with you even after the show is over.
Are you game to explore suspense, violence, and some spine-chilling moments?
Final Thoughts
BBC's much-coveted partnership with Netflix has particularly benefited the content-watching audiences, especially in times when everything is operational from home. BBC has produced tons of superlative shows and series and they have something for everyone. You will find top-notch comedies, classics, crime-themed shows, detective series, and intriguing suspense thrillers. In our list of the best BBC shows on Netflix, we have covered them all, including a couple of cooking shows. We particularly loved their stash of sitcoms.  
BBC TV shows and BBC series typically run for a few episodes, but they have successfully managed to create well-loved and enduring content. Netflix keeps updating its library, so you must binge-watch them now or some of the shows might be taken down. The streaming service has a lot to offer and you wouldn't want to miss out on the well-made ones. So, when you're bored with American TV shows, do check out the ones produced by BBC to experience something new and bold.
(Article Updated on 23rd April 2021)