The gamers and beginners are always on the lookout for the gaming headsets. From blocking the external noise to excellent sound quality, a headset is all about getting that satisfying experience. The best gaming headset doesn't just limit disturbances and cut off external sounds, but they let you get involved as you hear every move of your game with tremendous or enhanced quality.
The sound effects within the game add to the excitement and action of the game. Most game developers take audio and sound design as seriously as they take graphics and game design. The roar of your car engine, the screech of the brakes, the nuances in the background music, and the clash of swords can be enjoyed only with the best gaming headsets.
Now, coming to the big argument of wireless vs. wired gaming headsets, it boils down to the user's personal choice. Both wired and wireless headsets have certain advantages over the other. It really is a matter of what works best for you and what platform you game on that can help you choose.
Best Wired Gaming Headsets – Stop worrying about charging!
On that note, let's have a look at the 30 best wired and wireless headsets you can choose to buy, adhering to your needs and requirements.
1. HyperX Cloud Revolver S
The HyperX Cloud Revolver S is a lightweight gaming headset with soft earpieces. Extremely comfortable, it has a floating headband design with a durable steel frame.
With a Plug and Play Dolby Surround 7.1 speakers, it accurately reproduces distance and depth of sound. It comes with an advanced USB audio control box and a built-in DSP sound card. The earpieces have a 50mm driver that produces a beautiful and sharp sound with powerful bass. Available in gunmetal and white colors, these headphones boast support for multiple platforms. However, all these features will cost you a fortune. Nonetheless, this PC gaming headset is worth every penny.
What we like:
Great all-around sound
Durable and lightweight design offers comfort.
Price: $148.50
Buy HyperX Cloud Revolver S here
2.Turtle Beach Elite Pro
The Turtle Beach Elite Pro is an incredibly stylish tournament-grade PC gaming headset. The headset has the Turtle Beach's ComforTec™ Fit System, which is a revolutionary tension adjustment system for the headband.
The Turtle Beach Elite Pro comes with a patented ProSpecs™ Glasses Relief System, which helps it stand out amongst the rest of the headphones.  The ProSpecs™ feature is incorporated, especially for gamers who wear glasses. This channel removes pressure on your eyeglasses, and you can game away in great comfort.
There are heaps of features to talk about in the Turtle Beach Elite Pro, and the Superhuman Hearing™ is one that cannot be left undiscussed. Sounds made by the enemy footsteps, approaching squads, and weapon reloads of enemies put you on alert for the next course of action.
Aerofit™ Ear Cushions come with a gel-infused foam that adds comfort during long playing hours. The separate sidewalls provide excellent passive noise isolation, allowing the gamer to focus on the game solely. The TruSpeak™ Technology ensures a gamer has clear and loud communication with his teammates during team matches. Feature-wise, the Turtle Beach Elite Pro easily stands out as the best gaming headset.
What we like:
Ear Cushions add great comfort during long playing hours.
The great headband that provides tension adjustment
Excellent overall sound quality
Enables clear and loud communication with teammates
Price:  $190.97
Get the Turtle Beach Elite Pro here
3. Enhance Scoria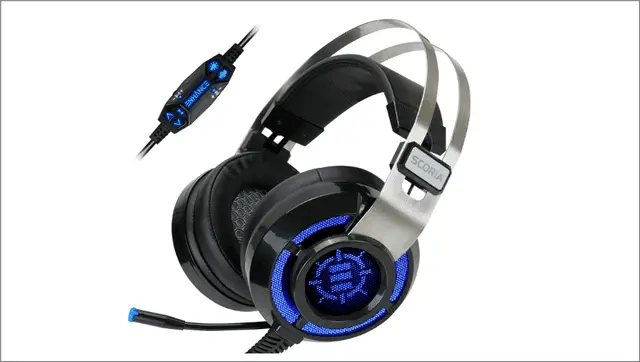 The Enhance Scoria is an affordable and cheap gaming headset with premium features like virtual 7.1 Surround sound and switchable LED accents. The surround sound is excellent as you can hear the sound and decipher the direction it is coming from very clearly.
The best feature of the headset, however, is the vibration engine with which you can feel the gunfire and explosions in your game! With the vibration engine, you are in for a more immersive experience, where you can see, hear, and feel your game. The Enhance Scoria is the best gaming headset to opt for if you wish to enhance your game experience with sound.
The vibration engine is customizable, and you can adjust the intensity of the vibration according to your preferences. The headset is extremely comfortable and lightweight with an adaptive leather headband and soft and comfortable ear cups. You can also switch the LED lights of this gaming headset to match the brightness of other accessories.
What we like:
Multi-directional sound
Adjustable vibration engine
Switchable LED accents
Budget gaming headset
Price: $59.99
Get the Scoria Enhance here
4.  SteelSeries Arctis Pro
The SteelSeries Arctis Pro is a brilliant gaming headset that is high on comfort and style. It has a ski goggle suspension band that evenly distributes the weight of the headband. A lightweight, minimalistic design that is sure to turn heads, this PC gaming headset has a very convenient retractable microphone that can be put away when it is not in use.
The Arctis Pro is also famous for having the best quality microphone. The ClearCast receiver is one of the best in the world, as it uses a bidirectional design to deliver superior voice clarity. The headset has an aluminum alloy and steel construction that makes the model durable and sturdy.
The Air Weave ear cushions are very soft and will keep you cool and dry throughout your game. It comes with a ChatMix dial, which is very convenient when you want to balance your chat and game audio. The headset features DTS Headphone:X 7.1 Surround sound for an incredible sound experience.
What we like:
Multiplatform support
Bidirectional retractable mic
Prism RGB illumination
Price: $135.39
Get SteelSeries Arctis Pro here
5. Logitech G 635 DTS
The Logitech G 635 is an RGB 7.1 Surround gaming headset that is high on style and technology. The headset has a unique sporty design with adjustable RGB lighting and custom tags to make it look even more striking.
The Logitech G 635 provides a rich bass and premium sound quality, thanks to the Pro-G audio drivers that allow users to hear the game environment sound in great detail. The 7.1 Surround Sound enables excellent spatial awareness, meaning you can clearly hear the enemies sneaking towards or loading their weapons. The DTS Headphone X 2.0 delivers immersive gaming experience.
You can create personalized sound profiles using Logitech Gaming Software and create personal sound profiles for every game you play. Also, you can use this headset with your PC, mobile, and gaming consoles such as PS4 and Xbox One. Overall, the Logitech G635 wins as the best gaming headset when it comes to fancy design and multi-platform functionality.
What we like:
Pro-G Keys enhance the gaming experience.
Sporty design
Multi-platform functionality
Premium quality sound
Cheap gaming headset
Price: $86.88
Get the Logitech G 635 here
6. Asus ROG Centurion 7.1
The Asus ROG Centurion is a high-performance gaming headset created for severe gamers. It offers excellent immersive audio playback, thanks to the 7.1 surround system that has ten discrete drivers to drive in the sound right into your brain.
The design veers towards chunky rather than functional, a no-nonsense headset that means business. This headset comes with an audio station to enhance in-game adjustments and a unidirectional noise-canceling mic with an impressive signal to noise ratio.
The ROG Centurion comes with ASUS Sonic Studio, where you can create personalized sound profiles for your games, movies, music, etc. Comfort is essential in a gaming headset, and ROG Centurion delivers that fully.
The headset has interchangeable ear cushions; it comes with two cushions – ultra-soft full-size memory foam cushions and highly breathable protein-leather cushion.
What we like:
Flexible unidirectional microphone
An audio station for in-game adjustments
Superb sound quality
Price: $290.07
Get Asus ROG Centurion here
7. Sennheiser PC 373D
The Sennheiser PC 373D is one of the best PC gaming headsets when it comes to sound. With a superb, understated design, it is lightweight and very comfortable to use. The padded headband ensures comfort in long playing sessions. The earpieces have large, plush velvet ear pads in an open design to keep you fresh during tense gaming sessions.
The build quality is excellent on this headset, and it comes with a 2-year warranty. The PC 373D features immersive 7.1 Dolby Surround sound that lets you catch every sound with great clarity.
What we like:
Noise-canceling mic
Open acoustic design
Price: 127.95
Get Sennheiser PC 373D here
8. Plantronics RIG 4VR
The Plantronics RIG 4VR gaming headset has been specially designed for PS4 gamers. It is a budget gaming headset for gamers and comes with interchangeable cables that are used with PlayStation VR and PlayStation 4 wireless controllers.
The headset is extremely comfortable, and the unique oval ear cup design fits well even with the PlayStation VR headset. The ear cups have a vented design, which allows in some ambient sound and helps in heat dissipation.
There is a noise-canceling mic that is detachable and interchangeable cables for the console and VR headset. The sound quality of this headset is excellent, one of the best in this price range. The Plantronics Rig 4VR has stereo sound and low-frequency resonators for enhanced bass.
What we like:
Detachable noise-canceling mic
Offers lasting comfort
Flexible frame and great ear cup design
Price: $39.85
Buy Plantronics RIG 4VR here
9. Fnatic Gear Duel Modular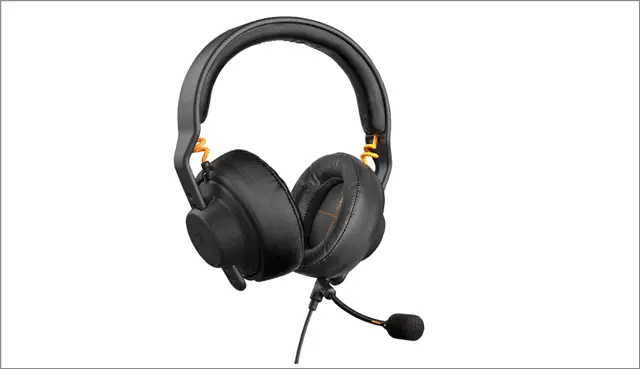 The Fnatic Gear Duel Modular is a gaming headset where you can customize the headset completely to suit your tastes. You can swap out the headband, the ear cushions, ear cups, the speakers, and the mic according to your comfort levels.
Fnatic is well known for its eSports teams, and eSports gear, and this headset is built keeping in mind a gamer's needs. It has stunning looks and is high on comfort.
This PC gaming headset is based on the Danish company AIAIAI's TMA-2 modular headphones with a top layer of Fnatic's subtle branding. The sound profile on this headset is excellent; the 40mm speaker units deliver clear sounds, which is great for games, movies, and music.
However, on-ear cushions are not very comfortable. It has no Surround sound, and the audio controls are very basic for its steep price.
What we like:
Modular design
Protective drawstring bag
Lightweight and excellent sound
Buy the Fnatic Gear Duel Modular here
10. The Sennheiser GAME ONE
The Sennheiser GAME ONE is one of the best gaming headsets, specifically designed with gamers in mind.
It is incredibly lightweight and comfortable to wear. The large and plush over the ear cushions and the padded headband will make sure your gaming sessions are great. The headset has a noise-canceling mic for crystal clear voice chat and intuitive volume control integrated into the right ear cup. Also, it comes with interchangeable cables and is compatible with multiple gaming platforms.
What we like:
Multi-platform compatibility
Intuitive volume control
Blocks outside noise with its closed design
Price: $118
Get the Sennheiser Game One here
11. HyperX Cloud Alpha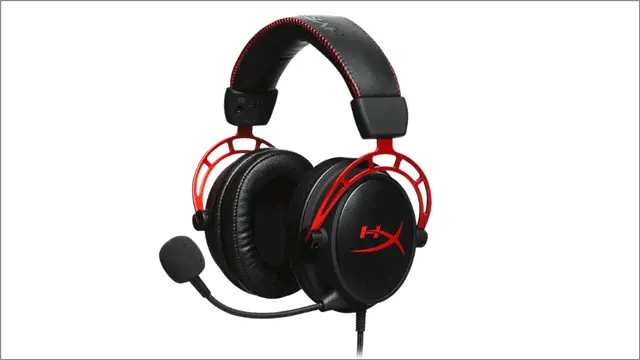 HyperX Cloud Alpha's sound quality is second to none, and this headset should definitely be your first choice if you are looking for premium quality gaming sound. The most striking feature of this gaming headset is that it minimizes distortion by using one chamber for bass and another for mids and highs.
The robust aluminum frame of the HyperX Cloud Alpha makes it flexible enough for heads of all sizes, and thus, it is the best gaming headset to go for. The ear cups, padded with softer leatherette, provide the much-needed comfort for long gaming sessions.
The HyperX Cloud comes with a detachable noise-canceling microphone that offers crystal clear communication between teammates. This headset also provides multiplatform support.
What we like:
Multiplatform support
Reduces sound distortion
Price: $87.18
Get HyperX Cloud Alpha here
12. Steel Series Arctis Pro + Game DAC
The SteelSeries Arctis Pro Game DAC will easily make it to the top three if you draw a list of the best gaming headsets with excellent audio quality. It uses a high-resolution frequency of 5kHz to 40 kHz in a splendid manner. You can buy this headset if you wish to use it for TV, Movies, songs, apart from just playing games.
With a luxurious aluminum and alloy steel design, the Arctis Pro Game DAC can last you years. It is well-built and sturdy in nature and will last longer than usual.
The most striking feature of this headset is the High-Fidelity Digital to Analog Converter (DAC). It makes the bass sound tighter, and unique sound effects more distinct. The Arctis Pro Game DAC also offers athletic-inspired cushions that offer uber comfort to your ears.
What we like:
Multifunctional use
Strong and sturdy design
RGB lighting
Price: $236.86
Get Arctis Pro Game DAC here
13. Turtle Beach Recon 200
Turtle is one of the most influential players in the gaming headsets markets, and they rarely disappoint when coming up with a new product. The Turtle Beach Recon 200 is yet another masterpiece created to stimulate the best interest of its audience.
This gaming headset is built with powerful amplified audio, which enables users to hear the minutest sounds resulting from the enemy's actions. The variable mic monitoring makes the team communicate a seamless and secure process; you need not shout at your teammates to propagate your message during intense gaming sessions; the technology takes good care of that.
The flip-up mic picks up the sound loud and clear and can be muted when not in use. The metal-reinforced headband provides excellent durability.
Twelve hours of battery life adds another bit in strengthening the Beach Recon 200's reputation as one of the best gaming headsets in the industry at the moment.
What we like:
Long battery life
Durable design
Budget-friendly
Price: $59.95
Get Turtle Beach Recon 200 here
14. Asus TUF Gaming H3
The Asus TUF Gaming H3 is the best gaming headset to go with if you are on a shoestring budget. Featuring a lightweight construction, ASUS fast-cooling ear cushions, and a stainless-steel headband, these headphones offer everything a gamer would want in a friendly budget.
The Asus TUF Gaming H3 is known for providing an immersive in-game experience with a rich sound and an incredibly deep bass. The upgraded 7.1 Surround Sound provides high audio precision, which gives you a competitive edge over your counterparts when it comes to multiplayer gaming.
The TUF Gaming H3 has fast-cooling ear cushions that offer the desired comfort to the gamers.
What we like:
Incredibly comfortable
Impressive sound quality
Budget-friendly
Price: $49.99
Buy the Asus TUF Gaming H3 here
15. Corsair HS35
At some point in our lives, we have all enjoyed cheap headsets while starting out with gaming. Some of these $50 headphones have been impressive to the core, while some have disappointed as well.
The Corsair HS35, however, is meant to be classified in the first group. At just $21.99, you may feel that this gaming headset will have little to offer, but that's not the case. Plush memory foam with adjustable ear cup and lightweight construction will provide you with all the luxury required in intense long gaming sessions.
The Corsair HS35 is also a detachable unidirectional microphone optimized for ambient noise. What's more, this little piece of beauty is also compatible with multiple platforms like PC, PS4, Xbox One, and mobile. What else would you probably want in a headset with that budget?
What we like:
Offers multi-platform support
Detachable unidirectional microphone
Budget-friendly headset
Price: $21.99 onwards
Get Corsair HS35 here
16. Astro A40 TR + MixAmp TR
Astro is one of the oldest PC gaming headset manufacturers in the market and known for delivering quality. The Astro A40 TR + MixAmp TR is a headset that hardly falls short of their usual standards.
Tuned with the Astro Audio V2 technology, the Astro A40 TR provides uber quality sound without any disturbance arising due to distortion. It comes with a swappable boom microphone and customizable speaker tags. It also features synthetic leather noise-canceling ear cushions, voice-isolating mic, and a padded headband.
This headset is also blessed with a lightweight design that won't overheat your headset during long gaming hours. It provides enough comfort to keep you away from the fatigue arising due to regular bulky headphones. The ASTRO MixAmp Pro TR is designed for live streamers, and has been engineered with all digital components for lag-free/interference-free operation and features Dolby Digital Surround Sound processing.
What we like:
Audio V2 technology restricts the distortion of sound.
Swappable boom microphone
Lightweight design that offers comfort
Price: $181.69
Get the Astro A40 TR + MixAmp TR here
The Best Wireless Gaming Headsets – Play Gamut of games with added ease and comfort!
Wireless gaming headsets have slowly started overshadowing their wired counterparts. These headsets don't require users to be tethered to their gaming consoles continuously, giving them the freedom to move around while playing. Though battery charging is an issue, the flexibility these headphones offer makes them the ultimate choice for gamers.
1.SteelSeries Arctis 7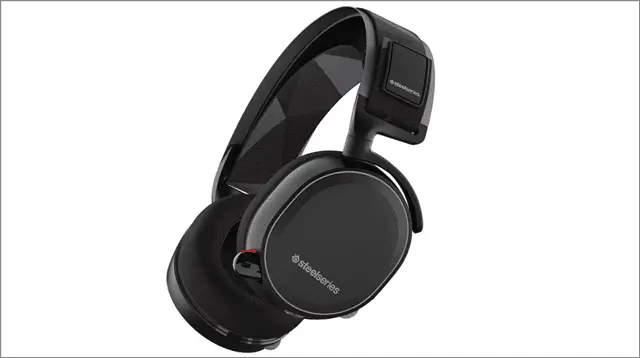 The SteelSeries Arctis 7 is lightweight and comfortable, with a ski goggle headband that is both attractive and comfortable.
There are AirWeave air cushions to keep you cool and comfortable while gaming. The speakers have neodymium drivers that deliver beautiful, natural sound with ultra-low distortion. The retractable ClearCast microphone is bidirectional. It also provides excellent voice clarity and background noise cancellation.
Arctis 7 has a great design, and the headset can easily be worn outside while commuting or traveling. You can create personalized sound profiles, and the unique ChatMix dial lets you toggle between the game and chat audio comfortably.
If enhancing gaming experience is your prime concern and requirement, the Arctis 7 is the best gaming headset to opt for.
What we like:
Retractable ClearCast mic
Multi-platform support
ChatMix dial
Price: $149.99
Get Arctis 7 here
2. Logitech G533
The Logitech G533 has a great no-nonsense design. It has a beautiful, no-frills, sturdy design that is sure to appeal to all. This USB gaming headset produces clear, natural 7.1 Surround sound via DTS Headphone:X and Pro-G audio drivers.
The Logitech G533  gives flawless and lossless digital audio, even when there are multiple wireless connections nearby. The over-the-ear lightweight design is comfortable, and the headset can be worn for long hours without any discomfort.
The G533 comes with a replaceable and rechargeable battery that lasts for up to 15 hours of non-stop gaming. The noise-canceling microphone has a unique micro-pop filter to filter out breathing noises.
You can create custom sound profiles with this USB gaming headset. A really nifty feature is the re-programmable mute button, which you can program to perform any function you want.
What we like:
Long battery life
Noise-canceling mic with a micro pop filter
Clean, modern design
Price: $102.99 onwards
Get Logitech G533 here
3. Astro A50 Wireless
The Astro A50 Wireless is a premier wireless gaming headset with an extraordinary sound and an excellent build quality. It has some great features to its credit, including 7.1 Dolby Virtual Surround Sound, and three EQ modes.
The accelerometer shuts off, which shuts off the headset when not in use. This USB gaming headset has a 15-hour battery life and comes with a Base Station, which has a wireless transmitter. This facilitates both headset pairing and charging in a simple and efficient manner.
The Astro A50 has a built-in MixAmp that lets you tweak audio settings to your exact preference. It enables you to customize input and output levels. The Astro A50 can also create and store profiles, and get automatic notification of product upgrades.
What we like:
Dolby 7.1 Surround Sound
 Multi-platform compatibility
Provides adequate comfort
Price: $14.99
Get Astro A50 Wireless here
4. Razer Man O'War Wireless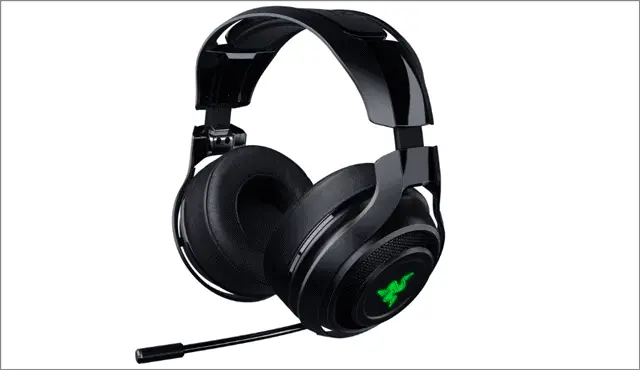 The Razer Man O'War is an impressive gaming headset with an incredible set of features. The headset delivers impeccable sound via the Razer Surround engine and the powerful 50mm neodymium-magnet drivers.
The 7.1 Surround sound is impressive and can be personalized further using the Razer Synapse app. With extra-large comfortable ear cushions, Man O'War is a well-built PC gaming headset with a beautiful, modern look to it. It does not have a base, like the Astro A50; instead, it has a small USB receiver built into the headset that can be ejected.
The Razer Man O'War can be then inserted into your PC or PS4 or Mac with Plug and Play support. The headset has two volume controls on both ears. One can control chat volume and the other controls for game volume.
What we like:
7.1 Surround Sound
Supports long playing sessions
Three lighting effects
Price: $218.69
Buy the Razer Man O'War here
5. Asus ROG Strix Wireless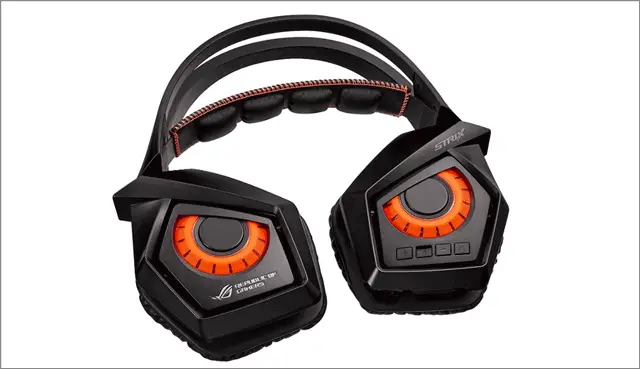 The ASUS ROG Strix Wireless has a unique design with two owl-like eyes on the earpieces and a double strap headband for greater comfort. The headset has an excellent ear-thumping bass sound. When combined with the 7.1 virtual Surround sound, you can hear even the faintest of sounds. It has a unique dual antenna design that makes for more stable audio transmission.
The Sonic Studio lets you create and apply different sound profiles for different scenarios, games and has multi-platform compatibility. You can connect easily to your PlayStation 4, Xbox One, PC, Mac, and even tablets and smartphones. It has a detachable microphone with a flexible boom for in-game communication.
The earpieces have easy-to-reach controls for volume adjustments and other restrictions. The Strix does not have a base like other wireless headsets, making it easier to carry around and store. When it comes to wireless gaming headphones, the Asus ROG Strix Wireless is the best gaming headset in terms of range and sound.
What we like:
Range of 15 meters
Multi-platform compatibility
Price: $109.37
Get Asus ROG Strix here
6.  Razer Thresher Ultimate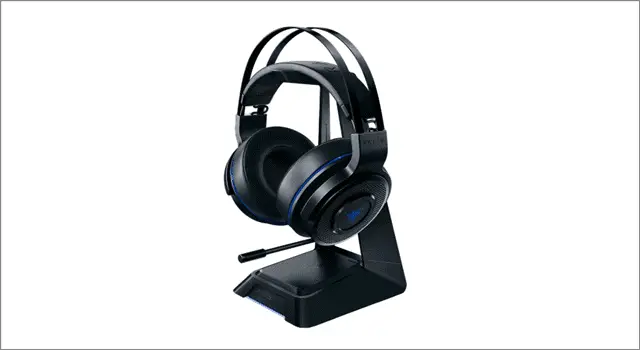 The Razer Thresher Ultimate is another impressive wireless gaming headset from Razer. There It comes in two variants, one designed for PlayStation and the other for Xbox.
The features of both these variants are precisely the same. The Razer Thresher Ultimate has an impressive design that is both good-looking and comfortable. The lightweight leatherette ear cushions and the flexible headband are incredibly soft, allowing you to play for hours together without fatigue.
The Dolby headphone with 7.1 Dolby Digital Surround sound for the best and most immersive gaming experience. It is designed for clear, lag-free audio for up to 12 meters, and the retractable digital microphone is excellent for in-game chats and communication. The Razer Thresher Ultimate has a Base Station receiver, which lets you switch easily between your console and your computer.
What we like:
Comfortable gaming headset
Lightweight removable ear cushions
Long battery life
Price: $215.92
Buy the Razer Thresher Ultimate here
7. LucidSound LS40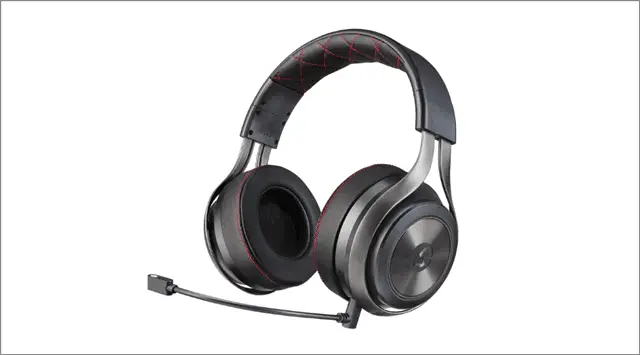 The LucidSound LS40 is a perfect looking headset, in a muted, understated way. There are no fancy lights and unnecessary frills to this headset. It is an excellent multi-utility headset that can be used for gaming, listening to music, and movies. It has a sturdy and lightweight construction that has been engineered for comfort.
The headphones have DTS Headphone:X Surround Sound that works on all platforms like Xbox, PlayStation, Mac, and PC. You can also use it with your phone and tablet. The LS40 has five modes of Stereo, Super Stereo Front, Super Stereo Wide, Gaming Surround, Boosted Surround. This helps you hear your enemy gunfire even before you see your enemy.
The microphone is removable, and the headset comes with bundled audio cables, allowing you to use it on the go. It also has an inbuilt mic that can be used for phone calls when you are listening to music.
The LucidSound LS40 has intuitive volume controls on both the ears; control game volume with one ear and chat volume with the other. LS40 has a replaceable and rechargeable battery that gives you up to 15 hours of continuous playtime. Feature-wise it is one of the best gaming headsets in the market.
What we like:
Five sound modes
Multi-platform compatibility
Long playtime
Price: $208
Get the LucidSound LS40 here
8. PlayStation Gold Wireless Stereo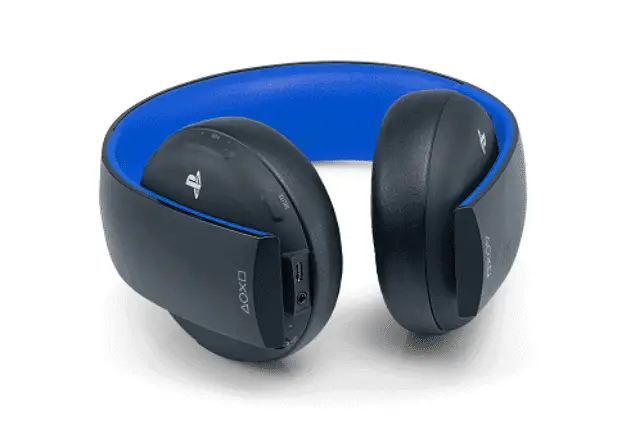 The PlayStation Gold Wireless Stereo Headset has been created exclusively for PlayStation. It has a great modern design and comes with interchangeable faceplates. It is regarded as one of the best USB gaming headsets in terms of design.
The PlayStation Stereo features high fidelity 7.1 surround sound, meaning every whisper and every footstep can be heard with amazing clarity. It lets you download custom audio modes created by game developers, which are known for enhancing the audio of the most popular games on PlayStation.
The internal noise-canceling microphone lets you chat during your game comfortably. The headset has an adaptable sound. This can be used wirelessly with your PS4, PS3, and your home computer.
You can also connect to your PS Vita or any other mobile device using the 3.5mm audio cable that is included. It is an affordable gaming headset that delivers incredible sound. You can also use an adaptor to connect the headset to an Xbox.
What we like:
Built-in internal noise-canceling mic
Adaptable audio
Downloadable customs audio modes
Price: $138.75
Get PlayStation Gold Wireless Stereo Headset here
9.Logitech G 933 Artemis Spectrum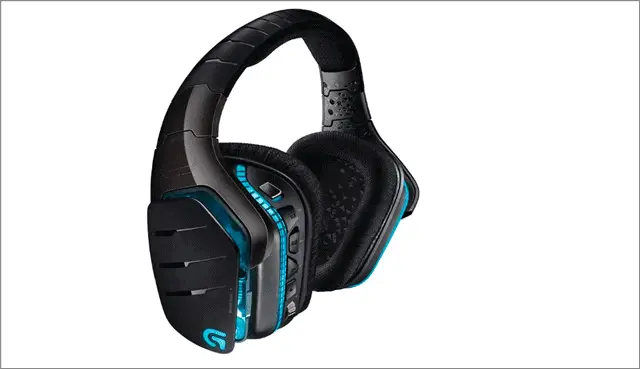 The G 933 Artemis Spectrum is the wireless version of the G633 outlined above. Both the headsets have identical features. The exception is that the G933 uses 2.4 GHz wireless technology to communicate with your gaming platform.
A wireless 7.1 gaming headset, the G933 bears the same sporty look of the G633. It has Pro-G audio drivers that are known to deliver clean and accurate highs. The deep rich bass that is great for FPS games where every sound cue is essential.
It has multi-platform compatibility and works great with your PC, mobile, home theater devices, PlayStation, and Xbox One. As with the G633, the headset has two customizable lighting zones. The light strip and the logo on the earpieces. It has programmable control keys on the earpieces.
You can set custom controls for a more intuitive gaming experience. Use the Logitech Gaming Software to create custom sound profiles for every game you play. The headset has a wireless range of 15 meters, which is very impressive. It has a battery life of 12 hours without lighting and 8 hours on default lighting.
What we like:
Multi-platform compatibility
Customizable RGB lighting and tags
Multi-source audio mixing
Foldaway noise-canceling mic
Price: $149.99
Buy G 933 Artemis Spectrum here
10. SteelSeries Siberia 840
The SteelSeries Siberia 840 is a premium USB gaming headset with excellent sound quality. It reproduces audio in all its frequencies. The lows are extended, the mid-bass is controlled, and the highs are apparent. The audio is exceptionally tuned for all modes like gaming, movies, and music.
The virtual 7.1 Dolby Surround Sound is what every gamer needs to get into the zone. The headset has hot-swappable batteries; you can charge one battery while you play using the other.
The lithium-ion rechargeable battery has a battery life of 20 hours of typical usage per pack. The headset comes with a transmitter box, with which you can control the audio. This you can turn up to chat to talk to your friends.
The transmitter has a little screen where you can see battery life, volume, and other settings clearly. Siberia 840 delivers perfect no-lag wireless audio using a continuous frequency hopping technology.
You can use this gaming headset with your phone and tablets too.
What we like:
Multiple platform compatibility
Swappable batteries
Price: $263.99
Get SteelSeries Siberia 840 here
11. Razer Nari Ultimate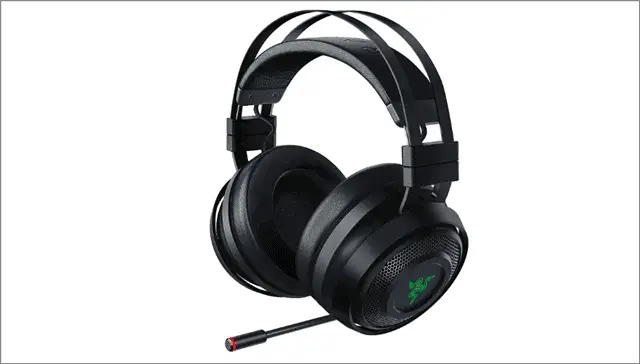 The Razer Nari Ultimate is one of the best gaming headsets because of its haptic feedback, which has been a point of debate for many gamers. Razer has done a commendable job with the Nari Ultimate. With the HyperSense technology, which makes a player feel like wearing subwoofers on his head.
The THX Spatial Audio provides 360 degree sound, enabling gamers to react to the minutest of sound resulting due to enemy movements. The Unibody Aluminium Frame makes it durable and lightweight. You can also use the Nari Ultimate in a wired mode by connecting it to a 3.5mm jack with a connecting cable.
What we like:
Haptic feedback
Balanced sound quality
Spatial Audio feature
Very expensive
Price: $104.90
Buy Razer Nari Ultimate here
12. Corsair Void RGB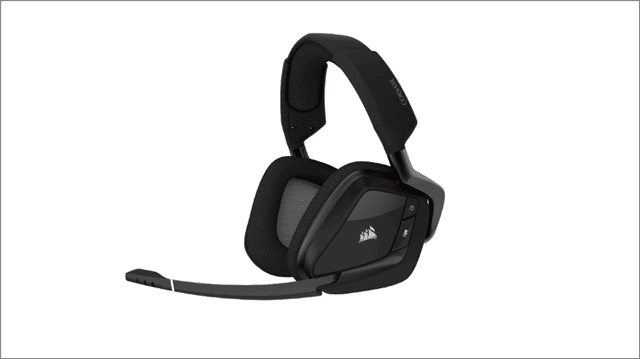 The Corsair Void RGB is best known for two things – epic sound and superb comfort. The breathable microfibre mesh fabric and memory foam enable uber support to the gamers. The unidirectional noise-canceling microphone with LED mute indicator reduces ambient noise for enhanced voice quality.
The immersive 7.1 Surround sound enhances the gaming experience. The wireless range of the Corsair Void RGB is 40 meters, meaning you no longer have to worry about the audio being cut-off while you are immersed in gaming. The 16-hour battery life also offers intense and lengthy gaming sessions.
Hands down, the Corsair Void RGB is the best gaming headset that belies its price.
What we like:
Surround Sound works well
Strong and sturdy design
The wireless range ensures a secure connection.
Price: $79.99
Buy Corsair Void RGB here
13. Sennheiser GSP 370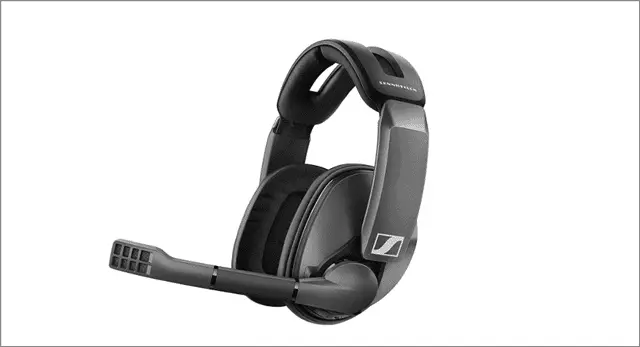 The Sennheiser GSP 370 has carved out its own name in the market for its exceptional sound quality. The integrated digital sound allows the user to experience the enhanced bass sound and acoustic clarity.
The GSP 370 is equipped with a long-lasting battery known for low power consumption. A gamer can easily use these headphones for 100 hours after charging it once. Also, it features a noise-canceling microphone just like other Sennheiser headsets.
Coming to the build quality, the Sennheiser GSP 370 doesn't fail to impress. This USB gaming headset comes with a sturdy and robust design with earcups that block the outside noise. In a nutshell, the blockage of outside noise is carried out by the headset's design alone, reducing the need for any exclusive technology to do the same.
What we like:
Incredible battery life
Strong and durable design
Price: $199
Get Sennheiser 370 GSP here
14. PDP LVL50 Wireless
Another best budget gaming headset for all those gamers running on a thin budget. The PDP LVL50 Wireless offers a light-weight and comfortable design. Along with that, this headset can also be used for watching movies and listening to songs apart from just playing games.
The battery life enables gamers to use the LVL50 for a whole day. The microphone has a noise-cancellation system that allows users to speak to their teammates without having to shout their commands.
All in all, the PDP LVL50 may not offer you an uber experience while playing time games, but it does a great job that belies its price.
What we like:
Budget-friendly headset
Good battery life
Noise-canceling microphone
Price: $78.98
Buy PDP Gaming LVL50 Wireless here
15. Plantronics RIG 700 HX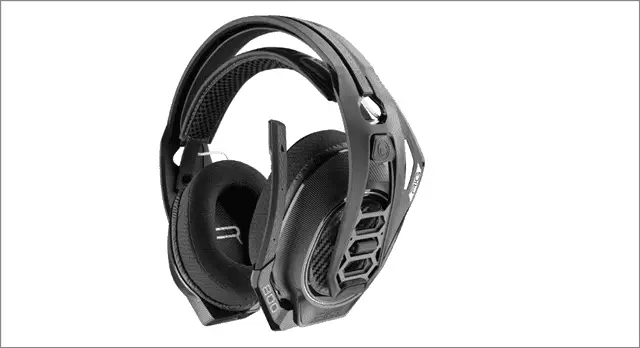 The Plantronics RIG 700 HX is known as the lightest headset in the market. It delivers all-day comfort, and you can game on for hours without worrying about fatigue. The dual-fabric ear cups isolate outside noise and keep you comfortable.
The best thing about Plantronics RIG 700 HX is that it allows users to hear what they want to focus on. You can quickly lower the communication volume and keep the game volume high to concentrate on the game while chatting with your teammates.
The immersive audio also delivers sound from every angle, meaning you won't miss any cue, command, or comment. The PlantronicsRIG 700 HX is also regarded as the best Xbox gaming headset in the market.
What we like:
Lightweight design
Offers excellent  all-day comfort
Incredible and immersive sound quality
Price: $129.99
Get Plantronics RIG 700 HX here
6 Features to Consider Before You Buy the Best Gaming Headsets
However, before you get yourself the best gaming headphones, there are several factors to consider. Be it the best gaming laptops or headphones, you cannot compromise. Creating a list of the features will enable you to be precise in selecting the best gaming headset that suits your requirements.
1. Audio Quality:
Good headphones for gaming are always the ones that boast good audio quality. When your headset picks out sound cues like approaching footsteps, or the rustling of leaves easily, you have a significant advantage in the game.
If you are a serious gamer or someone into competitive gaming, you need to invest in the best gaming experience. A surround sound headset offers positional audio, which means you can easily infer the direction of the sound. It is a unique advantage for FPS gamers, where knowing the course of the enemy is crucial.
If you are serious about gaming, look for a headset with Dolby or Surround sound technology. Some headsets come with audio presets that are great for gamers because you can choose and isolate the sounds you want to hear and leave the rest in the background.
2.  Build Quality:
While there are many headsets in every price and quality category, it is essential to look at the material quality used for manufacturing headphones. The ones made from durable material that will last you longer. Top of the range headsets are usually sturdy and engineered to last.
3. Comfort:
As a gamer, you are likely to wear your headset for hours. The importance of a comfortable gaming headset can be understood only when a player is indulged in long sessions without having any physical pain. So, when you look for one, choose a light one that sits comfortably on your head. Some gaming headphones come with significant drivers that are responsible for the bass and positional sound. Make sure the headband and the ear cups are made from good quality and comfortable material.
Various gaming headsets have padded headbands for extra comfort. Leather headsets look very plush, but may not be great for extended gaming sessions because they become sweaty after some time. The ear cups come in different styles – on the ear and over the ear. Both offer different levels of comfort. You should select one that works best for you.
4. Compatibility:
When you select the best gaming headsets, make sure to study the gaming platform, you use the most.
If you are a PC gamer, check if your PC has Bluetooth support. For the ones looking for a wireless headset, you will have to buy a Wi-Fi headset or get a Bluetooth dongle for your computer. But, if the PlayStation is your platform of choice, both wired and wireless headsets will work for you. The most recent Xbox One models support wireless headsets, but others require wired headsets.
5. Wireless or Wired:
Wired headsets don't need charging and are ready to plug and play. They are generally more affordable than their wireless counterparts. If you are a PC gamer, we recommend a wired headset. If you happen to play on a console, consider buying a wireless headset. They are handy, and you do not have to be tethered to your device all the time. Wireless headsets, however, need to be charged, and the best ones last for about 7 to 8 hours.
Before buying a wireless headset, check whether it has the best sound output. Also, check to see that there is no loss of sound quality when transmitted wirelessly over Bluetooth.
6. Value for Money:
Several gaming headsets in the market are suitable for all pockets. If you are looking for a high-end headset, make sure it checks all the boxes.
Several headsets are priced mid-range but offers specs similar to the high-end headsets. If you are a beginner and are looking for affordable headphones, it is better to invest in a wired headset, rather than a wireless one in the same budget.
Final Thoughts on Best Gaming Headset
Gaming headsets play a role of paramount importance in the lives of gamers. A headset is a sole accessory for delivering a uber experience of gaming through sound, which is why having a great gaming headset is a vital necessity. The Turtle Beach Elite Pro headset is known for providing a bunch of features, and the SteelSeries Arctis 7 is known for enhancing the gaming experience.
While there's a long list of headset competing to be branded as the best gaming headset, the choice of headphones depends upon the personal interests and requirements of the user.
Also, check: