Currently, the global stock market situation is in a fix! All markets are seeing an all-time low due to COVID-19. The economic condition across the world is the same. While the excitement of money made and lost could easily be addictive, it is best to learn how to invest in stocks correctly. And what better than the stock market game app.
Most stock markets of a country define its business agility, strength, and power. What if you could learn how to invest in the market in real terms, but without the threat of going bankrupt if you miscalculate? Financial websites and stock market games will teach you everything there is to learn in this market watch scenario.
In a stock trading simulator, these game apps offer a virtual stock exchange scenario, where one learns how to take more significant risks with stocks and earn super-profits. If the case is reversed, then these huge losses only teach a good lesson, without any real liabilities.
The Benefits Of Stock Market Game Apps
If you ever wanted to learn how to invest in stocks, use these game apps instead of trying your hands with real money directly. By experimenting with mock stock trading, you get to learn a lot of smart tips, dos, and don'ts.
1. It is a game that stimulates the real stock market virtually.
2. The profits and losses are not real, but the lessons and knowledge are real and practical.
3. There is no real money or investment involved.
4. The amateur, as well as the professional, can take a trial run, before dabbling in real money or shares and stocks.
5. This is the best place to experiment, to see if you are meant to be a professional stock market trader.
6. Like any other virtual game, this too educates while giving you real thrills in terms of experience.
7. Stock simulator apps enable you to buy and sell stocks with virtual money.
Ideal for beginners to gain experience, these games give you a feel of how the stock market works.
Top 15 Stock Market Game Apps for iOS and Android
Since going to a financial expert for advice is not always a feasible option, we've listed the best stock market game apps for Computers, Android, and iOS devices.
1.  Wall Street Survivor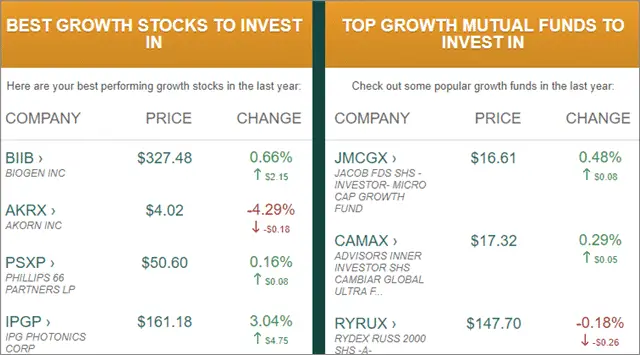 One of the best stock trading simulators available on the web, Wall Street Survivor, uses fake money but real stock pricing to teach gamers how to invest cash. Not just a simulator, Wall Street Survivor also provides tips and courses to help you familiarize yourself with the stock market and how it works.
While playing this stock market game app, you can either join an already existing league or create a new one. There's also a separate league for the newcomers so that they do not have to compete against the experienced players.
Starting off with an amount of $100 000, you can choose to invest as you proceed.
Play Wall Street Survivor here
2.Best Brokers: Stock Simulator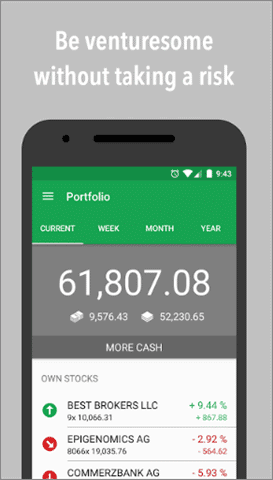 Best Brokers: Stock Simulator gives you around 50,000 real-time stocks to invest in and is one of the most interesting stock market game apps. A great option for beginners, this stock game has a user-friendly interface thus making the players feel less intimidated.
If you are not familiar with the working hours of the stock markets, Best Brokers: Stock Simulator notifies you of the trading timings.
Play Best Brokers on Android |  iOS
3. Investopedia Stock Simulator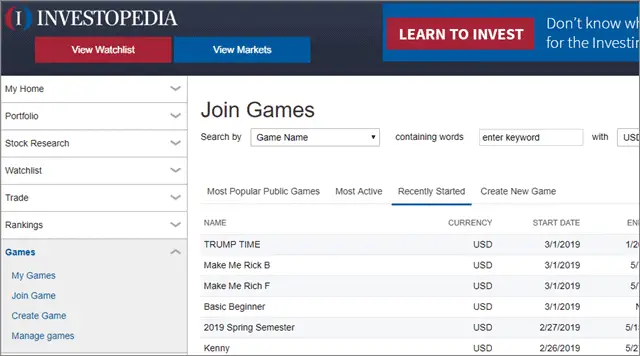 Investopedia Stock Simulator is a handy tool for getting ready for real stock trading. This stock market game app includes stock research, stock analysis, and trade challenges that the players get well versed with the mechanisms of an official trading app.
Mimicking the actual stock market state effectively, Investopedia Stock Simulator is realistic and has an easy to use interface, thus making it the best stock market simulator.
This stock simulator enables you to participate in competitions and ranks you according to the growth in the stocks you've invested in.
Play Investopedia Stock Simulator here
4. Stock Trainer: Virtual Trading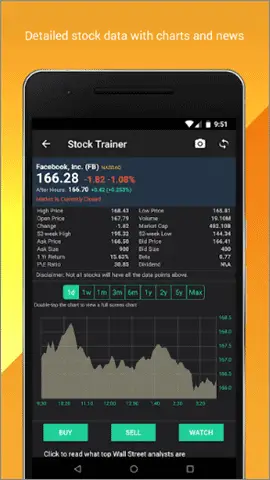 Stock Trainer works with real stock market pricing to give the players an idea of how the actual stock market operates. The stock market game app doesn't automatically direct you to the New York Stock Exchange. You can, therefore, choose the region relevant to you.
One of the best virtual stock exchange games, Stock Trainer, is simple to use and a handy game for both newbies and the experience holders. It provides the latest news of the companies just below their trading stocks, which enables the players to read before investing.
Play Stock Trainer: Virtual Trading here
5. Market Watch Game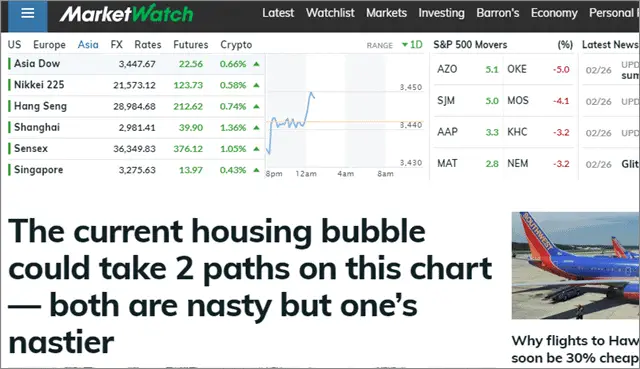 One of the best web-based stock market simulators, Market Watch Game has an official website for monitoring markets.
The authentic appearance of this Market watch game gives it an official status. The homepage includes the latest news from the stock market industry and the summaries of the stock prices. You can choose to play a game with virtual money by either creating a game or joining an existing one.
The greatest feature of this stock market game app is that it lets you interact with other players while playing.
Play Market Watch here
6. Stock Market Simulator by NyxCore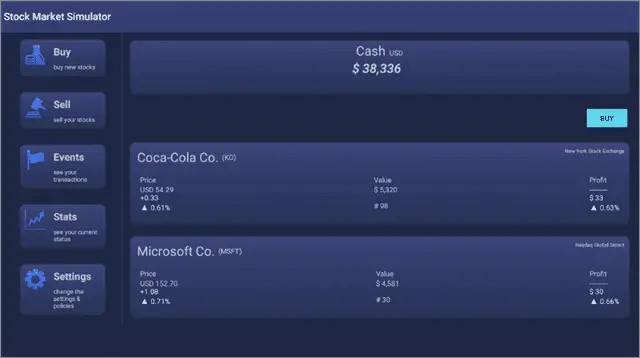 Based on the USA stock market, this virtual stock exchange game deals with real-time stock market prices by keeping a tab of the latest developments on the internet. You can start off playing with $22,000 and multiply your stocks by strategizing and doing some research on the web.
With an easy to use interface, and many currencies to choose from, this stock market game app enables you to invest safely or dangerously as you explore the markets.
Play Stock Market Simulator by NyxCore here
7. Bux- Mobile Trading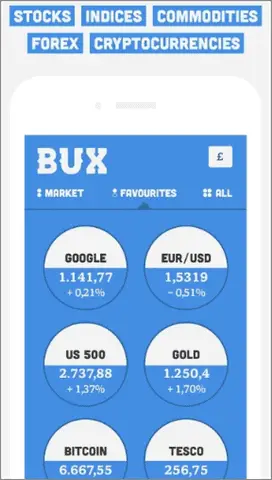 Bux allows you to create and manage your portfolio by choosing your preferred stocks, indexes, and commodities and is the best stock market simulator to use. If you are looking for more, then this mock stock trading game enables you to switch from virtual to real money in no time.
Bux – Mobile Trading app notifies you about the latest financial news and daily market alerts to help you make better investment decisions.
Play Bux- Mobile Trading on Android  |  iOS
8. Invstr: Investing for Everyone
Making the complicated trading markets easy to understand, this stock market game app lets you invest $1M virtual cash. Moreover, after learning the nitty-gritty of the market, you can trade with real money starting from $1.
Invstr enables you to build your portfolio and enter competitions with investors around the world.
Based on your stock prices and the return on investment, this stock simulator assigns you a rank. Make sure to rank high or else you could lower your position in the monthly Fantasy League.
Play Invstr: Investing for Everyone on Android | iOS
9. Stock Market Simulator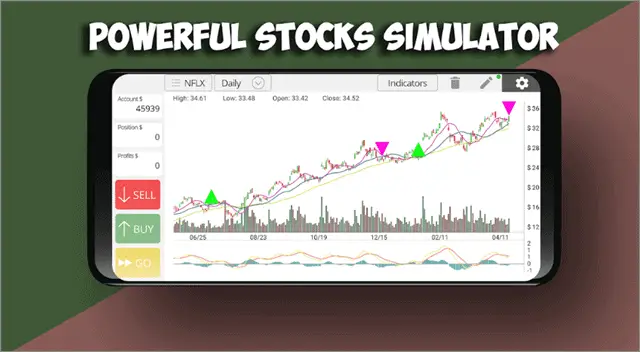 One of the best stock games for beginners, Stock Market Simulator, is different as it uses historical stock prices. It enables players to strategize their plans and make wise trading decisions.
It allows new gamers to use their trading knowledge by conducting technical analysis on the stock trading simulator.
Stock Market Simulator also allows you to indulge in mock stock trading and practice your trading plans even when the market is closed as it is an offline trading simulator.
Play Stock Market Simulator here
10. Trading Game – Forex and Stock Market Simulator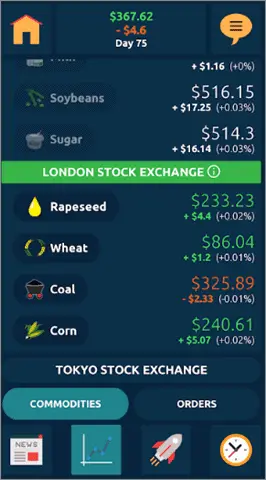 This stock simulator enables you to practice mock stock trading and understand where and how to bank upon profit opportunities. Using real-time stock prices and precise market quotes, Trading Game has an easy to use user-interface.
One of the best stock market simulators, this stock game enables the players to figure out what causes markets to fluctuate and take investment decisions accordingly.
Play Trading Game on Android | iOS | Windows
11. Stock Exchange Game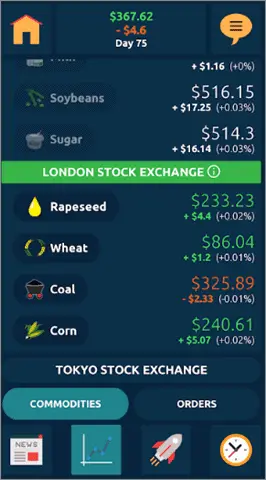 This easy to play a stock market game app is not just a stock simulator since it enables the players to immerse themselves in the real trading game. Analyzing financial news and its impact on the stock prices, the Stock Exchange Game develops your knowledge as to how investments should be made wisely.
Train your intelligence, use your skills to compete and indulge in mock stock trading.
Additionally, this stock market game app doesn't require an internet connection.
Play Stock Exchange Game here
12. TradeHero
Tradehero is the perfect stock simulator that enables you to make a virtual portfolio and decipher how the financial market works. By allowing you to practice trading by using virtual cash, this stock market game app makes the players experts in real money trading.
Fear losing money? You can start with a virtual account with virtual currency, and further indulge in dealing with real money by using TradeHero LIVE!
Play TradeHero here
13. Investing Game – Learn How to Invest in Trading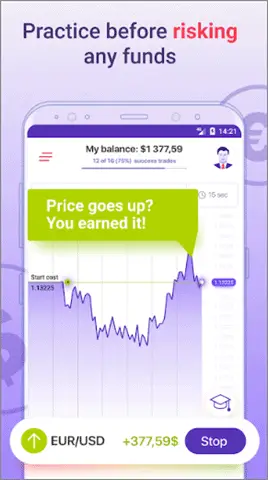 Investing Game is ideal for beginners to practice trading since the app explains things simply yet meticulously. This stock game enables you to create and manage a virtual portfolio and is a powerful tool for building skills and evaluating strategies.
Gain investing experience by indulging in mock stock trading as this stock market game app facilitates the players to compete in a risk-free environment.
Participate in their challenges and maximize your stocks intelligently.
Play Investing Game here
14. Forex Game – Online Stocks Trading for Beginners
This stock simulator is an ideal choice for beginners as it is fun and totally risk-free.
Forex Game enables you to develop your skills as an investment trader and simply explains how to master financial trading.
With a user-friendly interface and a live update with stock prices which is refreshed every 5 seconds, this stock market game app helps to build confidence in the players to start trading with real money.
Play Forex Game on Android | iOS
15. Go Forex – Forex Trading for Beginners
Offering easy to understand explanations and expert tips, this stock simulator is a handy tool for indulging in mock stock trading. Go Forex enables the players to understand the cause behind fluctuations in the stock market and is rich in illustrations.
By enabling the players to participate in quizzes, this stock trading simulator tests their knowledge and provides additional information about the answers to facilitate learning.
Play Go Forex on Android | iOS | Windows
Conclusion
Stock market simulators are an excellent way to first learn about financial trading with virtual money, before investing for real. Based on our research, Wall Street Survivor is the best stock market game app for the desktop.
Best Brokers and Bux come handy if you're looking forward to trying these stock simulators on your iOS devices. For Android, of course, the options are myriad, but our favorite picks are Investopedia, Stock Trainer, and Invstr.
Want to try your hands on Forex trading? Learn mock stock trading from the best- Forex Game and Go Forex. These stock market game apps are addicting, educating and entertaining; so, start learning before you start investing.
Also, check: