The dark mode is used for better readability and that too in a dark environment. There are many apps and operating systems that give the option of dark mode and dark theme. But, Chrome has not yet added dark mode in its settings. However, if you wish to access Google Chrome dark mode, we have different workarounds that make it possible.
At times Google Chrome won't open as expected, which can be upsetting but it can be conveniently fixed by restarting your computer. You can view your Chrome browser in a dark mode in Windows, macOS, iPhones/iPads, and Android devices irrespective of the Chrome version. Chrome also provides an extension to have night mode in Chrome without any hassle.
How to Turn on and Enable Chrome Dark Mode?
There are different ways to enable dark mode in Chrome on different OS. You can follow the steps mentioned below based on the OS.
Enable Dark Mode in Windows
You can turn on dark mode, also known as night mode in Chrome in Windows by making a few changes in the Settings app.
Step 1: Open Settings by pressing Windows key + I. Click on Personalization.
Step 2: From the left panel, go to Colors. Now, under Choose your default app mode, select Dark.
Note: You can keep Windows default mode as Light. It has nothing to do with the dark mode in Chrome.
Step 3: Launch Chrome again, and you can see everything in dark mode.
This is the simplest way to activate dark mode in Windows. You can turn off this mode by following the same procedure and choosing Light under default app mode.
However, this will also make all other apps like Settings, Control Panel, and others in dark mode. If you don't want all these apps in dark mode, then you can either use an extension or another common way mentioned below.
Enable Dark Mode in Android
Google also provides a direct way to turn on night mode in Chrome.
Step 1: Open the Chrome browser app on your Android device.
Step 2: Click on 3 dots in the top right corner of the browser. Click on Settings.
Step 3: In the Settings, click on Themes.
Step 4: Under Themes, select Dark. Your background will automatically turn black. If it does not change the background color on its own, then close the browser and relaunch it.
You can now see Google Chrome in dark mode. This will also save the battery of your device.
To turn off the dark mode, you can follow the same procedure and select Light instead of Dark.
Enable Chrome Dark Mode in iOS devices
Well, like Android, Chrome doesn't have any direct option to enable dark mode in iOS devices. And if you are using iOS 12 or before, then using dark mode can be a bit challenging for you. Let's see how to turn on dark mode for Chrome in iOS 12 and before, and also iOS 13 and later.
For iOS 13 or Later
Step 1: Open Settings and navigate to Display & Brightness.
Step 2: Now, choose Dark to access Chrome browser in dark mode.
You will now see Chrome in dark mode.
For iOS 12 or Before
Step 1: Open Settings ➜ General ➜ Accessibility ➜ Display Accommodations.
Step 2: Click on Invert Colours and then click on Smart Invert.
Now, check your Chrome browser. It will be in dark mode. When you do this in iOS, you change every app. And if you select Classic Invert, you will end up inverting images as well. Your iOS device won't look at before. Well, if you wish to use dark mode, we only recommend Smart Invert and not Classic Invert.
Enable Chrome Dark Mode in macOS
You can enable dark mode for Chrome in macOS in the same way we did it for Windows.
Step 1: Open System Preferences on your Mac.
Step 2: Click on General and choose Appearance.
Step 3: Under Appearance, select the Dark option.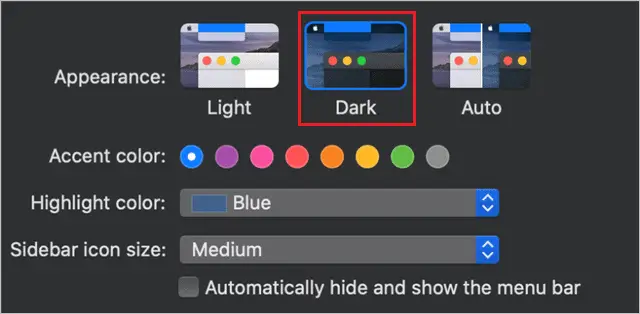 Relaunch Google Chrome and access the dark mode.
Using Experimental Chrome Features
You can use experimental features in Android, Linux, iOS, and Mac.
Step 1: Open the Chrome browser on the device you wish to have a dark mode.
Step 2: In a new tab, paste the below-mentioned URL
chrome:/flags
Step 3: Search dark mode in the search flags option. When the search result shows up, click on the drop-down menu next to Force Dark Mode for Web Contents. Select Enabled in the drop-down list.
Step 4: Relaunch your Chrome browser.
The steps mentioned above apply to all the operating systems.
Use Extensions in Chrome
The Dark Reader is our favorite dark mode extension for Chrome. It lets you enjoy browsing at night without harming your eyes. We have also explained how you can activate Android night mode on your mobile while using Chrome.
Step 1: Go to the Dark Reader to add the extension for Chrome.  
Step 2: Now, once you have added the Dark Reader extension, it automatically gets active and puts you in dark mode.
The Google Search tab looks like the image below.
The website gets easy to read, even if you are going through a detailed article.
If you don't want to apply dark mode for a specific website, then you have the option to disable it since this extension will be in the active mode for all the websites by default. You can set the brightness, contrast, and other features according to your preference.
This extension on the Chrome browser is not only good for the eyes but will save on the battery charge too of the devices. Where some apps are limited to websites that allow night mode, as every site does not offer dark mode, Dark Reader creates magic on any website you go to read.
The Dark Reader Chrome night mode app inverts the color of the website, which you may not find appropriate on every website. Hence, there is a customization option where you can easily filter websites you want with the dark mode and the ones which you want in normal mode.
Another useful extension for the Chrome browser is Care your Eyes. It changes the background view to Reseda or night that prevents your eyes from being damaged with the intense rays of light.
The settings are highly adjustable, depending on what your needs are. You can custom the BG color and font color by yourself.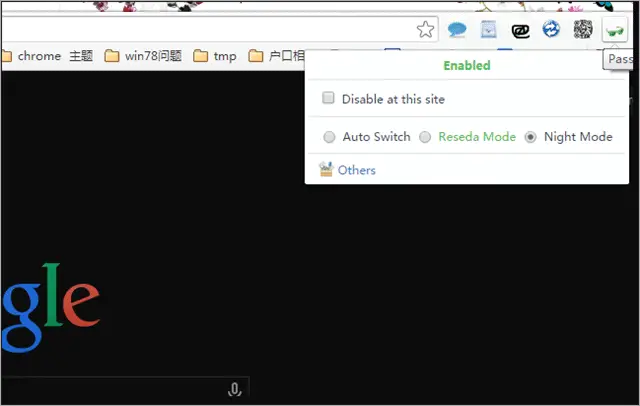 You can enjoy it with or without an extension.
Conclusion
Now that you have seen how to enable the dark mode, you can sit back and enjoy all your night-time browsing and reading! Google Chrome has made enabling it in Android very easy.
And in upcoming updates turning on Chrome dark mode will be easy in all the operating systems. It doesn't matter if you are on a desktop, laptop, or smartphone, you can enable night mode.
(Updated on 25th February 2021)