When Newton discovered gravity due to the falling apple and Archimedes shouted "Eureka!" after he discovered the law of buoyancy, they must have rushed down to scribble their thoughts. Many of us have had our eureka moments when we discover a great idea. Imagine having a mind mapping software handy is such a case!
But, if we fail to pen it down, the disappointment of forgetting a perfectly good idea follows. Scribbling down every vision of yours could be an arduous task as our brain can get crowded with thoughts and ideas that are difficult to connect.
Mind Mapping Software – Get Your Ideas the Clarity they Need!
Mind mapping tools help in structuring information and concisely organizing ideas. Rather than the usual note-taking process, a mind map software allows the graphical representation of data, which in turn helps the user to connect the dots, analyze and comprehend the data more efficiently.
With a bunch of mapping tools available for different operating systems, it can be a real ordeal to select the perfect mind mapping software. Let's delve in and know about the 25 best mind mapping software that are helping people formulate and organize ideas and thoughts in a better manner.
1. Lucidchart
When it comes to structural formation of ideas and concepts, few can do it better than Lucidchart. It is a flowchart app that allows users to create professional diagrams with ease. It uses a drag-and-drop model, which is easy to comprehend and execute. It's compatible with Web, Windows, macOS, iOS, Android, and Linux.
Lucidchart is a straightforward app to use. It allows the user to drag and drop shape and create a flowchart. It also offers change and history management, collaboration, and team and access management.
Lucidchart also offers the data-linking facility, allowing a user to connect the charts and diagrams to live data available on spreadsheets. It also provides better data security than any other mindmap software, thanks to their collaboration with Amazon Web Services.
Pros:
Complex diagrams can be organized in swimlanes
Group chat for work available
Enterprise security
Cons:
Integration with Microsoft apps can be time-consuming sometimes
Team members who don't use Lucidchart cannot share raw diagrams
Pricing:
Single user basic plan – $4.95 per month
Single user pro plan – $9.95 per month
Team plan – $27 per month
Enterprise Plan – You need to contact sales for a quote.
Check out Lucidchart here
2. Cacoo
Cacoo is one of the simplest and one of the best mapping software available in the market. This awesome diagramming tool enables the creation of sitemaps, mind maps, wireframes, flowcharts, infographics, and organizational charts.
It allows collaborations with Confluence, Google Drive, and Dropbox along with various templates to choose from and is compatible with Web and Chrome extensions. It also enables a user to get creative and produce shareable mind maps to revise history management, supports project planning as well as content mapping. The link-sharing function in Cacoo enables quick and easy sharing of drawings.
Pros:
Multi-user editing available for collaborations
Various templates to get started with
Can be used proficiently for work-flow design, user-story mapping, architectural design, and diagramming
Cons:
Inefficient on small screens such as smartphones and iPads
Cannot print or save the pdf file of mind maps in the free version
Pricing:
Single-user plan – $ 4.95 per month
Team plan – $18 per month
Enterprise – $600 per month
Check out Cacoo here
3. Coggle
Coggle is free mapping software that allows easy visualization of complex flowcharts and processes. It offers real-time collaboration for mind maps, unlimited image uploads, loops, and multiple starting points. It is compatible with Web, iOS, and Android.
One of the best mapping software for beginners, Coggle, requires no need for installation as it supports the web. Users can directly login and start creating the concept maps. It begins with a central node that has a little plus sign overhead, and clicking on the sign enables a user to create multiple nodes and branches.
Coggle allows users to ease their workflow with keyboard shortcuts along with conversation facilities with team members. It offers three private diagrams, unlimited public diagrams, and about 1600 icons in the free version.
Pros:
Live collaboration
Embeddable diagrams
Multiple starting points
Formating mind map items and messages with Markdown
Cons:
Cumbersome to use for big mind maps and presentations
No function available to automatically arrange the branches
Pricing:
Basic plan – Free
Awesome – $5 per month
Organization – $8 per month
Enterprise Plans – Connect with the sales team for a quote.
Check out Coggle here
4. Mindly
Mind mapping on a mobile device is a challenge due to the small screens, and the constant need to zoom and scroll items for better visibility. Mindly, however, has changed the game when it comes to mind-mapping on phones and tablets. Their mobile mind mapper is excellent.
When you start using Mindly, you see the central node, which is common and visible in all the mind map apps. When it is time to add a sub-idea, click on one of the associated circles, and get going. This mindmap software allows you to zoom in to a sub-idea and perform the necessary edits. It is always possible to go back to the central node by clicking on the circle in the left-side top corner of the screen.
Mindly also enables a user to sync his phone data to his PC, meaning he or she can have access to the mind mapping process from anywhere and any device in the world. It is compatible with Android, iOS, and Mac.
Pros:
Easy creation of branches
Sync feature available across multiple devices
Can be shared with team members for brainstorming
Enables easy usage and creation of mind maps on small screen devices
Cons:
Windows version is not available
The Free version limits a specific number of elements
Pricing:
Free for up to 200 elements per mind map
For iOS and Android – $6.99
For Mac – $2.99
Check out Mindly here
5. Mindomo
Mindomo is pretty much an all-rounder mind mapping software when it comes to the number of systems it can work on! It is compatible with Web, macOS, Linux, Windows, Android, and iOS. If you do plan to use Mindomo, be assured as it fulfills all the expectations of a standard mind mapping software.
Mindomo allows users to perform concept mapping, project management, collaboration, and outline creation. It can also be amalgamated with cloud services, learning management systems, and education applications. There are five options to choose from after you open Mindomo – Blank mind map, Concept map, Gantt chart, Tree organigram, and Organigram which can create visually pleasing maps.
Mindomo makes pretty sure your idea planning is nothing short of fun! It is hands down one of the best mapping software for PCs.
Pros:
Live collaboration
Google Apps and Office 365 integration
Google Drive and Dropbox integration
Video uploading and sound recording
Cons:
No diversity in changing the color of nodes
Mobile apps (android and iOS) don't offer the same experience as their primary version
Pricing:
Free – 40 maps with limited syncing
Premium – €69.00
Check out Mindomo here
6. Scapple
Scapple is best known for the flexibility it offers to its users. One of the best mapping software in the business, it allows customization without any strict rules to follow. It is compatible with macOS and Windows.
The factor that differentiates Scapple from its competitors is that it doesn't start with a common central node. Since it offers flexibility, users can begin mapping out their ideas and concepts from anywhere.
Another aspect that makes Scapple stand out is its payment system. Most of the apps usually ask for additional money to get all their features unlocked. However, with Scapple, you can pay just once and get all the extra features.
Pros:
Offers flexibility in mapping
Drag and drop interface available
Customization of color and shape of notes is available
Export and print option for ideas
Cons:
No new updates for the past year to fix minor bugs
Pricing:
Scapple provides a 30-day free trial.
Standard license – $14.99
Educational license – $12
Check out Scapple here
7. MindMup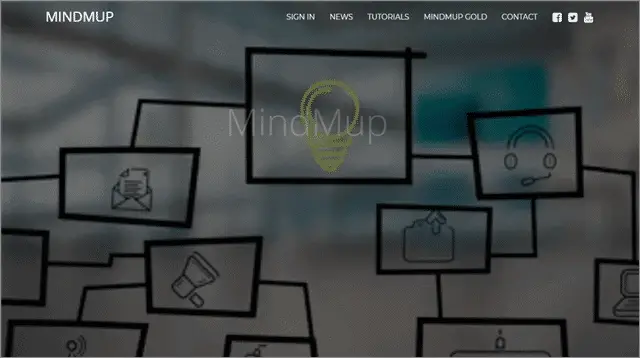 If you are into marketing and want to create mind maps, MindMup is the mind mapping tool you should use. This application allows users to add attachments to mind maps and also create storyboards. It is an efficient project management tool.
MindMup's social sharing feature is what makes it different from the other mindmap software. Also, it allows users to publish mind maps online without asking for their emails. Free mind maps are deleted after six months, but that feature itself makes MindMup a useful tool for small projects.
MindMup is compatible with iOS, Web, and Android, meaning it allows users to create mind maps both online and on the go. Apart from that, this app also has an integration with Google Drive.
Pros:
Cheapest mind map application available for Enterprise
Can be used as a whiteboard in online sessions and meetings
Simple to learn and easy to use
Google Drive integration allows easy access to all data on the cloud
Cons:
Objects cannot be arranged with custom lines
Challenging to manage long notes
Pricing:
Free plan
Personal Gold plan – $2.99 per month
Team Gold – $50 per year with a minimum of ten users
Organizational Gold – $100 for all users
Check out MindMup here
8. SimpleMind
SimpleMind is a free mind mapping software that allows a user to create notes, attachments, links, and storyboards to your mind maps. It is compatible with macOS, Windows, iOS, and Android, making it easy to create mind maps online and on the go.
The best thing about SimpleMind is that it has a limitless canvas that allows a user to create large and big maps. The Android and iOS versions will enable you to add video and voice memos. However, you must also remember to save a mind map on the cloud if you want to access it on multiple devices using SimpleMind.
Real-time collaboration, storyboard creation, and organizational administration are another bunch of features that SimpleMind offers.
Pros:
An Indispensable tool for creating presentations
PDF files can be imported and translated into mind maps
Cons:
Limited functionality in the free trial
Pricing:
Trial plan – 30 days free
Single user plan – €24.99
Team plan – €39.99(4 users) and €79.95(10 users)
Check out SimpleMind here
9. MindNode
MindNode is pretty simple to understand and easy to use. It has been exclusively created for the macOS and iOS users, allowing them the luxury of creating mind maps on the go. The clean user interface helps users to create concept maps and mind maps with the utmost ease.
MindNode's 'quick entry' feature allows you to convert your canvas of ideas into a beautiful visual design that delivers the clarity of thoughts. Along with that, the drag-and-drop functionality is convenient to fetch notes and attachments from other programs.
MindNode is one of the best mind mapping software for project management and concept mapping. The 'focus' feature helps the users to concentrate on a particular task or step in the map.
Pros:
Custom themes and layouts available for use across multiple devices
Convert ideas into tasks for better execution
Fast user interface
Cons:
External links are less flexible
Robust options like preset shapes and shadow effects for diagram customization not available
Pricing:
For Mac – $39.99 (one-time purchase)
For iOS – $14.99 (one-time purchase)
Check out MindNode here
10. MindMeister
The fact that MindMeister has 9 million users worldwide tells you how popular a mapping software it is! It is compatible with macOS, iOS, Windows, Android, and Web, which is probably one of the most crucial reasons behind its popularity. Another being their beautiful and visually pleasing mind maps.
MindMeister is a fantastic tool to use for project management. It is integrated with MeisterTask, which is a kanban-style project management app. The integration allows the users to turn brainstorming sessions into actionable projects. You can assign tasks to individual members of your team, and its progress can be monitored on the project board in the MeisterTask.
MindMeister also provides an excellent visual presentation mode to present your ideas using animations. Features like usage statistics, team reports, and other team collaboration are also available.
Pros:
Create and share mind maps with teams
Speed of user interface
Reorganizing and rearranging of the maps done easily
Mind maps can be exported into various forms
Cons:
The link to establish a relation between tasks is not very clear and understandable.
Pricing:
Basic – 3 mind maps for one user in free version
Personal – $4.99 per month
Pro – $8.25 per month
Business – $12.49 per month
Check out Mindmeister here
11. Stormboard
Stormboard's unique selling proposition is its way of mind map representation. Instead of representing the ideas and concepts with the usual nodes, and branches, Stormboard uses sticky notes to note down ideas.
Along with a bunch of templates to choose from, the app also has the usual team collaboration like team chat, comments, adding votes, and creating tasks. Stormboard's 'rapid-fire' provides a new sticky note the moment you finish posting the one before it. An excellent way to speed up things, isn't it?
Stormboard's Zapier integrations help the users to create ideas and automate the process of mind mapping whenever the trigger events take place in other most-used apps. It is compatible with Android, iOS, Windows, and Web.
Pros:
Team collaboration services available
Report generation in various forms
Cons:
Application lags a little when there are more than 20 parallel users in the same Storm
Pricing:
Personal – free for five users
Business – $10 per month
Enterprise – $16.67 per month
Check out Stormboard here
12. XMind
XMind is yet another mindmap software that allows users to create beautiful mind maps with utmost ease, thanks to its intuitive user interface. Apart from its design-friendly interface, it also offers various collaborations and helps to streamline our brainstorming. It is compatible with Web, Windows, macOS, Android, iOS, and Linux, which makes it an all-round tool to use for mapping.
XMind usually comes in two variations.
XMind 1: In this version, the ZEN is available with all necessary features. For advanced integration, you can opt to buy the full-fledged product, XMind 8 pro.
XMind 2: In this version, XMind 8 Pro is available as a perpetual license while ZEN requires a subscription.
One of XMind 8's best features is that it enables users to create mind maps using a large number of different themes, fonts, and over 60,000 icons. It can also easily collaborate with Evernote when it comes to saving mind maps.
Pros:
Presentation mode available
Gantt chart view of projects
ZEN mode helps to focus on one chart
Snowbrush 2.0 Engine
Cons:
Doesn't provide smooth scrolling on Mac devices
Pricing:
ZEN Desktop – $4.58 per month
ZEN Mobile – $ 1.23 per month
XMind(desktop + mobile) – $4.99 per month
XMind 8 Pro – $129 (one-time purchase)
Check out XMind here
13. MindGenius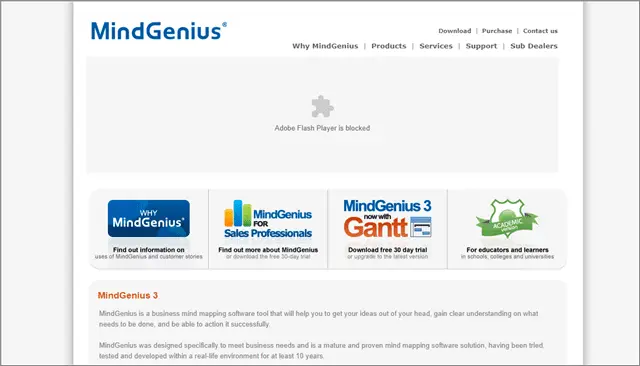 MindGenius is one of the best mind mapping software available, thanks to its multiple provision of services. With this app, users can create mind maps and concept maps as well as use it for project management.
It offers robust features for idea management and has a provision for structuring data visually with a miscellaneous collection of photos and colors from their in-built image library.
Mind Genius also presents several mind map templates that help you visualize your ideas in different styles and implement them quickly, rather than starting with a blank canvas.
Pros:
Multifunctional application with six tools (Gantt charts, Mind maps, Resource management, Categories view, Priority view, and Status view)
Multiple templates that help in speeding up the designing process
Cons:
Being a suitable application for project management, it doesn't have any tool for Budget Management
Pricing:
Perpetual – $256 (one-time purchase)
Subscription – first year $160, then $56/year onwards
Education – $91, perpetual license
Check out MindGenius here
14. iMindMap
Tony Buzan first developed the method of mind mapping back in the 1960s. iMindMap was created during the same time and is compatible with both Windows, macOS, and iOS.
iMindMap provides all the essential tools and features required for creating mind maps  such as text styles, font styles, nodes, branches, and their colors. However, the scope of this software isn't only limited to creating mind maps.
iMindMap is the best mindmap software that provides the users to conduct an in-depth analysis of their mind maps. Once the basic map is ready, the app allows you to switch to a different visual template.
Pros:
Provision of switching visual templates to analyze different aspects of a map
Rather than just providing means for creating it, it is the only software that allows an analysis of the mind maps
Cons:
Color choices are limited
Shape sizes cannot be increased after a certain extent
Pricing:
Home and Student version – $100
Ultimate version – $235
Check out iMindmap here
15. SmartDraw
SmartDraw is one of the best tools to look for if you plan to do the linear mapping. It is compatible with Web, iOS, and Windows.
Sub-ideas are placed either on the left or right side of the main idea, and each sub-idea continues in the same direction. Although SmartDraw doesn't offer the liberty to place nodes anywhere you want on the canvas; the linear mapping structure allows a user to stay relaxed about ideas or notes overlapping each other.
SmartDraw also has provisions for creating flowcharts, floor plans, and other diagrams. Added to that, it has a vast majority of 4500 templates to start with when you want to create a diagram. It also has over 34000 different symbols for different professions.
Pros:
Open API for extensions and integrations
Integrations with Microsoft Office, GSuite, Wordpress, Dropbox and more
Cons:
It can become complex for large projects
At times, it is not very flexible
Pricing:
Single user – $297 (one-time purchase)
Business – $595 per year
Check out SmartDraw.
16. GitMind
GitMind is free mapping software that allows a user to create and edit mind maps with the usual nodes and branches. It helps you in visualizing complicated concepts and ideas and is compatible with Cloud, SaaS, and Web.
One of its best features is that it can assign a task priority and also keep a check on the completion of a particular task.
You can start by adding the topic name once you open it. Choosing 'Insert Node' gets you started with creating the mind map. To create sub-branches, click on the 'Insert Subnode' tab. Clicking on the 'Relation Line' helps you connect the dots between the nodes and the subnodes. A finished map can then be exported in a PDF, Word, PNG, JPEG, or SVG.
Pros:
Intuitive design and keyboard shortcuts help in fast creation of mind maps
Live collaboration
Day and night themes available
Cons:
Limited functionality as compared to other mind mapping software
Pricing:
It comes free of cost.
Check out GitMind here
17. Sketchboard
Are you bored of mind mapping tools with nodes and branches? How about creating mind maps using actual sketches? Well, that's what Sketchboard offers – a unique way of visualizing maps with the use of pictures.
Sketchboard boasts a vast library of pre-designed icons from different spheres. All you have to do is drag an icon, drop it on the canvas, assign the topic name, and you are good to go! For creating connections, hold the Shift key, and double click to add a line. You can also similarly add the sub-branches.
Isn't it effortless to start a mind map on Sketchboard?
Pros:
Mix, match and represent ideas with drawings, diagrams, roadmaps, and notes
An unlimited canvas that allows the creation of large mind maps
Slack users can create visual message inside Slack using Sketchboard
Real-time collaboration
Cons:
Interface is clunky
Difficult to use for non-technical users
Pricing:
Personal – $7 per month (1 user)
Starter – $14 per month (3 users)
Organization – $45 per month (9 users)
Check out Sketchboard here
18. Canva
Canva may not be classified as specifically designed for mind mapping. Still, the vast library of templates and designs makes it one of the best free mind mapping software available in the business. It is compatible with Windows, Android, macOS, and iOS.
The built-in templates and diagrams in Canva allow you to create a mindmap with easy steps, rather than painstakingly starting from scratch. The cherry on the cake is that the mind maps appear beautiful due to the abundant designs and graphics that Canva provides.
By inserting 'mind map' in the search bar, you can select the templates as per your choice. The tools in the app enables a user to edit photos, customize text, and background in your mind map. Additionally, you can also include bar diagrams, donut charts, Venn diagrams, and Gantt charts in your map.
An excellent tool for making presentations, Canva is the best all-round free software available on the Internet.
Pros:
The variety of templates and designs to choose from is extraordinary
The free version provides many perks in the context of graph editing tools, custom styles and backgrounds
Can be used for creating presentations, infographics, mind maps and charts
Cons:
One might find and see repetitive templates
The mobile app is not very user-friendly
Pricing:
Basic – Free version, 1 GB storage with a library of 8000 templates
Canva Pro – $12.95 per user/month
Enterprise – Custom plan for more than 20 team members
Check out Canva here
19. Creately
As the name suggests, Creately lets you create a plethora of things such as flowcharts, diagrams, and mind maps with utmost ease. A user is provided over 100,000 templates, and creating a fast map is possible.
Creately stands out amongst its competitors due to its collaborative nature. It provides live collaboration in a way where a team of almost 20 members can work on the same project simultaneously. It saves a lot of hassle and time, especially for users working from distant locations.
With Creately, you can also import Microsoft Visio files seamlessly. The software also allows a user to embed diagrams on wiki pages and export them into Adobe Illustrator for making changes.
Pros:
Excellent real-time collaboration features
Vast library for templates
Best software for businesses
Flexibility in use
Cons:
Lags a bit when there are many blocks
Limited functionality in the free version
Pricing:
$6 per month for one user
Check out Creately here
20. Edraw Mind Map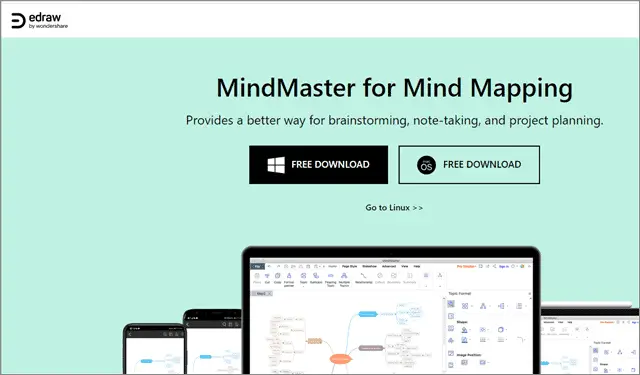 Edraw Mind Map is easy to use for those who have a good command over Microsoft Word. This application is compatible with Windows and Mac and allows users to select templates to build a mind map.
You can also build a map from scratch if you wish to. Edraw Mind Map is also one of the best free mind map software in the market, albeit it also has certain offers you can avail for better functionality. It is integrated with MS Word apps.
Pros:
Multiple themes, layouts, templates and designs available for mind maps
Advanced options for creating presentations
Contains a useful mind mapping software guide
Cons:
Editing options could appear as overwhelming for first-time users
Doesn't have a clean user interface
Pricing: Comes with multiple offers which start from $41
Check out Edraw Mind Map here
21. Draw.io
There are a plethora of free mapping software for PCs available on the web, and Draw.io is one of them. This software is compatible with the web, which makes it reconcilable with all operating systems.
Draw.io allows a user to start building a map by selecting one of the templates. It's just dragging and dropping the pictures, texts, symbols, and connecting them with lines. It also has an integration with Samepage, an application that allows live collaboration for team members.
This app isn't specifically designed to be a mind mapping tool. You have to toil a bit hard during connecting lines between your ideas and placing them nicely on the canvas.
Pros:
Free and compatible with multiple operating systems
Intuitive, easy to learn and use
Live collaboration is available
Cons:
Not very user-friendly
Less number of in-built templates
Pricing: It comes free of cost unless and until a user wants to use it on a particular server or a cloud.
Check out Draw.io here
22. MindManager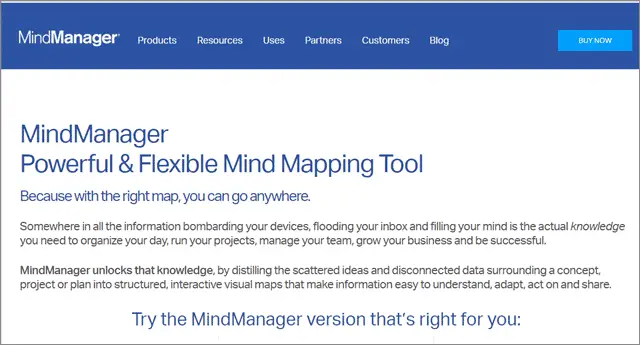 MindManager is a software owned by CorelDraw and is specially designed for business purposes. Did you know that even the corporate giant Procter and Gamble use it!
So, what exactly makes it so unique?
MindManager is an enterprise-centric tool that integrates very well with Microsoft Office. The application's user interface is pretty similar to Microsoft Word, right from the built-in text editor to the spreadsheets.
You are taken to a simple whiteboard when you launch MindManager. The canvas allows a user to drag and drop shapes, designs, and construct lines between your ideas. The finished product is used for multiple purposes – as notes or as a presentation for a meeting.
Pros:
Smooth interface and easy to use
Mind maps can be converted into presentation slides
Integration with Microsoft Office
User-friendliness
Cons:
Pricing:
Windows Version – $327 (one–time purchase)
Mac Version – $209 (one-time purchase)
Check out MindManager here
23. Bubbl.us
Bubbl.us is cloud-based mapping software that is designed especially for concept mapping. It is accessible from any device, be it a PC or a smartphone with a stable internet connection.
Since it doesn't require any downloading, you can get started on Bubbl.us right away. The software, the company claims, is being used by a plethora of people working in different professions. People with dyslexia are also using it.
Bubbl.us is the best application to go for if you have a small team and are looking out for a cost-effective solution. Like any other standard mind-mapping app, Bubbl.us also has in-built templates to make the mapping faster and easier.
Pros:
A relatively cheap and ideal solution for small businesses
Contains in-built mind map templates to speed up processes
Cloud-based app that can be accessed on both PC and smartphones
Cons:
The mobile version lacks user-friendliness
Pricing:
Basic – Free version, offers three mind maps for one user
Premium – $4.91 per month
Check out Bubbl.us here
24. Knowledge-Base Builder
Knowledge-Base Builder is a free mind map software that allows users to build maps with templates as well as from scratch. It is compatible with Web, Mac, Windows, iOS, and Android. It's the right choice for novices who want to learn the art of mind mapping.
The standard mapping software can generally get confusing and jumbled up as we build large maps. However, this tool automatically rearranges your ideas and concepts systematically as the mind map keeps on growing. Click on any topic, and it arranges itself instantly, delivering the required clarity.
Knowledge Base Builder also allows integration with a data source like Wikipedia, Twitter, or text files to create concept maps automatically. To start, click on 'New Item,' and you see a node with the topic name that you have entered previously. This tool lets you import images, text, and use different colors as well as clear connecting lines to build a useful map.
Pros:
User-friendly and intuitive
Relatively cheap and a good tool to start with for beginners
Building maps from integrated data sources
Cons:
Pricing:
Windows 10 – $10
Mac – $9
Android – $11
iOS – $9
Check out Knowledge Base Builder here
25. FreeMind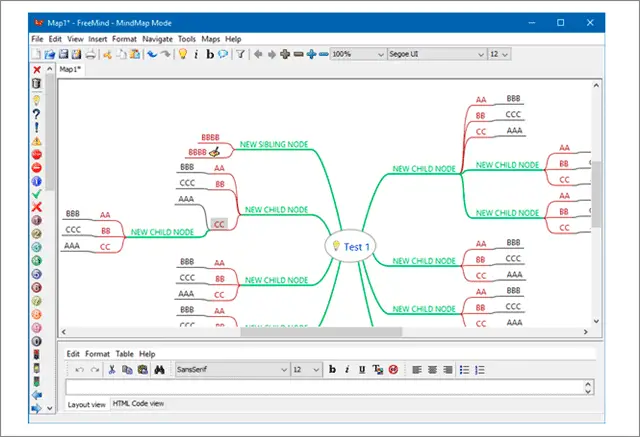 A reasonably-priced mind map software, FreeMind helps users in creating structured diagrams. The organization is easy when it comes to using this tool for creating complex mind maps. It is compatible with Windows, Mac, and Linux.
In FreeMind, you can start with a central node and go on building sub-nodes by interlinking them with branches. Unlike other software and applications, you don't have to drag and drop an  entire group of nodes and subnodes to connect them elsewhere.
FreeMind also allows you to copy and paste an entire group of nodes and quickly identifies the relationships between them. It helps you avoid messing up the format that usually happens when you drag and drop a large set of nodes or subnodes. The presence of HTML assists in adding reference material and exporting maps to HTML.
Pros:
It's free of cost and the right choice for beginners
Allows quick navigation for changes
Maps can be exported to HTML
Cons:
The Mac version is comparatively challenging to work with
Pricing:
It is a free, open-source application.
Check out FreeMind here
Final Thoughts
With the vital thought of providing a relationship between your ideas and concepts, mind mapping software is the need of the hour. With visual thinking and a creative structure, the software, and applications mentioned above assists us in organizing our thoughts and coming up with an action plan. You can select any software according to your convenience and requirements.
If you are looking out for productive mind mapping software, MindManager fits the bill. It is slightly expensive, but user-friendly and integrates well with Microsoft Office.
However, if you are a beginner and want to learn mind mapping, Canva is probably the best tool for you. MindMeister, too, is relatively easy to understand and use. Apart from these applications, MindMup and Bubbl.us are also a brilliant tool for mind mapping, especially for marketers and small businesses, respectively. Draw.io is also an useful software to start with for beginners. Scapple's flexibility also makes it an application worth trying out for writers and teachers.. iMindMap is a tool that allows you to conduct an in-depth analysis of your maps. Hence, it's a great tool for marketing professionals.
Also, check: