From the get-go, every VPN service in the world claims to help you maintain your privacy by hiding your location and purging your surfing logs. But do they really do it? You must have heard the famous quote: "If you are not paying for a product, then you are the product." A lot of VPN services claim to give importance to your privacy, but most of them are not really good at keeping a lid on your data.
In this ProtonVPN review, we take you through its features and tell you where exactly it shines.
Protonvpn is a VPN service that takes a privacy-first approach and makes it a top priority to keep the information of their users secure and private from prying eyes. The Protonvpn is a product from Proton Technologies AG, the same company that brought us the privacy-conscious, award-winning ProtonMail email service.
ProtonVPN Review: Why Can This Be The Right VPN For You?
It is quite easy to answer this question. ProtonVPN can be the right VPN for you if you highly value digital security and privacy. They are hell-bent on being an outstanding privacy-oriented VPN provider, and it shows.
One of the best free email services today, ProtonMail has a reputation for a rock-solid focus on the security and privacy of users' emails. Built with the same perspective, ProtonVPN has a privacy-first focus too, which makes the service great for some use cases, while falling short on others.
ProtonVPN Service At a Glance
Best features
Secure Core: Route your internet connection through an internal, hardened network of servers which makes it highly difficult for anyone monitoring the network to identify your IP address and location.
No logs policy: Based in Switzerland, they are not required to keep logs. This is a great pro-privacy feature as no one can even demand these logs as they do not exist.
Always-On connection and the Kill Switch: ProtonVPN can keep your devices always connected to VPN, and reconnects when the connection breaks. Also, the kill switch blocks all network traffic whenever connection breaks, thus preventing exposure of your internet usage.
Strong encryption: ProtonVPN leverages IKEv2/IPSec and OpenVPN protocols which are known to be reliable and secure.
Access the Tor network: ProtonVPN has Tor support built-in, and you can route your traffic through the Tor network as well, granting you anonymity.
Downsides
Expensive: It is relatively expensive compared to other services
It can be slow: ProtonVPN does provide great privacy options, but the added layers of encryption can slow down your connection.

Limited Netflix access

: You can access only the US, UK, German and Italian versions of Netflix.
While these features are great, what makes ProtonVPN a good service goes beyond the feature-list. We have been using ProtonVPN for several weeks now and looked at it from the point of view of the everyday consumer.
Trustworthy Service
One point we were very careful about while writing the ProtonVPN Review was the trustworthiness of the service.
ProtonVPN always aimed to be a service provider that offered transparency and accountability to its customers. Its approach to user privacy and data security has been lauded by industry experts. To take this step further, they have open-sourced their apps on all platforms and completed an independent security audit.
"VPN services can technically access some very sensitive user data, which is why users should choose services with a track record for transparency and security," said Dr. Andy Yen, CEO, and Founder of Proton. "This trust must be earned, and by publishing our code, we hope to demonstrate our commitment towards always going above and beyond when it comes to security and putting users first."
ProtonVPN also has a good transparency record and actively maintains a transparency report.
Ease of Use
The ProtonVPN client for a PC or Mac is very simple to use. They push frequent updates and the VPN client prompts you for it whenever an update is available. The interface is clean and has a visual, map-based approach to allow you to pick a server location you want to use.
For folks who prefer to keep things simple, there is the option to create specific profiles and use them while establishing the VPN connection. This way, even though you have tons of options to choose from, you can set things up to have your server and location choices to be preferred.
User-friendly Settings
It is great to see that a VPN service, that is already a difficult topic to understand, keeps the settings simple and minimal for the user. The settings are primarily concerned with how you want the VPN client to behave when you log in or start your computer.
Also, you can pick whether the client should auto-connect or not and whether you want to enable kill switch and DNS leak protection. It is a simple, straightforward, and usually a one-time setup.
Speed and Server Locations
ProtonVPN has over 750 servers in 45+ countries that serve users on all the premium plans. The 'Secure Core' servers are located in Switzerland, Iceland, and Sweden in physically secure locations.
It should be noted, though, that the added security and encryption afforded by the secure core comes at a price of slightly reduced internet speed. The added distance for routing and encryption are primary reasons for the slowdown.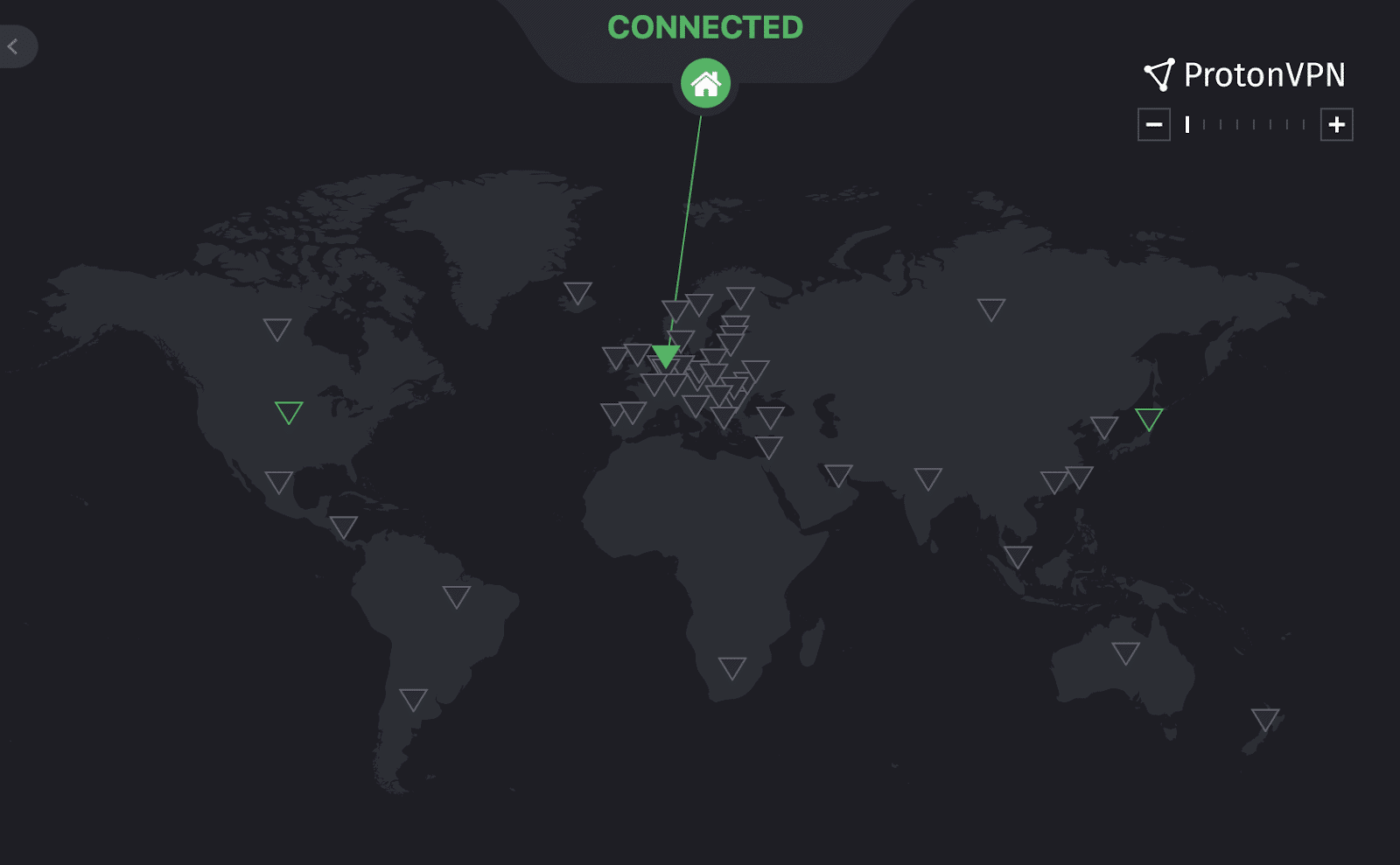 VPN speeds are relative to your location, the connected server, and your internet connection's speed. As such, giving arbitrary number ranges by doing a 'speed test' does no justice to the service or reviews like this. One thing is clear though; as I personally observed, the Plus plan can offer speeds up to 10x when compared to the free plan. Frequent or heavy users would be better off on a paid plan rather than the free one.
Streaming
ProtonVPN supports streaming Netflix, HBO Now, and Disney+ as well. You need to be on the Plus or Visionary plan (details below) to have access to secure streaming servers for the optimal streaming experience.
Pricing and Plans
ProtonVPN offers multiple plans, and you can pay for the plans via a credit card, PayPal, or Bitcoin. The top tier plan bundles ProtonMail service into the package as well, while the free plan can indeed satisfy casual users.
Truly Free VPN
The free plan does not have any limitations on data transfer or a number of days. For a single device, you can connect to three countries (USA, Netherlands, and Japan) for unlimited use.
The lack of any forced, mandatory limitation makes ProtonVPN an ideal service for casual or sporadic users. The limitation comes in the form of the speed of data transfer over a free connection. The servers are often loaded and might slow down your internet connection, drastically, at times. It is not ideal for regular streaming but the occasional videos can be streamed just fine.
Paid Tiers
ProtonVPN offers three paid tears – Basic, Plus, and Visionary. All plans offer access to all countries that host servers, secure P2P file sharing, and high-speed internet connections.
The Basic plan
It offers high-speeds, the ability to connect to all countries, and lets you use ProtonVPN on 2 devices.
The Plus plan (Recommended)
It is the best plan for you to consider. It can be used on up to 5 devices, offers high-speed connections from the Plus servers, secure core option, Tor servers, and secure streaming as well.
The Visionary plan
It throws in a solid ProtonMail account along with all the other features. This plan does feel a bit expensive though.
Cross-platform Availability
A ProtonVPN client is available on Windows, Mac, Linux as well as iOS and Android platforms. This allows you to stay connected at home, work, or on the move.
Professional Support
Good quality support is available for ProtonVPN customers. You get detailed documentation and the ability to reach out to the support team. I'd expect them to push live chat and support, but as of now, they do not do that.
Wrapping up
We hope you liked our ProtonVPN review. We have tested it thoroughly over the last few weeks and come to the conclusion that it gives reliable service.
Overall, ProtonVPN is an excellent service and you should give it a try. It has a great free plan and well-paid tiers for you to choose from. It is not the best for streaming and seems a bit expensive, but it offers almost unparalleled privacy and security.
If you are looking for a VPN, we would heartily recommend ProtonVPN. With a 7-day free trial and a 30-day money-back guarantee, you are free to try it out to your heart's content before committing to it.
Frequently Asked Questions About ProtonVPN
Is ProtonVPN any good?
Yes! ProtonVPN is a reliable and secure VPN service. It offers an excellent free plan as well with the only limitation of 1 device and connectivity to 3 countries only (USA, Japan and Netherlands)
Does ProtonVPN sell your data?
ProtonVPN has a strict no-logging policy for all of its users. All the free tier users get the same privacy and security benefits of the paid users. As such, ProtonVPN does log or sell your data.
Does ProtonVPN work for Netflix?
Yes, ProtonVPN does work for Netflix. Dedicated streaming servers are available for ProtonVPN Plus plan members.
Is ProtonVPN anonymous?
ProtonVPN does not log anything and thus offers a higher level of anonymity than many VPN providers. The little info it does have about you can be further anonymized by using an anonymous ProtonMail account to register for the service and by paying with Bitcoin.
Note: We are happy to recommend services that we love and use. As such, this article contains affiliate links. Purchases through the links on this page may earn us a commission at no extra cost to you. It helps us create unbiased and high-quality reviews for our audience.