Digitization has made it possible to use our iPhones for doing all sorts of things, like storing photos and videos, making bill payments, and many more. However, as costly as iPhones are, they aren't always reliable and one must know how to backup iPhone.
Your mobile phone can be damaged or stolen, and you can lose all the important data on it. In such situations, a backup can help you recover all the data present on your damaged or stolen phone.
The iPhone backups not only help you to recover data from the lost phones but also helps to transfer your data and settings on the new phone. Backing up your iPhone is an easy task, with many options available for backup. You can select the one which you feel goes with your requirements.
How to Backup iPhone to iCloud?
If you feel connecting your computer with iPhones for backup every now and then is a tiresome process. In such cases, learn how to backup iPhone to iCloud. iCloud provides an easy way to back up your iPhone wirelessly.
With iCloud, you can have a hassle-free backup of your iPhone automatically. Before getting into the procedure of backing up the iPhone via iCloud, it is important to know what can be backed up using iCloud and what not.
As per Apple, iCloud's backup does not include –
Data that is already present in the iCloud – like contacts, messages, calendars, photos, iMessages, and notes.
Data present on other cloud services like Gmail.
Apple Mail data and Apple pay information settings.
Face ID or Touch ID settings.
Data like face and touch ID is stored on your device only for privacy concerns and can also be recreated easily; hence, it is not included in iCloud's backup.
Follow the steps mentioned below to know how to backup iPhone on your iCloud account.
Step 1: Connect your iPhone with 'WiFi.'
Step 2: Go to 'Settings' and click on 'your name.'
Step 3: Next, click on 'iCloud', and then click on 'iCloud Backup' under 'Apps Using iCloud.'
Step 4: Lastly, click on 'Back Up Now' to start the backup. The process may take time, depending on your data. Stay connected to WiFi during the entire backup process.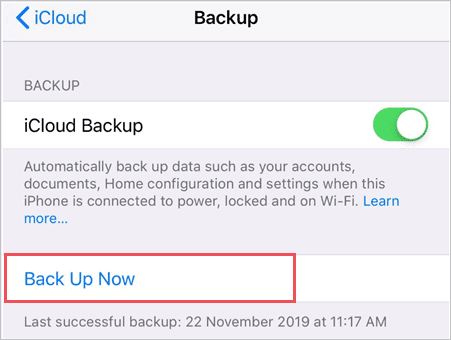 With iCloud, it is possible to start the automatic backup when your phone is on the charging mode.
All you need to do is toggle the switch next to 'iCloud Backup.'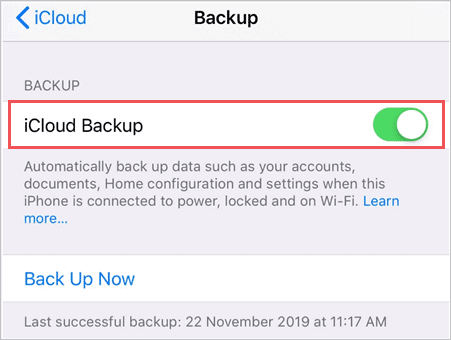 iCloud is the best cloud storage for Mac and iOS device users, but Apple provides only 5GB of free space with each Apple ID. However, this space isn't enough, and you can run out of it anytime, especially if you are backing up photos as well. Apple provides extra storage for some minimal cost starting with USD 0.99/month for 50GB.
If you do not wish to spend that amount for extra storage on iCloud, then you can adjust your backup data in 5GB or opt for other backup options from the list.
How to Backup iPhone to Mac using iTunes?
But what if you don't want to spend money on the extra iCloud space? In that case how to backup iPhone? If you are a fan of the traditional method of backup, then you can use your Mac for the iPhone backup. iTunes is used to back up the iPhone to the Mac with Mojave or earlier versions of the OS.
Backing up iPhones to iTunes is a manual process and cannot be done automatically.
Follow the steps mentioned below to backup your iPhone to Mac.
Step 1: Connect your iPhone to your Mac via lightning cable. You may get a prompt on your iPhone asking you whether to 'Trust This Computer' or not and to enable the backup process, you need to click on 'Trust.'
You may also get a prompt on your Mac system, notifying – 'Do you wish to allow the computer to access your iPhones?', click on 'Continue.'
If you have connected your iPhone before to your PC, then you may not see any such notifications, and you can carry on with further steps.
Step 2: After giving all the required access to your PC, open 'iTunes', and click on the small 'phone icon' in the top left corner of the screen.
Step 3: Now, from the left pane, click on 'Summary' and scroll down to the 'Backups' section.
Step 4: Click on 'This computer' to store the backup on your Mac.
Step 5: If you wish to enable encryption on your backup, then click on the checkbox next to 'Encrypt iPhone backup.' Enter the 'password' when asked for it, and don't forget to note down this password. If you forget it, you would not be able to restore your backup.
A password is required to restore the backup, which guarantees the security of your backup stored on the Mac system. Another advantage of having encryption on your backed-up data is that you can store Apple passwords, HealthKit data, and HomeKit data, which won't be possible with unencrypted backup.
If you do not wish to change the encryption password or have an encrypted backup, then you can directly click on the 'Back Up Now' option.
Step 6: After entering the password, iTunes will start backing up your iPhone. You need to wait until the process finishes.
Your iPhone is now backed up, and all the settings required for future backup are done. Whenever you wish to create a backup in the near future without any setting change, simply click on 'Back Up Now.'
If you wish to check all your previous backups, go to 'Edit' ➜ 'Preferences', and then click on the 'Devices' tab. You can see all the previous backups under 'Device backups.' 
How to Backup iPhone to a Windows Computer using iTunes?
iPhones allow you to backup your iPhone to your Windows computer as well. If you don't have a Mac and still wish to have backups locally, then you can use your Windows machine instead. All you need is iTunes on your PC.
Download iTunes from the official Apple site or the link mentioned below. After the download, follow the wizard onscreen to complete the installation process.
Once you install iTunes, connect your iPhone with your Windows computer and get started with the backup process.
Follow the steps mentioned under the section 'backup iPhone to Mac using iTunes.'
If you wish to check old backups, you can find it under 'Preferences', as mentioned before.
The backup process of iPhone to Mac Mojave or before and Windows PC is the same. The only difference is that iTunes is already available on the Mac system, and for Windows, you need to download it explicitly.
How to Backup iPhone to Mac having macOS Catalina or a higher version?
MacOS upgrade to Catalina said goodbye to the standalone iTunes. Apple has introduced different apps for different functions in its Catalina update. Catalina makes backup possible via Finder. Yes! You no more need iTunes to backup your iPhone to Mac. Go through the steps below to backup your iPhone on the new Catalina version of your Mac.
Step 1: Connect your iPhone to Mac
Step 2: Open 'Finder' on your Mac system.
Step 3: From the left panel of the 'Finder' window, click on your 'iPhone name.'
Step 4: If you have not connected your iPhone with your Mac before, then you need to click on 'Trust' in both the devices when asked for. Your iPhone may also ask for a passcode before giving access to the Mac.
Step 5: Click on 'Back up all of the data on your [‌iPhone‌/‌iPad‌/‌iPod touch‌] to this Mac' under the 'General' tab. If you want to have encrypted backup, click on 'Encrypt local backup', and then create a password when asked for. The backup process will begin once you finish creating the encryption password.
If you wish to change your encryption password, then click on 'Change Password', add your old password and then create a new one.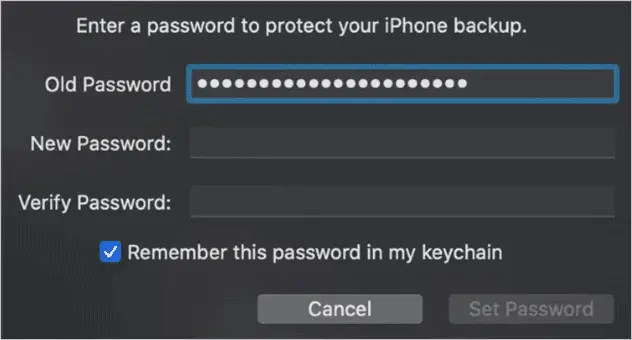 Step 6: If you don't wish to have encrypted backup, then directly click on 'Back Up Now.' 
You can find all your backups in 'Manage backups' under the General tab.
You can select and delete the older backups if required.
Use Third-party Tools
If you are not comfortable using any of the methods explained above, then how to backup iPhone? Well, you can also opt for some third-party tools. You can go for a backup tool if you have purchased any specific tool and wish to use it for your iPhone's backup.
In our AnyTrans for iOS review, we tried its backup functionality to be quite effective. It can even back up data over wi-fi and we do recommend it for backup purposes. Anytrans offers many other features along with the backup to help you use the iPhone in a better way.
If you wish to have a backup of your Mac or Windows system, where the iPhone backup is stored, then you can use Backblaze. Backblaze is an amazing tool when it comes to backing your computer. In our review of Backblaze, we found it to be a very stable and reliable service to back up your computer which can, in turn, be a redundant backup of your iPhone's back up to the computer.
Redundant iPhone Backup to A Cloud Storage Service
iCloud, a cloud service from Apple, is our primary recommendation to backup your iPhone to the cloud. But if you are not going to stick with Apple devices and don't want to pay for extra iCloud space, then you can opt to store backups on some other cloud storage. Now, these cloud storage can be a comparatively cheap option, but it won't back up all your data automatically.
You can only backup media files and contacts using other cloud services. Your best option is to push the entire backup file from your iPhone to the cloud. You can also use Google Photos or Amazon Drive to store your photos and other data on the cloud.
You can also use cloud sync services to backup important files and have them available on your iPhone. If you are looking for options, we have explored several services and recommended the best cloud storage providers based on your requirements, for personal or business use.
Conclusion
It is imperative to have a backup of your iPhone ready to restore in case you damage or lose your phone. For those who wanted to know how to backup iPhone, we hope that we have been able to answer all the queries. The backup can also help you switch phones easily without any worries. If you are using a Mac or Windows system as a backup option, then you must have a habit of doing it on a timely basis.
The backups cannot be taken automatically when you opt to backup your iPhone to a computer, though some third-party tools support wireless backups. iCloud is an ideal way to have periodic, automatic backups of your iPhone, but based on your requirements, any of the above methods can help you backup your iPhone.
Also, check: