Amazon is undoubtedly one of the largest online retail stores in the world. On most occasions, the package that you're expecting to receive will come on time, or even before the due date. But at times, there might be an issue and your Amazon package is not delivered. Well, don't panic as we have various ways you can handle the situation and track the Amazon package.
Amazon Package Not Delivered – Here's What You Should Do Next
Was your Amazon package not delivered on time? What should you do if your Amazon package has never arrived?
Based on our research, we have listed all the probable situations that you could face, along with the solutions and dispute channels that will help you recover your missing Amazon package.
1. When You Order A Product Which Has Not Been Shipped Yet
Whenever you order a product from the website, they give you a guaranteed date and time by which the item will reach you. But, if the product has not been shipped yet, you are not the only one facing the issue of Amazon's lost package. Several others are sailing on the same boat.
What will you do when the seller has not shipped your product even after days and weeks of placing the order? Do not panic! If you're unsure about buying it still, you can cancel your order.
(i) Log in to your Amazon account
(ii) Go to 'Orders' on the top right
(iii) Select 'Cancel Order'
Amazon will charge money from your card only after the order has been confirmed.
2. What Should You Do When Amazon Shows Your Product As Delivered, But You Did Not Receive It?
Amazon package not delivered but Amazon showing that you've already received your package? Is it a case of Amazon missing package?
In such cases, the website lists a set of guidelines that you should check before taking any action. Some of the points they mention might sound obvious, but it is essential to tick them off.
(i) Check if the website has issued a notice of attempted delivery.
(ii) What if Amazon delivered to the wrong address? Be double-sure that the shipping address is correct.
(iii) Do ask your neighbors. What if they've received the package in your absence?
(iv) Keep an eye on the spots and places close to the delivery location. You never know!
(v) Check for the Amazon missing package in your letterbox. Occasionally, the delivery methods include multiple carriers, and one of them might be the regular postal service.
(vi) Do you own an Amazon locker?
For those wondering what an Amazon locker is?
The retail website offers a self-service package delivery service. The customers choose a Locker location of their choice as their delivery address. All their packages get delivered to the Locker, which can be retrieved by the customers whenever they want. The Locker is protected by a touch screen, and to collect your parcel you'll have to enter a unique pick-up code.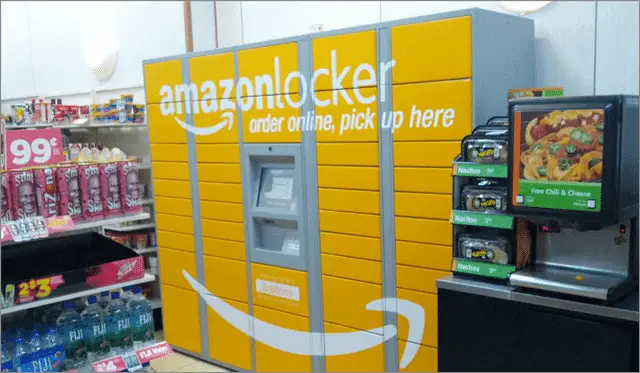 (vii) Keep patience and wait for at least 36 hours; so says the website. Quite often the parcels are shown as delivered when you check the app. But, they are actually still on the move from one place to another.
If the Amazon package is not delivered even after 36 hours have passed, you will need to contact Amazon directly; stating your problem. How do you do that?
After you've logged in to your Amazon account, go to 'Help.' You will find it right below the search bar.
Now, go to 'Browse Help Topics'. Then, choose the last option in the list – 'Need more help'.
Click on the 'Contact Us' option.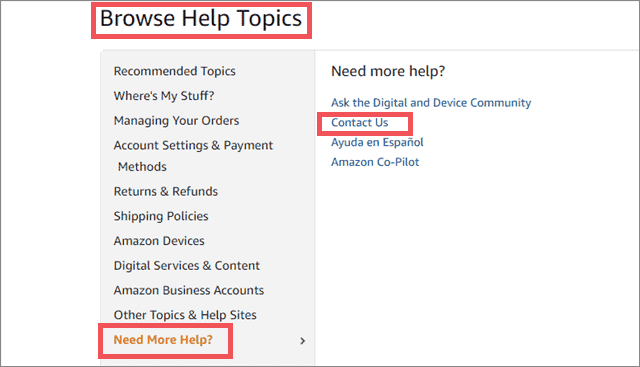 You will be directed to a page where all your recent purchases will be displayed on the screen. Select the order you're having issues with and scroll down the page.
Right next to Select an Issue, you will see a drop-down menu. From the options available, select Where's My Stuff.
Once done, you will come across another set of menu options next to Select Issue Details. Select Tracking shows delivered but shipment not received.
The website will give you three options to reach out to them. You can either contact via email, phone, or Amazon Customer Chat.
3. Are You A Victim Of Amazon's Lost Package? Quick Solution: Track Amazon Package
Amazon package is not delivered but the website notifies you that your package has been shipped. Well, in that case, you can track your Amazon package. You can see where your package is; when exactly it will reach you; and through which channels. They also explicitly mention the points at which the package has reached, who will be picking it up from there on, and by what time it will reach the delivery address.
You will find all the tracking information in 'Your Orders.' If you've ordered multiple items, each of the products can have separate tracking information and delivery dates.
How to track Amazon package:
(i) After logging in to your Amazon account, go to 'Your Orders.'
(ii) Next, go to the order you want to track.
(iii) Click on 'Track Package' which will be written next to your order if it has already been shipped.
NOTE: You should keep in mind that international orders are subject to customs clearance procedures which might cause delays in delivering the products
4. What Is Amazon's Where's My Stuff?
Amazon package not delivered? Or, do you think the Amazon package is stolen? What should you do first?
Amazon's Where's My Stuff lists all the probable situations stating why you never received your Amazon package and gives you solutions for all of them.
What could have happened when the Amazon package says delivered but not here? Has Amazon delivered to the wrong address? It also includes details about shipping carrier contacts, tracking shipments, and map tracking.
The section even talks about the reasons for undeliverable packages, how to replace a missing packing slip, what should be done if your tracking doesn't match the carrier's website; et all.
Check out Amazon's Where my Stuff here
5. Never Received Your Amazon Package? Is Your Shipment Late?
If you've not received your package even after the due date has passed, do not quickly assume that your Amazon missing package is lost or stolen. Sometimes, the issue isn't as big as you're thinking, and it might only be the case of your shipment being late.
What should be done in such cases?
(i) Visit the 'Contact Us' page on Amazon's website.
(ii) Click on 'An Order I placed'
(iii) Select the order you're having trouble with.
(iv) In the tell us more section, choose 'Problem with an order'.
(v) In the next drop-down menu, select 'Shipping or delivery issues'.
(vi) Choose 'Shipment is late' in the last one.
You will then get in touch with the Amazon customer service executives who will find your order and tell you why exactly your Amazon package has not been delivered yet. If the reason for the delay is unjustifiable, they might offer to refund the delivery charges.
The other compensations might include an extension of your Prime membership for a month or adding credit to your account which can be redeemed in your next purchase order.
6. Missing Amazon Package Of Amazon Prime Subscribers
Even if you're an Amazon Prime subscriber and you have an Amazon stolen package or your Amazon package never arrived, the processes that we discussed above will still apply. You should try them out first.
However, Prime members get additional sweeteners in case their Amazon package says delivered but not here. If the product arrives after the time estimated by the website has lapsed, you might be eligible for getting a month's subscription for free. The free month will be added to your Amazon Prime account after your current plan expires.
Some users may also get other benefits like Amazon vouchers, discount coupons, or getting the subscription of Amazon Prime at slashed rates. The website issues these perks on an ad-hoc basis.
7. Did You Buy Products That Are 'Fulfilled By Amazon'?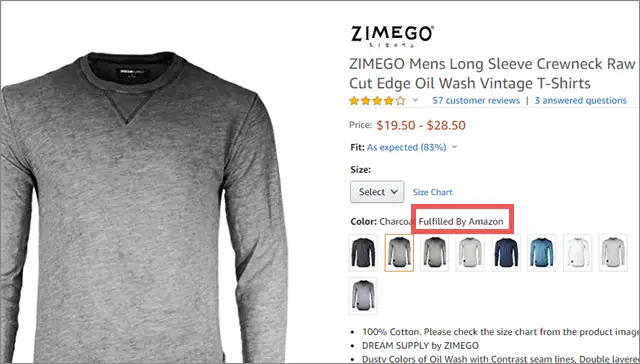 Amazon has products that are sold by the website itself and also by third-party retailers. If you're choosing to buy a product from any third-party, you might see 'Fulfilled by Amazon' message written next to the product or in the product description.
This means that although the commodity is sold by a third-party seller, Amazon's Fulfillment Center sends it to your home. What does it imply? It implies that the buyer will be able to track the progress of the package through their Amazon account portal. It also means that the website is responsible for product returns, and Amazon customer service can be contacted in case of any discrepancies.
However, please note that even if you buy a product from a third-party seller whose items do not classify as fulfilled by Amazon, and your Amazon package is not delivered, the company's A-Z Guarantee Protection will still provide you with protection.
What is Amazon's A-Z Guarantee Protection?
Let us first assume that the product you have ordered from a third-party seller is not fulfilled by Amazon. This means you will not be able to track it using your Amazon account portal. A fraud seller might charge payment and tell you the item has been shipped, without actually doing the needful.
Then, Amazon's A-Z Guarantee Protection comes into your rescue. It instructs that if a purchase has been made from a seller on Amazon through the website, you are liable for getting compensation for a maximum of $2,500.
To avail the claim, the buyer will first need to contact the Amazon seller through their account. Give the seller at least 2 days' time to respond. If there is no response or if the response is not satisfactory, the buyer can file for a claim.
Make sure you meet the following conditions:
Amazon package not delivered even after three days of the estimated time or if the tracking shows a delivery confirmation
If your items arrive in a defective condition, are materially different, or damaged.
When you do not receive a refund even after returning the items to Amazon.
When there is a need for you to return a package internationally, but you did not receive any international shipping labels and the U.S shipping address from the retailer.
You end up paying miscalculated amounts or extra delivery charges while receiving the product.
Please note that you need to claim for A-Z Guarantee within 90 days from the date of estimated product delivery.
How will you make a claim?
(i) Go to 'Accounts and Lists'
(ii) Select 'Your Account'
(iii) Next, click on 'Your Orders'
(iv) Find the order against which you would like to file a claim and select 'File/View Claim.'
(vi) In the box that you see first, adequately explain why you are seeking the claim.
(vii) In the second box, click on 'Request refund through A-Z Guarantee.'
Read about the process and the terms and conditions on the Amazon Website here
8. Bonus Tips To Consider
Here's what you can do when your Amazon package is not delivered on time.
(i) Always keep your Amazon order number handy. For registering a complaint about a product you purchased from the website or to track the Amazon package, or any other issue that pops up, the first thing that you will be asked to enter is your Amazon order number.
While talking to Amazon customer service or Amazon customer chat, the executives first ask for the Amazon order number since they are then able to quickly track your Amazon package to solve the issue and assist you.
(ii) Avoid Twitter to use as a medium for complaining. Although social media platforms work just fine in such cases, Amazon usually doesn't entertain complaints on social networking sites. They discourage sharing order information and ask users to get back to them at Amazon's customer service page instead.
Twitter might be a more convenient option for you, but it will not expedite a resolution.
9. Consider Amazon Key
Amazon Key enables you to get your package delivered safely inside your doorstep, unlocking your front door, even while you're away. It is an in-home and in-car delivery service started by the retail website allowing authorized shippers to get access to the homes of Amazon Prime subscribers, their post offices, or car trunks during specified time slots.
The purpose is to prevent your Amazon package from being stolen. You will receive notifications of every step to ensure that your package has safely been delivered, thereby providing peace of mind. What more? You can also view the act via your smartphone through the Amazon Key app.
To get access to this convenient in-home delivery, you need to buy a kit that Amazon will install without taking any extra charges. The kit consists of a smart door lock and an Amazon cloud enabled-camera.
Beware of Fake Sellers on Amazon
The problem of fake buyers posing as real ones is becoming more widespread on the website than ever. Fraud is easy to execute. A criminal opens a seller account with Amazon and lists the items he/she wants to sell. If someone uses the seller's platform on the e-commerce giant's website to sell their items, it takes only a couple of seconds to put up the listings.
Typically, they will charge a lesser price than what the others are charging for the same product to attract buyers.
As soon as the seller receives the order confirmation, the buyer will be informed that the package is en-route already. The payment is released to the seller's account by doing so. Even if the merchant gives an estimated time delivery of a month, he/she can beat Amazon's two-week payment cycle and go missing before the buyers start to complain, and the website closes the account.
So, how to decipher if a particular seller is fake or not? How to contact a seller on Amazon or know about their authenticity? It is easy to avoid fraud sellers by checking their feedback score.
(i) After logging in to your account, find the item you wish to purchase.
(ii) Go to the product's listing page.
(iii) In the upper right-hand corner you will see 'Ships from and sold by'; which implies the name of the seller. Click on the name of the person.
(iv) Visit the seller's profile and look for feedback.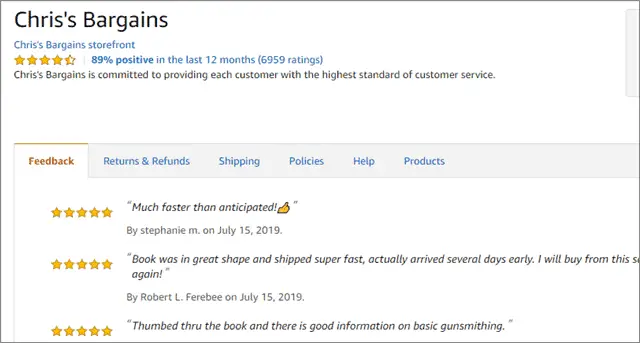 The page will display the seller's lifetime feedback ratings, including their scores from the transactions done in the last 30 days, 90 days, and 12 months. For example, in the image above, the seller has received mostly positive feedback, which means he can be trusted.
Please note: This feature is only available while buying products from third-party sellers.
Final Thoughts
So, the next time your Amazon package is not delivered on time, do not panic. We've listed all the probable solutions you can try to resolve delivery issues and also track the Amazon package. Also, do not forget to beware of fake sellers. The staff at Amazon is friendly and polite, and we are saying this from personal experience.
But, it will definitely be better if the website informs the customers beforehand if a possible delay in delivering the package is expected. It will reduce confusion and stress and will make things clear.
Most of the personnel that you come across at the Amazon customer chat or the Amazon customer service, will offer to redirect some credit your way as well. Things go wrong with all e-commerce websites as it is a part-and-parcel of the game, but how the company handles and resolves the issues is what matters. Do let us know if you're planning to buy the Amazon Key anytime soon because we sure can't wait to get our hands on one.
Also, check: