Are you looking to learn a new skill and no nearby university is offering it? Do you wish to unleash your creative side by excelling in some software? Well, one is never too old to learn something new. We've got you some of the best online courses that you can get your hands on and acquire a fresh skill from the comfort of your homes.
Whether you are a working professional, a homemaker, or a student, no more regrets for not learning something you've always wanted to. Online classes are flexible and do not cost you a bomb. There are various online learning sites and platforms that serve the purpose.
Why Opt For Top Online Courses
The competition is too high, and no amount of knowledge is ever enough. You would always want to up your game and fix a firm spot for yourself in the industry you are interested in. How will this happen? Opt for an online class and learn a new skill. This will make your resume more appealing, and you more confident. How about picking something up just as a hobby?
Let us add value to our educational degrees and be at par with what the current requirement is. You get to learn the tricks of the trade from experts in the field. So, time and physical constraints should no longer be a matter of concern.
Online learning is excellent. Irrespective of where you are located, you can avail of the best options to learn something new and also end up saving money and time. Even after you're done with your education, you can continue with e-learning and make the best use of these technological advancements. The options that we've got for you include graphic design software, music production courses, 2D and 3D animation, and some creative entries too.
Best Online Courses To Upgrade Your Skills
Podcasts, blog posts, and YouTube videos are an excellent way to start exploring a new domain. But online tutorials give you the opportunity to master a skill in an in-depth manner by giving you time and space. Most of them include on-demand videos and exercises that you can avail of after you're through with the course and practice what you've learned.
1. Canva Training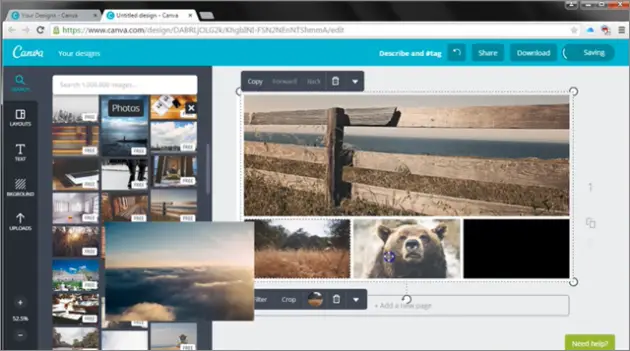 One of the best online graphic design courses, Canva is interesting software to learn. It teaches you to create exquisite designs and makes sure your design stands out from the rest. There are various Canva courses available for both beginners and experts. These are a dream come true for all the graphic designers and everyone else who is ready to up their game.
Be it pictures and banners for your social media handles or print advertisements, Canva is extensively used. The free software has plenty of very useful features available at its disposal that make your designs stand out. Some of the courses offer certification and lifetime access to resources.
2. Adobe Animate Courses
If you are interested in designing cool cartoon characters and video games, you must get your hands on an Adobe Animate tutorial. The software is easy to pick and the right platform for your imaginative mind. You learn how to create 2D animations and motion graphics. The acquired skill can also be used to develop internet applications and television programs.
It is best to get some guidance from the industry-experts while you explore the software. This will give you an edge above the others and help you understand the basics better. Adobe Animate is an extremely sought-after software to learn and one of the best creative courses. You move beyond the text and images and learn how to add moving images, video, and audio.
3. Adobe Audition Tutorial
Good sound quality is essential in making a video or film hit or flop. Imagine not being able to hear the words clearly or watching content with a lot of background noise. This is where an Adobe Audition course comes in. It polishes the audio or any file that contains sound, thereby increasing the overall quality of the video or film.
You can also remove noise, mix different sounds, apply special effects, and also resort to the software for some post-production sound editing. One of the best online courses, Adobe Audition, will not be difficult for you if you have a knack for learning. So, pick it up and take your podcasts and documentaries to the next level.
4. Adobe Premiere Courses
Irrespective of the purpose for which you are making a video, Adobe Premiere should be your go-to editing software. It is easy to use for first-timers and makes available plenty of tools for you to try your hands on. A well-edited video has the potential to enhance the quality of the advertisement, film, or any piece of footage.
Pick from the best Adobe Premiere tutorial choices and learn the tricks of the trade from the experts. You also understand how to remove grain and add special effects. Stabilize videos that are shaky and study the art of creating and editing videos of all types. One of the best online creative courses, Adobe Premiere, makes you a pro and ensures that you fix yourself a firm spot in the video production niche.
5. AutoCAD Training
One of the best online courses, AutoCAD Tutorials are quite popular. Be it engineers, project managers, architects, graphic designers, or city planners, AutoCAD comes to use in multiple professions. It has revolutionized how designs are made. Whether it is a 2D figure or 3D, the design made in AutoCad boasts of accuracy and precision.
Fields like interior designing, construction, and manufacturing rely on AutoCAD for giving them intricate designs. Having an AutoCAD course done definitely uplifts your resume and makes you a part of the current workflow patterns. AutoCAD courses are relevant to real-life applications. Whatever you learn can be put to test practically.
6. 3D Printing Classes
Want to be a part of futuristic technology? You must get your hands on 3D printing, one of the top online courses. Using additive processes, 3D printing facilitates users to create three-dimensional objects. You get a tangible object in solid form from a digital file. How interesting is that?
The 3D printing niche is ever-evolving, growing each day, and here to say. Several multinationals and corporate houses are resorting to using 3D printing techniques. So, getting your hands on online 3D printing classes will be very beneficial for you. Creativity, fast production, and excellent quality designs, additive manufacturing is a good bet.
7. Affinity Designer Courses
One of the best graphic design online courses, Affinity Designer, is a powerful tool for all vector artists. The software has brought revolutionary changes to the graphic design industry and is every designer's dream come true. Affinity is a part of the Affinity Trinity and helps you in creating stunning designs with the help of advanced tools.
Learn how to create exquisite designs, work with layers, and get your hands on snapping options. If you are a graphic artist, an illustrator, or anyone who needs to work with images in the digital format, avail of Affinity Designer tutorials online and master the software. It is an excellent yet inexpensive alternative to comparatively simple software like CorelDRAW and Illustrator.
8. Blender Classes Online
Are you a VFX artist? Do you want to try your hands at creating stunning 3D designs and animation? You must avail of a Blender course and learn A-Z of the software. It is open-source, free, and there is plenty of scope for all kinds of 3D and visual possibilities.
Motion graphics, visual effects, animated films or computer games, Blender is used by one and all. The tool is not difficult to master if you learn from the right sources. You understand how the software works, the applications of the designs created, and gain a commercial perspective. One of the best online courses, learning Blender is sure to make you an indispensable part of the animation and VFX industry.
9. Ableton Live Courses
One of the best online music production courses, Ableton Live, is a great choice for all the music-lovers and DJs. It is used by audio engineers, music producers, and musicians to make new music and add special audio effects to the raw footage. You can also create beats and lay your hands on editing, remixing, and recording.
Pick an Ableton Live course that teaches you how to use the Digital Workstation (DAW) from scratch and be at par with the professionals. Irrespective of whether you want to take up music professionally or just as a hobby, Ableton Live is an excellent software to get with. You also get avail of handy tips that will make the music you create stand out and unique.
10. FL Studio Tutorials
If you ask your favorite musician, which DAW do they use, high chances they would say FL Studio. The brilliant software makes sure that music production no more is a cumbersome process. So, whether you are a beginner trying to understand music or an expert wanting to get your hands on some advanced tricks, pick the top FL Studio courses and start your music-learning journey.
One of the best online music production courses, FL Studio, enables you to create fresh songs, add special sound effects, and indulge in beat making and cover mixing. Anyone looking for a career in music must learn from the stalwarts and understand the software from the basics. The interface is user-friendly, and the software is known for having the highest range of templates among all DAWs.
11. CBT Certification: One of the Best Online Courses
Since more people nowadays are coming out of their closets and accepting mental health issues like depression and anxiety, studying Cognitive Behavioral Therapy has become essential. Get your hands on a CBT certification course and as a practitioner, not only identify the root cause of the problems but also find the solutions.
You have to ensure that your clients are happy, positive, mentally fit, and productive. You study the human mind and ascertain the emotions and actions connected to it. One of the best online courses for creative professionals, CBT aims to bring measurable changes in how an individual thinks and reacts. Let's make the world a better place and not let negative thoughts take over.
12. American Accent Training
Mastering the American accent will be a cakewalk for you, once you have the correct tutors at your disposal. Do you wish to brush up your American accent skills? Well, having a dialect quite similar to the native Americans will definitely increase your chances of landing a job and will improve your socializing skills as well.
American Accent Training is one of the best online courses that you can get your hands on. Learn the correct pronunciation and master the dialect, understand the sound of syllables, phonetic spelling, and also how to call out dates, time, and numbers in American style. Pick the American accent training course that suits you the best and feels more confident than ever.
13.
Excel Training Courses
Irrespective of which field you're working for, learning Excel doesn't go waste. One of the best online courses that will always be productive and useful wherever you are, mastering the art of dealing with spreadsheets is an exceptional skill to have. Accountants, consultants, teachers, entrepreneurs, human resource personnel; everyone needs to collect data and present them in visually appealing graphs and charts.
Do you think your Excel skills are limited? No more worrying. Pick up the best online excel courses from the most credible sources and take your game one notch higher. Data analysis and visualization will never go out of trend and it is extremely essential to be adept with skills that are a demand of the current market scenario. 
Final Thoughts on Best Online Courses
Life is too short to live with regrets. 'Now' is the current time to act so that you can fulfill your dreams. No more worrying if you could not learn something you've always wanted to in college or university. The internet is breaking all barriers and brings to you all the resources required to master in a particular niche.
Irrespective of whether you are a dropout, somehow who wishes to follow his/her passion, a mother with unfulfilled dreams, or simply want to inculcate a new hobby, our list of the best online courses would suffice. These are from credible sources and taught by world-class instructors, so you can rest assured about the quality of teaching.