A smart light switch lets you turn the switch on and off remotely, or at a predetermined time. To smarten your home, one has to get smart machines and things that are electronic and can be controlled via a smartphone. Smart switches can be plugged into your electrical socket, and it can be connected to the device of your choice.
The very basic necessity for this action is a 'Smart switch.' Smart switches could be of tremendous help to those who have a constant habit of forgetting to switch off the lights. Additionally, you can also program all your devices to the smart light switch and program them to turn on if there is burglary.
Attributes of a Smart Switch
Before you set out to buy a smart switch to make smart lighting at your home, you need to consider some essential attributes of smart switches. Choosing a smart switch with these attributes in mind will give you a clear idea of how to buy the best switch that suits your needs.
Easy to operate: Buy a smart switch that is very easy to use; just plug it in and it is ready to go.
Compatibility: Before investing in a smart switch, check whether it is compatible with the technology that you regularly use at home. Some plugs are compatible with Android and others with iOS.
Energy monitoring: Many smart switches offer energy monitoring data. This is an excellent way for you to keep a check on excessive energy consumption.
Scheduling: Make sure your smart switch allows you to schedule when you want it switched off and on.
Integrated automation with other gadgets: If you already own other smart home devices, like the Nest Learning Thermostat or Apple HomeKit or SmartThings, make sure you buy a smart switch that is compatible with these devices.
Surge protection: Many smart switches have the additional feature of surge protection to protect your expensive appliances and gadgets for sudden surges.
Buying a smart switch by checking these attributes will make sure you spend your money on the right product – one that fulfills your needs and requirements.
Related: Google Assistant: A Definitive Guide to Using Google Smart Virtual Assistant
The Best Smart Switches To Smarten Your Home
Smart light switches make it easier for users to control various devices and the entire electric setup of your home from any place in the world. On that note, let's have a look at the best smart switches to enhance your home.
1. iDevices Outdoor Smart Wifi Switch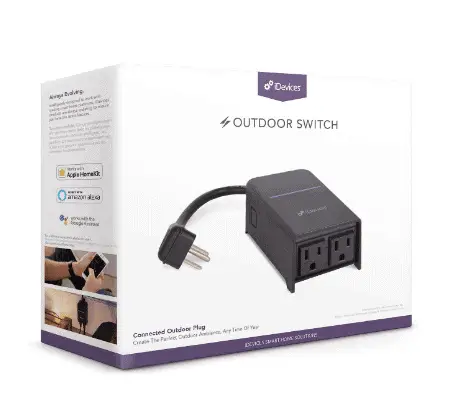 Your voice is enough to take full control over your home appliances. iDevices Outdoor Switch Monitoring works with Siri, Alexa, and Google Assistant. It gives you the liberty to personalize your routine and set scenes that suit your lifestyle.
It comes with dual outlets that allow you to control two electronics parallelly. As this smart switch is specially designed for outdoors, it has a rugged design. It is rain-tight tested so that you are free to leave it outdoors. With a dual outlet, the iDevices outdoor switch can control two electronic devices simultaneously.
Price: $42.99
Buy iDevices Outdoor Switch here
2.   iDevices Switch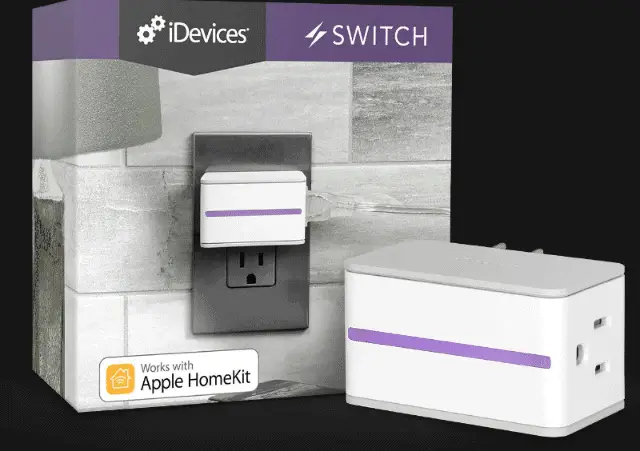 The iDevices Switch is an easy way to automate your home. Although bulkier, it has a unique rectangular design that belies its size.
The smart switch is compatible with Amazon Alexa, Google Assistant, and works well with Apple HomeKit. The iDevices app can be downloaded free from the Apple App Store and Google Play. It works using your home WiFi network and does not need a hub or subscription.
Use the app to create custom schedules for your home appliances. The iDevices app gives you real-time energy consumption data for all the devices plugged into the switch. The Switch responds to voice commands via Siri, Amazon Alexa, and Google Assistant for a hands-free experience.
Price: $148.99
Buy iDevices Switch here
3.   GE Bluetooth Plug-In Smart Switch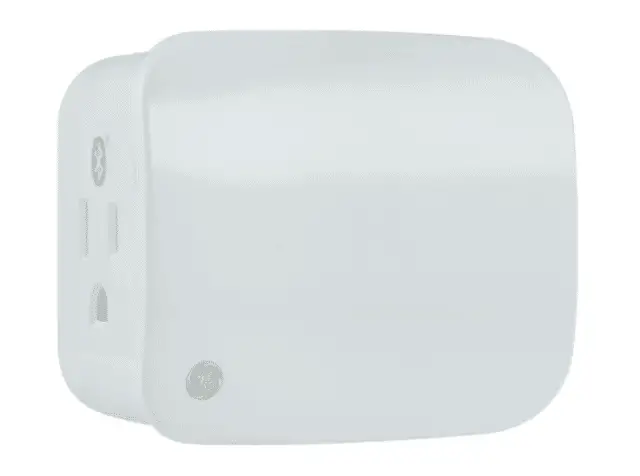 The GE Plug-In Smart Switch uses Bluetooth Smart technology to connect to your home electronics wirelessly. You can power on and off devices from your smartphone or tablet.
The app lets you set a 7-day schedule to program your lights to turn and off even when your phone is not in range.
The GE Smart Switch repeats the Bluetooth Signal up to 100 feet. So if you have more than one GE Smart Control device at home, you can create a network of devices and increase the size of the Bluetooth Wireless network throughout your home.
The smart switch is compatible with LED, CFL, Halogen and incandescent bulbs, small appliances, and lamps. The app is available on Apple App Store and as well as Google Play and is compatible with devices running iOS 7.0 and higher and Android 4.4 or later.
Price: $26.30
Buy GE Plug-In Smart Switch here
4. C-Start Smart Switch Motion Sensing Dimmer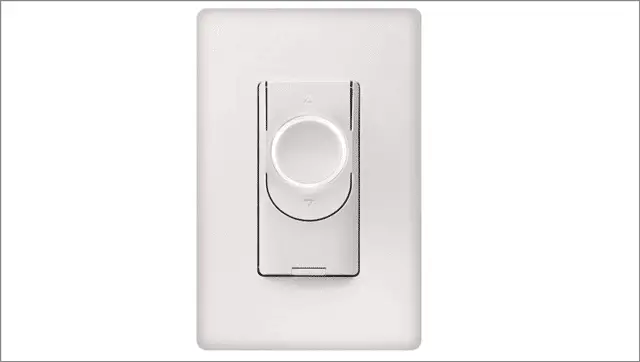 The C-Start Smart Switch Motion Sensing Dimmer has a built-in motion sensor. It works with Alexa, Google Assistant, and HomeKit. The WiFi-connected switch works with all kinds of bulbs and has applications for iOS and Android.
The switch has an ambient light sensor and a motion sensor. The C-Start Dimmer responds to voice commands. However, users might face difficulties in setting up the automation for the same.
The installation of this smart light switch requires a neutral wire; installing this switch in your home is fairly simple to understand and execute. The C-Start Smart Switch also makes this list for the fact that it offers adequate features at an affordable price.
Price: $46.47 onwards
Buy C-Start Smart Switch Motion Sensing Dimmer here
5. Leviton Decora Smart wall switch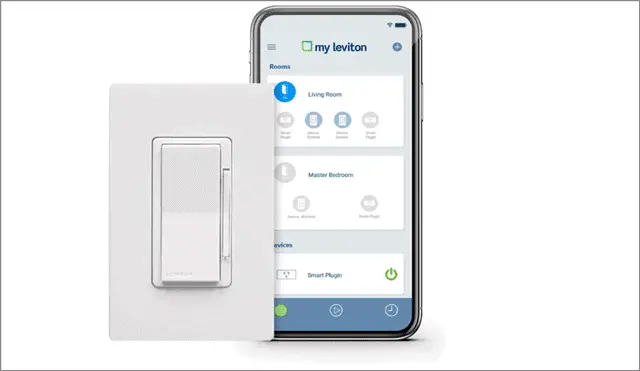 The Leviton Decora has a simple dimmer switch that supports three-way switches and doesn't require a hub. The switch has a large paddle switch and a small toggle on the right, which helps users in dimming the lights in increments.
Users also don't need any bridge; the Leviton Decora connects directly to your WiFi. It is also regarded as one of the most robust smart switches available in the market. The three-way support of the app is also helpful for larger rooms.
The Leviton Decora app lets you schedule the turn on and turn off times of the lights. Added to that, it also works with Alexa, Google Assistant, and IFTTT smart home systems. The only drawback is that the Leviton Decora doesn't offer the geofencing feature
Price: $34.97
Buy Leviton Decora here
6. Lutron Caseta Wireless Dimmer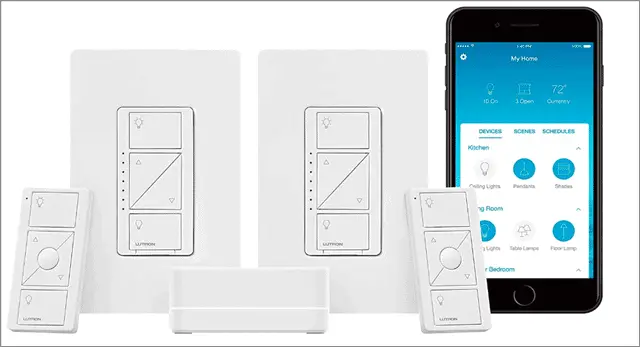 Lutron Caseta is one of the best smart switches in the market, given the plethora of features it offers. The most notable amongst them is the geofencing feature, which automatically turns your lights on and off as and when you leave or arrive at home.
Users can schedule the Lutron Caseta to switch off and on the lights at night or day. You can also control this system using your Amazon Alexa, Google Home, and many other smart home systems.
The Lutron Caseta starter kit has one in-wall switch, one wireless remote, and one smart bridge. The bridge acts as a hub that can be connected to other devices as well.
Price: $135.26
Buy Lutron Caseta here
 7. Brilliant Smart Switch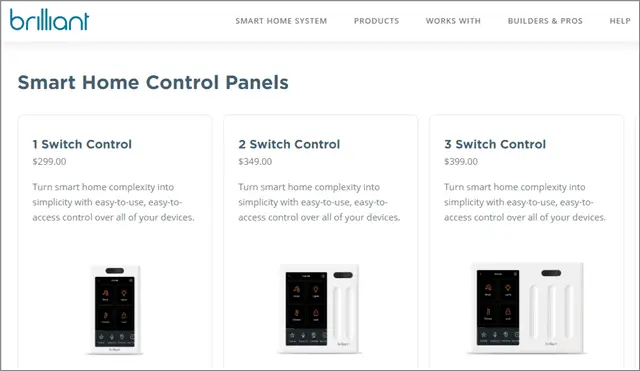 If you are a person who loves having complete control of your life, the Brilliant Smart Switch is here to give you the same feel. This touchscreen masterpiece not only controls your lights but also commands various devices such as your speakers, cameras, and more.
Slide over the touchscreen, and that will determine the brightness of the light in a room. The panel also has motion sensors, meaning it can turn the lights on and off as and when you enter or leave a room.
Brilliant can be controlled by Alexa and HomeKit; however, it is clearly visible that the company needs to add more smart home partners for the device. The beautiful interface of this hi-tech switch is what will make you fall in love with it.
Price: $299
Buy Brilliant Smart Switch here
8. LeGrand Tru-Universal Smart Dimmer Switch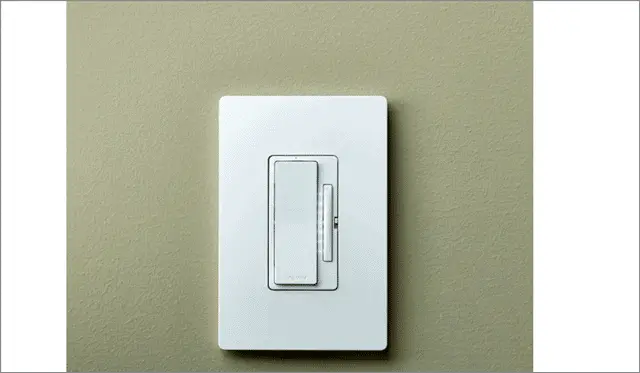 The LeGrand Smart Dimmer Switch controls the LED, CFL, incandescent light bulbs, and works with many smart home systems. However, there is no support for IFTTT or Zigbee devices.
The paddle switch of the LeGrand Smart Dimmer Switch is small and compact but has a great feel about it. Next to it is the dimmer switch with 7 LEDs that show various levels. Next to this is the air gap switch, which turns off the entire system mechanism while installing bulbs.
The only drawback LeGrand Dimmer Switch happens to have is that it is comparatively expensive. Rest assured that it won't fail to impress you if you buy it.
Buy LeGrand Smart Dimmer Switch here
9. Ecobee Switch+
The Ecobee Switch+ is costlier than all the other smart light switches on this light, and for a good reason. It comes with a couple of next-gen features, albeit it misses out on the essential dimmer feature.
The Ecobee Switch+ has temperature and motion sensors, meaning the room will automatically turn the lights on and off, as and when you enter or leave the room. The Ecobee Switch+ can also be controlled via Alexa. Added to that, it comes with a temperature sensor; you can link it to the Ecobee thermostat and control the climate of the room.
Price: $37.82
Buy Ecobee Switch+ here
10. Philips Hue Dimmer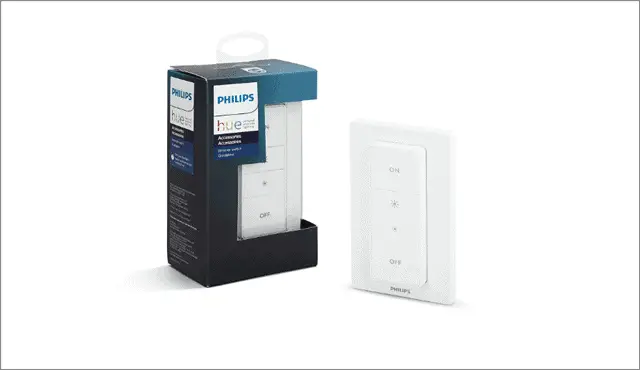 If you have already installed the Philips Hue lights in your home, the Philips Hue Dimmer can be an excellent device to smarten your place. It can be used as a wireless remote or a wall switch.  The switch also doesn't need any installation.
The Philips Hue Dimmer works only with the Hue bulbs. The Hue app is full of fun controls and creative themes for the bulbs. Users can schedule the on and off time through Amazon Alexa, Google Home, and Apple HomeKit.
Philips Hue Dimmer is also compatible with many other smart home systems. Make sure you use this magical device to liven up your homes!
Price: $24.99
Buy Philips Hue Dimmer here
11. Lutron Aurora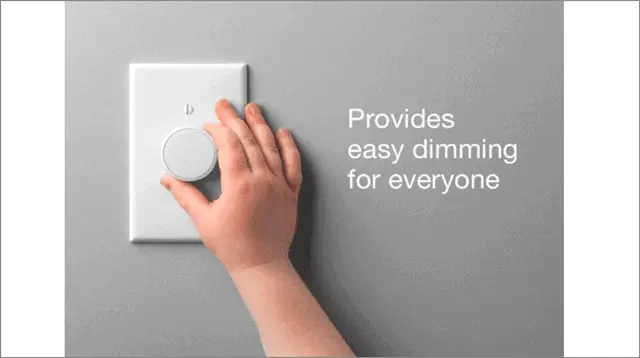 When wall switches are designed to control an outlet, they cannot be used to control devices that are required to stay on all the time. If you are facing such a case, Lutron Aurora brings you the perfect, elegant solution to solve the problem.
This smart dimmer switch comes in the form of a dial and provides ease in dimming the lights in a room. Further, it clips on to the toggle switch and lets you control the Philips Hue lights by just turning the dial.
Additionally, Lutron Aurora also requires no wiring to set up; it can be mounted in less than 2 minutes in just two simple steps. Mount the bracket over the existing toggle switch and snap the knob on, and you are ready to go. Also, it maintains a  connection with Philips Hue smart bulb, even if the WiFi goes down so that you always have control over your lights.
Price: $37.95 onwards
Buy Lutron Aurora here
12. Orro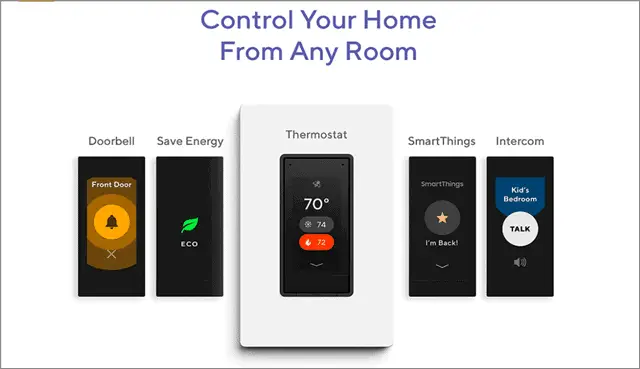 The Orro Smart Light Switch will make sure you never have to touch it again once it learns your patterns of operation. It is equipped with an infrared motion detector, an ambient light sensor, two microphones, and a proximity sensor.
Orro can be controlled by voice with Alexa and Google; it also works with SmartThings and Philips Hue. You can schedule it to turn on and off as per your preferences. Also, it can be controlled by touch, voice, or an app.
In comparison to other smart switches on this list, Orro is a costly device to go for. However, it delivers as it promises and you surely won't be disappointed after buying it.
Price: $199
Buy Orro Switch here
13. WeMo Wifi Smart Dimmer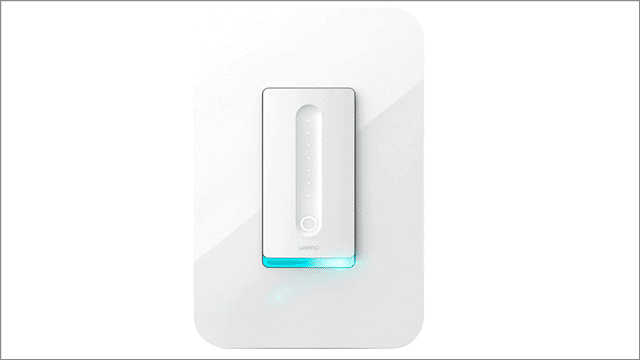 The WeMo Dimmer has an impressive design and high-quality construction. This WiFi light switch offers lighting modes for different situations. The most striking feature of the WeMo Dimmer is that it calibrates to work with any kind of light bulb for dimming and flickering.
The WeMo Dimmer has many features and supports many many smart products. Users can also review the power-consumption data and control multiple WeMo devices with just a single swipe. It works with Alexa, HomeKit, and Google Home, which should be enough for many users.
Price: $45.99 onwards
Buy WeMo Dimmer here
14. Maxcio Smart Light Switch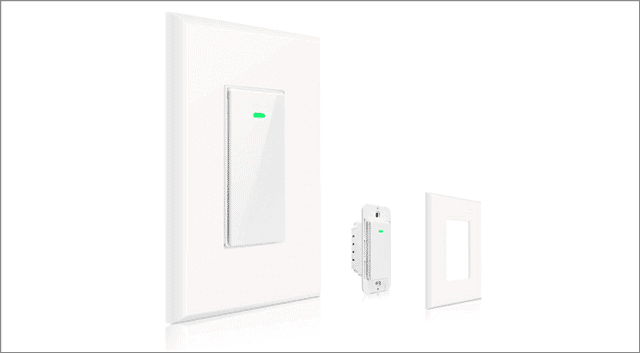 The Maxcio Smart Light Switch works with Amazon Alexa and Google Home and enables hands-free usage. Users can turn the smart lighting on and off using their smartphones and schedule the timing for your lights as well.
Maxcio can be used without a hub. You can check devices connected to the smart switch remotely for added peace of mind or even set up countdowns to turn them on and off. This smart switch is also simple and easy to install and remotely. The Maxcio Smart Light Switch also comes with a backlit plate that makes it easy to find it in a dark place.
Price: $40
Buy Maxcio here
15. Funry Smart Touchscreen Wall Switch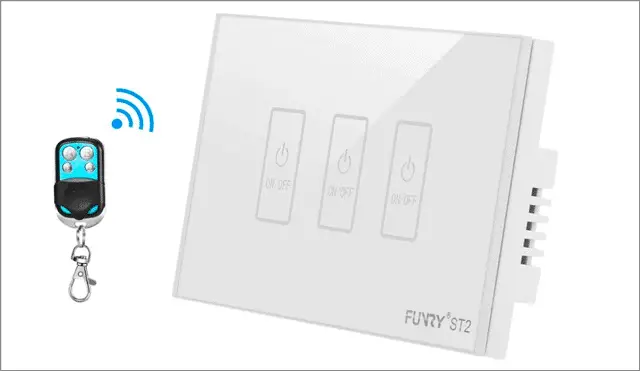 Funry Smart Touchscreen is one of the best smart switches available in the market. Users can control three switches at once with this touchscreen wall switch. It uses a capacitive touch sense and sensitive touch screen for operation.
The Funry smart switches also come with a backlight LED that is lit up in red or blue, depending on which switch is in use. It is easy to install and instantly connects to your home WiFi network, meaning you can control lights from remote areas.
Price: $19.93
Buy Funry Smart Touchscreen Wall Switch here
16. TP-Link Smart Wi-Fi Light Switch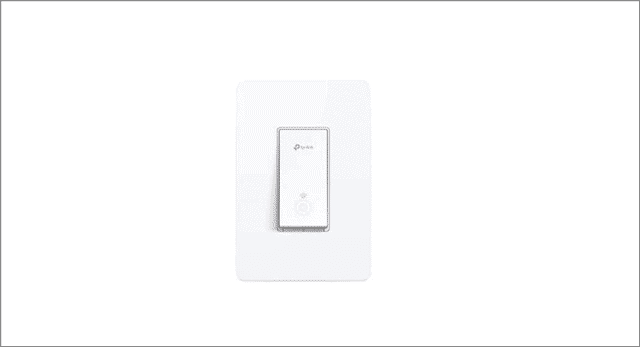 TP-Link Smart WiFi Light Switch is one of the best products to have if you are constantly traveling. This smart switch makes sure you can keep an eye on your home from anywhere in the world.
If you have Amazon Alexa, you can connect it to this Wifi light switch and control it accordingly. Set timers and voice controls for all the devices connected to the switch for ease of operation. You can also use the Away Mode to turn the lights on and off as and when you wish.
The TP-Link Smart Switch requires a neutral wire for installation. Make sure you don't use this smart switch with a metal faceplate as it might interfere with your WiFi connection.
Price: $17.99
Buy the TP-Link Smart Switch here
17. KYGNE Smart Light Switches

If you are searching for long-lasting and durable smart lighting switches, make sure you check out KYGNE Smart Light Switch. As per their rigorous testing process, the company has claimed that this switch can be used up to a decade without any problems. It has a life expectancy of 20 million touches.
KYGNE has an LED plating which helps users to see the switch comfortably in dark places. Added to that, it is waterproof, meaning you can easily use it for washrooms. The smart switch can be controlled via the company app or through Amazon Alexa or  Google Home.
Users can also schedule the on and off timings of the devices and also prevent the overcharging and overheating of the connected devices.
Price: $9.99 onwards
Buy the KYGNE Smart Light Switch here
18. Three-Way Smart Switches by Martin Jerry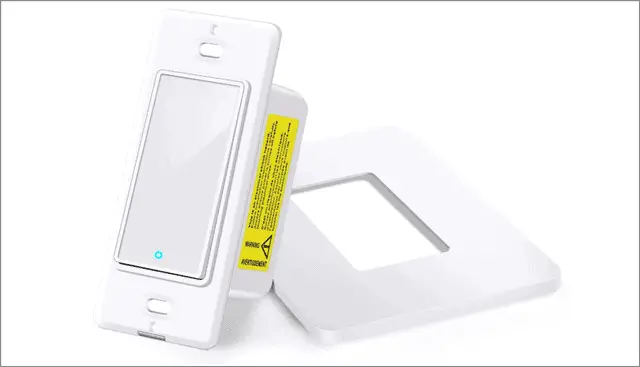 The Three-way Smart Switch by Martin Jerry is made with a stylish and sleek design; it is one of the most affordable three-way switches you will ever come across. It can be operated via a free app to have total control over the lighting and other important devices in your home.
The Three-way Smart Switch by Martin Jerry can either be controlled via a free app or through Google Home and Amazon Alexa. Set timers according to your schedule, and your smart switch will automatically power your connected electronics off and on. The wireless control switch is as easy to use as a regular switch and features an intelligent touch control.
Price: $23.99
Buy the Three-way Smart Switches by Martin Jerry here
Conclusion
Smart switches are the latest technological inventions built to modernize and transform your simple homes into smart homes. They enable the users to have complete control over the lighting and other devices in their homes. Added to that, they also help users keep a thorough check on the power consumption of various devices.
There are many smart switches available in the market. From threeway smart switches to smart light switches, there is a plethora of choice. If you are searching for a versatile switch, you can go for the Kasa WiFi Smart Light Switch. If you want a switch that gives you a nice look and feel, then you can go for the Three-Way Smart Switch by Martin Jerry.
The Maxcio Smart Light Switch is the best product to go for if you are searching for a budget smart switch. All in all, the choice of the smart switch entirely depends on the user's budget, and other needs and requirements.
Related: Boost Alexa's Power With The Best IFTTT Alexa Recipes