Xbox gaming transports users to a different world. For non-gamers, this statement might appear like a hyperbole. But, only those who understand and love the world of gaming know that this statement isn't just a figment of imagination or hyperbole – it is an emotion. Plus, to enhance the gaming adventure, what better than the Xbox One X accessories.
PC gaming resonates with every kid born in the 90s and above, but Xbox increases the participation and excitement to a whole new level. And, the accessories that an Xbox gamer uses daily only help him augment the zeal and excitement.
Related: From Xbox to 360 to One: Our Look at the Evolution of the Xbox Over the Years
Xbox One X Accessories: Enhance Your Gaming Experience
We are already aware of how tedious it is to choose accessories for gaming. It is not easy to select the best ones, solely for the fact that we compare and rate a product based on various factors such as pricing, durability, compatibility, and so. That being said, let's have a look at some of the best Xbox One X accessories currently up for grabs.
1. Xbox One Elite Controller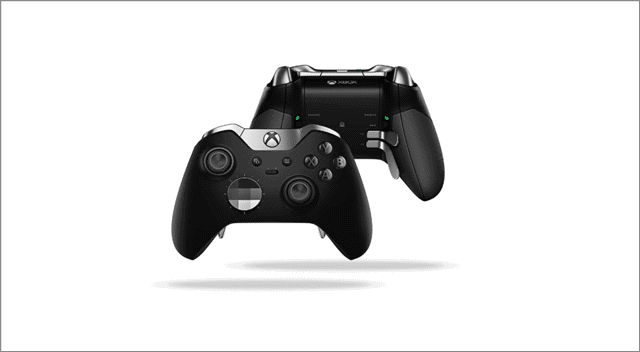 Initially, Xbox ships a controller with the set, meaning you don't have to buy it separately. But, when it comes to  Xbox One X accessories, you might want to give this Xbox One Elite Controller a try – once you get to know the beast that it is.
The Xbox One Elite Controller is designed to enhance performance in terms of speed and accuracy. It adapts to your hand size and playing style like fish to water. It also has four slots for interchangeable paddles that can be attached or removed without any tools.
These paddles are designed to give your fingers more control. This feature allows a user to refrain from taking his thumb off the thumbstick while executing complex control combinations like jump, aim, and shoot at once.
Last but not least, the hair-trigger locks help you save time by firing faster and saving time with each trigger pull. It is compatible with Xbox One, Xbox One S, and also with Windows 10 via USB.
Why we love this:
Improved fit and performance
Limitless customization in the app
Hair-trigger locks
Enhanced grip and soft-touch finish
2. Turtle Beach Ear Force XO Seven Pro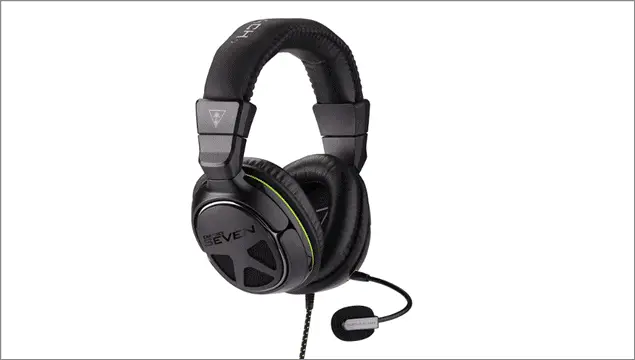 If you want to gain a competitive advantage and edge for your gameplay,  go for Turtle Beach Ear Force XO Seven Pro, the best Xbox One X accessories available online.
The Turtle Beach headsets are equipped with Headset Audio Connector Plus which puts all audio controls at your fingertips. Also, it has Superhuman Hearing, meaning you can hear the enemy footsteps, the sound of guns reloading before an enemy attack, and any vehicle bringing in reinforcements.
With high-quality 50mm speakers and variable mic monitoring, you don't need to shout your commands. Just say them and the job is done.
Why we love this:
Sound clarity
Audio controls at fingertips
Variable mic monitoring
3. Xbox One X Media Remote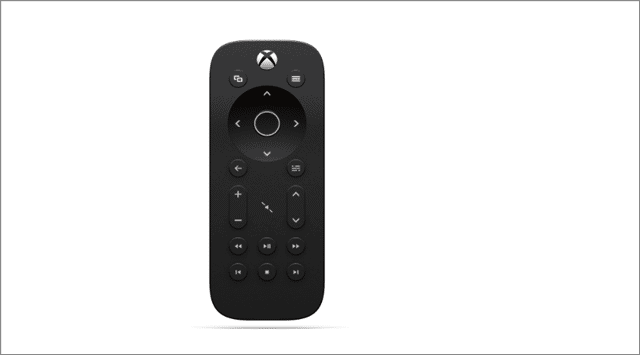 The Xbox One X Media Remote is a multifunctional product. A powerful gaming console, along with being a great entertainment unit, it is definitely the best Xbox one accessories that you can own.
It has a direct input HDMI port for your DTH and other entertainment units. With an operating range up to 30 feet, you can easily access your TV from the comfort of your couch. The Media Remote also comes with the OneGuide button that provides one-touch access to all your favorites and is compatible with Xbox One X, Xbox One S, and Xbox One.
Why we love this:
It is a multipurpose product
Operating range of 30 foot
OneGuide button for quick accessibility
4. Xbox One Chatpad
Communication is always an important aspect when it comes to playing multiplayer gaming. Xbox wasn't precisely blessed when it came to provisioning hassle-free communication in the past.
PS4 introduced motion typing to reduce the struggle, but that still doesn't match the required level of convenience. Luckily, Microsoft is not only matching those expectations but close to exceeding it with the super cool Chatpad, which is the best Xbox One controller accessories available on the list.
The Chatpad has a QWERTY keyboard with two programmable buttons for taking screenshots, opening your DVR, and more. The keys have backlight as well, meaning you can read them easily in the dark. Also, there's a 3.5mm jack available for the Chat Headset, which enables accessible voice communication.
Why we love this:
Hassle-free communication
Backlight for keys
Includes audio control and mic mute at your fingertips
5. Thrustmaster TMX Force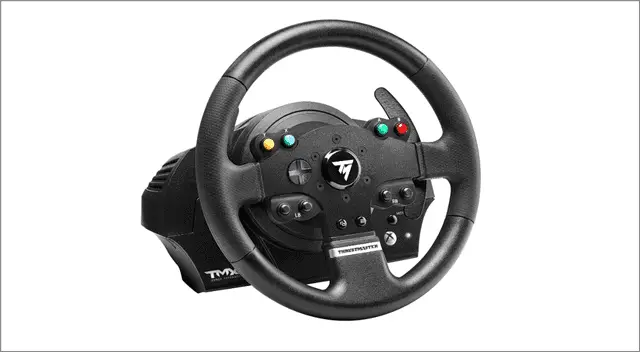 Racing is the gaming domain that adds thrill and gives an adrenaline rush to the Xbox players. And, the availability of the steering wheel takes participation and adventure to a new level. While Fanatech's Forza Motorsport Racing Wheel is a high-ticket product, the Thrustmaster TMX Force does a commendable job in the same segment at a lower price.
Amongst the Xbox One X accessories, the Thrustmaster does stand out. The controller has a mixed-belt pulley and gear system with a 900-degree force feedback base. The rotational angle itself allows gamers to race with extreme precision. It has a 28cm diameter racing wheel, ergonomically designed to adapt to all the racing games such as NASCAR, GT, Rally, Formula 1, etc.
The TMX Force Racing Wheel also has a wide and optimized pedal set with an adjustable angle of inclination along with a wide footrest. The controller leaves no stone unturned when it comes to racing and is also compatible with Windows 10 PC.
Why we love this:
Extreme racing precision
Wide and optimized pedal set
Brake pedal with progressive resistance
All controls on the wheel within reach
6. Playseat Evolution Video Game Chair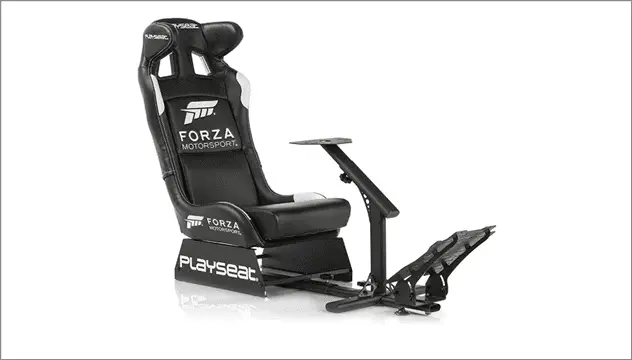 The Playseat Evolution Video Game Chair tops the list of best Xbox One X accessories available in the market. If you already have a steering wheel console, the Playseat Evolution appends that experience like never before. It gives you the heavenly feeling of driving a motorsport F1 car.
The Playseat offers superior build quality, comfort, and stability to the gamer. It features quick knob tension adjustment and is adjustable enough to accommodate a range of driver settings and heights. The Playseat also supports the third-party wheel and pedal sets from Fanatec, Logitech's thruster, and mascots for all gaming consoles and PCs.
Why we love this:
Supreme build quality, stability, and comfort
Compatible with Forza, Fanatech, and Logitech gaming consoles
Quick knob tension adjustment
7. Razer Thresher 7.1 Ultimate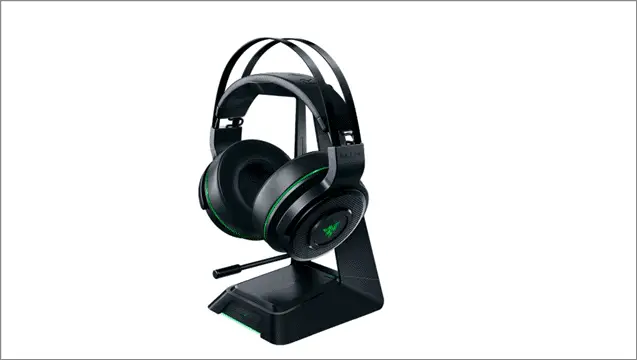 It's time to say goodbye to the irritating sound lag problem that becomes a nuisance for so many gamers. The Razer Thresher 7.1 is here to deliver the ultimate audio realism and is regarded as the best Xbox One X headset in the market.
The most striking feature of this product is its lightweight plush ear cushions. These cushions are made of memory foam and leatherette, designed to deliver comfort during intense gaming sessions.
The headset has a 50mm driver for powerful, lifelike audio and a battery life of 16 hours. It also ensures lag-free and long-distance communication in multiplayer gaming like Call of Duty. Also, the 7.1 surround sound feature adds up to the immersive gaming experience the headset delivers.
Why we love this:
Dolby Headset with 7.1 Surround Sound
Lightweight leatherette ear cushions
Enables lag-free long-distance communication
8. Sony 4K OLED TV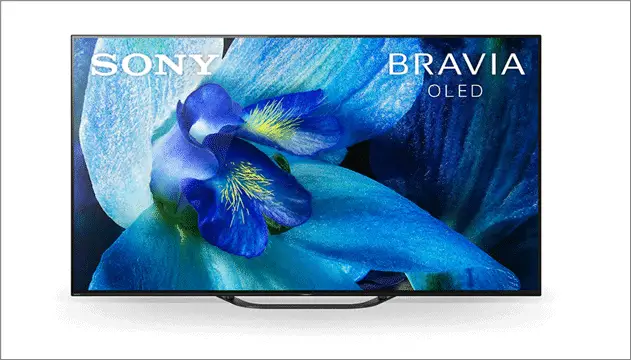 A 4K OLED TV is one of the best Xbox One X accessories that you should not miss out on. It helps in enhancing the visual gameplay on Xbox One X.
OLED technology delivers stunning depth and clarity in color, texture, depth, and detail. The high-dynamic-range, consisting of a combination of IMAX enhanced vision and Dolby sound, delivers a cinematic thrill. The Sony A1E series and the LG OLED C8 are two of the best 4K HDR TVs that feature mind-boggling contrast and require the lowest input lag.
Why we love this:
Exquisite contrast
Incredible clarity
High dynamic range
Authentic color
9. MyLifeUNIT Xbox One X Vertical Stand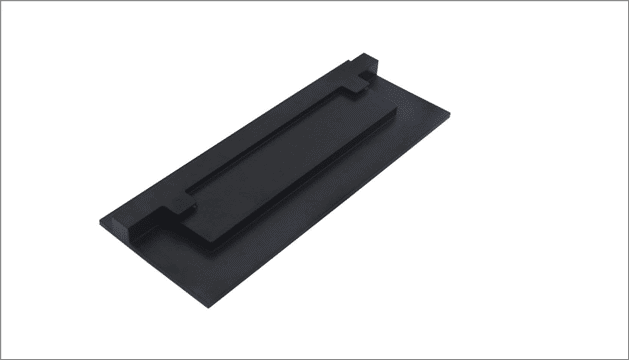 If you are a hardcore Xbox gamer, then the must Xbox One X accessories that you should buy includes the vertical stand. The MyLifeUNIT stand allows a gamer to place his console in a vertical position just like PS4. It's the best Xbox One X stand available in the market at the moment.
The stand is easy to install and provides secure positioning. It also allows heat dissipation, so you don't have to worry about the heating problem during excessive periods of gaming.
Why we love this:
Allows heat dissipation
Allows vertical positioning of the console
No products found.
10. Microsoft Official Xbox One X Play and Charge Kit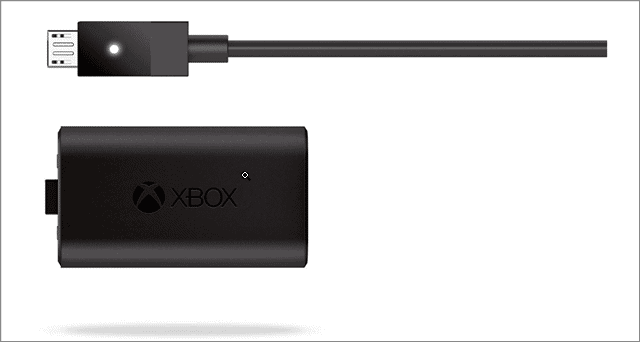 The standard Xbox controller comes with AA batteries. The battery life it provides isn't enough when it comes to the portability of the device. However, if you wish to play without worrying about the battery life, Microsoft's Play and Charge Kit with the wireless controller is one of the most useful Xbox One controller accessories available.
Unlike the original controller, the Play and Charge Kit comes with Lithium-Ion batteries and ensures a longer battery life span. It provides up to thirty hours of usage on a full charge and the recharging time is four hours.
Why we love this:
Provides 30 hours of usage on a full charge
Recharging time of 4 hours
Useful during traveling
Related: Xbox One Unveiled: The One Entertainment System
11. Elgato Game Capture HD60 S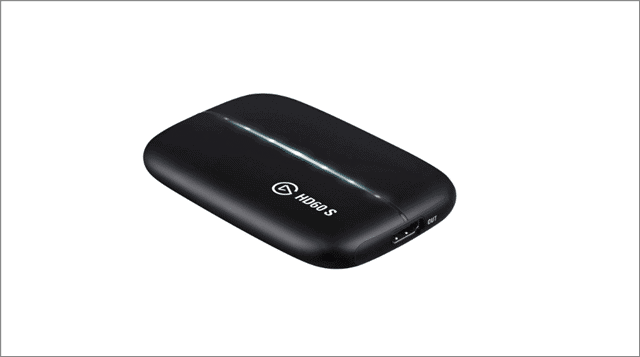 When it comes to streaming games, the Elgato Game Capture HD60 S has no equal and is the best Xbox One X accessories for professional gamers and Youtubers.
The Elgato HD60 S capture card delivers 1080p quality with a rate of 60 fps. It also comes with a state-of-the-art USB 3.0 type C connection. A gamer can also stream with a super low latency technology using this capture card. It is also possible to add your voice with the built-in live commentary feature while using the Elgato Game Capture
Why we love this:
Enhances streaming
Delivers high video quality
Streaming with low latency technology
12. Seagate Game Drive Hub 8TB Storage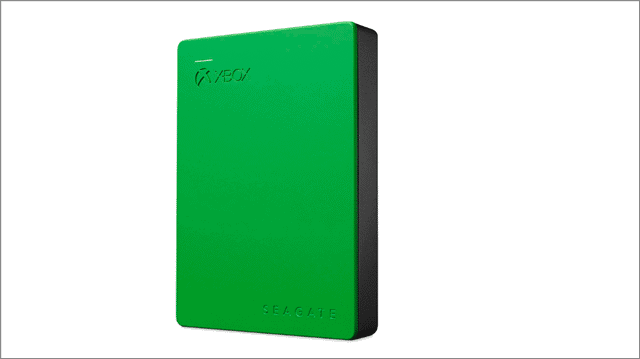 The Seagate Game Drive Hub tops the list of best Xbox One accessories if you love playing tons of different games. Gamers usually tend to delete games to install and store new ones. This hard drive will help you avoid that and build a library of your games.
The hard drive's compact size also makes it portable and easy to carry anywhere you go. It comes in six variants; 500 GB, 512 GB SSD, 1 TB, 2 TB, 3 TB, 4 TB, and 8TB. Also, it is easy to set up and a gamer won't face any lag while playing a game stored on this drive.
Why we love this:
It comes in six variants
Allows users to build a library of games
Portability
13. Xbox Live Gold (1-year subscription)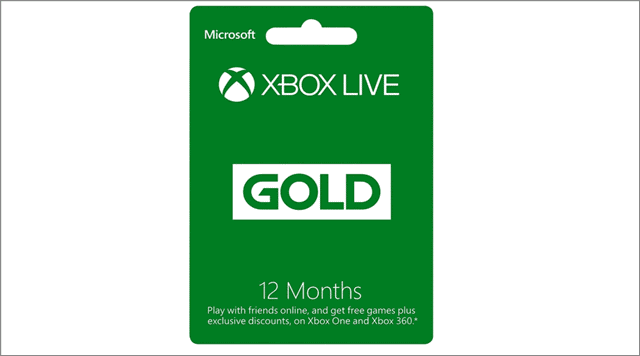 Games that have certain levels to cross are great to start with on Xbox. But, what happens after you master all those levels to an extent that it's no more a challenge. It becomes monotonous to play those levels again and again.
The Xbox Live Gold can save you from that boredom and is the best Xbox One X accessories to have in your collection. With it, you can play multiplayer games with your friends. And that's not all, you also get multiple discounts, game pass, add-ons and free games on the Xbox store.
With all the perks that Xbox Live Gold offers, you definitely shouldn't miss this out. It may not be a necessary product to buy, but definitely worth it.
Why we love this:
Enables multiplayer gaming
Provides many discounts, add-ons, and free games
14. USA Gear Xbox One Case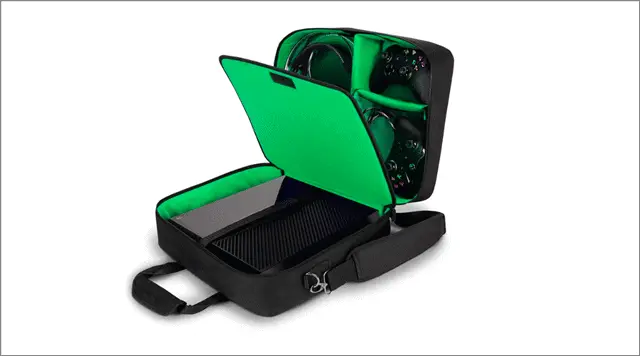 The USA Gear Xbox One Case is a necessary and useful accessory to have. To start with, it allows you to take your Xbox with you wherever you go, thus enjoying the device's feature of portability.
Coming to the product itself, the USA Gear is a well-known brand that makes top-class cases for the gamers. The carrying case is a satisfactory product and fulfills the expectations of its consumers.
It has customizable interior dividers that enable you to create pockets of different sizes to store your Xbox console, controllers, cables, and more. The case is made up of tightly-woven nylon, meaning it keeps your Xbox and its accessories safe from bad weather. It is probably the most useful Xbox One X accessories out there.
Why we love this:
Keeps it safe while traveling in bad weather
Customizable interior dividers to store console and other items
15. LG 27UK650-W – 4K UHD IPS LED Monitor with HDR 10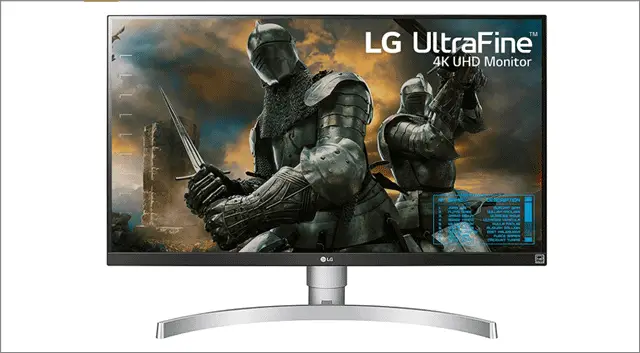 When it comes to the most powerful gaming monitors, the LG 4K UHD IPS LED Monitor hardly has a match. The screen comes with oodles of positives and is almost perfect in every sense.
It gives you perfect image quality, excellent motion handling, and a low input lag. An incredibly sharp monitor when it comes to delivering high-quality video, this screen is equally great for watching movies as it is for playing Xbox games.
A rare monitor with an HDR 10 feature, the IPS panel guarantees excellent colors and wide viewing angles. Apart from the adaptive sync, it also offers the special Black Stabilizer feature that gives you better detailing of dark scenes. There's also the Dynamic Action Sync that ensures smooth and fluid gaming action.
A 4K resolution – Check
A great panel – Check
A sleek design – Check
Congratulations, you have just found the best Xbox One X monitor!
Why we love this:
HDR 10 and Black Stabilizer features
High image quality
A dynamic Action Sync feature that enhances the game
Excellent motion handling and low input lag
Value-for-money product
16. J+S Vision Blue Light Gaming Glasses

It's pretty normal to feel a strain in your eyes after hours of incessant gaming. The habit of sitting with your eyes glued to the computer screen for hours is harmful to your vision – unless you try on these Vision Blue Light Gaming Glasses.
The glasses protect your eyes from extensive exposure to the high energy blue light emitted by electronic devices (about 90%). Also, their low color distortion lens is optimized in a way to create a perfect balance between eye protection and viewing quality. It can also be used when you are reading on a computer.
These glasses are fit to be worn by both men and women and can cover large fields of vision. Also, the spring load temples enable comfortable fitting on both large and small heads. This is probably the most useful and mandatory Xbox One X accessories that you should have in your collection.
Why we love this:
Reduces fatigue and stress caused to eyes
Multifunctional
Fits on both large and small heads
17. Havit Gaming Keyboard and Mouse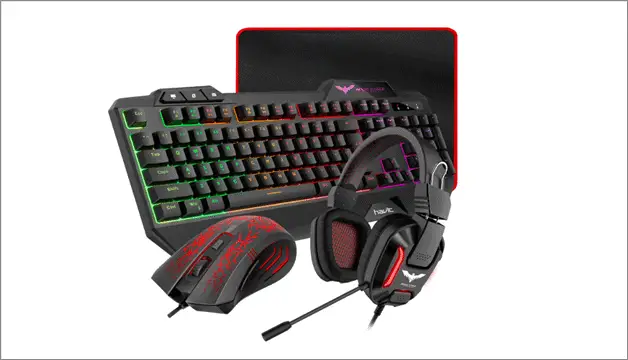 Keyboard and Mouse are two of the most crucial Xbox One X accessories when it comes to gaming. You may have a joystick, but you simply can't play comfortably if you don't have a keyboard and a mouse.
The Havit Gaming Keyboard and Mouse deliver an uber experience in multiplayer games. For starters, the rainbow backlights of the keyboard transport you into a gaming zone, creating the right kind of atmosphere while playing. The LED Mouse can light up in seven different colors: Red, Green, Blue, Yellow, Cyan, Purple, and Pink.
This pair also delivers universal compatibility to its users; it can be used for gaming on PC, iPad, tablet, and Playstation as well. The cloth surface for the mouse gives you ultra-precise movements.
Why we love this:
The rainbow keyboard colors set the right atmosphere
Easy to set up
Multifunctional use
18. Gamer Gloves EPG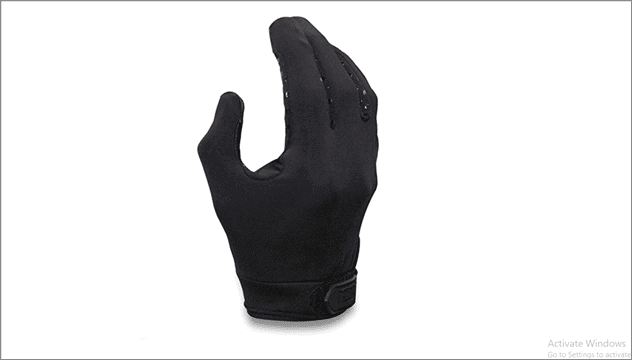 Imagine you are wearing these uber cool Gamer Gloves while playing Formula 1 or any other racing Xbox with your hands on your steering wheel. That's the closest you can get to being a Sebastian Vettel or a Lewis Hamilton. The ultimate feeling, right?
They may not be necessary as such, but these Xbox One accessories definitely enhance the gaming fun. To start with, the gloves' moisture-wicking material helps you remain in better control of your controller and avoid slippage. It's tactile fingertips give you complete functionality and also an improved experience while playing mobile games.
The EPG in their name stands for Elite Performance Generation, and these gloves truly stand by what they promise.
Why we love this:
Enables a comfortable and firm grip
Also, compatible with mobile gaming
19. KontrolFreek FPS Inferno Performance Thumbsticks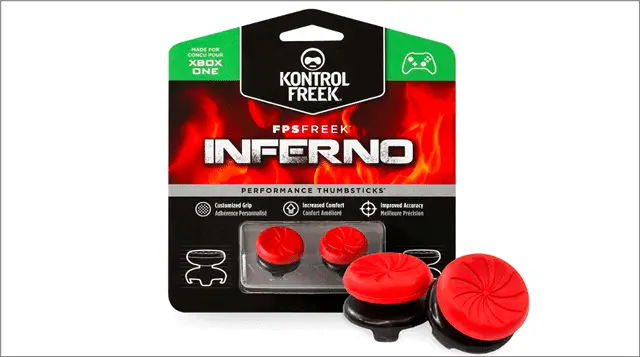 Have you ever had a problem or felt uncomfortable while using the thumbsticks on your Xbox controller? The KontrolFreek Performance Thumbsticks are here to eradicate those hurdles.
These thumbsticks add 9.9mm of height, which gives you an increased arc length that further results in increased precision and target acquisition. The proprietary rubber has an attractive laser-etched design and offers an excellent grip.
The KontrolFreek thumbstick will increase your comfort level, as they reduce wrist, hand, and thumb fatigue.
The most striking feature of these thumbsticks is the spiral pattern on top. The design absorbs the thumb pressure and is definitely the best Xbox One controller accessories. The harder you press it, the more the thumbsticks work to keep your thumbs from slipping.
Why we love this:
Increased accuracy and comfort
Enhanced grip
Attractive and useful design
Improves shooting accuracy
Conclusion
While every Xbox gamer loves to own accessories, it is a tough call to jot down the best Xbox One X accessories. After all, every gamer buys accessories according to his or her requirements.
However, we have two favorite items that we would list from a safety point of view. The USA Gear Xbox One Carrying Case is a must-have accessory for every gamer to store your console and other related items. It also adds a layer of protection to your gaming console if and when you travel.
The J+S Vision Blue Light Gaming Glasses are probably the most crucial product that every gamer should possess. They safeguard the eyes from harmful blue light and also reduce the stress and fatigue due to long hours of gaming. Which ones will you go for?
Related: The Perfect Guide on How to Use Spotify on Xbox One