The Wireless Fidelity technology, or WiFi as we commonly know it, provides a fast internet connection to millions throughout the globe. However, when the connection isn't strong enough, a WiFi booster app is required to enhance its speed. These booster apps make sure you don't face any hurdles in your daily browsing activity due to slow speed.
WiFi signal boosters are mostly useful when you are using hotspots at malls, stations, hotels, and movie theatres. Using one of these apps could relieve you of the speed lag and boost your network so that you can enjoy fast and free internet connection. Apart from boosting internet speeds, these apps also provide other services like data privacy and security, internet speed tests, and searching the best WiFi networks in a given area.
How Do WiFi Extenders Work?
A WiFi booster connects to the signal directly to the WiFi router and boosts the wifi signal strength from the main access point while a WiFi extension app focuses on rebroadcasting an existing signal. Extended WiFi usually needs two antennas to receive and replicate a connection. They can be put to their best use in bars, cafes, and restaurants.
Top 13 WiFi Booster App To Ensure Top-speed Internet Connection
The Google Play Store has no shortage of options if you wish to find the best Wifi booster. You can easily download any app that fits your needs and requirements. On that note, let's take a glance at the 13 best WiFi booster apps along with Google play Rating that will ensure a stable and fast internet connection.
1. SPEEDCHECK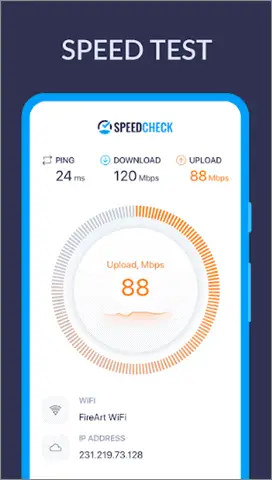 Size: 14.08 MB
Rating: 4.8
Downloads: 5M+
SPEEDCHECK is one of the best wifi boosters to go for if you want a secure and stable connection. You can use it to share public networks as well. With SPEEDCHECK, you can measure your internet performance by performing speed tests and also boost your wifi. These tests can also be scheduled in a timely manner, thanks to the automatic check feature.
SPEEDCHECK also allows you to keep a track of your previous speed tests. You can also check if your service provider is properly delivering the service as promised.
Download SPEEDCHECK here
2. WiFi Doctor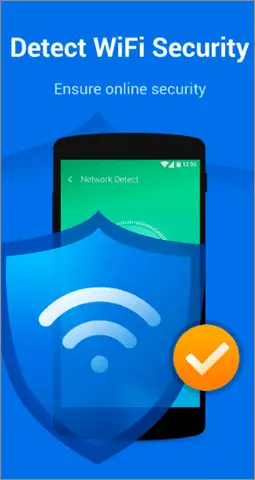 Size: 7.80 MB
Rating: 4.2
Downloads: 1M+
WiFi Doctor is one of the best and most trusted signal booster apps available on the market. With it, you can ensure connection to a secure network so that your private and personal data remains safe.
It will detect the apps that are slowing down the internet speed and automatically close them to boost wifi and internet speed. The monitor feature enables you to know who is using your connection so that you can cut them off. The Super Boost feature takes care of those apps that launch automatically without any authorization. Hands down, it is one of the best booster apps you can choose to go with.
Download WiFi Doctor here
3. WiFi Analyzer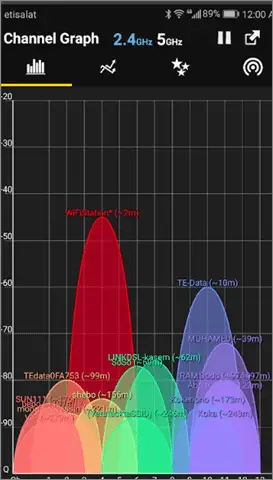 Size: 2.40 MB
Rating: 4.7
Downloads: 1M+
WiFi Analyzer is built to get the best out of your WiFi connection and optimize it. To start with, WiFi Analyzer manages the interference issues very well and provides a commendable WiFi network speed. Also, it recommends the best place and channel where you can get the best performance for your network.
You can use your connection at the best possible speed by using this WiFi booster app.
WiFi Analyzer also detects hidden connections and provides real-time distance and data calculations. It can also keep a track of the cellular strength history on your phone. All in all, there's hardly a drawback for you to refrain from using this signal booster app.
Download WiFi Analyzer here
4. Network Signal Booster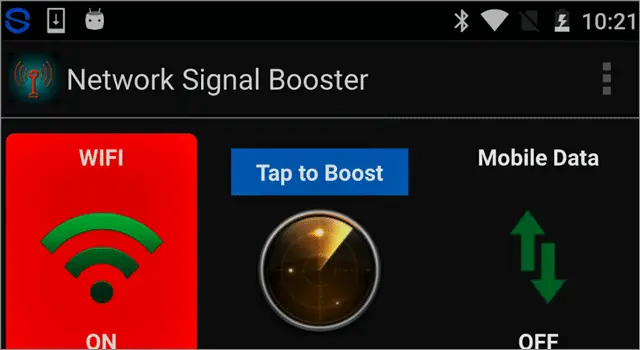 Size: 9.35 MB
Rating: 4.4
Downloads: 5M+
The Network Signal Booster is a proven WiFi booster app that can improve the cellular strength of the signals. Weak signals can be irritating while browsing and it knows exactly how to eradicate that problem.
It is a trusted application that has been lauded for its simple user-interface. All you have to do is tap the large button and feel the difference in the speed of your internet connection and wifi network.
It is effective and also offers 24/7 support. In case if you are having trouble booking a cab, making an emergency call, or accessing Maps, make sure you download it..
Download Network Booster here
5. Connection Stabilizer Booster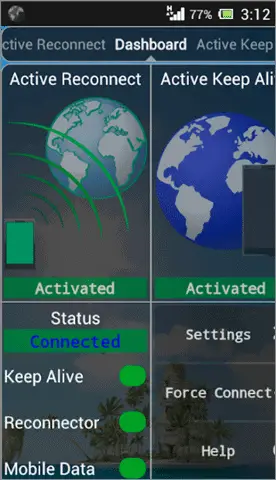 Size: 2.6 MB
Rating: 4.3
Downloads: 1M+
Bored of the regular slow speed internet connection? Time to boost wi-fi network with the Connection Stabilizer Booster.
As the name suggests, this Connection Stabilizer Booster is used to enhance the speed of various Wi-Fi networks such as EDGE, HSPA, 2G GPRS, 3G, and 4G LTE. If your smartphone frequently loses signals, it reconnects the network automatically and saves you the hassle of connecting repeatedly.
It can also force connect networks and ensure a stable connection with proper speed. This is especially helpful when you are using congested WiFi networks that serve multiple users at a time.
The application has a customizable design and you need not worry about getting an enhanced internet connection.
Download Connection Stabilizer Booster here
6. Net Optimizer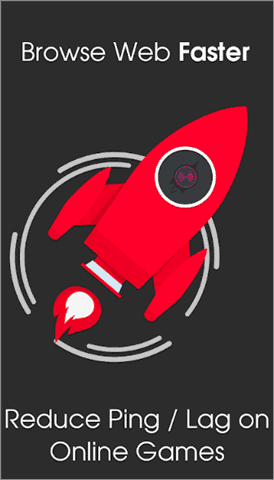 Size: 9.7 MB
Rating: 4.3
Downloads: 1M+
With Net Optimizer on your smartphone, you can find the fastest DNS server and connect to it. In case if you change the network, this WiFi booster app detects it automatically and optimizes it accordingly.
Net Optimizer works for various DNS servers like Level3, Verisign, Cloudflare, Google, DNS Watch, OpenDNS, and many more. When your speed slows down, this signal booster app matches it with the fastest and perfect DNS server so that you can continue browsing with speed.
All in all, if you opt for Net Optimizer, it certainly won't disappoint you.
Download Net Optimizer here
7. Perfect Network Signal Booster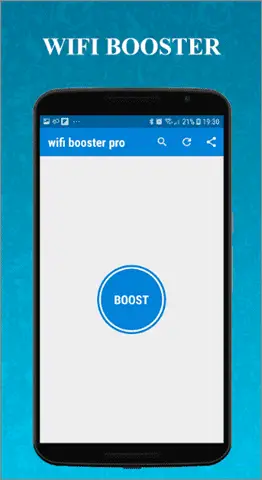 Size: 4.4 MB
Rating: 4.0
Downloads: 50K+
The Perfect Network Signal Booster application offers similar features to its competitors. It can detect smartphones, perform internet speed tests, and analyze the network accordingly.
It increases the wifi speed, the quality of your network signals, thereby enabling a faster connection. Users can also dive deep into their router settings and adjust the channels so that they get better service in crowded areas.
It also displays network strength. It is perfect in almost every area and stands true to its name when it comes to delivering the promised services.
Download Perfect Network Signal Booster here
8. SuperWifi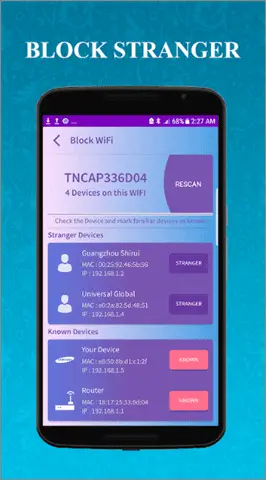 Size: 4.7 MB
Rating: 4.5
Downloads: 100K+
SuperWifi is similar to Perfect Network Signal Booster in many aspects. To start with, it can perform adequate internet tests to detect the speed of the connection and the network and boost your Wifi. Added to that, you will also know who is connected to your hotspot by using this app.
With SuperWifi, you can access the routers you are connected to, and change the admin settings as per your requirements. This WiFi extender app comes handy if you have forgotten your router password and cannot access it; with this application, it is easy to rediscover the password.
Also, SuperWifi provides a Signal Strength Meter feature to measure how strong your Wi-Fi network signals are. All in all, it's a trustworthy app that won't disappoint you with its services.
Download SuperWifi here
9. Speedify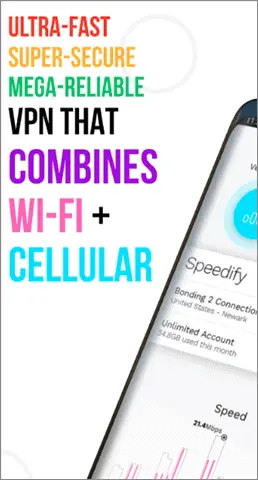 Size: 5.2 MB
Rating: 4.0
Downloads: 1M+
Speedify is an application that can increase your internet speed tenfold; apparently, it uses the Channel Bonding technology to secure multiple internet connections simultaneously. You get increased bandwidth, low latency, and above all, great reliability for all your internet activities.
Apart from providing commendable speed, Speedify also offers privacy and security to your data. It always runs in the background so it never lets you browse without switching on the VPN for protection.
So, say goodbye to buffering videos, lags in games, and slow browsing when you use Speedify, the best wifi booster app for better internet performance.
Download Speedify here
10. NetSpot
Size: 6.8 MB
Rating: 3.4
Downloads: 100K+
NetSpot is one of the most widely used boosters for tablets and smartphones. It is known for building a perfect wireless network that provides a stable and fast internet connection.
Blessed with an easy user-interface, NetSpot can scan all the surrounding wireless networks and show you the options to connect to the best network. It can also compare networks using Signal Strength and internet channels.
Additionally, NetSpot also finds signal leakages and resolves channel overlap conflicts. Apart from troubleshooting it also enhances a network's coverage, performance, capacity, signal level, and interference.
If you are searching for a nice WiFi booster app that provides multiple functions, do give NetSpot a try.
Download NetSpot here
11. Veloxity – WiFi & Mobile Network Speed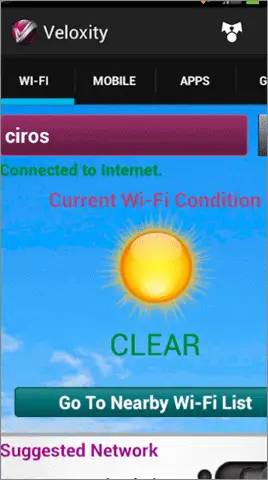 Size: 2.4 MB
Rating: 4.5
Downloads: 1M+
Veloxity is one of the best booster apps to go with as it offers a plethora of features and services. You can find the best public connection for browsing the internet on your phone using this application.
With Veloxity, you can also measure app speed in real-time. You can clean the links of your home internet channel as well as compare it with your cellular internet speed to know which works the best.
The best thing about using Veloxity is you can get rid of the interference by switching to any of the three best channels this WiFi speed booster suggests you. All in all, it's a great package of internet performance enhancement you are searching for.
Download Veloxity here
12. WiFi & Mobile Speed Booster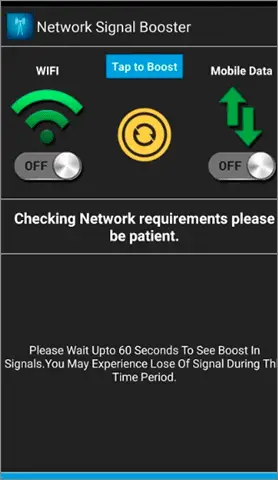 Size: 7.8 MB
Rating: 4.4
Downloads: 5K+
The WiFi & Mobile Speed Booster is specially built to enhance and improve the speed of 4G internet services. However, this WiFi booster app will also come handy if you want to improve your connection with a 2G or a 3G network.
Equipped with an advanced algorithm, it has the ability to enhance the strength and network stability of your Android devices It improves the weak signals and provides a faster internet connection that enables you to browse and download data with ease.
Download WiFi & Mobile Speed Booster here
13. WiFi Signal Booster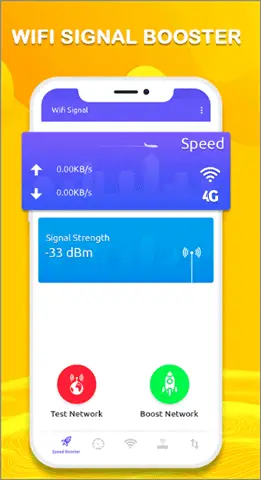 Size:  5.3 MB
Rating: 3.6
Downloads: 1K+
WiFi Signal Booster is one of the most rarely used boosters as its downloads show. This application uses a statistical approach to optimize your network usability and allows users to perform internet speed tests and change networks accordingly to connect to the best networks.
Also, you can customize the number of apps connected to this network as per your wish. It is also capable of discovering other networks. From improving download speed to specifying the information of the router that you are using, it is the perfect wifi booster app.
Download WiFi Signal Booster here
Conclusion
A WiFi booster app is used to enhance the speed and performance of an internet connection. It can be used at hotels, malls, railway stations, and many other public places. The primary job of a speed booster is to ensure a stable connection and reliable speed so that the user doesn't face any interference while using the network.
SPEEDCHECK and WiFi Doctor is the most reliable one when it comes to enhancing internet speed. They also provide additional features such as data privacy and security and speed tests. The Performance Network Signal Booster is a great strength app to use if you want to access and edit the router settings of your internet connection. Irrespective of the aforementioned suggestions, users can select any application that fits their needs and requirements.
Related: What is WiFi Direct and How does it work?