VPN (Virtual Private Network) is used by many of us for work or for personal purposes. You may need to connect to your office network for secure access to data and services, or you just might be interested in watching geographically restricted content. Irrespective of the purposes, it is important to use a VPN service that does not compromise with your privacy and security.
In our Surfshark VPN review, we found out that this VPN not only protects your identity and data but also offers features that make it worth considering as your VPN provider.
Surfshark provides VPN apps and extensions for various platforms. We used the service for a few weeks and this review shares our experience with the service and our thoughts on the same.
Surfshark VPN Review
Surfshark provides you with many other added functionalities other than basic VPN services. You can get access to some of their beta services and apps once you subscribe to this VPN service. For a long-term commitment, the monthly charges for this VPN are also less compared to other VPN services.
What we like about Surfshark
Some of the features that we really liked about Surfshark are:
No logs policy – Activity and connection logs are not maintained by them. They have a strict no-log policy, ensuring your privacy when connected using Surfshark VPN
Kill Switch – This switch disconnects you from the Internet when your VPN connection drops without warning. Hence, you won't be exposed to the connected network, even if VPN connection drops.
Camouflage Mode – Your ISP won't know that you are using a VPN.
MultiHop – Connect to multiple countries using a single VPN connection, ensuring ID protection & footprint masking.
24*7 support – Their customer support is available at any odd hours and will give a prompt and satisfactory response to all your questions.
What we didn't like about Surfshark
Well, there were only 2 things we didn't like about Surfshark
No free version available – There is no free version with limited services offered by this VPN service provider.
No Android App for Some Demographics – The Surfshark app for Android is nowhere to be found on the Google play store in some countries, like India. You may need to download the .apk file available on their official website to use the Android app.
Most users look beyond a feature-list and see the overall experience of the service. This review does the same and takes a look at what the service offers from the point of view of a subscriber. This covers some additional benefits, ease of use, and other factors that play a crucial role in selecting the best VPN services.
For the review, we used Surfshark VPN on Windows, Mac and Android.
Download and Install Surfshark App on Multiple Platforms
Surfshark is available on all the common platforms. The list includes Linux, Windows, and Mac, along with applications for Android and iOS platforms. You can get extensions for Chrome and Firefox as well.
The download and install process is very easy and straightforward on all the platforms. The cross-platform functionality makes it easy to use on all the devices available at home or in the office. You just need an email-id and password to get started with this VPN service.
If you wish to manually set up a VPN on Windows, then you can contact their customer support to provide you specific guides. They do have an option to manually setup VPN in Windows by using Windows in-built VPN feature.
User Interface and Ease of Use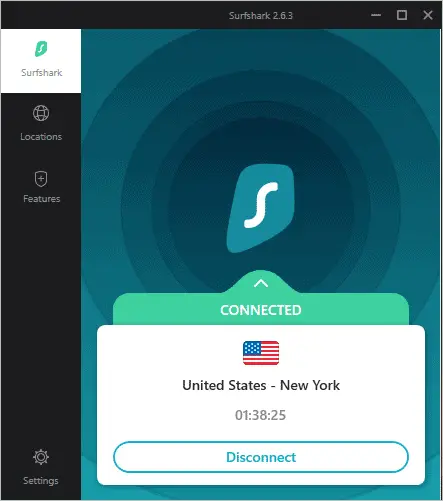 The user interface of Surfshark is clean and easy to use. You can easily get connected to your desired location with one click. If you want a specific location, you can search for it in the location tab. The settings are easy and self-explanatory.
People who don't have any technical background can easily use this VPN service on the device they want. The UI for all the platforms is pretty much the same.
Internet Speed and Servers
Many times Internet speed is compromised when we are using a VPN, but that is not a case in Surfshark. We connected to different locations and checked the speed. The speed was not compromised and was 90 to 95% of the original speed.
Surfshark has 1700+ servers in 63+ countries, with each server having private DNS. All servers are P2P friendly.
Streaming
You can watch content on Hulu, Amazon Video, Netflix, and Disney+ using Surfshark VPN. Netflix can be accessed from 10 locations, which include the US, UK, Japan, Canada, India, and many more.
Surfshark works pretty well for streaming content on Netflix and to side-step the geo-restrictions on content. I was reliably able to connect to Netflix Japan and UK and stream content without problems. There was a little hiccup when I connected to Netflix in these regions but once I started streaming, it was smooth sailing.
Security
Your security and privacy are not compromised with Surfshark. It provides private DNS on each server and leak protection. The personal data is guarded by AES-256-GCM encryption. They use secure protocols like IKEv2/IPsec on all their apps. With all the security features mentioned above, your VPN experience is on a different level without worrying about safety.
Privacy
As mentioned earlier, Surfshark has a strict no-logs policy. They say that they do not log your online activities, and thus they cannot provide them to any government or private institutions even if ordered to. They also maintain a warrant canary which is regularly updated.
Customer Support
Surfshark has a 24×7 live support through chat or email. We contacted the support multiple times during the last few weeks with some complicated and, frankly, some simple questions and problems. They were able to give a quick and thorough response in every case.
They have a ton of documentation for solving user problems, and the support team does a good job of sharing specific ones with you. Overall, I feel that the customer support quality at Surfshark was quite excellent.
Out of the Box Features
As mentioned above, Surfshark offers more than a normal VPN service provider. While writing the Surfshark VPN review, we checked all its extra features and apps as well.
Web Clean

– With this feature, you can browse the Internet without ads, malware, phishing attempts, and trackers.

Whitelisters

– You may need to disconnect VPN to access specific sites like banking or e-commerce sites. However, with the whitelisting feature, you can access those sites without disconnecting VPN. All you need to do is put such sites in the whitelist. And after that, these sites and apps will bypass VPN.
Both the above-mentioned features are available in the Feature tab in their app. Surfshark has 2 more services that are currently in the beta version – HackLock and BlindSearch.
BlindSearch is a browser that works like incognito mode, where your browsing history is not saved. You won't get any ads or malware with this lightweight browsing tool.
HackLock is a breach detection mechanism that monitors your email address and informs you if it is exposed in data breaches or leaks.  You can also get your passwords checked with this detection tool. Personally, I am skeptical of such tools and would not prefer to input my actual, active password in any password-checker.  I would rather recommend you to use a password manager and hard-to-crack passwords.
As mentioned above, both of these tools are in beta version. I do expect improved versions of these tools as they shed the beta tag.
Pricing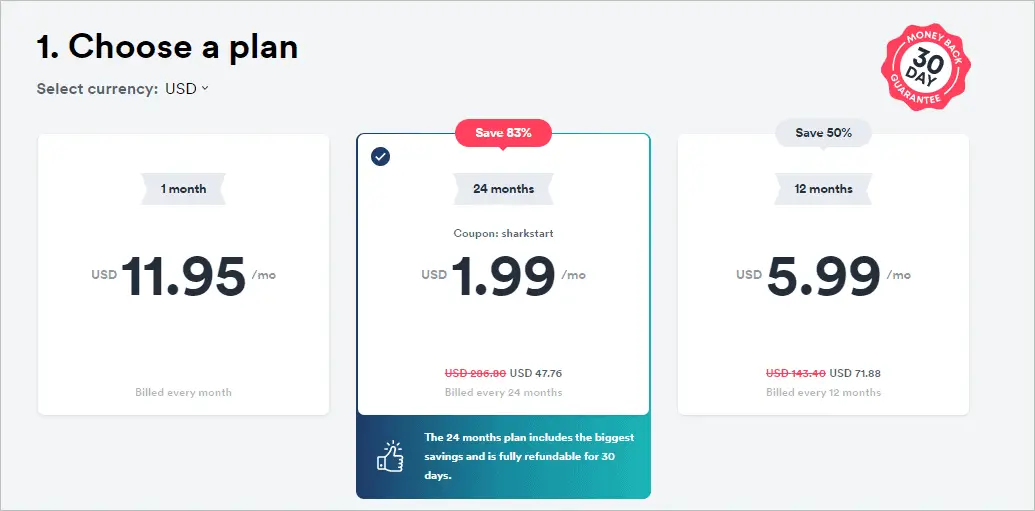 Surfshark doesn't have any free version available. They do have a 7 days trial and 30 days money-back guarantee. The free trial needs to be activated via Android and iOS apps and then can be used on other platforms from the same account.
There are 3 plan options available, monthly, yearly, and 24 months. If you go for a 24 months plan, then the monthly charges will come to 1.99 USD/month, which is a really good deal. With every plan, you get all of the features mentioned above.
You can connect to unlimited devices with one plan on different platforms as well. The speed, number of servers, and other functionalities are not compromised with any of the plans.
Is Surfshark VPN suitable for you?
Looking at the features and pricing plans, it is a good deal in the VPN category, especially if you are looking to get a long-term plan. They even offer 30 days money-back guarantee which can get your money back in case you are not happy with the services.
The uncompromised speed, privacy, security, cross-platform availability, ease of use makes it even more worth it. Be it for use at home or office, Surfshark is a good VPN service to make use of.
Final Thoughts on Surfshark VPN Review
We have used Surfshark VPN on Windows, Mac, and Android devices for a few weeks and then wrote an honest Surfshark VPN review for that. It is a reliable VPN service that worked well for Netflix streaming as well. Although it doesn't have a free version, you can opt for a 7 days free trial to use and understand its features.
Based on our hands-on experience, we can recommend the Surfshark VPN service for the people who use VPN on multiple devices.
Does Surfshark VPN have an adblocker?
Yes, Surfshark VPN has an in-built ad blocker. You don't have to pay anything extra to use the ad blocker features.
How many devices can connect using Surfshark VPN?
Unlimited. You can connect as many devices as you want with Surfshark VPN.
Is there a free version of Surfshark?
No, there is no free version of Surfshark available. However, you can use a 7 days free trial to know the features and services offered by them.
Is Surfshark VPN trustworthy?
Yes, Surfshark VPN has a strict no-log policy, which makes it reliable and an ideal option for VPN users. They don't log and sell your data.
Does Surfshark work for Netflix?
Yes, it does not only work for Netflix but also for Disney+, Hulu, and Amazon Video. You can watch Netflix content across 10 countries, which include the UK, US, Japan, South Korea, India, and many other countries.
If your focus is more on a privacy-focused VPN check out "Proton VPN review"