Where do you jot down quick thoughts, places to go that you overheard in a random conversation, and some to-do tasks that you need to finish the next day? Pen and paper, right? Well, how about dumping the traditional method for some good and opting for the best note taking app that can be used as a substitute.
Also, writing them down and capturing a picture of it from your phone camera is what some of us follow, but saving the same saved on a note-taking app is more accurate and reliable. With the advent of note-taking apps for our smartphones and tablets, the process of taking notes has been revolutionized in many ways.
Best Note Taking Apps To Change The Way You Take Notes
These note-taking apps act as a digital equivalent of our conventional notebooks and can be more useful to us than paper ever was. Not just text, you can save pictures and voice memos as well. These apps store your notes in the cloud, and you can sync it to all your devices. So, as long as you have the internet, you will have access to your notes.
What more? You can hunt for data that was saved weeks or months ago within seconds. Let's check out the best note taking apps for all kinds of platforms.
1. Evernote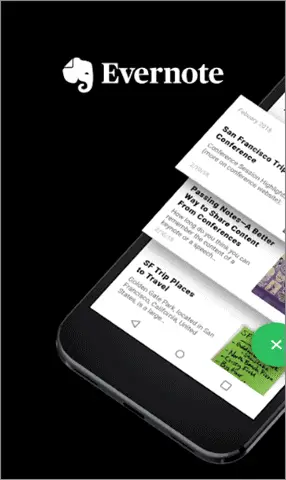 Evernote is an incredible app that makes it first to our list because it is made to create notes and organizes the same into notebooks. You can sync it across two/multiple devices. Although it's primary purpose is note-taking, you can also use Evernote as a planner, organizer, for making to-do-lists, and for setting reminders.
If you're a free user, you will get 60 MB of space to upload all types of files on the cloud. However, if you subscribe to the monthly plan for $7.99, you get 1 GB of new uploads.
The most striking features of this best note-taking app for college students include searching for text inside images and clipping articles from the web.
USP:
The search function for notes is excellent, and browser extensions are available if you're using Evernote on the web.
Download Evernote on Android | iOS
Related: 9 Awesome Evernote Productivity Tips
2. Microsoft OneNote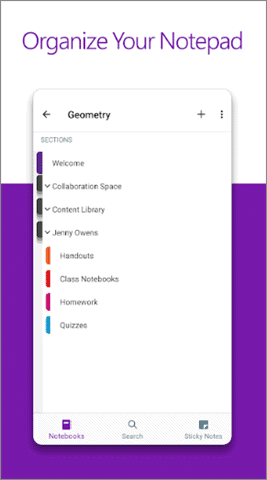 If you already use the other Microsoft Office apps, you can consider diving into this note taking app by the giant since it is fully integrated with Word, PowerPoint, and Excel.
You can draw using a pen, type, write and use robust organization tools like pinning pages to be viewed later. You can sync it across all devices, and there are plenty of options available for formatting and design as well.
One of OneNote's most unique features includes its ability to capture images from a slideshow presentation or a whiteboard and automatically crop them. The digital notepad enables you to organize your ideas, take notes, track your list of errands, and simplify planning.
USP:
It has a built-in audio recording app.
Download OneNote on Android | iOS
Related: 7 Tips to Get More Productive with MS OneNote
3. Dropbox Paper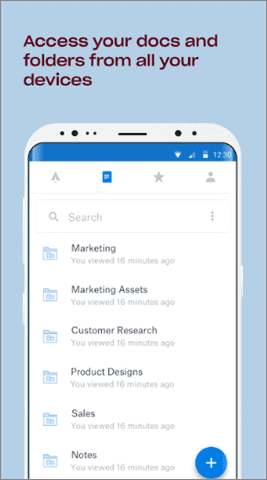 Most of us already use Dropbox to keep files, documents, and pictures saved on the cloud. You can check out their notepad app called Dropbox Paper, which acts as a flexible workspace facilitating teams in creating and sharing ideas.
Dropbox Paper allows users to chat with each other in real-time and is built for collaboration while enabling people to work together. The design looks minimalistic but has multiple features tucked away that are easy to access.
You can create new documents and edit them, keep track of all team activities in an organized list, prioritize documents, and also post comments and reply to them.
USP:
You can add and share a variety of media apart from only links. The interface is clean and uncluttered.
Download Dropbox Paper on Android | iOS
4. Simplenote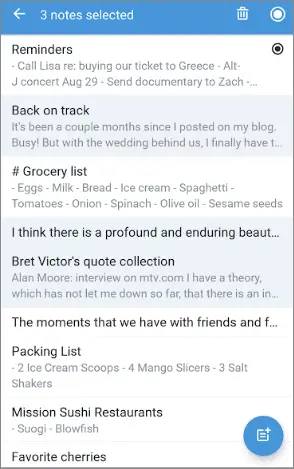 If you're looking for a notepad app with minimalistic features and a clean interface, get your hands on Simplenote. It is perfect for people who simply want to take down notes and are not looking for fancy attributes or extra storage space.
Simplenote enables you to create and keep as many notes as you require and provides features like tags and search for keeping them organized. The best note taking app helps you in collaborating with others and is built for speed and efficiency.
Your notes are synced across all devices. The changes that you make in your notes are automatically saved, but you can check the previous versions of the notes as well by going back in time.
USP:
The interface is simple and extremely easy to use.
Download Simplenote on Android | iOS
5. Google Keep
What makes Google Keep the best notepad app is its card-based approach. It is ideal for people who like to see all their audio clips, voice memos, ideas, lists, and images in one place.
You can color-code or add any other unique attributes to them, so they are easily identifiable. The app also enables users to share their notes with others and edit them. Your notes and the changes that you make in them are automatically synced across all devices.
Google Keep enables you to set time-based or location-based reminders. So, if you need to check your notes at a particular time or location, these features come in handy.
USP:
Tired of typing? The note taking app has a voice memo feature which you can use to record yourself a message in a quick audio format and hear it later as a voice note or reminder.
Download Google Keep on Android | iOS
Related: Take Notes Seamlessly With Google Keep Firefox Add-on
6. Zoho Notebook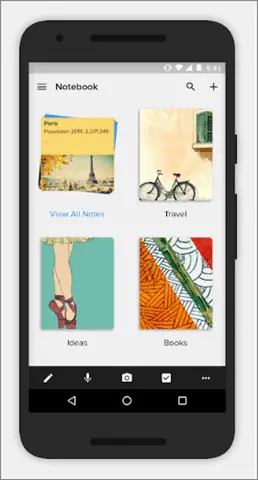 Just like Google Keep, Zoho Notebook too has a card-like interface. You can create different cards, for example, one for some story you're working on, with both text and images or an audio card of your voice. How about making a sketch card for doodling?
It goes without saying that you can also create checklists for your grocery items, for the errands you need to run during the weekend, or for any other purpose. One of the best note-taking apps, Zoho Notebook allows you to organize notes into notebooks. You can also group them, copy them, or reorder them.
Your notes will be automatically synced across all devices.
USP:
The app design is bright and appealing. You can customize notebook covers as per your choice.
Download Zoho Notebook on Android | iOS
7. Quip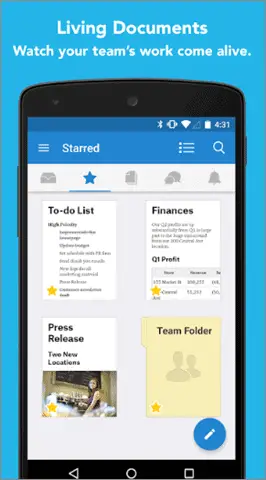 Quip is more than just a typical note-taking app. It is a word-processing and spreadsheet application making collaboration easy and fast. Although, once you get rolling on the best note-taking app for iPad, we are sure you will use it for storing general notes too.
It enables you to work on documents, sheets, and notes with others and combines docs, spreadsheets, chats, and task lists in one app. You can now skip the endless emails and meetings by having Quip on your tablets, phones, or desktop. It makes work easier and more convenient.
You can sync your Quip account with other similar tools like Google Drive and Dropbox, for example. You, along with your teammates, can keep your notes organized by creating folders and sub-folders. They give you the option of having private folders as well, in case you do not want to share some information with others.
USP:
Best note taking app for working in teams and sharing documents with co-workers.
Download Quip on Android | iOS
8. Notion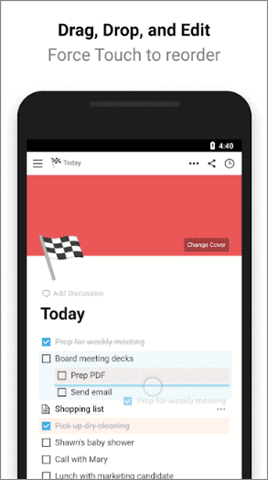 Apart from the basic note-taking capabilities, Notion includes spreadsheet functions, text editor, and calendar. It is a productivity suite that supports bookmarks, to-do lists, and images.
Notion, the best note-taking app, includes drag and drop features which facilitates easy arranging of content. You can avail of the formatting functions as well to make your notes look good. They have plenty of templates on offer which can be used to create tables, lists, photos, or a page full of notes.
You can also integrate a Notion account with Google Docs. The basic version is free; however, if you wish to avail advanced features, you can buy the monthly subscription plan at $8 with no file upload limit. Are you all set to say goodbye to messy folders?
USP:
You can collaborate, share, and edit your notes in real-time.
Download Notion on Android | iOS
9. MyScript Nebo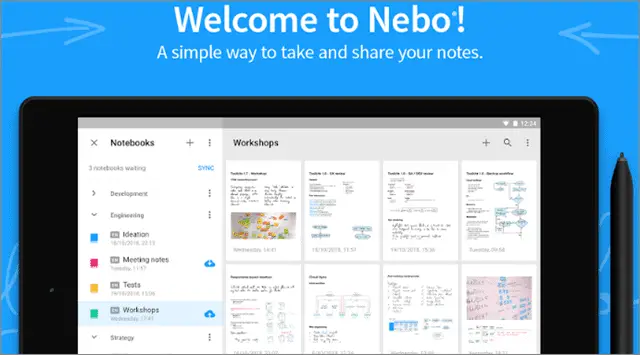 One of the best note taking apps, MyScript Nebo, helps you in becoming more productive. It uses digital ink technology by converting what you write or draw into digital text.
It allows users to make lists in bullet form and provides structure to the notes by creating paragraphs and titles. You can add interactive diagrams that can be copied to Powerpoint as editable elements. Similarly, other images can be added to different apps.
MyScript Nebo can export written text in various formats, for example, PDF, HTML, or even Word. It supports handwriting recognition in over 50 languages. You can sync your notes with Google Drive or Dropbox.
USP:
Best notepad app for translating handwritten notes into a typed format.
Download Myscript Nebo on Android | iOS
10. Any.do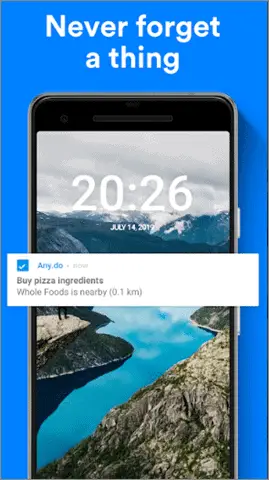 Any.do has impressive note-taking features and enables you to create to-do lists, mark calendar dates, and set reminders. It is a comprehensive task management tool that helps you stay organized.
The best note-taking app for Android enables you to add and track tasks, create smart lists, and collaborate on shared projects without any hassle or cost. You can organize tasks and notes under lists and color them differently for easy identification, thereby setting priorities and categories.
The app has location-based reminders, allows you to review your notes and lists via the home-screen widget quickly, and enables you to use the daily planner to prioritize tasks. Not just creating a grocery list, you can share the same with your friends and family, and even auto-receive it on entering the supermarket.
USP:
You can add recurring reminders for repetitive activities, receive follow-up reminders for meetings, and get missed call reminders so that you never forget to call back.
Download Any.do on Android | iOS
11. WorkFlowy
WorkFlowy is one of the best tools for taking down notes. Whether you're a novelist planning a book, a manager creating quick tasks, or simply in the lookout for creating checklists; WorkFlowy helps you in managing all kinds of information well.
The app has an easy-to-use interface and is beautifully designed. It offers you full offline functionality, enables you to tag and filter list items, and zoom-in on any sub-list. Your notes will automatically be synced across all devices, and you can also collaborate with others.
One of the best note-taking apps, WorkFlowy has a full-text search option; thereby enabling you to find what you're looking for quickly. You can also expand and collapse lists and mark items as complete.
USP:
The app is simple to use, incredibly powerful and comes in handy as a great project management tool as well.
Download WorkFlowy on Android | iOS
12. Cozi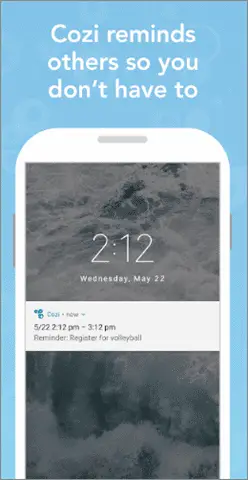 Cozi enables you to take down notes in both long and short form. One of the best note taking app, it acts as a family organizer, has a calendar where you can mark-up important events, and allows you to set reminders. You can create checklists and to-do lists as well.
All the notes that you create are synced across all devices and therefore become easily accessible. Cozi is an excellent tool for collaborating with others and facilitates quick sharing of data. Since the app is primarily a family organizer and secondarily used for note-taking, it is widely used for planning household activities, scheduling events, and even sharing quick recipes.
If you're a busy mom or dad, Cozi will help you in staying organized and will become your go-to app. The home-screen widget gives you easy one-click access to the app.
USP:
The color-coding feature available can be used to assign one color to a family member, thereby facilitating easy identification.
Download Cozi on Android | iOS
13. Standard Notes
Standard Notes is one of the most simple and private note-taking apps. The word private here signifies end-to-end encryption., which means only you can read your notes.
The app syncs your notes across all devices in a secured format. You can use it for writing personal notes, tasks and to-do lists, meeting notes, as a private journal, or as a cross-platform scratchpad. Apart from offering encryption, the app allows you to use a passcode or fingerprint lock as well.
There's no limit on both; the number of devices and the number of notes. You can use tags to organize your notes better, for example, #work, #ideas; etc. The interface of Standard Notes is similar to that of iOS Notes. The app doesn't let you sort or pin your notes.
USP:
The interface is straightforward and minimalistic, thereby making the app extremely easy to use.
Download Standard Notes on Android | iOS
Best Note-Taking App for iOS/ iPad/ Mac
1. Bear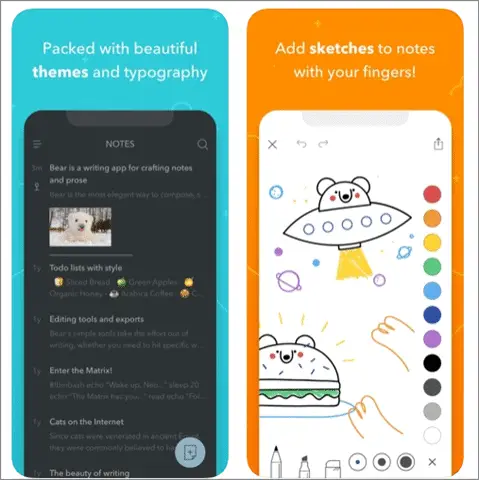 Bear is the best note-taking app for iPhone available currently. This focussed and flexible writing app is used by web developers, aspiring authors, students, and even bloggers.
It is beautifully designed and suits both lengthy essays and quick notes. The users can enable the 'focus mode' which will help them concentrate on their writing if they plan to do it for long periods or during note-taking.
Other advanced features include the ability to add images and links. You can use a wide range of editing tools to optimize your notes and customize the theme to suit your style. The users can add hashtags to tag any note and also add to-dos to individual notes.
USP:
You can export notes to various formats like JPEG and PDF. You can also import images from other apps.
2. Notability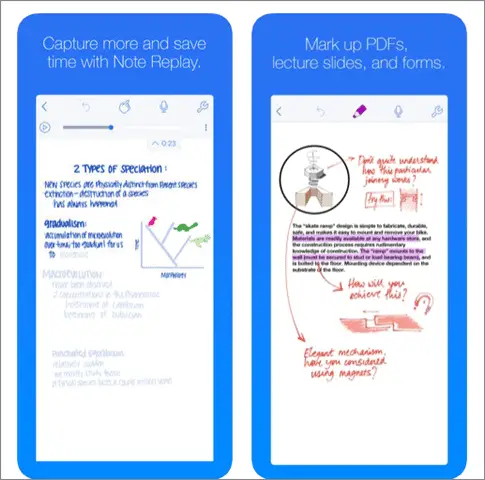 If you're an Apple fan who loves to doodle, sketch, draw, or write by hand; you should definitely check out Notability. Best note-taking app for iPad Pro, Notability has an incredible suite of advanced note-taking tools.
The app allows you to combine your handwritten notes or drawings with typed text, images, and videos. Need a closer look at your notes? No worries. Notability allows you to zoom in.
If you're working with PDF files, this iPad note-taking app allows you to do various fun things. You can add annotations anywhere on the PDF documents, sign them, fill them, and send them.
USP:
Notability works well with Apple pencil and has good text formatting options.
Download Notability on iOS | Mac
3. Apple Notes
Apple users have their own in-built note-taking app called Apple Notes. It is not complicated, intuitive, and powerful enough to meet all your note-taking needs. It allows you to pin important or urgent notes at the top of the list.
The features of this iPad note taking app include minimum essentials, and it enables you to look out for specific notes by searching for them in the search field at the top. All the notes that you create and add are neatly organized in the left sidebar, and you can also classify notes using different folders. 
Apple Notes allows the users to customize the formatting of their text, create checklists, and insert photos. What more? You can, of course, handwrite notes and draw using Apple pencil.
USP:
You can scan documents using the device camera.
4. Ulysses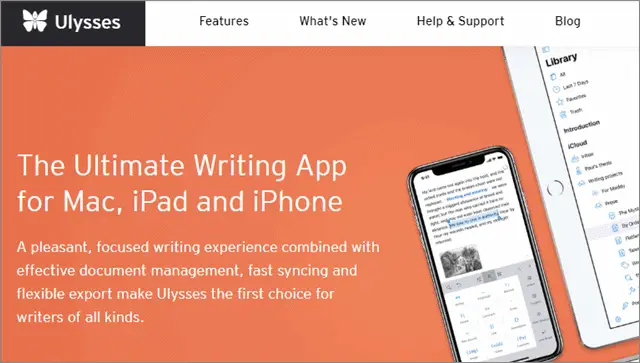 The best note taking app for the Apple ecosystem, Ulysses has been around for quite some time now and is the first choice for writers. It is accessible on iPad, iPad Pro, Mac, and iOS devices.
The notes that you take down are stored in the notepad app's own Markdown style, thereby allowing the users to put up creative and colorful headings. You can embed the images as links within the documents instead of putting them on display in the body text.
Best note-taking app for iPad Pro, Ulysses uses iCloud to save your documents, and they are automatically synced across all devices. The documents can be exported to other formats like PDF, HTML, ebooks, Word, .doc, etc. The monthly subscription costs $4.99.
USP:
Effective document management, fast syncing, flexible export.
5. Paper
This award-winning immersive sketching app is the best note taking app for iPad and iPhone. You can use your fingertips or a stylus for taking notes, drawing, or sketching.
Paper by WeTransfer is beautifully designed and incorporates animations that make it fun and inviting to use. The notepad app helps you in keeping your notes organized by grouping them into notebooks. You can share them too.
The app with a minimalistic bent, cleans up your drawings too, as you make them. So, even if you're not particularly artistic, you'll enjoy the process. You can choose a pen tool for writing the text on the canvas, and it will look beautifully done like professional calligraphy. You can choose a keyboard for writing text notes and creating checklists.
USP:
The free version is so good in itself that you'll think twice before subscribing to the paid version.
6. Noteshelf
The best note-taking app for iPhone, Noteshelf is feature-rich and goes beyond tapping out text. Whether you are a working professional or a student, this app is ideal for you to take down notes.
You can indulge in handwritten notes by using a variety of active stylus brands. It has an expressive ink engine and a variety of tools for highlighting, annotations, photos, and diagrams. You can personalize your creations by adding beautiful covers and export them to social media or cloud storage services.
Apart from supporting virtual keyboards, Noteshelf enables you to record audio. You can sort your notes into virtual textbooks and organize them into categories and groups. It supports handwriting recognition in 10 languages. You can import MS Office documents and PDF files and add them to your notebooks.
USP:
Noteshelf enables you to secure important and sensitive notes by setting a passcode.
7. Penultimate
Penultimate by Evernote is the best note taking app for iPad. With the power of Evernote's sync and search, the digital handwriting app combines distraction-free, naturally hand-written notes and sketches.
Apart from giving you the physical feel of jotting down hand-written notes, Penultimate has an expressive inking engine, a Drift feature which will automatically move the page to accommodate what you write.
The scribbling app also processes your notes, enabling you to search through them for snippets of text. Whether you need to take down class or meeting notes, outline your ideas, or journal your thoughts; Penultimate comes in handy.
USP:
Pair it up with Evernote for bigger uploads and availing great features. The app also allows you to zoom into the written matter for details.
Best note taking apps for Android
1. Squid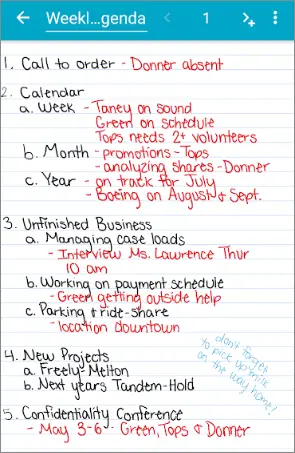 The best note taking app for Android users, Squid uses a digitized version of the traditional pen and paper method for taking down notes. You can simply use your fingers or a stylus to write, just as we do on paper.
Similar to the other apps we've mentioned earlier, Squid too displays your most recent notes in a card-like interface, thus making access easier. Every note has a toolbar at the top which enables you to choose and customize your ink. You can even resize it, erase the mistakes you've made, and also zoom-in and zoom-out.
The app also allows you to insert PDF files for markup, thereby enabling you to insert new pages and highlight text whenever you want.
USP:
Designed for handwritten notes and PDF markup is easy.
2. ColorNote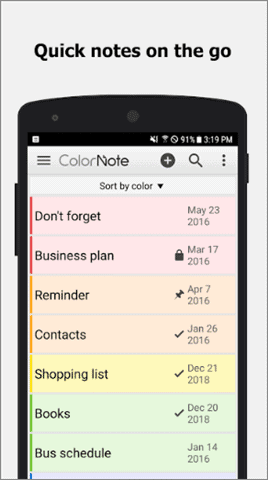 Allowing you to create text notes, to-do-lists, calendar reminders, and more, ColorNote is the best note-taking app for Android. Apart from helping you in staying organized, it enables you to change the background color of your notes.
The app provides backup support to both internal storage and cloud. Your notes automatically get synced with other devices. They have a password protection system, as well. So, you can add lock codes to some of your notes and other important data.
The text option enables you to write as many characters as you want. Similarly, the to-do lists allow you to add innumerable items. There is an edit mode that enables you to drag the items, in case you want to rearrange them.
USP:
Simple and convenient interface. It allows you to delete or tick off items from a list. Supports memos and emails apart from notes.
3. FairNote
FairNote is a comparatively new note-taking app. Apart from boasting of a simple and intuitive interface, the app has a tag system for easy organization of notes. You can also use tags of different colors for different notes and to-do lists for quick identification.
Although the primary usage is note-taking, FairNote comes in handy when you want to jot down quick ideas and setting reminders for keeping track of tasks. You can protect sensitive data and notes by using industry-standard encryption or fingerprint protection if your phone supports it.
You can add new notes directly from the notification area and sort them alphabetically, or by date and color. FairNote allows you to filter notes by labels and categories, and you can also receive shared texts from other apps.
USP:
Security protection and semi-transparent home screen widget.
4. FiiNote
Best notepad app for Android, FiiNote provides you with a fun and authentic experience. It has a grid background and allows the users to indulge in writing handwritten notes using a stylus. This means, apart from typing your notes, you can also write and draw on the phone screen, which acts as a canvas.
You can organize your notes by using tags and bookmarks. The app also supports files in audio and video formats, barring the regular texts. You can send a particular note to the archives if required and also to the trash box once you're done with it.
The app is extremely convenient to use, and your data will automatically be synced across all devices using the cloud.
USP:
The canvas is infinite. They have a real pen style for writing and DIY templates available. It is absolutely free.
5. SomNote
Best notes app for Android, SomNote is slightly different from the ones we've listed so far. It is ideal for a long-form note-taking style, more like your private journal. Apart from journals, the app comes in handy for writing diaries, stories, and research notes.
The beautifully designed app has a folder system for easy organization. The locking system makes sure that your data is safe and protected. You can create and add color to your folder simultaneously, thereby facilitating easy identification.
There are beautiful fonts and special themes available for you to customize the text in your preferred style. Your notes will be auto-synced with all other devices. You can sort the notes either alphabetically or date-wise.
USP:
If you have automatic backup activated, you can restore the stuff you sent to the trash box. Premium subscription makes 30 GB of cloud storage available.
Best note-taking app for Web
1. Milanote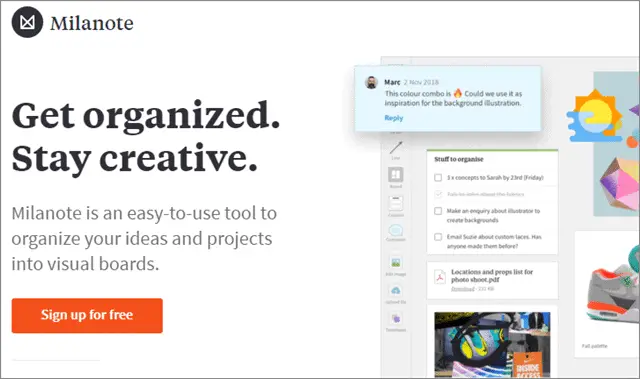 We listed Evernote as our first choice for note-taking apps, Milanote is often referred to as Evernote for creatives. It is the best note taking app for designers and visual thinkers.
If you think pictures speak louder than words, this app will give you plenty of tools to express yourself. Instead of providing you with a regular sketch board, Milanote acts more like a pinboard and pasteboard which allows you to paste text blocks, arrows, images, and checklists on the canvas.
The right side of the page acts as a drawer where you can put images you haven't used yet. The app has a web clipper tool for you to snap images online and add them to your notes effortlessly. Currently, they do not have any desktop apps or mobile apps, just a web app is available. They also have a mobile-optimized site.
USP:
The free version lets you upload 100 notes.
2. Notepad by ClickUp
Notepad by ClickUp is the best note taking extension for Google Chrome. Whether you want to quickly jot down notes, to-do lists, reminders, or take down information while browsing through the web; this notepad app comes in handy.
It rests at the bottom of your browser and pops up when you need it. The ClickUp screen looks like a clean sheet of paper free from any distractions. It also has an in-built editor which helps you in formatting your notes.
You can sync all your data in real-time across all your devices. Therefore, your notes become easily accessible wherever you go, without any hassle. You can also use Markdown language right within your browser window.
USP:
You can convert your notes into tasks to manage them better. The rich text editor enables you to make quick changes in content.
Best note-taking apps for coders and programmers
1. Boostnote
Are you a programmer? Boostnote is the best note-taking app specially made for programmers and developers. The app is backed by a group of coders and accepts contributions.
While creating a new note, you have two options; Markdown note and Snippet note. Markdown notes can be used for creating any type of text documents. Snippet notes give you a text editor for code. As you write, the Markdown notes get saved automatically. The written text of your notes is formatted as you type.
You can keep your notes saved locally with Boostnote or pop them into syncing and file storage services. The notes, thus, are accessible from wherever you are and from all devices.
USP:
Open-source and free.
Download Boostnote for Mac and Windows
2. Atom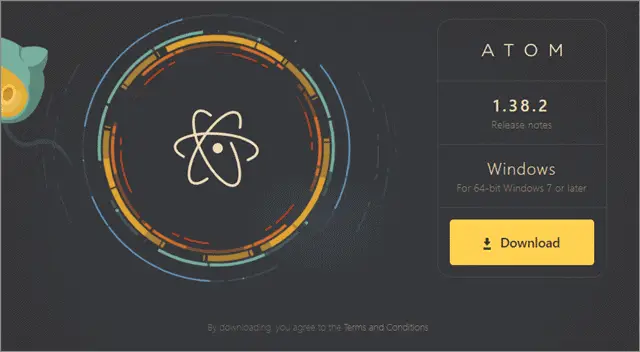 Atom is an app primarily used by coders, but its comprehensive range of customization options makes it a great text editor too.
Since it is based on common web standards, you can use its CSS stylesheet for creating any visual theme you want. If you want to write text in Markdown Style and use color themes, you can simply download the Markdown Writer Extension and choose from the various community-generated themes available.
The best note taking app includes real-time collaboration and allows you to edit across all platforms. Atom also makes available smart auto-completion features, which are exceptionally useful for those working in teams.
USP:
Open-source and cross-platform editor.
Conclusion
We've listed the best note-taking apps, and as you can already see, they are more useful than you think. Irrespective of whether your note-taking style includes minimal design and efficient gesture-based functions, or advanced structure and indexing of different forms of media, there is a suitable note-taking app available.
The best note taking app that is available across all platforms include Evernote, Simplenote, Google Keep, and Microsoft OneNote. How do you choose between Evernote vs OneNote? If you need a notepad app with a lot of functionality, get your hands on Evernote. Whereas, if you require something with fewer features and prefer less clutter, you can try Simplenote.
The best note-taking apps for iPhone in our opinion are Bear and Notability. Apple's in-built app for note-taking, Apple Notes, isn't bad either. If you're looking for note-taking apps on your Android device, check out Squid and ColorNote. Try Milanote on the web and, of course, Atom and Boostnote that are tailor-made for coders and programmers.
So, the next time you come across a brilliant idea while commuting, or while running daily errands, do use these apps to jot down your thoughts quickly. Are you convinced enough to ditch the pen and paper and go the eco-friendly way?
Related: Best Receipt Scanner Apps -Time To Go Paperless & Get Organized