Pets can enrich a person's life with happiness. Having to care for a pet is a two-way process that gives joy to both parties. Irrespective of their age, kids as well as adults, pets provide you with unconditional happiness. And for the ones who can't have a real pet, or want to be a part of this fun process, virtual pet sites come into play.
From virtual stock trading to VR games for Android, the virtual world has taken a leap over the years. Whatever the reasons or goals, train yourself or your child in life lessons with these virtual pet caring sessions. Virtual pet games are an excellent means of recreation for the kids during their vacations or in their free time. And for parents who are concerned about online safety, you can always enable parental Control in popular browsers or enable parental control in Windows 10.
Best Virtual Pet Sites To BookMark: Get a Digital Pet
The virtual pet sites also make provisions to play with the virtual pets, care for them, be with them, and even buy them clothes or accessories. They can take the digital animals for a walk, feed, and groom them too.
Let's check out the best virtual pet sites; from virtual animal games to creating a virtual pet, you can access them on the web and also check them on your smartphones.
1. Webkinz
The Webkinz are furry, colorful, stuffed animals; each containing a different code. Some look like regular pets, others represent mythical creatures and wild animals. Choose from over a thousand Webkinz pets and adopt your favorite one. Didn't like the options? Create your own virtual pet using the Secret Code.
As you can see, it is one of the best virtual pet sites, Webkinz enables you to design your room, indulge in playing arcade games, and take care of the digital animals. Feed them with food, dress them the way you want to, and buy furniture and decorations for your virtual pet.
On the site, you can earn KinzCash and go shopping for your virtual pet.
Webkinz is also available on Android and iOS
2. Ichumon
Besides, being one of the best virtual pet sites, it is mandatory to create your own virtual pet on Ichumon, even before you get started. Choose from fifty different monsters, twenty animal species, and hundreds of avatars to create a virtual pet. Then you can dress them up, play with them, feed them, and enter into battles with the virtual pets.
Some of the digital animals look like colorful dragons with multiple limbs, while others have a big circular crystal in the middle of their foreheads. These then are likely to remind you of your favorite space super-heroes.  Pick up rare prizes and win trophies as you proceed ahead in the online pet games.
3. Neopets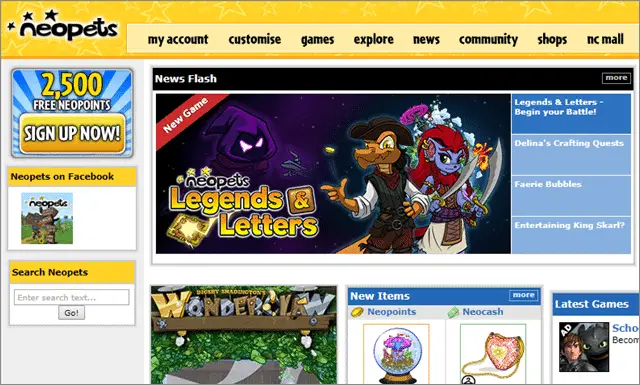 One of the most widely known virtual pet sites, Neopets has been around for more than two decades now. It allows you to buy virtual pets in exchange for virtual currency.
A lot of online pet games to choose from, virtual shops to buy products from and Neocash to earn- become a part of the Neopet community by entering into the virtual pet world.
Furthermore, you can feed the digital animals when they are hungry and look after them when they fall sick. The Neopets will not die if they are hungry and unattended to, but it will hamper your gameplay.
Also, select from the myriad options of virtual pets and if you do not like the existing ones, create and customize your own. What more? You can give them books to read, accessories to put on, and paintbrushes to paint.
4. Moshi Monsters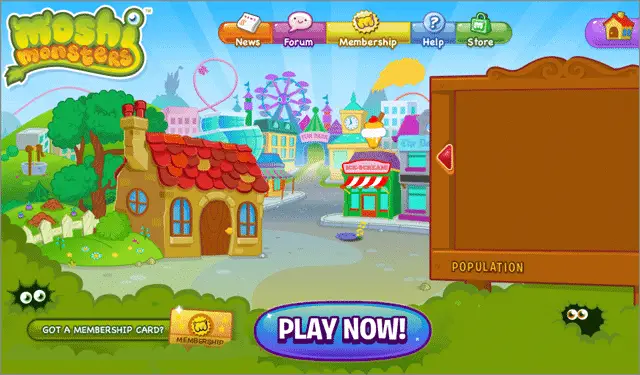 Moshi Monsters can be played by kids aged 6 years and above. This virtual pet game refers to you as a 'parent' of a cute little monster that you decide to adopt. You can choose from six virtual pet monsters- Diavlo, Luvli, Katsuma, Poppet, Furi, and Zommer. You can also name and create your own.
Play games, collect Moshlings, solve puzzles, and earn money called Rox. Likewise, look after the flower garden, nurture the digital animals and watch your monster gain personality as you play with it and take care of it.
5. Icepets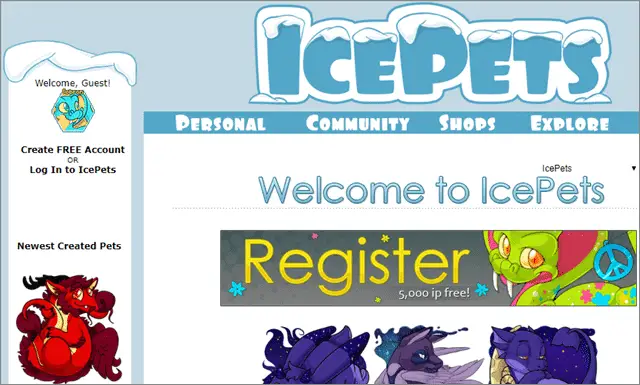 Choose a virtual pet, your loyal companion from the cold world of Icepets. In case, you are not satisfied with its current look, you can change the look by choosing from the options in the closet.
One of the most innovative virtual pet sites, Icepets is always growing, enabling you to choose new Icepets daily. Furthermore, you can create something new out of them by selecting new unique features every day. Some of the newly created ice pets on the website are Brookie- the Blue Dabu, Goldy82- the Yellow Makoat, and Flerken- the Yellow Ridix. What will you name yours?
6. Beastkeeper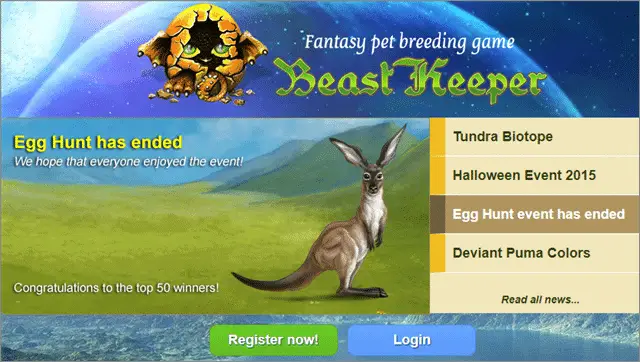 Want to adopt dragons, gryphons and unicorns? Beastkeeper is one of the virtual pet sites which enables you to do so. You are likely to find exotic crossbreeds here. They also have a set of other strange-looking creatures known as fantasy pets, in case you're game for something different.
Create a virtual pet, train them, and challenge your friends on Arena and Battlefield. Beastkeeper also enables you to research pet genetics which will help the players to develop the best breed. Furthermore, explore islands to find the treasures, breed your pets, and personalize them by creating custom pet skins.
7. Marapets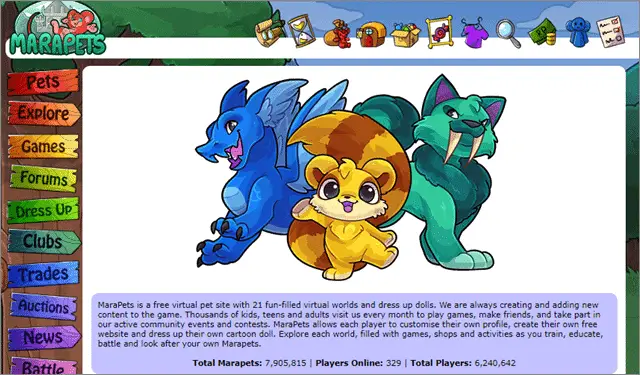 Aimed at not just the kids, Marapets is a virtual pet game played by people of all ages. They have 21 different varieties of virtual worlds, which you can be a part of.
This virtual pet site is always adding new content to its user-friendly website and enables the players to dress up their cartoon dolls. New games for kids, teens, and adults every month join in to make friends as you participate in the community contests.
In addition, you can take care of your Marapets, train them, educate them, and shop for them.  You can customize your profile and educate your virtual pets as you battle it out with the other Marapets. And yet if you cannot handle too many pets, you can disown them.
8. Subeta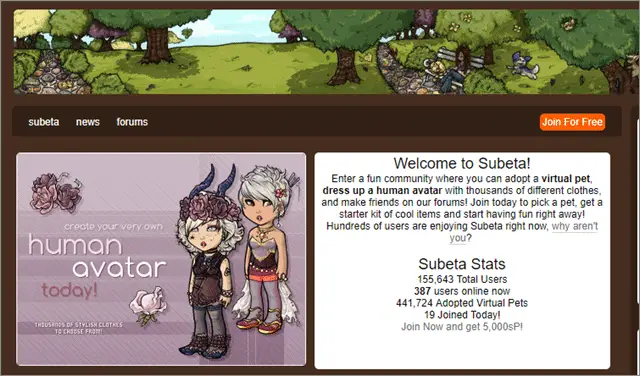 Subeta is slightly different from the ones listed so far. How? Because it allows you to dress up your pets in human avatars as well. The minimum age requirement to play this virtual pet game is thirteen years.
As soon as you adopt a virtual pet, the website provides you with a starter kit that contains funky accessories and cool items. Unleash your creativity as you run the race to make your pet look the best.
To differentiate from the other similar websites, Subeta is designed in an edgier, cooler way to make it evident that it is not aimed at the little kids but the ones in their pre-teen years.
9. Grophland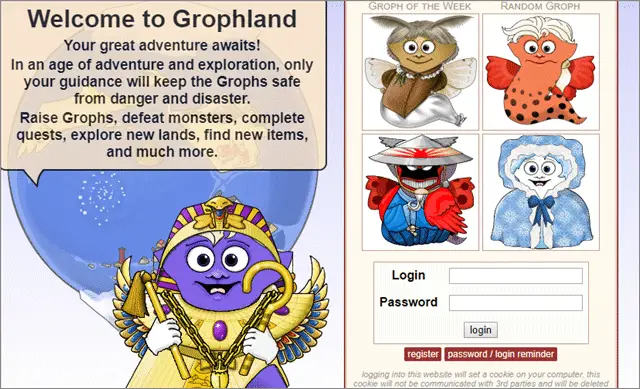 The virtual pets on Grophland are called Grophs and only with the guidance of those who adopt them, these Grophs are safe from danger. This adventurous virtual pet site is continually expanding and growing at a pace.
Grophland enables you to create your own virtual pets, raise them, provide them with training, and take care of them. Play quests, take part in digital battles against other virtual monsters, and discover new items that can be used to accessorize your pet.
Besides, being similar to raising a fantasy dog or cat virtually, the virtual pets here are different. Some are red in color, some have big wide-open eyes, while some have a white mustache and grey hair. Additionally, some others carry accessories or additional tools in their hands. No worries even if you're not able to feed the digital animals every day, you will not lose them.
10. Solpets
Solpets is a virtual pet site that gives you uniquely styled pets to choose from. What would you choose? Lions with blue horns or deers with blue eyes? Or, how about adopting green and blue creatures that look like birds?
The digital animals available at Solpets look cute and inviting and range from a brown polka-dotted lion to a giant blue cobra. Take part in adventures, raise your virtual pet, breed them, and explore different worlds in a friendly atmosphere.
Furthermore, this website comes up with different competitions and interesting games every now and then. With new banners and icons coming up every day, Solpets is a great way to spend time on the computer.
11. Dragon Cave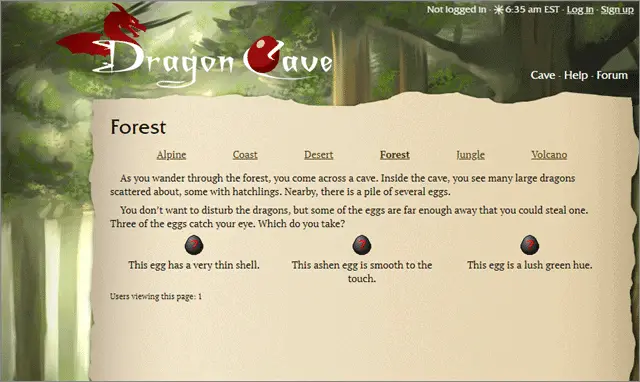 Ever played virtual pet games that required entering into caves? Try Dragon Cave. You will spot large dragons scattered in the dark corners of the cave, as some of them sleep on piles of gold.
Moreover, you will also see paper scrolls spread on the ground. Pick one and record your progress as you traverse through the dugout. One of the most different online pet games, Dragon Cave enables you to collect the eggs of dragons and raise them to be adults.
Dragon Cave adds new varieties of dragons on a daily basis, so you'll come across fresh breeds, each time to decide to play. Be a dragon trainer, choose from a number of breeds and make sure to be quick or else the egg dies.
Besides, if you find a map with directions, it will be great as you get to choose where to travel.
12. Chicken Smoothie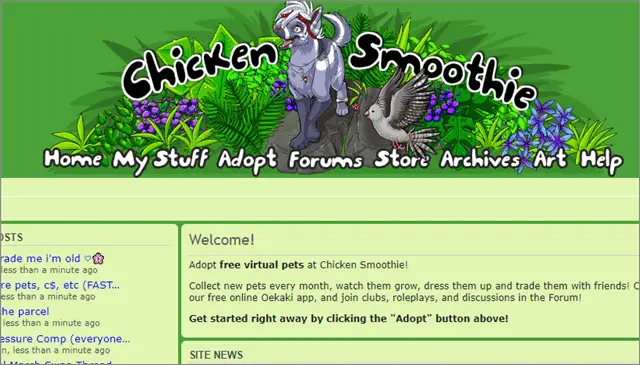 One of the oldest virtual pet sites, Chicken Smoothie turned 13 this year. This virtual pet game enables you to collect new pets every month and play dress-up with them. If you think you create wonders, participate in the challenges they come up every now and then.
Feed the pets, try different hairstyles on them, and watch the digital animals grow. In addition, if you're bored with your own pets, trade them with your friends.
Create artwork, join clubs, and engage in the discussions. Horses with long tresses or pink-colored dogs? Wild wolves or tender ponies? Pick your choice and decorate your virtual pets by using cool products from the store.
Final Thoughts on Best Virtual Pet Sites
The virtual pet sites enable both grown-ups and children to explore the world of our furry friends before getting them for real. Neopets is classic and the most popular one. Webkinz and Ichumon give you a great variety of virtual pets to choose from, and you can also shop along. Looking for some different kinds of animals to tame? Try Dragon Cave. Online pet games for grown-ups? Play Subeta.
By interacting with the virtual pets and nurturing them, you can actually make up your mind if you're ready to take up the responsibility for real or not. The best part about online pet games? You do not have to clean up after the digital animals. So now that you have enough reasons, go ahead and adopt one and have fun.
(Updated on 17th September 2020)