Ever since its inception, Augmented Reality, or AR as it is commonly known, has been a revelation that has revolutionized the field of technology. A futuristic technology, Augmented Reality apps have become a part of daily lives for millions for the world around, although a majority of them may not know that it already has.
Augmented Reality is a technology that places 3D models in the real world. Not limited to any field as such, AR apps are mostly used in gaming to enhance the visual experience as well as for shopping. While it continues to grow rapidly, AR is also being incorporated by many companies to create their unique technologies.
Augmented Reality Apps: The Perfect Solution for Making Lives Easier!
AR is a godsend for marketers; having the best AR apps makes it easier for companies to convince the customers into buying their products. Added to that, Augmented Reality apps also help consumers in choosing the right products. It gives them a better idea about a particular product they are interested in, leading to better purchasing behavior.
Let's check 26 best Augmented Reality apps for Android and iOS.
1. ROAR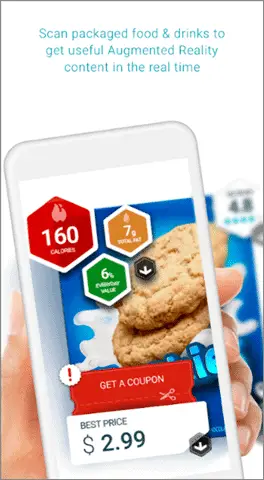 ROAR is one of the best AR apps when it comes to bridging the gaps between consumers and businesses. It is compatible with both iOS and Android operating systems. Talking about it from a consumer point of view, ROAR allows you to see prices, acting as your shopping adviser. Just capture a photo of the product, and this app will tell you its price and ingredients, reviews, and the currently available coupons and promotions.
What's more, ROAR also allows you to book movie tickets on the go. Scan a poster of a movie, and you can instantly book a ticket using the app itself for a particular showtime.
Download ROAR for Android / iOS
2. Civilisations AR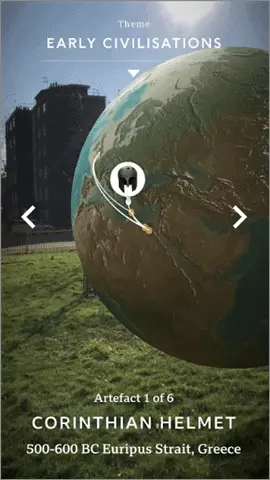 BBC's  Civilisations AR is one of the best AR apps for education and also an example of how free Augmented Reality apps are steadily making a mark in the education domain.
The Civilisations app allows a user to study, discover, locate, and get to know about different historical and archaeological artifacts from all over the world. When you start the app, you are taken through a tutorial of an Egyptian mummy, in which you get to listen about the history of the artifact. The tutorial also guides you on how to use the application.
The Civilisations Augmented Reality app also allows you to study and explore more than 30 historical artifacts. It's a great tool for history lovers and people interested in ancient civilizations.
Download BBC Civilisations app for Android / iOS
3. IKEA Place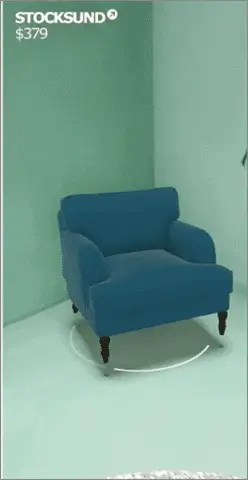 Want to buy something from IKEA, but you are unsure whether the product will go with your home ambiance or not? Turn to IKEA Place; you won't be disappointed.
Much like the aforementioned Houzz app, this free AR app allows a user to place virtual 3D images of products in your living room. From a comfy sofa to an armchair to a showpiece, you can add and check whether any IKEA product on the store goes with your home ambiance.
The best part about Augmented Reality apps is how they solidify imagination in these cases, bridging the gap between consumers and businesses, and delivering some of the best AR experiences in the process.
Download IKEA Place for Android / iOS
4. Houzz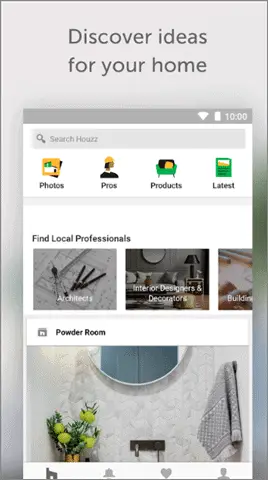 Imagine you want to buy a sofa set. You have already outlined where you will place the sofa set in your home. However, you are a little skeptical about whether the sofa set would fit in that area. What will you do now?
No worries, because Houzz will come to your aid. This home furniture and appliances AR app allows you to place virtual 3D images of products in your home on your phone in real-time. Here, AR helps you predict whether the said product would go with your room or not.
Firstly, select a product that you would like to view in your room. Then, select the area in your room where you want to locate that particular product. Click on the 'View In My Room' tab, and you can see a virtual image of that product placed in that area on your phone.
Houzz is one of the best Augmented Reality apps for shoppers, marketers, and advertisers for different purposes, such as product testing and product marketing. What's more, if you are a shopper and you try out a product using this free app and you like it, you can buy that product instantly from the app itself.
Download Houzz for Android / iOS
5. Froggipedia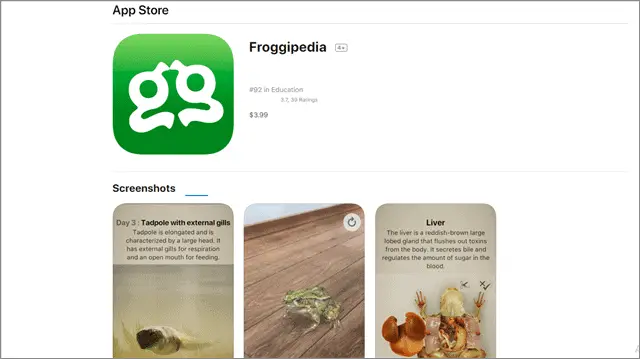 Many of you might have had to study Biology. And, dissection is probably the part where people getting a puking feeling is normal; It's hard enough to watch cockroaches and frogs being cut in halves, let alone study their intestines and digestive systems.
Froggipedia can help you in that case. As its name suggests, the app allows users to dissect the virtual image of a frog in and happens to be a great alternative to physical dissection. Froggipedia is one of the best Augmented Reality apps used for education.
Also, this app enables us to avoid harming an actual frog for educational purposes. It is only compatible with iOS at present.
6. Amikasa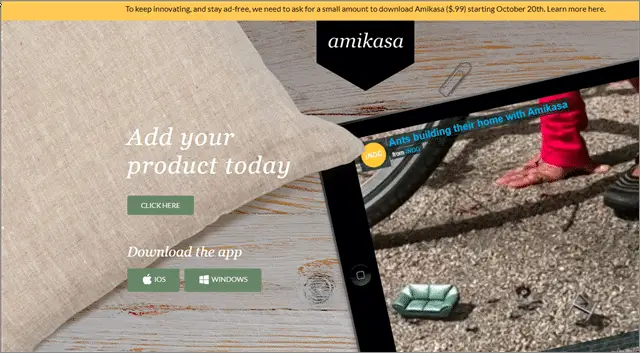 Amikasa is yet another product that holds a tad bit of similarity with Houzz. The significant difference between the two apps is that Amikasa lets you design your entire home. If you want to test whether a piece of furniture will go with your living room or not, Amikasa will do that for you. Beyond that, if you want to repaint the walls, this app can give you a visual of how your home will look like when it's painted anew.
In short, it helps you build, redecorate, and redesign your home with furniture and colors that are currently available in the stores of real brands. These free Augmented Reality apps have enabled humans to depend less on guesswork and improve precision in decision-making.
7. Mondly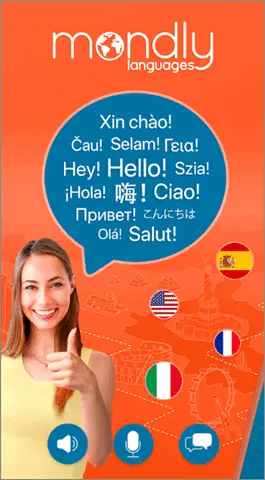 There are oodles of Augmentative Reality apps that teach new languages on Google Play and Apple App Store. But, there is no app as exciting and funny as Mondly. This AR app offers you the opportunity to learn 33 languages with an uber experience.
After you open the app and tap the AR button, it will ask you to select a flat surface. Once that is detected, the app will ask you to place your AR teacher, and the lesson begins. Mondly has been quick on its feet when it comes to integrating with new technology; the app has a VR version for the VR gear.
Download Mondly for Android / iOS
8. BooksARalive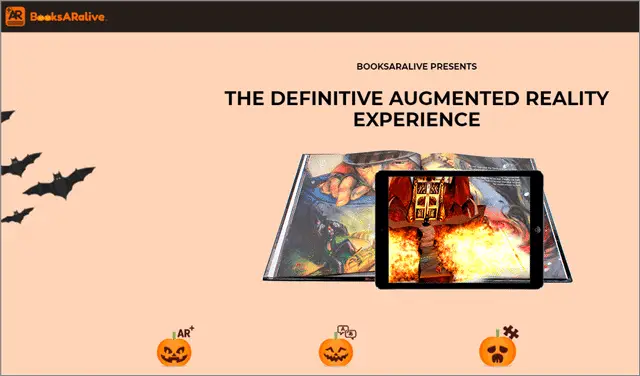 Is your little one bored of reading books? Try out this super fun BooksARalive application, and books will never be a source of boredom for him or her ever again. While interactive and absorbing games is what children love to play these days. In such an era, this AR app aims at realizing the illustrations that a book contains.
Every page you point this app at, turns into an interactive story-telling session, grabbing the children's attention and delivering learning in an enjoyable way. Books are available in English and Spanish.
BooksARalive also has 14 puzzles children can try to solve, alongside 1 secret video game that displays after scanning the book cover.
9. Sketch AR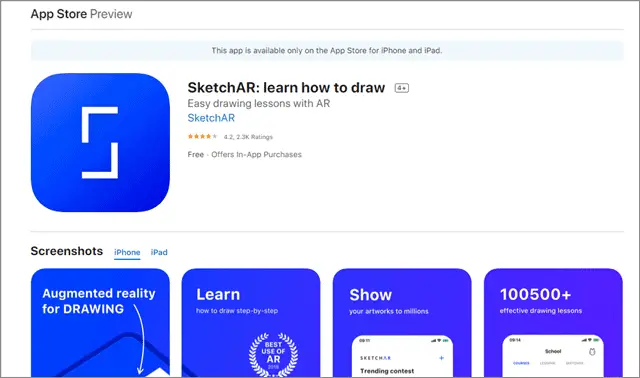 Drawing is one of the greatest visual arts for expressing our thoughts. But, it's also a gift that only a handful possess. In case if you want to learn and draw awesome pictures, Sketch AR can help you. But, mind you, using this Augmented Reality app is nothing short of cheating!
Sketch AR is one of the best free AR apps for drawing. That allows a user to project a particular picture of choice on a paper or a canvas in real-time, and then trace on it. However, it's not as easy as it sounds. You might encounter difficulties in matching the lines correctly, but this app is an excellent option to turn to if you wish to learn specific drawing techniques.
Download Sketch AR for Android / iOS
10. Air Measure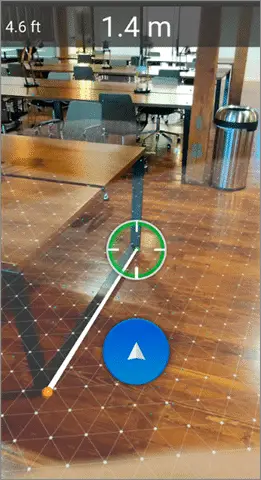 Air Measure, as its name suggests, is a free measurement app equipped with 18 different tools for measuring units. It is compatible with iOS and Android.
Air Measure lets you measure lengths of different products, your stature through face recognition, hang virtual picture frames, and capture floor plans, all on your phone. When you have to buy a TV or a sofa, you can always turn to this AR app to get an idea of how either of the two products would go with the selected area.
Download Air Measure for Android / iOS
11. AR Ruler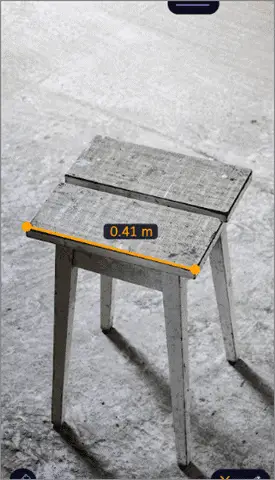 Augmented Reality apps tend to minimize troubles, and AR Ruler is one of the best free AR apps in the lot. This application enables a user to measure 3D objects and let you know where they begin and end.
AR Ruler can also measure angles, volumes, and areas. However, don't expect it to be inch-perfect with its measurements. If you want to have a rough idea of measurements regarding a particular area or an object, you could always go for this app.
Download AR Ruler for Android / iOS
12. Find Your Car with AR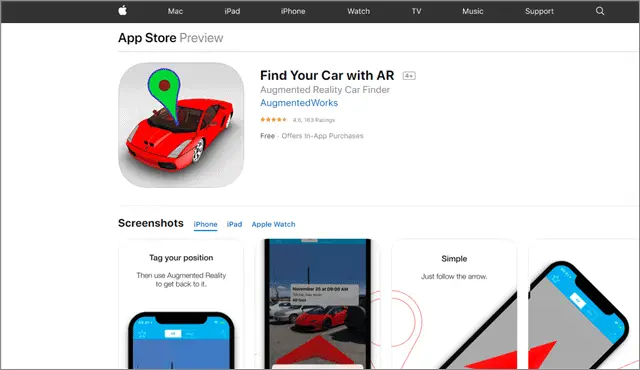 Suppose you go to a mall and park your car in the parking lot. When you return, though, you face trouble exactly where your car is parked. In times like these, the Find Your Car with AR is a real blessing that can help you find your vehicle.
Once you set the car's location, this AR app displays a big red pointer and guides you in the direction of your car. Another feature that this app offers is that people can also find their seats in large theatres and cinema halls.
Find Your Car with AR is most useful in stadiums, concert venues, and convention centers. Now, If you lose sight of your car in a massive parking lot or a crowded area, you know how to look for it.
Download Find Your Car with AR for iOS
13. Just A Line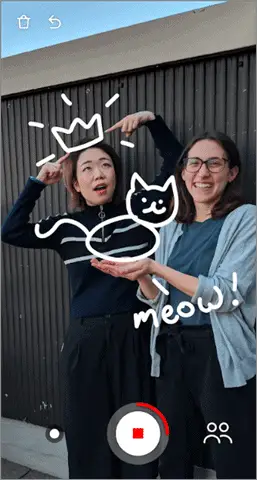 Want to have some fun with Augmented Reality? Just A Line is one of the best Augmented Reality apps to try out if you want to spend time taking weird, funny, and memorable snaps. It is an ARcore app built in the Google Creative Lab
You can use Just A-Line to draw in Augmented Reality spaces. Then, you can stay in them, click photos, and have a memorable time having fun. With this free AR app installed on your phone, literally, the entire world is your canvas.
Just A Line is compatible with both iOS and Android users. So, what are you waiting for? Just go out and paint the world!
Download Just A Line for Android / iOS
14. Ink Hunter
Getting your body tattooed with pictures and images is a trend these days. And, there are many factors involved in selecting the perfect image that you want to get tattooed. Some of those parameters are how a selected image or a picture will go with your skin color and how big it needs to be to look awesome and stand out.
Again, there's a lot of guesswork involved. But no worries, Ink Hunter is one of the best Augmented Reality apps that has you covered. This application lets you try out custom premade tattoos by letting you add 3D images of various tattoos on an image of your hand. It gives you an idea of what a selected tattoo might look like if it was drawn on your skin.
Ink Hunter takes you the closest to knowing what a tattoo on your body might look like. Before it's the latest update, the application supported only black and white tattoos. Now, however, you can also experience 3D images of colored tattoos on your hand.
Download Ink Hunter for Android / iOS
15. WallaMe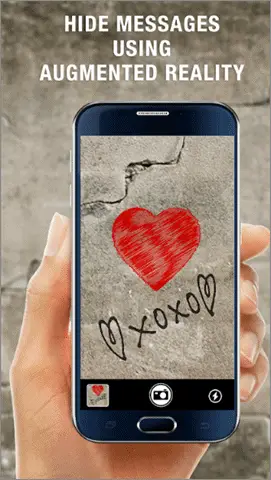 If you are into detective novels, espionage thrillers, and spy series, you ought to have WallaMe. This is one of the best AR apps in existence to date, and one that not many people know about.
With WallaMe, you can leave secret messages for your friends in various locations across the world. Take a picture of a wall or a street sign that you are close to, use the in-app drawing and painting tools to write the messages, and just leave it there.
The Augmented Reality comes into play when you visit a place where your mates left a message. The message can be seen only through WallaMe with the help of your device camera. Also, those who don't use this app can never see the messages you have left. So, if you want to build a secret network amongst yourself, everyone in your group needs to have this app installed in your respective phones.
16. SpotCrime+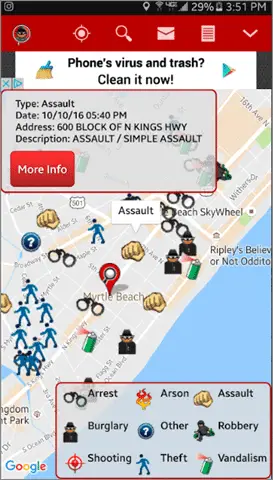 What if we told you there were Augmented Reality apps that could tell you about crimes happening around you in real-time? You can watch out for your safety using SpotCrime+.
You can also use this app to see the latest crime-affected areas in almost any part of the US, the UK, and some parts of Canada. The crimes range from robberies and shootings to assaults and arrests.
SpotCrime+ pinpoints your location and derives data from sheriff agencies and police stations and shows the crime-affected areas on your map. You can also set up an automated alert for a particular address and monitor the situation around it.
This app can hardly help reduce the crime rate, but it can provide you the means to prevent being in danger.
Download SpotCrime+ on Android / iOS
17. Skyview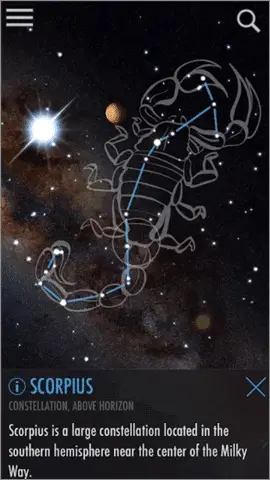 Are you a stargazer who loves spending time at night gazing and brooding at the skies? If you are so curious about our solar system, Skyview is one of the best Augmented Reality apps for you. It is compatible with both Android and iOS operating systems.
Open Skyview and simply point it at the sky. The app projects a grid of known constellations, and you can quickly become an expert at recognizing them. Also, you can search for crowd favorites or use the time-travel function that presents sky maps of the past. It can also give you a glimpse into the future.
You can also keep a check on the planetary motions using Skyview. This AR app has a full-version available for $2. However, if you aren't convinced, you can always go for the trial version.
Download Skyview for Android / iOS
18. Sun Seeker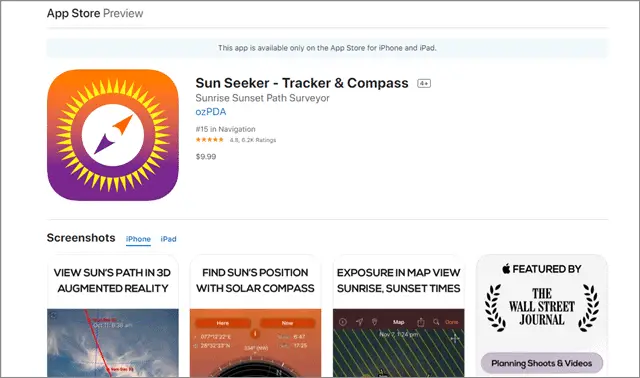 If you love studying the sun, you can use the Sun Seeker AR app. It is compatible with both iOS and Android operating systems.
With Sun Seeker, you can have a flat and 3D view of the biggest star in the solar system. You can check the sun's solar path, maximum elevation, hourly intervals, and rise and set times.
You can also study the summer and winter solstice paths of the sun and view the sun's current position, with marked hour points. This app is primarily a boon for gardeners, photographers, architects, real estate buyers, and all those who want to discover optimal lighting conditions.and solar angles for a given location.
Download Sun Seeker for Android / iOS
19. Augment
We have already seen AR apps for furniture placements at homes. Augment is pretty much the same, but what makes it stand out is the fact that it allows users to create visual 3D images of any object in the real world and see them in real-time. It is compatible with both Android and iOS.
With Augment, you can quickly check whether a recently purchased kiosk goes with the area you intend to keep it in, in your shop. It is primarily designed to boost sales and is a great tool to be used in business.
The advanced features of Augment require you to spend some time, but once you grasp everything, it's worth it.
Download Augment for Android / iOS
20. YouCam Makeup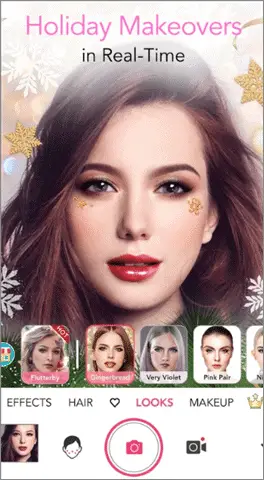 Are you planning to have an entire facial makeover but unsure how it will look? YouCam Makeup is one of the best AR apps when it comes to facial mapping technology.
There are more than a hundred makeup options for you to try out. You can upload your photo in the app and then try out the makeup or else allow the app itself to sense your facial features and suggest the best styles.
Expert's advice services are currently available via video chats. You can buy any accessories that you like directly from the app. YouCam Makeup also offers hair makeover options you can choose to avail before visiting a salon. Accessories like glasses, necklaces, earrings, and more things are available for online purchase.
Download YouCam Makeup for Android / iOS
21. Pokemon Go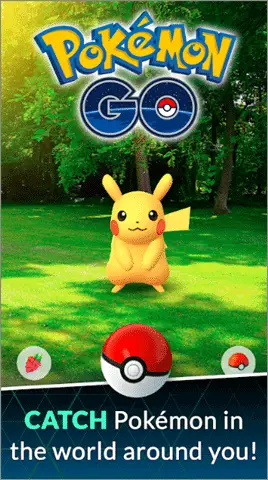 When you watched Pokemon as a little kid, you must surely have wished to catch a cute Pikachu, a sulky Charizard, or a mighty Dragonite all by yourself. Now, imagine if a Pikachu just popped out of the bushes on a path where you're taking a walk. Won't that be fun on another level?
The free AR app powered Pokemon Go willed that imagination into solid reality. When it was released back in 2016, the game instantly hit the right chord with both Android and iOS gamers and became very popular. People scurrying around to catch these imaginative creatures in the real world was a common sight.
Pokemon Go controls your avatar in the game with the help of GPS tracking in your device. Then, your smartphone camera will let you view Pokemons in the real world. Collect a considerable number of them and you can finally tussle with your friends over a Pokemon match. The match, however, can only be played at real-time match stations that show up on the map on your phone. But, before preparing for a battle, you gotta catch 'em all!
Download Pokemon Go for Android / iOS
22. Knightfall AR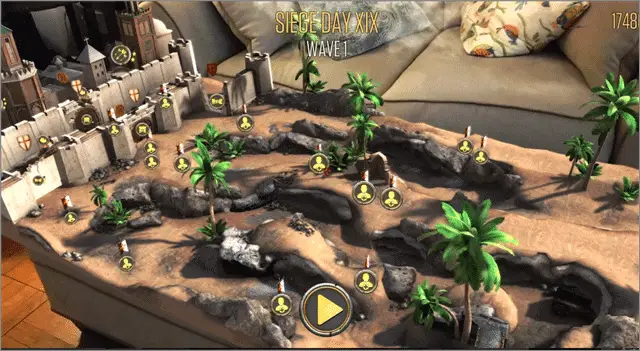 Do you know which genre has the best experience in-store when it comes to AR games? Battle strategy. Knightfall AR is one of the best Augmented Reality apps that you cannot miss out on.
In Kinghtfall AR, you are a member of the fabled secret society Knights Templar, tasked with defending Acre from Mamluk warriors.
Place the battlefield on any flat surface in your home or outside. Then, you can view your enemy through a firing reticule and fire arrows and catapults as the enemy tries to breach your walls. You can earn gold by killing enemies and spend it on improving your defenses.
Download Knightfall AR on Android / iOS
23. Ghost Snap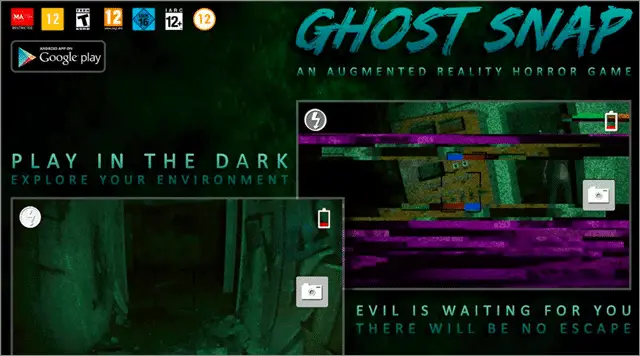 Suppose you suffer through a power-cut at your home. Instead of lighting candles and waiting for the power to be back on, why not play this thrilling augmented reality Android game?
With Ghost Snap, you can listen to the sounds that chill your spine and encounter scarier creatures. There's no such thing as winning or losing in this game. It's all about how long you can survive.
Ghost Snap is inspired by movies like The Blair Witch Project and horror games like Outlast. Needless to say, it should be played in the dark. We also need to warn you, though. This game isn't for the feeble-hearted. Unfortunately, it isn't available on the Play Store or the App Store, but you can find it in the link given below.
24. Genesis Augmented Reality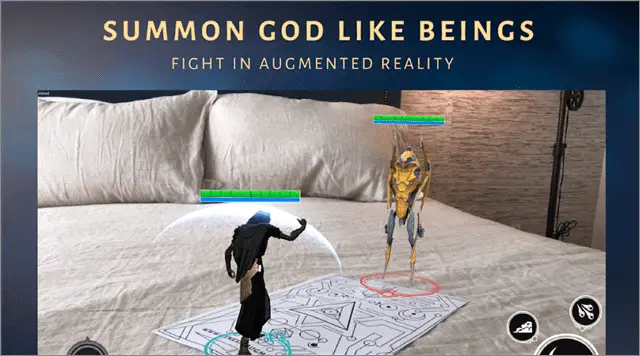 For all those Yu-Gi-Oh and Digimon lovers, you might have dreamed about those card creatures coming alive and battling each other at least once in your lives. Genesis Augmented Reality app is the closest that comes to realizing those beasts.
In this game, you act as a Riftlord – a mortal blessed with the powers of Genesis. You can summon powerful beasts and try to end the evil influence of Rharkon.
Unfortunately, users might not be able to fully enjoy it as the game is still in its development stage. But know this, the developers have an expansive plan to build a big story around the subject. Once it gets completed, you will enjoy Genesis Augmented Reality at its best. Until then, the demo version should suffice in giving you an idea of the things that are yet to come in the game.
Download Genesis Augmented Reality for Android
25. Google Lens
Have you ever come across a thing you cannot identify? What we usually do is type related terms to that thing in Google and search for it. Now, what if we tell you that you can search for things visually using a free Google app?
Google Lens is a substitute for Google Goggles; it helps users in searching what they see around themselves. This tool comes extremely handy if you don't know a certain food dish when you see it. It can also help consumers in shopping for home decor or in any other niche.
All you have to do is switch on Google Lens and point at an object – the app will give you all the informative content you need. It's just like searching for stuff visually rather than having to type it. If you are an avid explorer, Google Lens is one of the must-have Augmented Reality apps on your phone. It is known to deliver some of the best AR experiences in today's world.
Download Google Lens for Android / iOS
26. Ingress Prime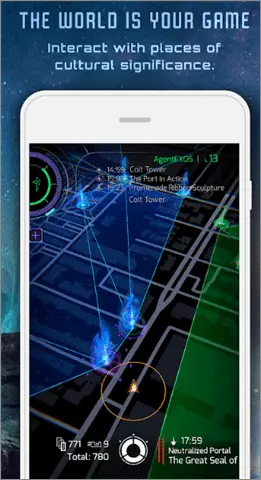 If you are searching for AR-powered games, Ingress Prime is one that you should use. This Android and iOS compatible mobile refers to users as 'Agents'  and allows them to choose one of the two factions – the Enlightened and Resistance.
These factions aim at controlling Exotic Matter (XM), found at real-time places called Portals. Players must move around, and the XM in their range will be automatically collected by the in-built scanner.
When three or more portals are won over by a single team, they gain control over that area. Ingress Prime creates a uber experience for its users, displaying the kind of fun and excitement Augmented Reality apps can bring to the entertainment domain.
Download Ingress Prime for Android / iOS
Conclusion
Augmented Reality apps can be used for both useful and entertainment purposes. Be it taking photos for fun, getting information on a particular subject, or solving a problem – AR apps can be used as per one's requirements.
For shoppers and online buyers, IKEA Place is one of the best AR apps to try, since it enables a user to get an idea about a particular furniture product. Ingress Prime and Pokemon Go are also great games to play if you want to experience AR in gaming.
Some people also consider Google Translate as one of the best AR apps in the business. However, Google Translate only has an AR feature; it cannot be classified as an AR app in itself. Mondly serves a good example of how AR apps can be used for educational purposes, while the Automatic Car Finder is a real boon when it comes to finding parked cars in crowded places. Regardless of the suggestions, users can try out any free or paid AR app that fits their bill of requirements.
Related: Affordable HooToo VR Headset Gives You a Taste of Virtual Reality