Be it for personal or professional purposes, graphs, or charts always enable users to analyze data properly. Add the fact that in presentations, these graphs can be used to explain statistical points and references. This is the reason why you need to know how to make a graph in Google Sheets.
Google Sheets can also be used for data storage and management. Users can print address labels from Google Sheets, and also learn how to add a trendline in Google Sheets. In all, this tool can help you manage your numerical data very well.
How to Make A Graph In Google Sheets – Data Analysis Made Easy!
You can learn how to make a graph in Google Sheets with just a few simple steps. All you need is a few clicks, and you will have your data organized in the form or shape you like. You can choose to make different types of graphs in Google Sheets. The choice of graph usually depends on the type of data that you want to represent. However, users can always use any graph or chart of their choice if they find it convenient to explain their data.
Graphs and charts help in the visualization of data; this facility always helps professionals in presenting their ideas and concepts with better clarity. From how to make a bar graph in google sheets to how to make a line graph in google sheets, the process is straightforward and simple to follow.
Without further ado, let's have a look at how to make a graph in Google Sheets.
How To Make A Graph In Google Sheets
To begin with, open your new Google Sheet from your Google Drive. Enter all the necessary details of the data in the sheets.
For instance, here, we have made a list of the expenses from January to December 2019.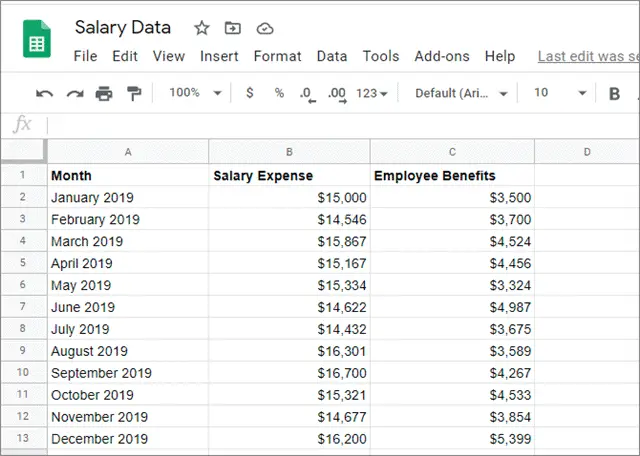 Now, highlight the entire data, navigate to and click on the Insert tab, and select the Chart option.
You will be presented with many chart options.
Choose the shape and type of the chart in which you wish to display your data.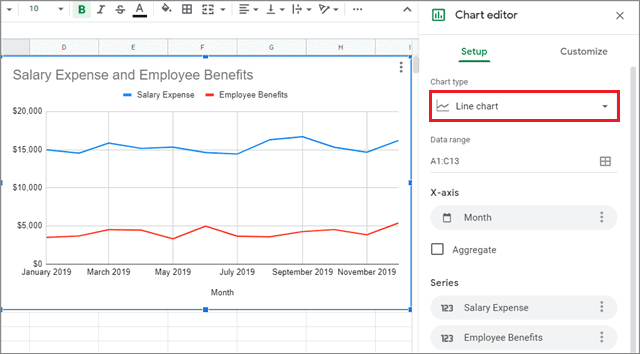 The graph above shows how to make a line graph in google sheets. If you do not like the variations, click on the Chart types tab beside the recommendation tab and select any graph from the variety that you see in the tab.
The chart in Google Sheets will look like this.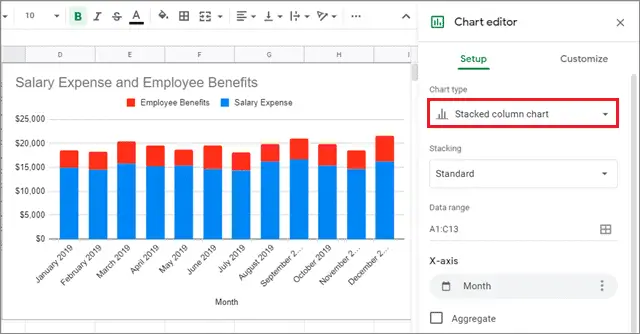 Cap: Select the type of chart and view the results
Users can choose a graph that offers them the required convenience for understanding the graphical representation of data.
How To Customize Google Sheets Graphs
When you learn about how to make a graph in Google Sheets, you can also know how to customize it. You can choose to do it at the very beginning, before adding the graph. Or else, you can open the editor and tweak the chart after you have created it.
In the right window pane, click on the Customize tab. From here, you can change the type of chart under the Customization tab. Added to that, you can also change many other factors like font, color, size, and the legend of the graph.
How To Add Titles in Graphs
When you are learning how to make a graph in Google Sheets, make sure you don't miss out on knowing about Axis titles. Google Sheets doesn't add titles to the axes of your chart or graph; you have to do it for yourself. The good news is adding axis titles hardly takes much time.
To begin with, click on the Chart and axes titles sub-menu in the right window pane. Then, click on the drop-down menu and select the Horizontal axis title to add a title to the bottom axis.
Similarly, you can also add a title for the vertical axis by selecting the Vertical axis title option.
With your chart title, you can customize the font and formatting options for your axis title using the provided options immediately below the "Title Text" box.
Types of Charts and Their Uses
When it comes to how to make a graph in google sheets, users have many varieties of options to select from. You can use the step by step process explained above and create any kind of graph in google sheets.
Let's have a look at the most basic and common graphs that are used for data representation in google sheets graphs.
1. Line Charts
The method explained above shows how to make a line graph in google sheets. A line chart is an excellent graph type to go for if you want to represent the changes that have taken place in a particular product, sector, or entity over a significant period. If you wish to show the overall progress of a company or its salary expanse, you can do it using the line charts in google sheets graph.
2. Area Charts
If you want to know how to make a graph in Google Sheets that compares two fields, you can choose to go with the area charts. These graphs represent the two fields in different colors, making it easy for the viewers to distinguish and calculate the difference between them. If you want to plot a graph that shows the salary expense and the employee benefits of a company, area charts are the best option for you.
3. Pie Charts
Pie charts find their way in most of the presentations, thanks to the fact that viewers and presenters alike can easily comprehend them. They are mostly used to display the amount of percentage you are spending in a particular area. For example, if you want to know the percentage of how much expenses you have allotted for each activity in a company in a given budget, you can use the pie chart to display the same. Pie charts are also a standard tool of representation for the results of online surveys.
4. Column/Bar Charts
Bar charts are used to display data values in the form of vertical bars or horizontal bars. They can easily be used to track the data of two or more entities over a significant period. For example, when you learn how to make a bar graph in google sheets, you can show the production of two or more products in a month, or for all the months in a year on a Bar chart.
Conclusion
Google Sheets are one of the essential tools when it comes to making statistical reports. To display the data in a visual form, we use the built-in feature of graphs. These charts help in better analysis and visualization of data. That is when the question of how to make a graph in Google Sheets comes into being.
Users can create many types of graphs such as line charts, pie charts, area charts, bar charts, and many more, as per their convenience. Each type of graph is utilized for a specific purpose, and there is no limit to the number of charts you can create for a document.
Having graphs and charts is always a good practice for users who give presentations on a daily basis. They help in better understanding and comprehension of the data. Regardless of the purposes they serve, users can use these graphs as per their needs and requirements.
(Updated on 7th January 2021)