When there is free-flowing music available at your fingertips on the internet, you tend to use it. But most of the platforms are very serious about audio copyright. In such cases, the danger is that you may end up using, violating, or infringing copyright material that may eventually mean a hefty penalty. Whether you are a budding amateur or a professional just starting, creative commons music is the answer.
You can keep your creative juices flowing by just accessing and using the websites that allow you to use licenses from the Creative Commons Music portals. Creative Commons license allows people to legally use the music with "some rights reserved" commercially and non-commercially as long as you are ready to give attribution to the creators.
Top 15 Websites For Creative Common Music – Free And Legal Resources
We've brought you the top websites that host creative commons music and royalty-free music. Although these websites claim to boost creative commons music on a large scale, it is always recommended to read the privacy, license, terms, and conditions of those sites before picking up any file.
There are different protocols set by each website about free content, accessibility, and commercial use clauses.
Note: On Youtube, If you include any kind of audio that is not created by you, your music will be taken down. After three "copyright strikes" and infringements issues, the user account is banned and terminated.
1. Jamendo
From streaming to downloading to discovering new artists, Jamendo has the music sorted to create a never-ending experience. The platform brings together musicians and music lovers as free members of an independent music community. The huge catalog of 500,000 CC music and tracks drives you crazy while listening to 40,000 versatile artists from 150 countries.
Jamendo is the very first platform to share music legally under Creative Commons license. Independent musicians will find Jamendo a robust platform to legally share their music and benefit from it. Not only can you share your music, but there is a chance that you can make some money too. The site renders some great Creative Commons Music collection and promotes new talent.
What we like about Jamendo:
User-friendly interface, excellent CC-licensed music collection, and active customer service department
What can be better:
Delayed or no reply from the creators to emails or contact forms in some cases
2. SoundCloud
SoundCloud proves to be one of the best places to share your music, podcasts, or any other content. When it comes to having a good collection of Creative Commons Music, no doubt, SoundCloud will work like a charm.
A diverse collection of songs and amateur talent make SoundCloud one great platform to discover some unique content and fresh demos. To explore more, you can even connect to other musicians and fans. The easiest way to get Creative Commons Music on SoundCloud is to look for it in the 'Search Box' and get what you are looking for.
You can have a look at the Creative Commons Music link of SoundCloud here.
What we like about SoundCloud: 
It is built for audience interaction, the process of accessing content is very easy
What can be better:
Without creating an account with SoundCloud, you cannot follow or comment
3. Audionautix
Audionautix diligently boasts of music that is under the Creative Commons 3.0 unported license. You are absolutely free to use the content for commercial purposes. Usually, where the music platforms allow you to browse music genre-wise, Audionautix lets you play the music that suits your mood.
No matter what your emotional state is, Audionautix has a decent collection that can sync with your different moods. One thing you must keep in mind while using the content of Audionautix commercially is that you cannot resell the music. To use the music commercially, you must include it as a part of creation like in a remix, podcast, or even a video game.
One of the best Creative Commons Music websites, Audionautix, has a massive range of collections and all of it comes from one person.
What we like about Audionautix:
The impressive collection is well-classified and distributed into genres and moods.
What can be better:
Whatever you see on the website is created and made available by only one person. So, there is no scope of skimming through content that does not suit his type.
4. Vimeo
Being an unbeatable source for video streaming, Vimeo also boasts an exquisite collection of free Creative Commons Music. All you have to do for getting some good and free creative commons music is to search for the term "Creative Commons Music."
Once you get the desired result, get the file you want, and read the license detail along with the terms and conditions, especially if you are planning to use it commercially. You must follow the protocols before using any of the content that is under the Creative Commons license.
What we like about Vimeo:
The professional look and no advertisements.
What can be better:
The website limits the storage capacity available to users.
5. Free Music Archive
Free Music Archive says, "It's not just free music; it's good music." This evidently signifies that you will get some great collections. If you choose to browse music by 'Curators' or 'Genres,' and you are on a particular track, you can immediately spot the music license that has been issued. There are some beautiful genres to discover and explore excellent music like Hip-Hop, Rock, Novelty, Folk, Jazz, and Electric too.
Free Music Archive does not have an extensive collection of Creative Commons Music, but you may definitely get some unique and qualitative content.
What we like about Free Music Archive:
The exceptional variety of high-quality podcasts is available.
What can be better:
You cannot upload any content. The feature has been disabled
6. Free Sound
Free Sound lets you browse music using tags, and you can choose the one that suits your requirement. These tags are useful when you don't have an idea of where to start once you are on the homepage.
Simply click on the tag and go to the relevant CC music collection. While picking up any track, make sure you double-check the audio license so that you know the proper rights about how you can utilize that content.
Check out to know more about Creative Commons Music on Free Sound.
What we like about Free Sound:
You can interact and strike conversations with fellow music-lovers and sound artists
What can be better:
The website is infamous for hosting privacy intruders
7. Incompetech
Incompetech is one such place where you can download all the MP3 files all at once, provided you are okay with shelling out some cash, $38 to be exact. Whether you are looking for royalty-free music or Creative Commons Music, Incompetech has got it all.
To narrow down your search among enormous music collections, you can search by genre, feel, tempo, or length. There are two licenses that Incompetech renders, the Standard License and the Creative Commons.
If you are using the Creative Commons Music anywhere, you will have to give credit. There may be times when you don't want to credit music or where the attribution is not possible. In such cases, you will have to buy the Standard License.
What we like about Incompetech:
The website boasts of a massive collection of more than 2,000 songs.
What can be better:
Not everything is free.
8. Bump Foot
Another website that should not be missed while hunting for some free Creative Commons Music is Bump Foot. However, if you are thinking of using the music for commercial purposes, then Bump Foot is not an ideal option since it does not allow it. Remember that you cannot use their work to get financial benefits.
You can share and remix the content, but you must attribute the work. It is a "non-profit netlabel in Japan" with an Attribution-Noncommercial and Share Alike license. Bump Foot has tracks with two branches called Bump side and Foot side.
The Bump side includes techno and house, and the Foot side contains ambient, IDM, and much more.
What we like about Bump Foot:
Allows you to share and remix
What can be better:
Outdated collection
9 Musopen
Using online content is always a concern when it comes to copyright issues. Musopen is a non-profit organization that elevates the way you share and access music. In their collection of unique content, they have recordings, sheet music, and textbooks too.
Musopen is not only a good source for free music but also a platform to improve education. You are absolutely at the right place to browse royalty-free music along with some music-education material apps.
The website allows you to browse music by composer, performer, instrument, form, and time. They have the most extensive library of Creative Commons Music with over 100,000 files.
What we like about Musopen:
The interface of the website is simply designed, searching anything is easy and navigating is convenient
What can be better:
Extra features are made available via the paid membership
10. Internet Archive
Internet Archive is all about Netlabel collection. Everything the website hosts is free to download and falls under the Creative Commons license. Not only music, but the website has a lot more other content to explore as well. It's easy to browse using filters like 'Media Type, Year, Topics and Subjects'. The portal supports multiple languages that will serve as an option to find content other than in English.
One of the most visited websites for Creative Common Music, Internet Archive, boasts an exquisite collection of music, audiobooks, and free books. You also get your hands on recordings of music concerts, radio shows,  and broadcasts.
What we like about Internet Archive:
More than 7 million recordings available
What can be better:
Inactive customer support and some content is unavailable in the public domain
11. iBeat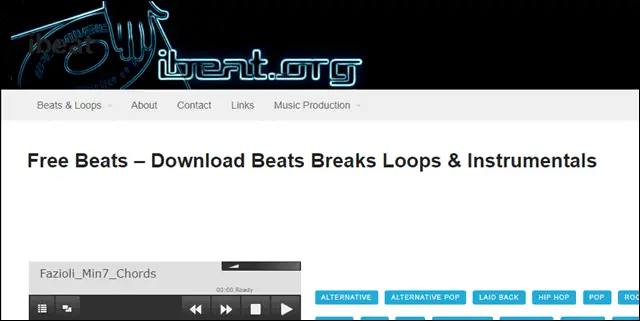 Another great option not to be missed while searching for the websites that host Creative Commons Music is iBeat. With iBeat, a variety of genres you get to explore like 'Urban, Hip Hop, Rock, Swing, Ambient, and Acoustics.'
As the name itself contains "Beats," people who are inclined to beats, breaks, and loops will find something interesting. However, there are other instrumentals and media that you can use for creating background music radio jingles.
What we like about iBeat:
You can access the creative commons music content on the website entirely without having to create an account with them
What can be better:
The website is not frequently updated
12. CCTrax
It's much easier to browse free Creative Commons Music on CCTrax. You can browse an entire library by genre, tag, label, artist, and license. Various genres include ambient, downtempo, and dub options.
Whether you are planning to use CCTrax content on YouTube or Vimeo, you must read the terms and conditions and know the rights that are issued to you.
What we like about CCTrax:
No advertisements and good website experience
What can be better:
Some CC music genres are missing, the library needs to be updated
13. Bandcamp
Bandcamp has a vibrating and colorful UI. You can use the search box to find some free Creative Commons Music collection.
In addition to genres like pop, folk, ambient, experimental, metal, electronic, Bandcamp allows you to narrow down your search. You can do this by selecting the media format from digital, vinyl, compact disc, and cassette.
The Bandcamp UI is easy to navigate and filter the results to only get Creative Commons Music.
What we like about Bandcamp:
An intuitive website that offers various unique features to artists and music fans, especially those in the lookout for creating a hub
What can be better:
The 'discover' section is not up to the mark, despite having a good collection
14. Bensound: For Compositions Under Creative Commons Music
Bensound features royalty-free music that you can use anywhere be it commercial or non-commercial, just by giving the attribute to the owner. Irrespective of whether you are looking for some great music to put into your short video creation or radio jingle, Bensound has some beautiful compositions that come under Creative Commons license.
Various genres like acoustic, folk, electronica fulfill every musician's requirement when it comes to exploring some unique CC music.
What be like about Bensound:
The user-experience is exceptionally good, and the website is very visually appealing.
What can be better:
The volume of the CC music collection is less when compared to the other websites.
15. FreePD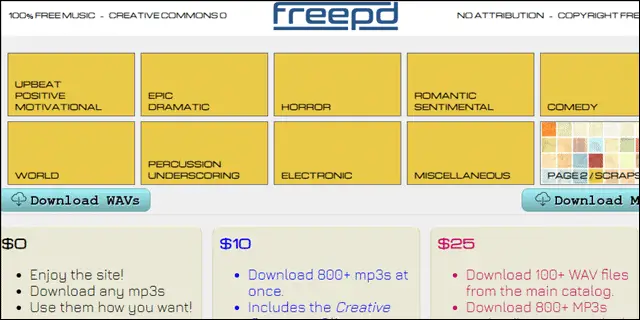 FreePD is another great portal to look for some Creative Commons Music. On their homepage itself, the website has acknowledged, including Creative Commons 0 License music, but it's not free.
They have made a few things clear, like claiming they don't track you, but when you share your email ids with them, some external advisers may have access to your ids. If you are ready to spend some dollars at just $25, you have access to 800+ mp3s and CC music at once.
What we like about FreePD:
No attribution required, thereby making the content truly free
What can be better:
You have to filter through hundreds of low-quality samples and music pieces while finding what they are looking for
Conclusion
Music understands no boundaries when it comes to having a particular taste. However, while searching for some unique and raw content, we loosely ignore the fact that they hold some copyrights. Although our list is useful when you are diligently looking for some creative commons music, make a double check before using them commercially.
While there is a huge amount of content available on the internet, only a part may be allowed for commercial purposes. Hence it's always best to stick to the legitimate content. With the right license and usage rights, the massive collection of CC music can be used in innumerable creative ways. The websites frequently update their content, and you will find every possible genre.
Related: Best Beat Making Software For DJs & Music Producers In 2020