NFC, also known as Near Field Communication, is the technology that can be used for secure payments and data transfer. You can commonly find these features on smartphones, and though the name may seem heavily technical, it has widespread applications and one must know how to use NFC.
For the ones who might have used it, you know that it is mostly used for mobile payments or other purposes. But, there are many other NFC applications besides payments and data transfer. With the information mentioned below, you will know a lot about Near Field Communication, including the NFC tags and Android Beam, and how it is used for day-to-day purposes.
What is NFC And How Does It Work?
NFC (Near Field Communication) consists of communication protocols to initiate communication between two electronic devices in a range of less than 4 cm. You can have contactless payments and data transfer via NFC tags on the phone.
It makes use of radio frequency identification (RFID) to communicate with other devices. The RFID uses radio waves to transfer and communicate between two hardware compatible devices.
Hence, the wireless connection to any other electronic device is faster compared to other technologies. You don't need pairing, and passwords to connect two NFC capable devices. All you need to do is keep two devices very close to each other and initiate communication.
Does your phone have NFC?
Before getting into how to use NFC, you should make sure if your phone has NFC capability. You can know if your smartphone supports NFC by reading its specifications or manuals. Most of the new Android devices have it. However, to get the actual confirmation, you can make some checks.
If you have a Sony Xperia model, then there is an NFC symbol printed on its back. To check for models from different manufacturers, you can browse on the Internet and check for details with your smartphone's model number.
If it is an old phone with a removable back, you can check if the battery has Near Field Communication printed on it.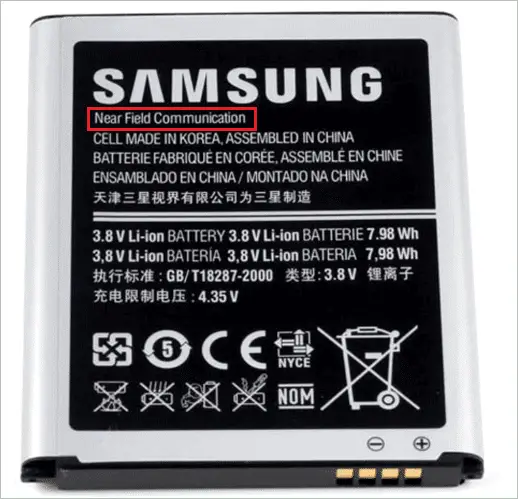 You can also check for NFC in your phone settings in case of smartphones. Open Settings on your Android device and search for NFC in the settings search box. If there is NFC related, then it will show up in the search results. Otherwise, it will show no result found or a similar message.
If your smartphone does not have a search settings option, you can check it under the network or device connection-related settings. In our case, it is under 'Bluetooth & device connection.'
How to Turn On NFC on your Android Device?
If you want to understand how to use NFC, you need to turn it on first. Turning on or activating NFC is similar to turning on Bluetooth and WiFi. You can activate NFC easily by going to settings.
Go to Settings in your Android phone and click on Bluetooth & device connection. In this setting, click on the switch next to NFC and turn it on.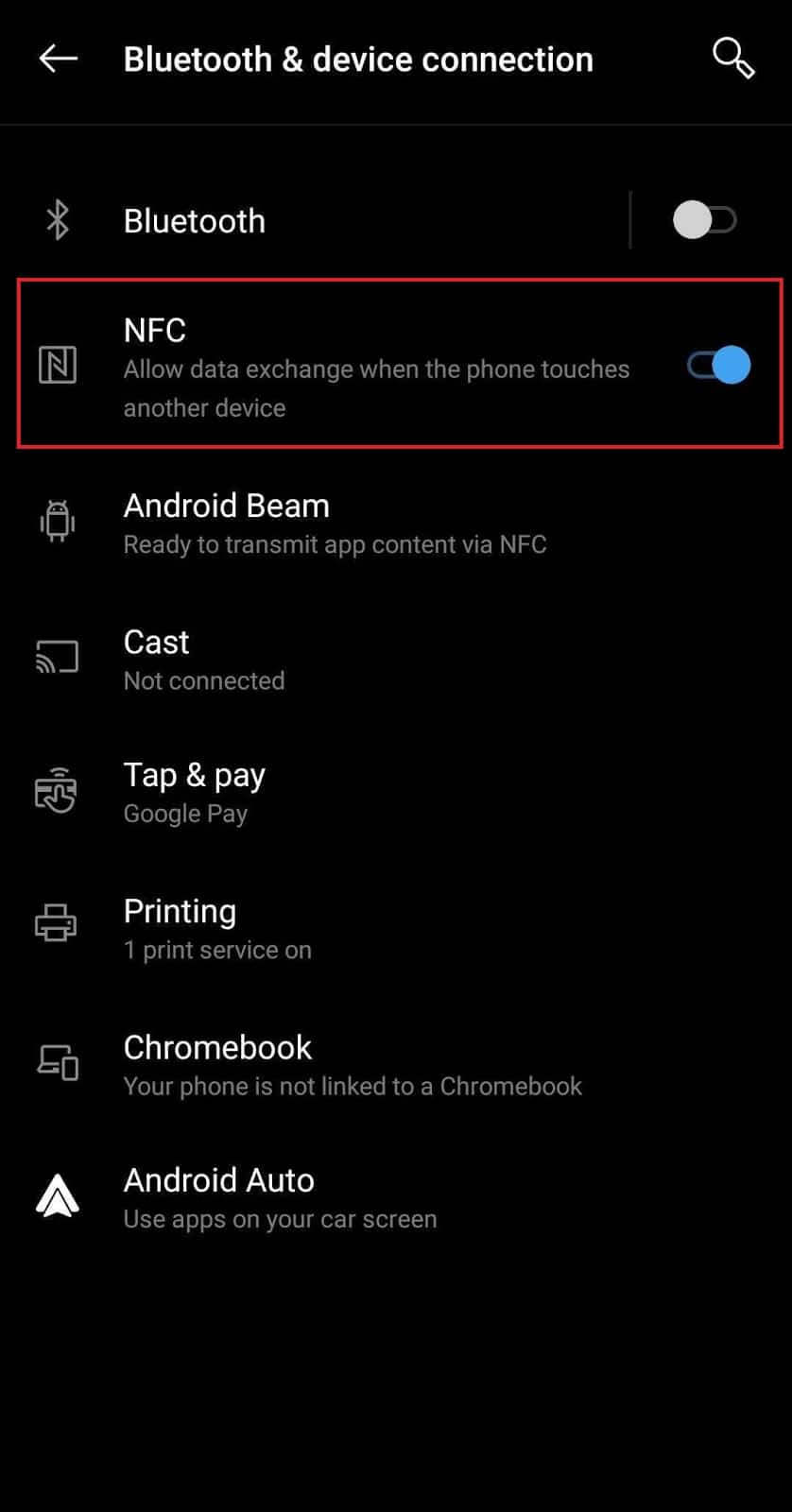 You can find the NFC option under Network-related or some other settings. Another way to find it in your settings is to search for it. The search result will take you to the required settings, and then you can enable NFC from your phone.
How to use NFC in Payment?
You can use NFC to make payments via your smartphones using tap and pay options. Be it Android or iOS; both payments can be made. For the ones who want to know how to use NFC, there are three options available for payment.
You can make payment in all the small and big shops like Target, Subway, McDonald's, and many others using any of the below mentioned ways.
1. Google Pay
Google Pay, also known as G Pay, is available on all the Android devices having Android 4.4 (Kitkat) or higher versions and even on all iOS devices. Google Pay is available with many big and small stores and shops around you because of its popularity and compatibility with mostly all devices.
You can download the app for Google Pay from Play Store and then configure your bank details to learn how to use NFC and start making the payments.
Once you are done with the configuration, turn on the NFC on your Android phone, as you need it to make the payment. Now you can bring the back of your device to the payment machine or credit card terminal available at the store. You can ask the owner or cashier for help in case you face any issues.
Your phone will get connected to the payment machine, and the payment will be made securely and wirelessly.
You will see the checkmark on your phone, which is an indicator of successful payment. At times, you may need to enter a pin or password depending on the amount of payment and also the settings you have selected.
2. Samsung Pay
Samsung Pay is a payment method that is only available for selective Samsung devices and is less popular than Google Pay. You can use Google Pay on Samsung devices as well.
To use Samsung Pay, have your NFC enabled. Next, click on Tap and pay and then select Samsung Pay from the listed option. And then make payment by bringing your phone close to the payment terminal.
3. Apple Pay
For iOS devices, there is Apple Pay to make payments. However, Apple pay is available on some iOS devices, which makes it reach limited. You can use Apple pay in a similar way to Google Pay and Samsung Pay.
Related: Battle of the Digital Wallets: Samsung Pay Vs Android Pay Vs Apple Pay
Additional Info
There is a lot more to know about Near Field Communication. The below section explains all about the tags and also clears the buzz about the Android beam.
NFC Tag
NFC tags contain the Near Field Communication chip. The tags are capable enough to store data, commands, and settings in them. You can place them anywhere on business cards, movie tickets, hand tags, and many more. To read the data present in the tags, you need a tag-reader or NFC tag reading app.
You can learn to program the tags on your own by using some good interactive tutorials online. You can program them to open a web page, make a call, send a message, turn on the Bluetooth, mark the attendance, and many more small tasks.
Android Beam not Available!
Google has removed the feature of Android Beam from the Android 10 version. The way to quickly transfer images and data is no longer supported by Android 10. If you use an older version of Android, you can transfer data using Android Beam.
However, you can use Files by Google to transfer files offline. This app does have other features as well. It is free to download and use this app.
If you are already missing Android Beam for file transfer, try using the app mentioned above to transfer files offline quickly.
Conclusion
NFC (Near Field Communication) is one of the important technologies with so many uses. It was initially used to transfer files between two devices but now is used to carry out small as well as important tasks like payments. The security and speed are not compromised in any case.
The above guide will help you on how to use NFC. The detailed and easy explanation of payments can be useful if you want to get started with the payment mode in different smartphones.