Evernote and Google Keep are so far regarded as the best applications when it comes to taking notes on your smartphones or tablets. The two applications offer a variety of features so that users have an easier time scribbling notes on their mobile devices. However, in the battle of Google Keep vs Evernote, most of us are left in a dilemma as to which app we should go with?
Storing notes is an important task for every user. Also, it has done without interruptions so that there are no mistakes while taking notes. But no need to worry about which application to go with. Here's a short comparison that will help you get a clear idea of which app you use.
Google Keep vs Evernote
Google does not own Evernote since it already has an answer to it in the form of Google Keep. However, Evernote does run its cloud-based services via the Google Cloud Platform. Both Google Keep and Evernote apps have their special features and advantages that will cater to the different needs of the users.
If you are pondering over which is better, Google Keep or Evernote, here's a brief comparison that will help you select the right application.
User interface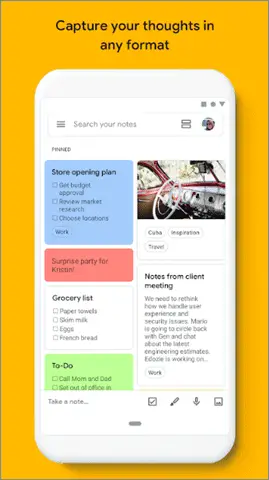 Simple user-interface is the norm mandatory for all apps to deliver, and Google Keep does so with fine quality. The tool has no complex customization features that might confuse readers or create hurdles in organizing their notes.
So, when you compare Google Keep vs Evernote, Google Keep has post-its in which you can start writing the moment you have created a new note. The notes can be viewed as a Grid or as a List. Also, you can sort your notes by putting them in archives or make labels. You can also set Reminders for certain important notes according to your wish.
Additionally, the search option is also very simple, and you can search for any note by entering a specific keyboard in the search bar. The notes have a color code customization so that you can change the background in case you wish to change the look.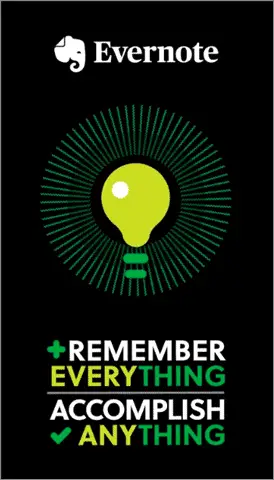 Evernote is comparatively a tad bit complex than Google Keep. This tool is also more user-friendly on a smartphone than on a PC. It shows a list of all the notes with a summary underneath each in the left pane. Also, there's an editor toolbar on the left that allows you to add new notes and edit the fonts and colors of the text.
Evernote's organizational structure will appear confusing for beginners, but that clears up once you start using this note daily. Notes are arranged in notebooks, which are further sorted into stacks. There are multiple templates to choose from and dozens of formatting options.
With regard to Google Keep vs Evernote, Google Keep offers more simplicity than Evernote when it comes to taking down notes on the go. Evernote's customizations and organizational structure might complicate things for many people who wish to use a tool for simple note-taking purposes. Hence, Google Keep wins this section.
Collaboration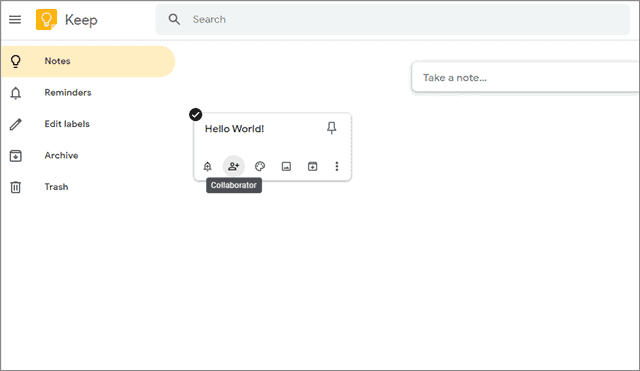 Sharing as a vital part when it comes to making notes; users frequently require easy sharing options for both professional and personal purposes. Both these apps offer sharing options, albeit with slight differences.
Google Keep offers collaborations with various applications; you can share your notes through Gmail, Whatsapp, and many other tools. Just click on the plus (+) icon to share it with one of your colleagues or friends. Once they receive the invitation, they can edit the note accordingly.
In Evernote, however, there's no such ease of sharing as in Google Keep. You have to create shareable links and send them to your contacts so that they can collaborate and edit the notes. As a second option, you can either add names of your contacts in the sharing section or their email addresses.
So, with regard to Google Keep vs Evernote. Google Keep wins this section as it has an easier way of sharing and requires less number of steps to do so.
Integrations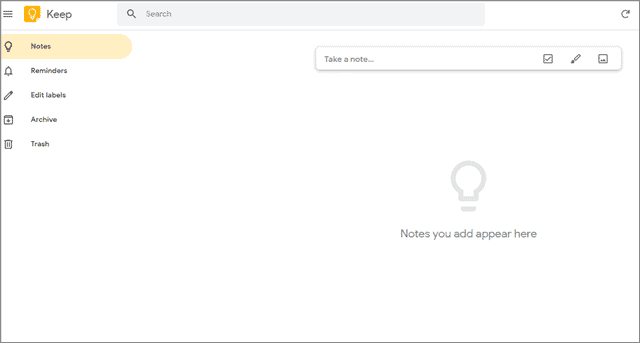 Google Keep can integrate seamlessly with all the other applications in the Google ecosystem. Integration roughly means you can open Keep to make notes inside one of Google's other applications without having to close it down, and take as many notes as you wish. Since Google Suite has a massive user base, Google Keep tends to be the standard note-taking application for many users for this very purpose.
Evernote also integrates with many third-party applications like Google, Slack, Outlook, and many more. This application should be your primary note-taking app if you are using more third-party applications other than Google to maintain your workflow.
Here, when we decide on Evernote vs Google Keep, choosing the winner depends upon the reason why a user wants to use any of the two applications. If a user requires constant integration with third-party applications, Evernote is a clear winner. But, if he or she uses the Google Suite to a massive extent, Google Keep is the app to go for.
Features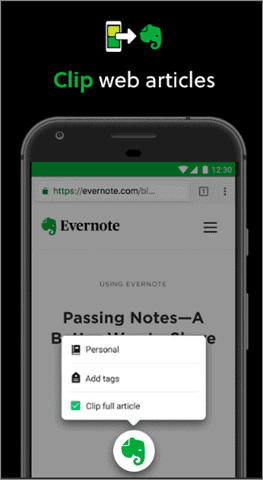 Google Keep and Evernote apps have their set of impressive features in terms of customization and making notes. These apps also allow users to sort their notes in archives or add labels as per their requirements.
However, both Google Note and Evernote have unique features that the competitor does not offer.
Google Keep-
Google Keep doesn't have any standout features like Evernote as such. However, this tool will provide all the standard features a note-taking app is expected to have.
This feature allows users to copy a very long note into Google Docs without having to close the application. It comes handy if you are streamlining all the processes and maintaining your workflow by using Google Docs.
You can set location-based reminders if you need to view particular documents or notes at specific places.
Google Keep also allows users to set different colors to their notes, which can also help them quickly identify.
Evernote-
The features that Evernote offers come handy in both smartphone or the web version. The app is designed to provide the speed of operation while taking notes across all the devices on which you use it.
Web Clipper is one of the best tools you can use if you take notes from the Internet. With this feature, you can capture web pages or parts of it and include it in your notes.
In Evernote, you can also chat with your teammates while working on a particular note. This feature allows for seamless communication with your team members.
Grouping notes and sorting them becomes easier when you use the Notebook Stacks. Notes containing similar subjects can be included in the same Notebook for ease of search and access.
So, for the Google Keep vs Evernote debate, Evernote offers better features that enable users to take notes seamlessly. The Web Clipper is the standout feature that tips the scales in Evernote's favor in this sphere as Google Keep doesn't offer this feature.
Pricing
Pricing is one of the main factors that need to be considered while comparing any number of apps. Google Keep is a free application that can be used for basic purposes and installed on two devices or more. The same goes for Evernote except for the pricing; it costs $7.99 per month and $68.99 annually.
Availability
When talking about comparisons between two apps, their compatibility is also an important factor to be judged upon. Both Google Keep and Everton are available across multiple platforms and devices for use.
Google Keep vs Evernote – The Winner
Google Keep also offers all the standard features a note-taking needs to do so. Hence, for most users who are looking for something free of cost, offer noteworthy simplicity, and collaboration with other Google applications, Google Keep fits the bill. But, for the ones who love their privacy, want top-notch features, and are ready to shell out some money, Evernote fits the bill.
Thus, Google Keep is a free application that offers better simplicity and an easy user-interface if you want to create simple to-do lists. On the other hand, Evernote can be used if you wish to use a note-taking application for professional purposes as this tool offers lots of customization and data structuring facilities.
Conclusion
Google Keep vs Evernote always sparks a big debate amongst users when the question of the best note-taking apps arises. Both tools, available on smartphones as well as PC, can be used to take quick notes on the go and offer a bunch of features that make it easy to use.
Having compared both Google Keep and Evernote based on the factors mentioned above, Google Keep clearly turns out to be the winner, given its simplicity, ease of use, and free use. However, irrespective of the comparison and the opinions mentioned above, users are free to use the tool of their choice as per their needs and requirements.
Related: Best Reminder App For Android To Avoid Missing Deadlines