The digital age has made information easily accessible. There is no need to worry about resources because you can educate yourself on the go. Using smartphones and devices to learn something new is an excellent idea as they are useful and work beyond pictures, texting, and social media. What better than to know the best learning apps that reinstate the fact that it is never too late to gain knowledge.
29 Best Learning Apps for Android and iOS
Various online learning platforms and websites have made education easy. Similarly, educational apps broaden your horizons and satisfy your quest to learn something new.
The learning apps have converted phones into virtual classrooms. We've scoured the internet and listed the best educational apps that work on Android and iOS devices. Be it math, a new language, science, or coding; check out the best learning apps.
1. edX
edX is an excellent source to get access to hundreds of good-quality online tutorials and courses. You will find courses from MIT, Harvard, Microsoft, and various industry-leading companies. These are not degree programs, but ideal for anyone interested in learning about a subject they are interested in from credible sources and world-class instructors.
It is one of the best learning apps with more than 2,000 tutorials. Be it business management, biology, data science, finance, or cybersecurity; you have quality content and video material on every niche.
Top Features of edX
Learn the experts teaching in the top universities
Gain valuable insights on any subject
Brush up your knowledge about relevant topics like economic trends and public health
Pick certificate programs to advance your career.
Master in-demand skills by converting the app into an online classroom
2. Udemy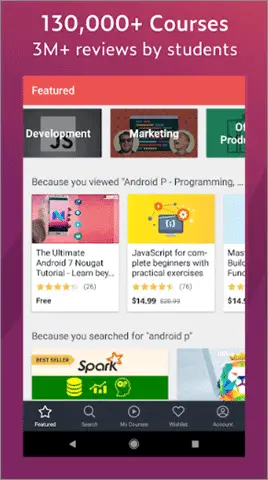 Udemy includes a variety of tutorials in every educational field and is one of the best learning apps. So, you do not have to worry about not being able to pursue a specific course or learn what you have always wanted. Be it web development, creative courses, coding, graphic design, sound production, or personality development, Udemy is an exceptional learning app offering it all. The instructors are industry experts with a solid background in the subject and experience.
Photoshop, data science, or marketing; what will you learn first?
Top Features of Udemy
Learn at your own pace
Pick from free and paid course options to learn anything under the sun
Avail of advice from industry experts and master a new skill
Download the resources and learn on the go
Download Udemy on Android | iOS
3. Blinkist
Blinkist has a massive array of fiction and non-fiction books. From learning how to motivate yourself to master the art of winning an argument, you will find content for everything. One of the best learning apps for working professionals, Blinkist, gives you the gist of a book in 15 minutes. It comes in handy for everyone who wants to know what a book holds, but do not have time to go through the entire text.
You can gain knowledge on a variety of topics by extracting essential information from the resources. You come out as a more learned individual with a well-rounded understanding of various subjects, each time you open the app.
Top Features of Blinkist
Get your hands on more than 3000 bestselling novels.
Create custom audio playlists
Make an easy switch between audio and text.
Use the offline mode for reading.
Convenient search options because of 28 distinct categories
Download Blinkist on Android | iOS
4. Lynda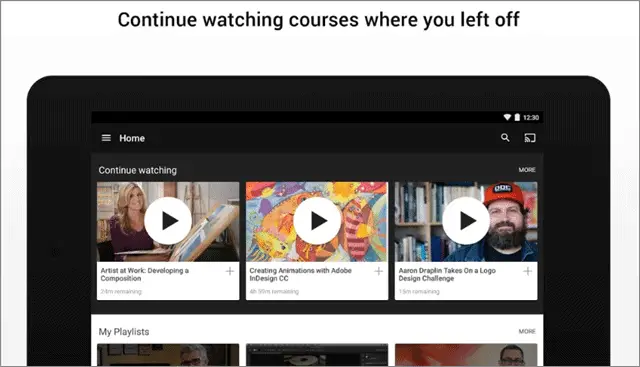 Lynda hosts hundreds of courses in a variety of subjects and is one of the best educational apps. Be it learning the latest software for graphic designing or music production, Lynda has got you covered. Web development, creating videos from scratch, animations, and acing the art of maintaining Excel sheets, you learn it all under one roof.
One of the best learning apps, Lynda, allows you to learn at your pace and on the go. Students can avail of a monthly subscription and get their hands on as many courses as they want within the stipulated time. Are you ready to learn from the best instructors?
Top Features of Lynda
Get access to any course you want by subscribing to the library.
Keep an eye on your training through the dashboard.
Download resources for offline viewing.
Share tutorials on any of your social media handles.
Get course recommendations based on your taste choices.
Auto-play courses
Pick up a tutorial from the point you left.
Download Lynda on Android | iOS
5.  TED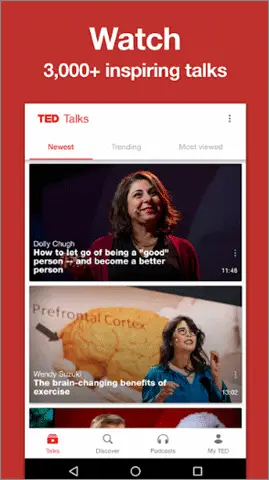 If you are looking for free learning apps, it cannot get better than TED. You get to explore what famous personalities and well-established individuals have to say about topics concerning the world. They also share personal stories and motivational experiences. The smart talks can be about any topic under the sun, and it often depends on the interests and mood of the speaker.
You get practical knowledge and information about myriad issues and gain insights on various exciting topics. The inspiring TED talks can range from someone sharing how he/she made it big in their respective industry to sharing how to overcome depression.
Top Features of TED
You can bookmark stories for later.
The learning app supports subtitles in more than 100 languages.
You can sync the app across various other devices.
Users get access to the much-coveted TED Radio Hour Podcast.
Build a custom playlist
Browse through the massive TED talk library and pick what you like
6. Duolingo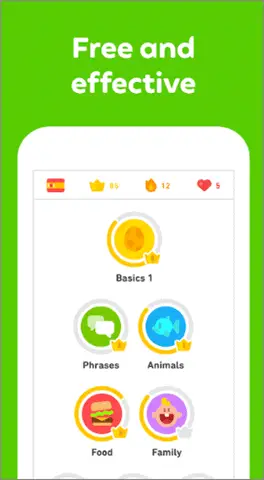 Duolingo was started in 2014 and has been quite a rage since then. One of the best language learning apps, Duolingo, is fun and free. You get to master more than 30+ languages like German, Italian, Japanese, Portuguese through exciting games and bite-sized lessons. The lessons become more complicated as you progress in the mini-games but do not lose out on the excitement quotient.
The developers proudly say that spending 34 hours on Duolingo is the same as attending an entire semester in college or school. One of the most sought after best educational apps for kids and adults, Duolingo is free of advertisements.
Top features of Duolingo
Fun, free, and effective
Science-based teaching methodology
Play games as well as learn
Pick any language from the various options available
Build upon your writing, reading, and listening skills
Track your progress
Download Duolingo on Android | iOS
7. Khan Academy
Khan Academy is an excellent source for learning any subject or getting your hands on creative tutorials. If you want to excel in traditional subjects taught in schools and colleges like science, economics, physics, humanities, and math, you must avail of the app. It is the best learning app for kids with more than 10,000 educational videos available. It lets you acquaint yourself with new concepts or brush up old skills.
One of the best learning apps, Khan Academy does not charge any fees. There are no hidden costs, as well.
Top Features of Khan Academy
Learn any subject, for example, history, politics, and grammar, for free
Sharpen your skills by participating in quizzes and practice exercises
Continue learning even when you are not online.
Pick up from where you last left.
Avail of detailed and in-depth articles concerning your favorite topics
Download Khan Academy on Android | iOS
8. StudyBlue
If it is time for your final examinations, trust StudyBlue to guide you through. The educational app is free and was introduced to make the lives of students more comfortable. They use handy digital learning materials to convert complex concepts into simple theories. The app lets you learn conveniently and saves information in the form of flashcards making essential points readily available and quick to grasp.
One of the best learning apps, StudyBlue, is reliable, and your one-stop solution for quiz preparations. For students who would love to have access to some late-night knowledge library, StudyBlue is the ideal choice.
Top Features of StudyBlue
Create and share digital flashcards without any cost
Participate in quizzes and set study reminders
Check out flashcard recommendations suggested based on recently visited articles and pages
Participate in quizzes and gain valuable insights
Download StudyBlue on Android | iOS
9. Coursera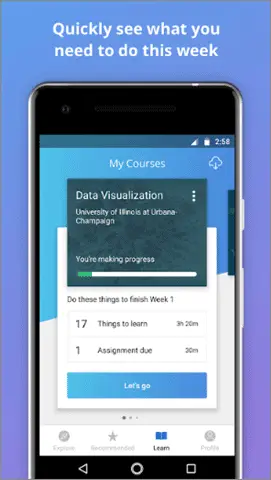 You are never too young or too old to learn something new, and online courses ensure this. Coursera is one of the best learning apps that makes a plethora of courses and tutorials available. You can start exploring from the comfort of your homes. Irrespective of what you want to learn, you will find something of your interest in Coursera.
Creative, business-related, math, science, language, or personality development, you name it, and they have it. There are more than 2,000 courses to choose from. The educational app allows video lectures and reading assignments available in the form of lessons and classes. You can opt for free and paid course options.
Top Features of Coursera
Learn from world-class instructors
Get your hands on everything right from music to medicine
Stream video lectures for offline viewing
Get a certificate at the end of your training program.
Download Coursera on Android | iOS
10. LinkedIn Learning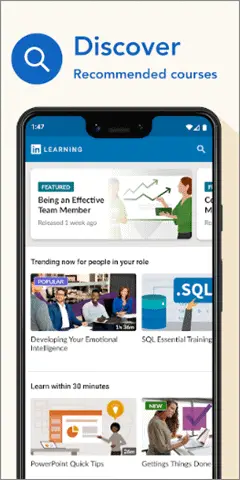 People who want to learn job skills must check out the options available on LinkedIn Learning. There is a wide range of courses and tutorials covering all professional sectors. Irrespective of which core niche you are from, the app will give you a suitable course to brush already existing skills, learn something new, and enhance your CV.
The app showcases all the classes available on Lynda. One of the best learning apps, LinkedIn Learning, is an excellent choice for picking professional courses. The UI is simple and easy to navigate.
Top Features of LinkedIn Learning
Choose courses from more than 16,000 options
Get trained by instructors who are industry experts with decades of experience
Watch bite-sized video content anytime
Avail of personalized course recommendations
Save tutorials to watch later
Learn at your own pace
Download the content to view offline
Get certificates on completing a course.
Download LinkedIn Learning on Android | iOS
11. Lumosity
Lumosity is a fine app for users who wish to keep their minds active. Through playing games and brainstorming, Lumosity sees to it that you have a busy mind. You get to participate in exciting quizzes, mini-games, and mind puzzles.
There are programs specifically designed to increase your presence of mind. Have you ever felt that your mind starts feeling quite dull after continuously using your smartphone for long stretches? One of the best learning apps, Lumosity, trains your brain to stay sharp and active through new techniques and sessions.
Are you ready for a brain workout?
Top Features of Lumosity
Pick and choose from the 50 brain activities available.
Test and improve upon your academic and cognitive abilities
Workout modes are made, especially for you.
Identify your strengths and weaknesses and decipher exciting details about your cognitive patterns.
Analyze your gameplay
Download Lumosity on Android | iOS
12. Skillshare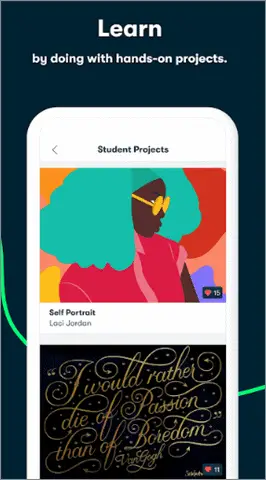 Do you want to get your hands on digital online tutorials that will uplift your career? One of the best learning apps, Skillshare, is the ideal platform for achieving so. Be it creative arts classes or handy business tips; Skillshare has got something for each one of you.
Learn to master a new language, understand the nitty-gritty of website designing, and ace the art of dealing with human psychology; the learning app has a plethora of exciting choices. Are you ready to inculcate a new hobby and boost your CV?
Top Features of Skillshare
Get access to hundreds of free classes.
Download tutorials and watch them offline.
Check out an unlimited number of videos during your free trial.
Learn from industry experts
Participate in practice exercises to check what you've learnt
Download Skillshare on Android | iOS
13. Brilliant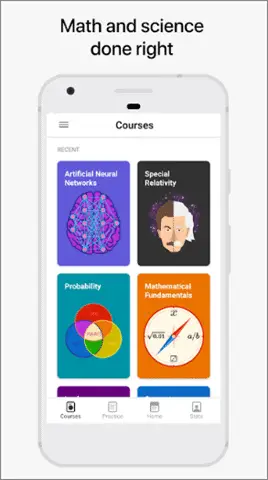 If you are someone who'd grasp knowledge quickly through first-hand practice, you must avail of Brilliant. With hands-on problem-solving techniques and clear explanations, the app teaches a wide variety of math and science concepts. Brilliant focus on short and crisp descriptions. It pairs up a concept with a problem for you to solve that ensures you have understood the topic properly.
One of the best learning apps, Brilliant, enables you to choose your study style during the initial setup step. Depending on whether you want to learn a subject out of curiosity or to advance in your career, the app helps you in achieving your goals.
Top Features of Brilliant
Learn with the help of fun and interactive exercises
Understand concepts through solving puzzles
Choose your learning style.
Get your hands on easy to understand bite-sized lessons
Learn from award-winning teachers
Improve your knowledge of difficult to understand subjects like science, technology, and math.
Sharpen your quantitative skills
Download Brilliant on Android | iOS
14. Goodreads
Are you a book-lover? If yes, you must check out Goodreads. No matter how digitized our lives have become, books are still an excellent source of learning and gaining knowledge about anything. Want to read about graphic design, for example, but have no clue about which book to follow? This is where Goodreads comes in. It displays the options you can consider when you want to educate yourself on any given subject.
One of the best learning apps, Goodreads, boasts a massive collection of more than 2.2 billion books. The app has over 75 million members. Whether it is fiction, non-fiction, subject-based, self-help, or skill-oriented, they aim to make the right choices. You can also share your book reviews and see what others have written.
Top Features of Goodreads
Easy scanning for the books you want to read and subjects you want to browse
Free service
Get personalized recommendations depending on your tastes and preferences.
Review any book you like
Check out what your friends are reading.
Join a community of fellow book-lovers
Keep track of the names you have read already the ones that are piled up next.
Download Goodreads on Android | iOS
15. Quora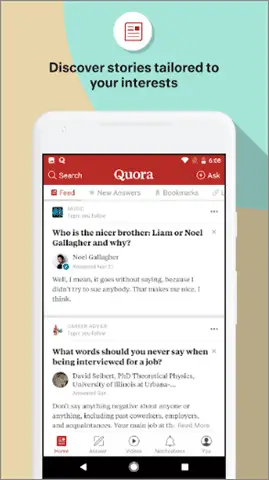 Quora enables users to browse content specifically concerning the topic or subject they want to know about. You can post questions and also check out what others have to say about a concept. People who are well-versed with your area of interest or have had experience in the same field can answer your questions.
One of the best learning apps, Quora, is known for quick responses. You can share your knowledge by posting what you feel about a particular issue too.
Top Features of Quora
Ask questions on any subject or topic on the go.
Check out high-quality answers related to your area of interest.
Answer questions on your favorite topics and share your experience with the world
Get first-hand information from credible sources.
Discover exciting stories and theories
Download Quora on Android | iOS
16. SoleLearn: Learn to Code for Free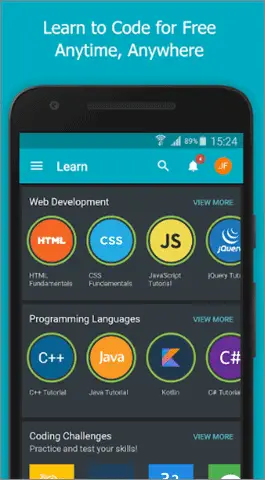 Are you a coder? One of the best learning apps for computer science enthusiasts, SoloLearn, is ideal for those interested in web development and programming languages. You get to learn all coding concepts and brush up your already existing programming skills. Users stay in touch with the latest coding trends and get access to assignments that help them practice what they have learnt.
Java, C++, Python, Algorithms, and machine learning; you learn it all through fresh content that is updated daily.
Top Features of SoloLearn
Personalized content depending on your progress
24/7 peer support and a friendly online community
Free mobile code editor
Share your expert knowledge in your area of interest by creating lessons for others
Get access to a massive library full of free content
Download SoloLearn: Learn to Code for Free on Android | iOS
17. Edmodo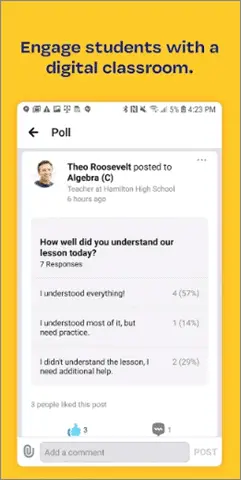 If you want to experience an online classroom, Edmodo is a perfect choice. One of the best learning apps, Edmodo, allows students to learn something new every day. You can also engage with fellow students and strike a communication or chat just like you would in a regular classroom environment.
Edmodo is an online hub connecting teachers and students worldwide. You get detailed insights and in-depth knowledge on any topic you want. The learning app is exquisitely designed and aims at transferring information between parents, students, and students in a glitch-free and smooth manner.
Top Features of Edmodo
Avail of classes and assignments under one roof
Be in direct contact with teachers and fellow students.
Explore resources in whichever subject you like
Experience a digital classroom
Get your queries quickly resolved.
Organize the study material you require in one place
Works like a home stream for discovering valuable content from across the globe
Download Edmodo on Android | iOS
18. Photomath
If you love math, you must check out this app. One of the best learning apps for math enthusiasts, Photomath, is focused on one subject. With the help of OCR technology and your smartphone cameras, the learning app deciphers and reads written equations. You then get the answers. Not only the solution, but the learning app also shows you the method of solving the problem.
So, no more struggling with math or finding it difficult. Photomath solves equations and problems and makes life easier for everyone who is scared of the subject.
Top Features of Photomath
Get your hands on easy solutions to complex math problems
Understand detailed explanations
Multi-functional science calculator
Illustrative animations and interactive graphs
Check out more than one ways to solve the same problem
Download Photomath on Android | iOS
19. Star Chart
Do you love astronomy? Would you want a personal virtual planetarium at home? Download Star Chart and bring out the science-lover in you. One of the best learning apps, Star Chart, enables you to discover planets, stars, and constellations in broad daylight. Users simply need to point their smartphones to the sky, and they will get information about what they are viewing.
Are you ready to witness what's there on the other side of the world?
Top Features of Star Chart
Experience magical star-gazing
Carry a virtual planetarium wherever you go
Voice control
Tap on anything that is a part of the sky and get instant and accurate information about what you are viewing
Check out 88 different constellations
Manually enter a place to see how the sky looks from there.
Download Star Chart on Android | iOS
20. NASA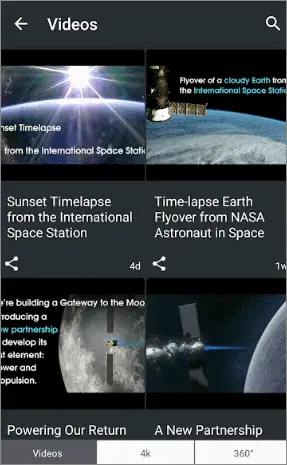 The last name to make it to our list of the best learning apps is NASA. Space is a vast subject, and astronomers are coming up with discoveries every day. So, the NASA app keeps you updated about the latest developments in this fascinating field.
You can educate yourself by checking out various videos and articles that cover all topics concerning space science. You get your hands on what's currently going on in NASA, their missions and targets, and understand the fundamentals of astronomy.
The app notifies you about upcoming celestial events. So, you will no longer miss sighting a planet or an eclipse.
Top Features of NASA
Learn about space from the most credible source
Read articles, watch videos, and star-gaze
Watch live NASA TV
Discover latest NASA information
Update yourself with all the latest developments in space science
Rate images and check out the top-rated ones
Receive notifications about upcoming sighting opportunities
Download NASA on Android | iOS
21. WolframAlpha

One of the best learning apps for scholars, WolframAlpha, is full of serious content and boasts a wealth of information. Math, physics, chemistry, statistics, astronomy, and geography; the subjects are wide in range and cover nearly everything.
You look up for answers and explanations concerning any topic or concept. The app displays what it is and how you can go about it on your own. WolframAlpha comes with additional educational tools, as well. If you are willing to shell out some extra cash, avail of specialized courses on subjects like Math and reference guides.
Top Features of Wolfram Alpha
Get hold of simplified explanations to complex concepts.
Become an expert with subjects like math, science, and statistics.
Know about people and history.
Get weather updates.
Excel in understanding music.
Avail of the dictionary, anagrams, and word puzzles.
Download Wolfram Alpha on Android | iOS
22. The Great Courses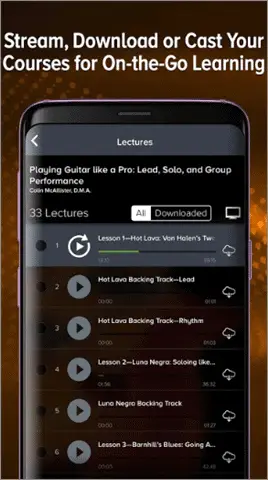 Colleges and schools are indeed the ideal sources of formal education, but what do you do when you want to learn something offbeat or cannot physically attend an institute to pick up a new skill? Resort to The Great Courses to follow up on your dreams, and you won't be disappointed.
One of the best learning apps, The Great Courses, covers various subjects and has industry experts as instructors. Educational videos on history, math, music, literature, and cooking; you name it, and they have it. You can download and stream the tutorials.
Top Features of The Great Courses
Stream any tutorial that you have bought
Seamless transitions between audio and video versions of the classes
Get access to guidebooks
Download lectures for offline viewing
Gain knowledge and clarity on concepts from the experts
Download The Great Courses on Android | iOS
23. Brainscape Flashcards
One of the best learning apps, Brainscape Flashcards, is very different from the others we have listed so far. The app claims that an individual learns faster and better with the help of flashcards. Brainscape carefully and methodically paces the explanation and repetition of every concept. This ensures that users retain the information accurately, correctly, and effectively.
You get to rate how well you understand all the concepts. The app then decides whether or not it is the right time to make another quiz available for you. You, too, can create and share flashcards. You can also check out user-generated flashcards put up by others.
Top Features of Brainscape Flashcards
Get your hands on a new method of learning by using flashcards.
Create, share, and find flashcards for free.
Make learning more fun and creative process.
Increase your retention power.
Check out what experts have to say about millions of topics.
Avail of color-coded and adaptive flashcards for faster and active learning.
Set goals and track progress
Download Brainscape Flashcards on Android | iOS
24. Memrise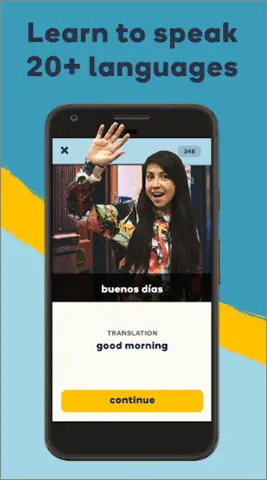 Would you love to learn new languages like Spanish or French? Are you fascinated to know what certain words and phrases mean in different languages? Well, you must check out Memrise then, one of the best language learning apps for bringing out the linguist in you. So, no more buying an expensive textbook to learn the nitty-gritty of a new language.
The app follows a different path of learning. It teaches you the basic vocabulary first by citing examples from the real world. You simply have to download the app and pick a language you would want to learn. With such language learning apps, you learn the desired language from real native speakers.
Top Features of Memrise
Learn with locals
Get your hands on practice games to coach your brain.
Improve pronunciation
Download the resources in prior and learn anywhere.
Whether you want to learn too much or too little in a day is your call.
Build an entertaining habit by opening the app for at least 5 minutes every day to develop a routine and improve.
Pick any language from more than 20 options available.
Download Memrise on Android | iOS
25. Google Classroom
One of the best learning apps, Google Classroom is a virtual version of a real one. You can send in announcements, submit assignments, create lectures, and start discussions. Users can also ask for answers and reviews, grade assignments, and share their resources with others.
The setup process is easy. Teachers create a class that has a number code. They share the code with the students who want to take part in the class. You enter the code and become a member of the virtual classroom.
Top Features of Google Classroom
Ideal platform for teachers to students to connect
Free for anyone with a Google account
Save time and paper
Improves organization since you can view all your assignments and remarks in one place
Enhances communication because you can stream content and get solutions to queries instantly
Easy setup, affordable, and secure
Faster grading process
Download Google Classroom on Android | iOS
26. Quizlet
One of the best learning apps that make understanding concepts easy and quick, Quizlet is here to stay. The app displays multiple study mode buttons. You can choose from options like the match, learn, test, write, or flashcards, among many others. The mode that you select will decide the method in which you will learn a subject or topic.
Using flashcards is an excellent way to make your memory retain information. There are millions of flashcards available with Quizlet for you to access. You can also create and share your own flashcards.
Top Features of Quizlet
Get your hands on study sets for standardized tests
Avail of practice exercises to check what you've learned.
Use flashcards for excellent memory retention.
Get study reminders
Track your progress
Participate in exciting gaming activities
Master vocabulary and grammar
Listen to the audio version of your study material for enhanced learning.
Download Quizlet on Android | iOS
27. Amazon Kindle
One of the best learning apps, Amazon Kindle, is a popular and delightfully old school when it comes to self learning. One can find an exquisite collection of textbooks, reference guides, and self-help books. Millions of magazines, comics, and newspapers are also available at your fingertips. You can explore new releases, manga, audiobooks, and read anywhere on the go. You can buy what you need to read, download the content, and start reading.
Top Features of Amazon Kindle
Customize the font type, text style, reading orientation, and margins
Check out the meanings of words you do not know with the in-built dictionary.
Take notes and bookmark places you wish to revisit
Track your reading progress
Zoom-in text and HD images
Receive notifications when your favorite authors release something new
Sync your books and magazines across various devices
Download Amazon Kindle on Android | iOS
28. Kahoot
If you think interactive quizzes are the best way to learn something new, you must check out Kahoot. The app has hundreds of ready-made quizzes on various subjects, topics, and concepts. Students feel an adrenaline rush when they answer a question correctly. They simply have to pick a subject and participate in live quizzes with fellow users.
One of the best learning apps, Kahoot, successfully accelerates the learning process, and makes it very interesting. You can also create your quiz and challenge your friends.
Top Features of Kahoot
Accelerate the learning process
Play and learn simultaneously
Participate in quizzes and see how far you fetch.
Create your quiz and invite your friends to compete
Host games on big screens
Find quizzes on every topic and study on the go
Download Kahoot on Android | iOS
29. Wikipedia
Remember the days when we used to stock up different volumes of the Encyclopedia? With the advent of technology, learning has become digital, and there is too much information available online. Wikipedia is not just one of the best learning apps, but it is also a favorite source for people who do not wish to see advertisements.
Be it pop culture, history, science, or academics, Wikipedia is your one-stop solution for reading about anything under the sun. If there is an alien or technical concept which you would want to understand in simple layman terms, resort to Wikipedia, and you will not be disappointed.
So, are you game to have millions of articles at your disposal?
Top Features of Wikipedia
Available in more than 300 languages
Millions of articles covering every topic under the sun
No advertisements
Offline reading
Unlimited access for free
Night mode available
Quick search options to find what you are looking for
Download Wikipedia on Android | iOS
Conclusion
There is no age to learn something. Broadening our knowledge and picking up a new skill never goes out of fashion. Smartphones have become an essential part of our lives and is an excellent tool to learn. From technical subjects to creative topics for professional development, you can fulfill your dream of learning the subject you always wanted to. Be it science, space, geography, math, or coding, we've listed the best learning apps that are easily available on Google Play and the iOS app store.
All the best educational apps that we've listed are available on both Android and iOS devices. You can download them from the Google Play Store and iOS Store respectively, and start exploring. Some of these track your progress, as well. The digital age has made it convenient for all of us to learn on the go.