'What is Microsoft SharePoint?' is the first question that will come to your mind when you are introduced to this software for the first time. While the theoretical answer to this question is explanatory enough, users will better understand when they use the software.
All About What is Microsoft SharePoint
SharePoint is a document management and collaboration software that helps teams and organizations to communicate, exchange data, and work together. Developed by tech behemoth Microsoft in 2001, it is the same as Google Drive. With this software's help, teammates can work together on the same document simultaneously, share repositories and intranet. Also, to mention the fact, this tool isn't free to use anymore.
Moving forward, let's look at how SharePoint can prove to be useful for your organization.
Some Interesting Features of Microsoft SharePoint
Now that you know what is Microsoft SharePoint, it is vital to understand how this software can help you maintain proper order and organization within your team. The first and most essential thing to know is that SharePoint is a handy tool for systematically storing documents, which is why it is known as a document management system. There are a couple of benefits users can avail once they start using this software.
File Versioning:
Microsoft SharePoint can efficiently manage versions of a single document. Suppose you create a document named 'Financial Report 2019/20' and there are three further changes made in it, SharePoint will save all the versions and allow you to access them as and when necessary. Additionally, there's also a commenting feature that will let you know about the changes made in the revision compared to the original document.
Check In/Check Out:
Users can check-in and out of a particular document to maintain a proper workflow. This feature comes handy when two or more persons are working on the same document. This feature enables a user to lock the file from changes made by other users.
Suppose Jack checks into 'Financial Report 2019/20.doc', and Matthew wants to edit it at the same time, he(Matthew) will have to download the file locally and make the changes. Now, Matthew's changes will only be saved when Jack checks out of the file. Recent versions of the software also send notifications to the users when the file is freed up.
Indexing:
Microsoft SharePoint offers impressive indexing and searching features to the users. You can easily browse through your files with a quick search, rather than remember the file path and navigate accordingly.
Windows Integration:
SharePoint has a collaboration with the Office 365 tools such as Microsoft Office. Using this feature, you can open up your SharePoint documents in Microsoft 365 software.
How Can SharePoint Be Useful For Your Organization?
As mentioned before, SharePoint is a collaborative software that helps in the easy spread of information amongst the members of your organization. Specific attributes of this software will help you maintain a seamless workflow and clarity of information amongst your team members. Here's how this tool will help you in managing your work.
SharePoint Library:
You can use SharePoint to build an extensive yet sorted library of documents that can be viewed from anywhere in the world. Hence, you can carry your work with you no matter where you go.
Create Team Sites:
SharePoint is a collaborative hub where you can share your documents with your team members. Doing so will maintain a clear and transparent communication within your organization.
There are two types of sites you can create in SharePoint. A team site includes a group of related web pages, a default document library for files, lists for data management, and web parts that you can customize to meet your needs. A communication site is used only for broadcasting information to a small base of the audience.
Also, more than one person can simultaneously work on a single document, which leads to work getting done faster than usual.
Lists:
Lists allow users to structure their data correctly so that their subordinates can access, consume, and share information with more clarity. You will be able to put the Lists feature to great use, which helps in supporting business processes.
Microsoft SharePoint and Microsoft Teams: Different or the same?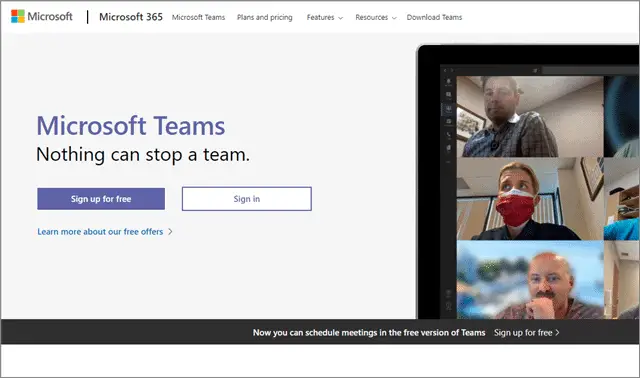 The Microsoft SharePoint vs. Teams comparison haunts every organization when it comes to deploying a cloud-based system. Once you are clear with what is Microsoft Sharepoint, it is essential to know that the two tools aren't competitors; in fact, they can be used collaboratively.
Microsoft Teams is labeled as an all-in-one collaboration hub where you can chat, share files, work together, manage projects, work together with business apps, attend conference calls, etc. On the flip side, Microsoft SharePoint is a collaborative tool that allows Office 365 integration and is primarily used for document storage and management.
Both SharePoint and Teams work together, with the former being the content management backbone of the latter.  Teams have better features than SharePoint, but the tool's choice depends on the user's needs and requirements.
SharePoint Versions and How To Identify Them
We always care to know about the version of any software that we use. Unfortunately, SharePoint doesn't have any information about the box containing info about the version that you are currently using. However, there are ways in which you can figure out the version of SharePoint that you are using.
The SharePoint Online version has an app launcher icon instead of a ribbon at the top left corner. Further, Create site and Create news post is written at the top of the page, and the left navigation bar will have either Following, Feature Links, or Recent below the SharePoint search bar.
For the SharePoint Online Classic experience, the title at the top is Office 365, and the title of the app is SharePoint. Plus, there is also a ribbon below the menu bar. In SharePoint 2016, the title of the environment is SharePoint, and the title of the app is Sites. If there is only a ribbon and no app launcher at the top, it is SharePoint 2013. In SharePoint 2010, the Site Actions button will access all the settings, and Home is a button and not a link.
SharePoint 2019 uses the modern experience that was first introduced in 2016. Modern experience is the first significant interface upgrade since SharePoint 2013. To explain, Microsoft is trying to make the platform mobile-friendly, compelling, flexible, and easier to use.
Editions of SharePoint
SharePoint comes in two different editions. Initially, there was a third edition called Foundation, which was discontinued in 2016.
SharePoint Server
You can use SharePoint Server if you want full control over the design and behavior of SharePoint. You will get lesser updates than usual, but having a server will enable you to use many features that aren't available to SharePoint Online subscribers. There are two editions of the server: Standard and Enterprise.
SharePoint Online
SharePoint Online is precisely the opposite of SharePoint Server; in this case, users don't need to maintain a server. However, they also cannot customize the tool and use the extra features that are beneficial to the SharePoint Server users.
Pricing
SharePoint is available in three different pricing plans.
Plan 1 – $5 per user per month
Plan 2 – $10 per user per month
Office 365 Enterprise – $20 per user per month
Conclusion
Every IT organization has 'What is Microsoft SharePoint?' at the very top of their list of questions before deploying a cloud-based document management software. SharePoint is a collaborative tool that allows smooth workflow in an organization by enabling users to share and edit files.
Ever since Microsoft Teams was released, it has been compared continuously to SharePoint, given the vast number of features. However, both the tools are designed to work together and shouldn't be viewed as competitors. The choice to opt either for Microsoft Teams or SharePoint depends on the individual's personal needs and requirements.
Related: SharePoint Tutorial and Courses: Learn At Your Own Pace