Idle games include simple mechanics and boast varying gaming styles. The genre is very different from the regular ones, and you can indulge in playing the best idle games even when you are busy, tired, or do not wish to dive deep into the antics. Acquiring resources, constructing buildings, and combating warriors; the theme ranges from simple to complex and is based on quick reactions and finger clicks.
Also known as clicker games, the gameplay of an idle game is quite impressive, and it often requires you to click on the screen to generate an object. Divided attention and minimal effort work just fine while playing fun idle games. You can play these addictive mobile games while doing some work or when listening to music in the background.
21 Best Idle Games That You Must Play
We've scoured the massive expanse of the internet and curated an idle games list. All the incremental games are available for download on the Google Play Store and the iOS Store. While playing each of these games, you perform a simple action to reach a goal or complete a mission. The mechanics revolve around clicking, waiting, upgrading, and repeating. Let's check out the best idle games.
1. Adventure Capitalist
One of the best idle games that is immensely popular and boasts millions of downloads is Adventure Capitalist. The gameplay is simple. Players click on the phone screen to earn money. Once they have collected a fair amount of money, they can upgrade their business, enabling them to earn more. The most exciting part about the incremental game is that there are tons of things to upgrade.
The pace in which the game speeds up is pretty decent. You can hire and fire employees and do all it takes to ensure your business is growing. You must also aim to attract the maximum number of investors who will help you thrive in your business. The ultimate goal is to have the most profitable dealings. So, are you ready to see your dream business growing and play the most straightforward money-making game? Let's move from rags to riches by starting from a small lemonade stand and going on to owning a massive multinational conglomerate.
Download Adventure Capitalist on Android | iOS
2. Realm Grinder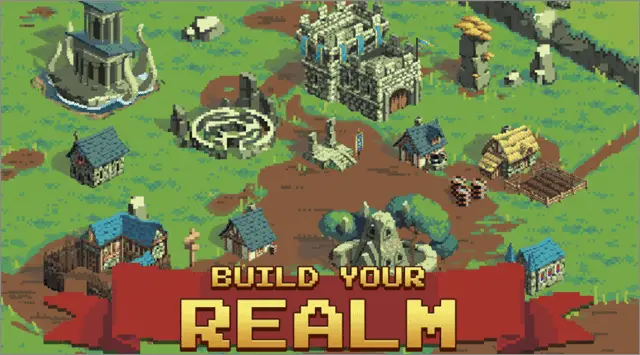 If you are looking for the best idle games that require you to build your kingdom and be filthy rich, you must check out Realm Grinder. The role-playing game requires players to build alliances and use the financial strength to make their kingdom grow. The idle game gives players various choices concerning the route they wish to follow to make money and explore multiple ways of building their empire. You start with a tiny farm and convert it into a vast realm.
There are more than 12 different factions available, and you can choose anyone to align with. Once together, you come up with joint strategies, fight the demons, and hunt for treasures. Clicking on some special treasures might earn you some extra points. At every step, players get to unlock new achievements and choose unique upgrades. With thoroughly enjoyable mechanics and super-exciting bonuses, you can trust Realm Grinder for having a great time.
Download Realm Grinder on Android | iOS
3. AFK Arena

Popular and full of excellent mechanics, AKF Arena must not be left behind in the best idle games race. As players, you have to collect various hero cards, just like you would in a role-playing gacha game. Put your most trusted cards in play when it's ideal for them to make a move, sit back, and let the heroes win the game for you. AFK  Arena includes some tapper mechanics and is meant for people who want to relax while playing a game instead of over-indulging.
Choose from a plethora of unique heroes and form your team. Make sure to play the right ones at the right time to reap maximum benefits. AFK Arena consists of 7 factions and takes you on an adventurous ride to long-forgotten lands. You enjoy fun rewards at every stage in this idle clicker game, and there is not a single dull moment. So, are you ready to fight your enemies by combining heroes and strategizing skills? Do not forget to collect your rewards in between.
If you are playing AFK Arena via your PC, use the keyboard shortcuts to respond quickly.
Download AFK Arena on Android | iOS
4. Time Clickers
For players who would love to play a first-person shooter game, which is set against a futuristic backdrop, Time Clickers in an excellent choice. The aim is to collect as much gold as possible, give your pistol an upgrade, and outplay the enemies. There are more than 85 unique enemies available and 53 artifacts to collect. Also, you must remember that each team can only have a maximum of 5 players. You should hire a team of incredibly talented sharp-shooters to ensure you leave no stone unturned in defeating the opponents.
All the extra cash you earn can be used to buy the latest guns to maximize the damage output.
The gameplay is divided into 15 different arenas, and each arena brings a new set of challenges. With over 100 achievements to unlock, Time Clickers is one of the best idle games that keep you hooked to your phone screens. Addictive loops and futuristic twists make Time Clickers very different from its genre and unmissable.
Download Time Clickers on Android
5. Almost A Hero
Almost A Hero is a role-playing game with compelling mechanics and exciting gameplay. The incremental clicker game takes you on a daring adventure where you fight against some great heroes and emerge victorious. The battles are thrilling and require you to play like a warrior. You form your team of heroes, participate in quests, and unlock achievements.
One of the best idle games that allow players to witness magic, Almost A Hero, is set against beautiful premises. You select a magic ring and engage in combat against all the enemies who are a part of the ring. You start from zero and go on to becoming a hero with the help of your enterprising team. Even if you leave playing the game for some time, you will be able to return and collect rewards for the battles won by your heroes. Excellent, isn't it?
Well, we recommend you not to take the opponents lightly, for they are much brighter than what they appear.
Download Almost A Hero on Android | iOS
6. Bitcoin Billionaire
When Bitcoin was in the news, the room clicker game Bitcoin Billionaire gained popularity. The gameplay is similar to the other best idle games we have listed. Players start the game with multiple clicks on their phone screen and gradually progress towards the idle elements and upgrades. The money that you have is mostly spent on investments, and you try to collect additional bonuses and rewards at various points.
You start with nothing and go on to building a massive fortune. Even when you are offline, the game allows you to earn Bitcoins and indulge in upgrading investments. You can adopt a kitty, T-Rex, or a robot and customize them in your style. There is time travel as well, so you can jump from one era to another and explore space.
Let us play one of the top idle games and get rid of the old, worn-out furniture and buy swanky art pieces instead.
Download Bitcoin Billionaire on Android | iOS
7. Top Titans
Dangerous monsters run the world, and only a hero can bring in peace. You are the hero in the game who must save the world from collapsing and vanquish the terror. The player must formulate strategies to destroy the dark forces and emerge victorious, along with the other warriors. Players can also collect mysterious artifacts that make your team stronger and help in activating powerful battle skills.
Will you be successful as a leader in one of the best idle games? Top Titans was regarded as 2015's best action-adventure role-playing game. So, are you ready to carve your way out of eerie dungeons and discover treasures? Various levels will require you to prove your combat skills. The graphics used in the game are beautiful, and the gameplay is easy to understand, even for first-timers.
Want to summon a hero? Tap!
Download Top Titans on Android | iOS
8. Fallout Shelter
Fallout Shelter is a favorite in the best clicker games category and has received various awards, including the mobile game of the year in 2016. Players select a modern-day room from the multiple options available and build a vault by excavating. Get to know your dwellers, find them perfect jobs, and deliver happiness. You can also train them to polish their skills further, make them wear clothes that suit their profession, and give them useful weapons.
Do you know to craft? Well, Fallout Shelter, one of the best idle games, requires you to hone your crafting skills and convert worthless junk into exquisite and functional items. Players can even create a radio room that will catch potential dwellers' attention so that they can grab them in their team. You can also participate in dwellers' personal lives by taking an active interest, understanding what they want, playing a good matchmaker, and seeing sparks fly. Interesting, isn't it?
Do not forget to protect your dwellers against threats from enemies.
Download Fallout Shelter on Android | iOS
9. Idle Theme Park Tycoon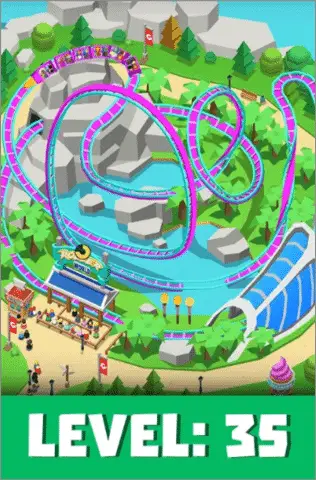 If you are looking for the best tycoon games, you must download and play Idle Theme Park Tycoon. You are the master of a fun theme park and ensure everything runs smoothly. Start with a small park and slowly progress towards making it grow and become the wealthiest manager. There is a horror house, various Ferris wheel rides, and of course, roller coasters. You also need to collect an entry ticket before allowing anyone into your theme park.
Once you are good at handling the current amusement park, you must start looking for expansion options. Bring in extra facilities, more fun rides, and also manage the food area wisely. What more? You can also host marketing campaigns to attract more visitors to your park and ensure everyone has a thrilling experience. Hire security guards, make the visitors feel happy, and do not forget to ask them for their valuable feedback.
Are you game to become an entrepreneur while playing one of the best idle games? Let's begin.
Download Idle Theme Park Tycoon on Android | iOS
10. Clickpocalypse II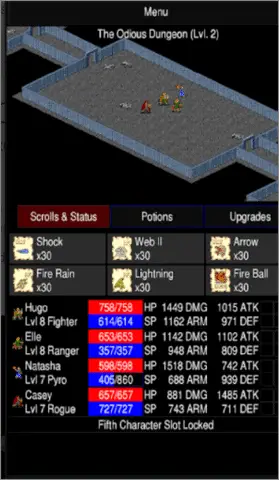 Not as popular as the other best idle games we've listed, Clickpocalypse II is not meant for you if you are looking for polished graphics. Nevertheless, the gameplay is entertaining and unique, thereby classifying it as one of the good idle games available. You create a team of heroes intending to explore dark dungeons and find useful items. Along the way, you kill the bad guys and upgrade your abilities.
Unlock new achievements as you progress through the levels, raid dungeons, and don't miss any chance to loot the treasure. Make sure your characters are upgraded to the best of their abilities as well. Let us create a party of brave men and start exploring the dark. Clickpocalypse II keeps you engaged throughout, and the game is ideal for players who are hunting for competitive and complex idle clicker games.
Download Clickpocalypse II on Android | iOS
11. Cookies, Inc
Cookies, Inc requires players to click on cookies, make them, and collect as many as they can. Every cookie that you collect earns you cash. The money thus collected can be used to upgrade your cookie business and make more profits. You set upon a fun baking adventure intending to be a prosperous entrepreneur. Work towards your dream and progress from owning a small bakery in the town to being a world-renowned business tycoon.
Sell millions of cookies and unlock achievements. Discover new bakeries and ensure your cookies never go out of stock. Once you have made enough cash, go ahead and buy powerful structures. You can invite your friends to play the game and participate in competitions to see who's a bigger cookie hoarder. One of the best idle games, Cookies, Inc, offers offline support as well, so you need not worry about pausing the game when busy.
There are no spoilers, but certain upgrades enable you to discover exciting themes and take you on a ride to unique bakeries that sell milkshakes. How awesome is that?
Download Cookies, Inc on Android | iOS
12. Egg, Inc
If you are a fan of this game genre, you must already be familiar with Egg, Inc. You start with a small farm, indulge in a bundle of clicks, and move towards building a giant farm via the profits generated. You can hire talented employees to ensure fast progress and move stuff from one place to another quickly. The point of difference compared to the other best idle games that we have listed is that Egg, Inc includes more simulation elements, making it a favorite among millions.
You have tons of achievements to unlock and various missions to complete. Egg, Inc boasts some latest augmented reality features, making it one of the best incremental games we have. There is a leaderboard that keeps a tab of your score. The gameplay is simple and still manages to give you various opportunities to challenge yourself. The colorful 3D graphics provide you with a delightful experience. Do not forget to balance your resources well before it's too late.
Download Egg, Inc on Android | iOS
13. Idle Miner Tycoon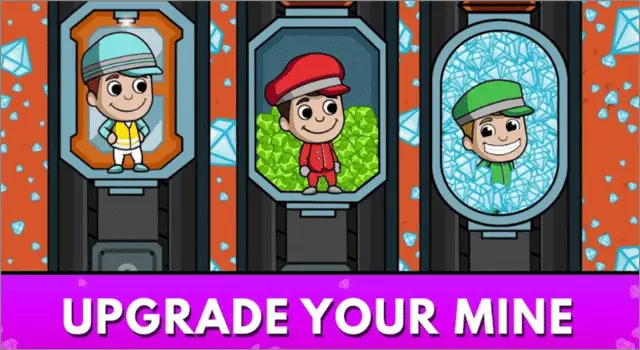 If you think the best idle games are those with standard gameplay and fairly simple rules, Idle Miner Tycoon should be your go-to option. You start with nothing at your disposal, click on the phone screen for some time, upgrade your belongings, and earn stuff that makes your game better. You can hire managers for better organization and moving things in your factory. There are 20 mines to explore, which store 15 different types of wealthy resources.
Do you think you are an efficient mine manager? Will you be able to play the role of a gold miner? Use your antics to dig into the treasure and become a millionaire. Idle Miner Tycoon boasts decent graphics and gets addictive once you progress in the game. It supports offline play and does not bombard you with advertisements. Let's install the tycoon simulator game and become a rich businessman.
Download Idle Miner Tycoon on Android | iOS
14. Om Nom: Merge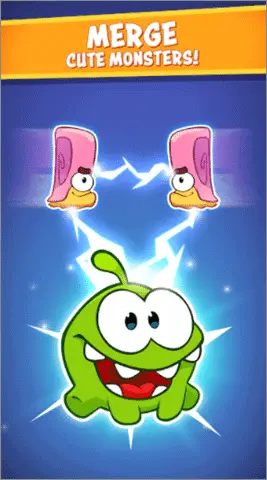 Om Nom: Merge gives an exciting turn to the clicker genre and requires you to eat the fruits to earn laurels. The coins that you make are spent on buying creatures. Once you have purchased enough varieties of characters, merge two of them so that they come out stronger and are capable of consuming more fruits. The cute monster game is a surprisingly thrilling entry to the best idle games category, and we are not complaining.
As Om Nom, you have to maintain nature's balance and see to it that no harm is caused to the magic forest. You can ask other Nommies to join the quest and unlock new achievements together. The more yummy treats you collect, the more sweet rewards you get. Participate in tournaments that last a week, discover new locations, and be a part of the fun and satisfying gameplay.
Download Om Nom: Merge on Android | iOS
15. Crab War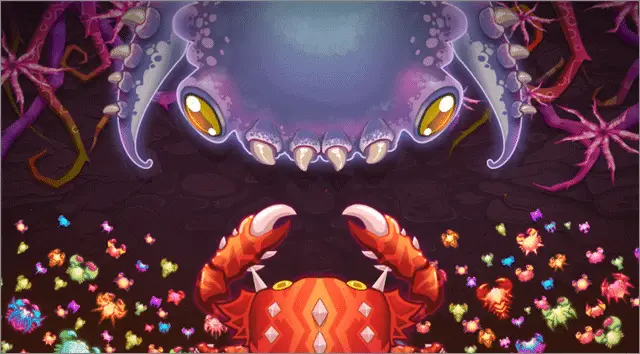 Reptiles invaded the land of crabs, and years later, the crab community is up for revenge. As players, you form an army with the fellow crabs, evolve into more acceptable beings, and with the power of crystals, you drive away the invaders from your homeland. There are 80 beautifully designed crabs, 50 unique reptiles, six powerful abilities to unlock, and 18 customizable talents. Will the wild beasts leave the place you rightly own?
One of the best idle games on Android, Crab War is fun, addictive, and involves incredible aesthetics. The progression is smooth and gets you hooked in no time. You can seek help from the golden ray or the killer crab when you are in danger. Teaming up with powerful allies enables you to claim legendary rewards. You can also invite friends to play along and compete against them in idle gaming tournaments. So, are you ready to slay?
Download Crab War on Android | iOS
16. Cow Evolution
If you are bored with the regular incremental games and are looking for something different, get your hands on Cow Evolution. You merge different breeds of cows, which results in crazy mutations. As you play the role of God, who puts together several cows only to see hilarious combinations and bizarre beings, one needs to evolve the species, train them well, and generate idle money. Players can ship the mutant cows to a new farm and derive the best out of them.
One of the best idle games for iOS, Cow Evolution, breaks all rules and is the craziest simulation clicker. Wear your scientific evolution hat, become rich with every new genetic mutation, and carry on experiments that you have never heard of before. Alien cows, monster cows, or alpaca cows; which breed do you think has the maximum potential to earn you rewards? You can dress them up and use funky colors. Exciting, isn't it?
Download Cow Evolution on Android | iOS
17.  Tower of Hero
Players need to keep clicking on their phone screens to destroy monsters in the Tower of Hero. You can use a maximum of 100 heroes to fill up the dungeons. The best idle game boasts exhilarating gameplay where you have to pack the dungeons with the most productive heroes and unleash attacks on the enemies. Every hero that you pick and the gear that they wear plays a crucial role in causing damage to the evil monsters. So, choose wisely.
The game's reward system is fantastic, and you can loot all the treasure if you play well. There are various abilities to unlock, which becomes accessible to you as you progress in the game and cross levels. The pixel art is very detailed, and the simple mechanics are good enough to classify Tower of Hero as one of the best idle games. However, if you want to indulge in playing an idle clicker that is super-engaging and requires you to formulate strategies, you might have to look elsewhere.
Download Tower of Hero on Android | iOS
18. Video Game Tycoon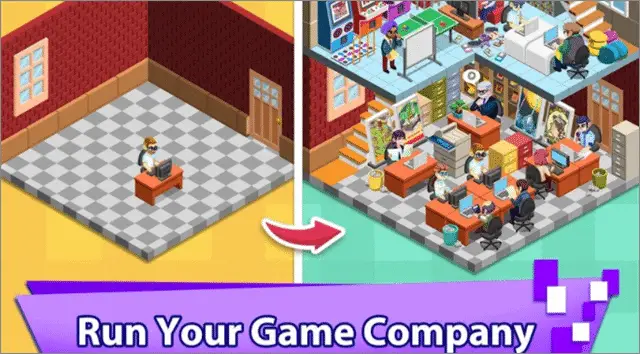 If you have ever thought of becoming a video game developer, this game will make your fantasies come true. One of the best idle games available for free, Video Game Tycoon requires you to design software for a game studio company. You start small and go on to create various gaming software on your own from scratch. The first few clicks earn you cash, which will be helpful in game development.
You also get to name your game and decide which genre it falls into. Go ahead and add a personal touch, customize settings according to your preferences, and develop a game you have always wanted to play. Formulating the rules is fun, and frequent updates make you rich. You can use colorful custom icons, buy decorative items, hire staff, and create your game development studio. As you progress in the game, your chances of getting the golden joystick increases.
Expand your business and become a world leader in the gaming industry. Are you ready to be the owner of a video game company?
Download Video Game Tycoon on Android | iOS
19. Medieval: Idle Tycoon
Whoever wants to indulge in playing a passive game and simultaneously slay dragons, must definitely install Medieval: Idle Tycoon. You need to build a medieval town, expand your kingdom, and emerge as the ultimate king. The game's theme is set in the middle ages, where players have put up flights against other kings and queens to restore their throne. You will come across all sorts of castles, buildings, and markets and multiple opportunities to earn cash.
Managing your city well will earn you profits. Complete quests, improve your buildings, and lead your fantasy empire from the front. Every technological upgrade gives you cash and the ability to build gold reserves. The building simulator game requires you to collect the village money, hire advisors, and invest in your medieval business. Grab the best heroes on to your side and be entitled to get bonuses and rewards. One of the best idle games that can be played even without the internet, Medieval: Idle Tycoon, is unmissable.
Download Medieval: Idle Tycoon on Android | iOS
20. Hotel Empire Tycoon
The incremental game requires you to build a highrise hotel and become a top name in the tourism industry. Hire worthy employees, manage guests well, and ensure to make the best accommodation and arrangements available. You start with a small hotel, and as you earn cash in the game, go on to making rooms of bigger sizes and increasing the number of amenities available. You can also buy exquisite-looking furniture.
Sightseeing, visiting hours, tourists, spa sessions, and scuba lessons play the game if you love traveling and virtually live the dream. Are you ready to manage your chain of hotels and become a tourism tycoon? Well, if players win too much cash, they can also upgrade their hotel to a resort. Let us play Hotel Empire Tycoon, one of the best idle games, and check out what more this domestic spin offers.
Download Hotel Empire Tycoon on Android | iOS
21. Clicker Heroes

Clicker Heroes has been a favorite since its availability on Steam and the PC browsers, but the role-playing idle game has finally made its way to the Play Store. Players embark on a fun quest, kill monsters for gold, and explore new worlds. You need to hire heroes to unleash attacks on the powerful monsters and make them efficient enough to fight battles. You can also form clans with the other players to combat against the enemies and find treasure.
There are more than 1000 zones for you to cross. In every zone, the heroes unlock new skills. The unique mechanics and gameplay make it very different from the other best idle games we have listed, and nothing at all looks repetitive. With better upgrade options and thrilling graphics, you sure do not want to miss out on the mobile version of Clicker Heroes. Are you ready to go on a trip down nostalgia?
Download Clicker Heroes on Android | iOS
Final Thoughts On Best Idle Games
Idle games is an emerging niche, requiring you to do much more than just being idle. Also known as incremental or clicker games, the genre of gameplay is a new entrant that is fast progressing towards becoming a favorite. Players perform various actions within the game, mostly by multiple clicks on the phone screen, to attain a goal. The idle factor ensures that the game is not stopped even if you leave it for a few minutes, and there are upgrades and activities regularly taking place even without continuous input from you.
We have enlisted the best idle games for you to engage in exciting fun and thrill. All the games are free to download and are available for all Android and iOS devices from the respective play stores. Be it setting up a hotel, formulating strategies against enemies, playing around with eggs and cookies, or dealing with cows and crabs; our list includes variety, and you will find the top representatives. So, let's start playing.
Related: The Ultimate List of Best And Free City Building Games To Play Online