Technology has made several things possible in the recent past, which people could only imagine a couple of decades ago. If you are a worried parent curious to know what's happening in your kid's life, a watchful employer, or an anxious spouse whatever be the scenario, spy apps come in handy. We have listed the best free hidden spy apps for Android that you must get your hands on and keep your worries at bay.
We are sure you have legitimate reasons to spy on a person or group of people as we do not promote malicious activities and dubious intentions.
18 Best Free Hidden Spy Apps For Android To Rely On
Way too many people on the internet are looking for a free spy app for Android, which is undetectable. Our team of experts have scoured the massive expanse and brought you the best spy apps that are secure. Every free Android spy app that we have listed does the work discreetly and meets the primary objective well. So, you do not have to waste your time downloading and installing unworthy Android spy apps that waste time and put your phone at risk.
With the help of these spyware apps, you can get the data or information that you want and still be undercover. Keeping track of your phone, the elderly, your kids, and employees have been made easy, and you also get to have your eyes on any wrongdoing.
1. Sypic
One of the best free hidden spy apps for Android, Spyic undoubtedly deserves the numero uno spot. With a simple design and clean interface, you can use the app to track your loved ones, kids, or employees. You can monitor their online activities and keep an eye on what they are up to. Users can also check all the contacts saved on the target device and have a handy record of the incoming and outgoing calls. You even get to see the messages and all social media account activities.
Spyic allows you to enable location tracking. You can monitor the pictures on the phone as well. The browser history facilitates you to see if your child is viewing any website or content not meant for their age. You receive alerts in the form of an email every time your child or employee changes or removes their SIM card.
What we like about Spyic:
The interface does not intimidate you and is easily understandable.
Allows you to access photos on the device
Keep an eye on the activities on the calendar.
Keylogger works exceptionally well.
What can be better:
You might face difficulties in downloading the video content.
Browser history and location features can do better.
2. Cocospy
Cocospy is among the best free hidden spy apps for Android, allowing users to extract details about the call records with utmost accuracy. Once you have completed installing the app on the target device, you can access the inbox and outbox and check out text messages. You get to see both sides of the conversations on your cell phone, so there is zero ambiguity.
You can monitor other details, including the contact list, online browsing history, and a live location tracker. Cocospy also works incredibly well as a social media tracker phone app. The keylogger features allow parents to see every keystroke that their child makes on the target phone. It helps you ascertain the language in which they talk to their peers and what kind of company they keep.
What we like about Cocospy:
The phone tracking feature and the location updates work flawlessly and accurately.
You receive data, alerts, and information from the target device in no time.
The setup process is easy.
What can be better:
Cocospy might cause your smartphone to slow down.
The online history tracking feature can be improved upon
3. Flexispy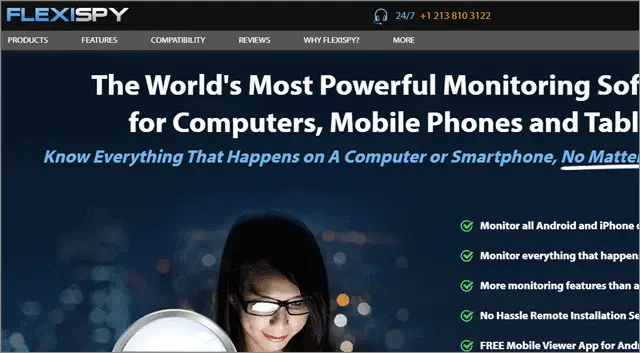 If you are looking for one of the best free hidden spy apps for Android with advanced features, Flexispy should be your go-to option. You do not need to root your phone to install this app, making it even more fantastic. Flexispy boasts, enabling you to listen to the surround sound, which gives you a fair idea of what's happening at the other end. You can also capture videos and pictures remotely.
Users are notified each time the target device holder indulges in changing or removing the SIM card. You have complete access to the call logs and can check out incoming and outgoing call details separately and even individual call duration and time. The keylogger helps in gauging the exchange of texts, words, and language used. Another striking feature of the best Android spy app is that you can have the names of all the apps installed in that device at your disposal.
What we like about Flexispy:
You get full control and access to the target device remotely.
The customer service support staff is accommodating.
The keylogger works exceptionally well and promptly informs you about all the keystrokes.
Rare advanced features like call recording without jailbreaking the phone
What can be better:
Specific advanced features might work accurately only if the device is rooted.
You do not receive any alert or notification if the app is uninstalled.
You cannot block the usage of certain apps and websites.
4. Aispyer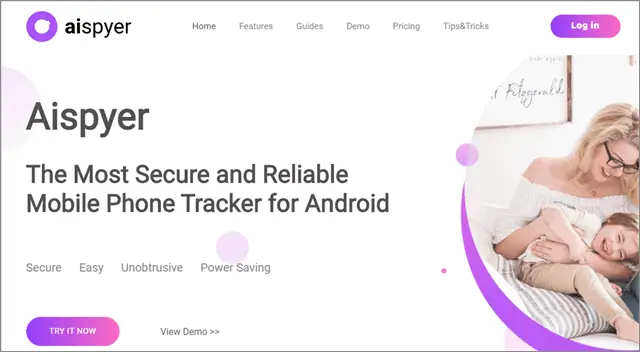 When it comes to security and reliability, Aispyer in one of the best free hidden spy apps for Android. You get to indulge in live tracking of the exact location, and the app is fully hidden after the installation process is complete. Monitor incoming and outgoing calls, keep an eye on all the text messages, and check the calendar events. You also get to see a list of all the contacts saved on the target device. Watch the videos and photos saved on the phone, the emails sent and received, and other browsing histories.
You can keep a constant eye on what's happening on all the social media handles and instant chat and messaging services. The keylogger helps you in knowing all the keystrokes performed by the target device owner.
What we like about Aispyer:
The high-security internal system ensures no data is leaked.
The installation is easier when compared to its peers.
It consumes less power, thanks to the advanced technology.
Social media and call log tracking work with utmost accuracy
What can be better:
Internet browsing history disclosure needs to be more transparent.
Sometimes, you might face difficulties in checking SMSs from the other parties.
5. Cerberus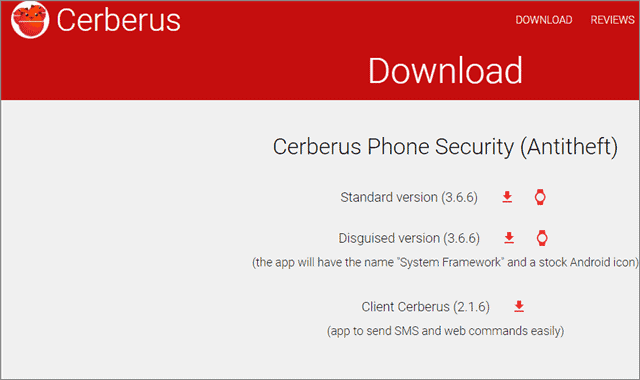 The best free hidden spy apps for Android range in variety and this one called Cerberus is ideal for personal use. The phone tracker app sees to it that you get to know the details about your phone's whereabouts even when it is lost or stolen. Cerberus works exceptionally well as an anti-theft hidden spy app and boasts various additional features as well. You can lock your phone and wipe off the data remotely whenever you want. The app clicks pictures of the potential thief and sends you instant alerts.
Apart from providing anti-theft facilities, Cerberus also comes in handy to ensure personal safety and keeps a vigilant eye on the elderly and children.
What we like about Cerberus:
Protects the seniors of the house, the little munchkins, and anti-theft function for your smartphone
Intuitive interface and ease of use
You receive a message when the SIM card is changed or removed.
Google maps to keep an eye on the location and whereabouts.
Prompt SMS commands
What can be better:
Might ask you to root your device to perform all functions smoothly
The customer staff support does not respond quickly.
6. Google Family Link
Yet another unique entry in our list of the best free hidden spy apps for Android, Google Family Link works exceptionally well and does the work with accuracy and transparency. It is an excellent choice for anxious parents who want to keep an eye on their children. You only need a Google account to track the little ones. You can check all the activities on their phone and even limit access to certain features if necessary.
Check out all the apps and services installed on your kid's phone, supervise their daily activities, and guide them to good content. Set screen time limits and receive notifications every time your child crosses it. Enable live location tracking and be rest assured that they are safe. Google does not like to stay behind, and the family link hidden spy app for Android proves it further.
What be like about Google Family Link:
You can approve or ignore requests for apps that the kids wish to download from the Google Play Store.
Excellent online activity monitoring is essential since the kids are prone to malicious stuff, and content that is not meant for their age.
Remotely lock the device and continuously monitor the live location.
It allows parents to be watchful of the screen time and how much time is spent on individual apps daily.
What can be better:
The app is infamous for bugs.
Sometime you might face connectivity issues.
7. iKeyMonitor
Popular, complete, and your one-stop solution, iKeyMonitor is undoubtedly among the best free hidden spy apps for Android. The list of advanced features is so vast that you will wonder if anything that the hidden spy app cannot do. After the initial setup process is complete and all the necessary permissions are ticked off, iKeyMonitor starts working the next minute. You, of course, need to install the app on both the devices.
Get your hands on all call records and social media accounts. Check app screenshots and be in the loop with the surround sound. The keystroke detection tells you about the words used in chats and the subject of the conversations. Every single picture that is a part of the target device's photo gallery gets automatically uploaded and updated on your iKeyMonitor account. The sheer brilliance might surprise you at times. The ambient sound feature allows you to hear the conversations; get it recorded to save it and listen to it later.
What we like about iKeyMonitor:
Way too many advanced features
The hidden spy app works incredibly well at being undetectable
The app screenshot feature is unique and very helpful
Surround sound quality is excellent and audible
What can be better:
Uploading and updating new data sometimes takes longer than expected.
Social media tracking is not fool-proof
8. Hoverwatch
Undetectable and ideal for keeping a vigilant eye on your employees and kids, Hoverwatch rightly classifies and one of the best hidden free spy apps for Android. You can regularly check out screenshots that tell you what's going in the target device's vicinity. The feature works impeccably, and you will never miss out on any activity. The app makes the front camera accessible, captures pictures, and sends it to the home device without informing.
How Hoverwatch enables you to monitor surroundings remotely makes it a must-have hidden spy app. Keep an eye on their text messages, social media accounts, and check the apps and websites they visit regularly.
What we like about Hoverwatch:
You receive frequent updates in the form of screenshots.
The call recording is accurate.
The flexibility of the app makes customization and modification possible.
Data uploading is quick.
What can be better:
The keyboard tracker is not perfect and lacks some keystrokes.
The call and text details that you receive might be outdated sometimes.
9. Spyera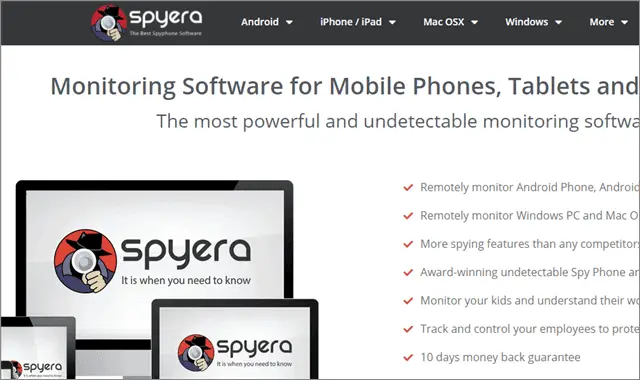 One of the best free hidden spy apps for Android when it comes to monitoring the target device well, Spyera deserves a rightful spot in the top 10. You get all the features that are expected from a spy app without rooting the phone. Users can track calls, keep an eye on the text messages, check social media, enable live location tracking. You can also see the photos, videos, and the keystrokes made with the keylogger's help. Spyera gives you full control to access the microphone remotely. So, you can record live calls and listen to conversations.
What we like about Spyera:
Record calls and video without rooting
Click pictures and capture videos of your kids anytime
Detailed monitoring of the social media accounts covering every aspect of spying
What can be better:
The customer service is poor.
Sometimes you might need to jailbreak your device to ensure all the features are used.
10. mSpy: One of The Best Free Spy Apps For Android
If you are looking for the best free hidden spy apps for Android that doubles as a smartphone tracker, get your hands on mSpy. It is also considered a top choice app that offers parental control with utmost secrecy and accuracy. You can check out the entire phone gallery, which comprises pictures, videos, and screenshots. Get access to all social media networks.
The unique website bookmark feature allows you to check the names of all the websites your kid visits. The keylogger facility sees that you get to read all the chats and conversations your kid participates in. Check all the incoming and outgoing calls and texts. Keep an eye on the various Wi-Fi networks that the target device connects to.
What we like about mSpy:
Avail of various features with rooting or jailbreaking the device
The app is quick to set up and pretty easy to use
Excellent customer support
High-quality tracking with useful advanced features
What can be better:
New data might take some extra time to refresh and upload.
You can monitor only one device at a time.
Data that is wiped out once cannot be recovered.
11. TheTruthSpy
TheTruthSpy makes it to our list of the best free hidden spy apps for Android since it is an excellent choice for worried parents, vigilant employers, and concerned spouses. The alluring features that are extremely useful and the easy to use interface has worked in the app's favor to make it popular. TheTruthSpy supports traceability. It operates secretly in the target device without any interference and enables you to know what's happening by giving frequent updates. There is no additional noise or sound made in the monitored device, and it works perfectly well as a background app.
Check the call history, list of saved contacts, text messages, and all social media accounts. Go into finer details if you want and see when a particular call was received or made. The GPS tracker helps in gauging the exact location.
What we like about TheTruthSpy:
Enables you to check out and keep track of minute details
Live location tracking is accurate and 100% undetectable.
You can avail all the features without jailbreaking.
Ambient voice recording
What can be better:
Customer support is inefficient.
Can be challenging to understand for a first-time user
12. Spy Phone App by FoneMate
FoneMate offers excellent service and is undoubtedly one of the best free hidden spy apps for Android that is catching pace with the competitors. The all-in-one tool works incredibly well and can spy on any person's everyday activities without letting them know. FoneMate is entirely undetectable and claims to be the world's best product in the niche.
You get updates in real-time and can check out the call data, messages, social media activity, and multimedia content saved on the target device. Get access to finer details like the call duration history and when a particular message was sent. You can access all the apps installed on the monitored device and a mobile keylogger, which facilitates you to watch everything written.
What we like about FoneMate:
Allows you to delete or wipe out data from the target device remotely
Hack social media messages, posts, emojis, and comments
What can be better:
The dashboard and the interface is not interactive.
Check out Spy Phone App by FoneMate
13. Spyier
Spyier boasts millions of downloads and is known for doing the work with the utmost secrecy and allows you to track any kind of data. The call monitor gives you a detailed account of the incoming and outgoing call sessions, and the location tracker provides accurate information with the help of GPS. The keylogger makes you aware of all the keystrokes performed, so you are always kept in the loop with what is happening with the target device owner.
Check out the social media details, detect direct messages, and access the photos and videos saved. One of the best free hidden spy apps for Android, Spyier, runs smoothly in the background without informing the monitored device owner in any way.
What we like about Spyier:
The stealth mode works incredibly well
Industry-leading features
The app is 100% secure, trustworthy, virus-free, and user-verified
The size of the app is small and does not occupy much space
Hassle-free setup
No jailbreaking or rooting required
What can be better:
The client support takes a long time to respond and might leave you hanging with your doubts.
Intimidating for first-time users
14. Minspy
Minspy is one of the top choices for anyone in the hunt for the best free hidden spy apps for Android. It is loaded with just the right features one would need in a spy app. Check the call records, messages sent and received, and the entire list of saved contacts. The easy-to-use app also enables you to spy on instant messaging services like Whatsapp, Facebook, and other social media networks.
You simply need to install Minspy on the target device, and you are good to go. The location tracker gives you live updates about the current whereabouts of the target device owner. Minspy is an Android spy app that is secure, intuitive, and monitors smart devices well. The stealth mode of the free spy app ensures undetectability. You can set geo-fencing limits and receive notifications each time the other party crosses it.
What do we like about Minspy:
All your personal information, data, and details are safe.
The app works exceptionally well remotely yet conveniently.
No need to root or jailbreak the phone
What can be better:
Newly updated data takes time to upload sometimes.
The browser history might be outdated.
15. GuestSpy
One of the best free hidden spy apps for Android when it comes to keeping a vigilant eye is GuestSpy. You can check the call logs in detail, including the time at which the call was made and the duration of the same. Check all text messages, instant chatting services, and the various social media accounts.
The GPS tracker gives you live real-time location updates. You have a list of all the websites visited daily, along with their URLs. The call recording feature is handy and enables you to lend your ears to conversations remotely. You can even capture pictures and videos and have them saved in your device.
What we like about GuestSpy:
It is completely undetectable
It is compatible with all Android devices
Excellent parental control options to monitor your child's online behavior
Easy to install and packed with essential features
What can be better:
Online chat option unavailable
Lacks support for voice call interception
16. XNSPY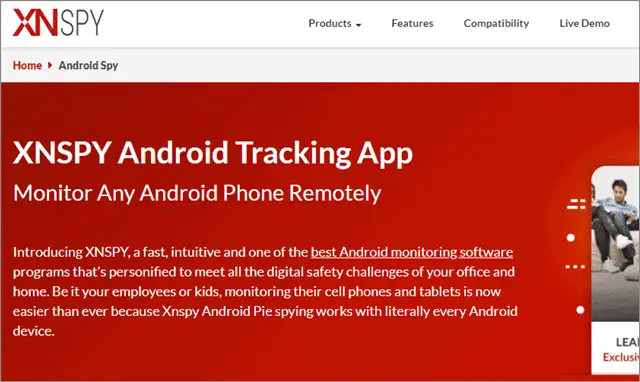 Intuitive, fast, and an excellent pick that works flawlessly, XNSPY is undoubtedly among the best free hidden spy apps for Android devices. The simplicity of the interface, undetectability, and user-friendly features make it a go-to option for first-time users and skeptical about such apps' usage. You can track calls, messages, and all social media handles. You also get access to the entire gallery, so all the saved videos and images are at your disposal.
XNSPY tracks the target device owner's daily browsing habits and websites visited. Browse through all the multimedia content saved on the monitored device and get your hands on the phone book contacts. Use the call recorder if the need arises and receive instant notifications and alerts.
What we like about XNSPY:
Incorporates a comprehensive set of advanced features
Mobile spying and monitoring with utmost accuracy
Gives remote control access to rooted devices
What can be better:
Jailbreaking or rooting required to avail of the advanced features
The customer staff takes time to respond.
17. Spyzie
Advanced software to monitor the devices, Spyzie is installed by countless people worldwide. Whether it is to track what your children are up to or to keep an eye on the corporate staff, spy apps for phones like Spyzie serve the purpose well. Check call details, monitor the text messages exchanged, and get all social media updates. One of the best free hidden spy apps for Android, Spyzie's USP is the simple-looking interface. It is effortless to navigate and does not intimidate first-time users.
The location tracker is active 24×7. Set virtual boundaries with the help of the geo-fencing facility and receive alerts each time someone trespasses. View every smartphone activity and remotely access the pictures and other multimedia content saved in the target device.
What we like about Spyzie:
See what's happening with the target device with merely one click.
Detailed tracking, easy to handle, familiar-looking
Gives you the ability to uninstall apps on the monitored device remotely
What can be better:
The customer support staff is mostly unavailable, so your queries are not quickly answered.
Unable to track specific instant chatting apps
The app causes the target phone to slow down sometimes.
18. SpyHuman
Last but not least, the best free hidden spy apps for Android devices, SpyHuman is an all-in-one solution. An incredible software to monitor all Android smartphones and tablets, SpyHuman is completely undetectable and reliable. You get to monitor the call records, check the time at which a particular call was made, and the duration. Get your hands on frequent location updates with the GPS tracker and check all incoming and outgoing messages. Use the call recording feature and listen to conversations remotely whenever you want.
You get a detailed analysis of all social media accounts, including some rare ones like WeChat. Not just the posts and updates, go a step further with SpyHuman and check out the direct messages exchanged on Instagram and Facebook.
What we like about SpyHuman:
The interface is user-friendly.
You need not root or jailbreak the device to avail of the basic features.
The installation process is not cumbersome or time-consuming.
The call records and other information is always updated and never outdated.
What can be better:
SpyHuman is infamous for having the worst customer staff support.
The target device can be affected by bugs, which might cause the phone to slow down a bit.
To avail of the advanced-level features, you have to jailbreak or root the device.
Final Thoughts on The Best F
ree Spy Apps for Android 
If you have legitimate reasons to spy on someone, we are game for it. However, as mentioned earlier, we do not support illegal activity or people with malicious intentions. Our list of best free hidden spy apps for Android and start using them after an easy installation process. Every app offers multiple features, so you can pick and choose the ones that match your requirements.
These apps are 100% undetectable, so you can rest assured that the other party will not come to know about its presence. Apart from calls and messages, you can see social media updates and have pictures of their live locations.
Related: Top Text-To-Speech Android Apps You Should Know About